With a smashing debut at last week's Tata Steel Chess tournament, 17-year-old Nagpur grandmaster Divya Deshmukh who is prepping for the world stage says her win is yet to sink in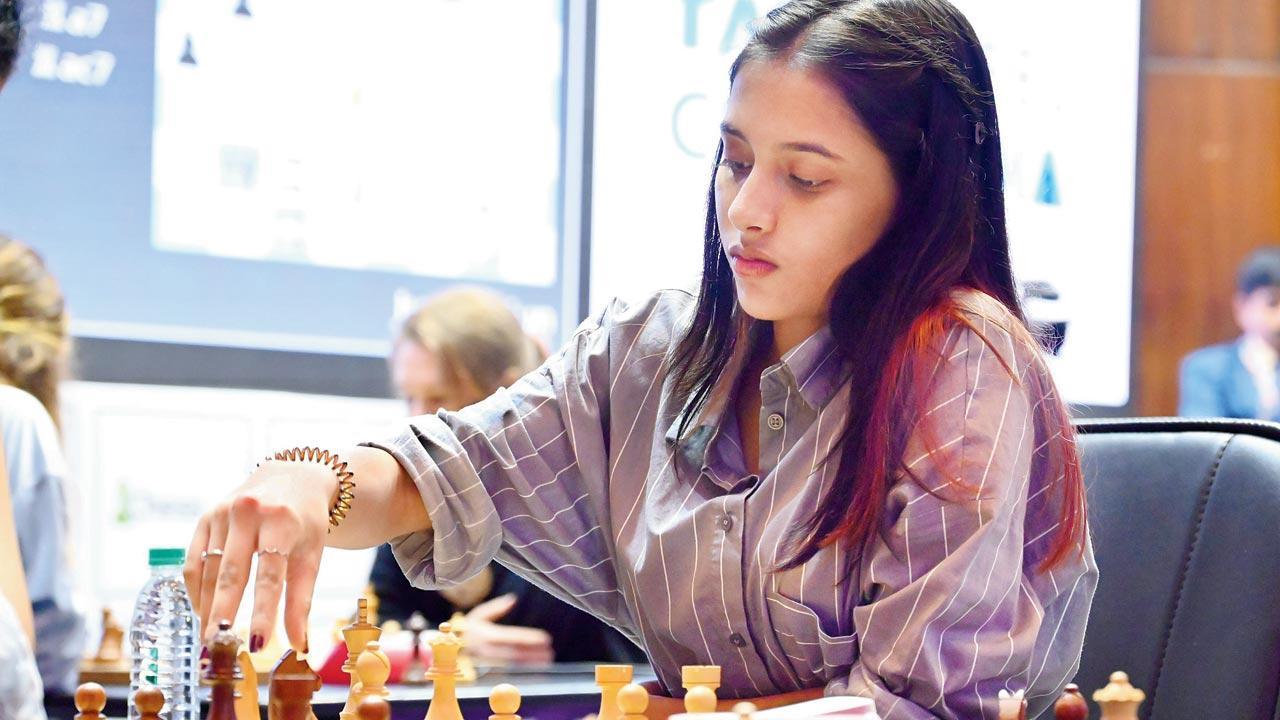 Divya Deshmukh was a last-minute inclusion to the Tata Steel Chess tournament held at the National Library in Kolkata last week. Pic/Tata Steel Chess India
Listen to this article
Nagpur grandmaster Divya Deshmukh's next stop: Women's World Team Championship
x
Nagpur teen Divya Deshmukh's success can be attributed to being at the right place, and at the right time. The 17-year-old chess woman grandmaster, who registered a dramatic win in the rapid section of the 10-women field of the Tata Steel Chess tournament held at the National Library in Kolkata last week, was a last-minute inclusion. She came in place of R Vaishali, elder sister of rising world chess star R Praggnanandhaa, after the former pulled out of the tournament. 
Deshmukh couldn't have asked for a better debut, as she defeated India great and second seed Koneru Humpy with black pieces. But this victory came with its own twists, as her fate was to be decided by the game between the top seed Ju Wenjun of China and defending champion Anna Ushenina of Ukraine. Ushenina held Ju to a draw, which in turn helped Deshmukh finish half-a-point ahead of Ju (6.5 points), who had to settle for second place. 
ADVERTISEMENT
Looking back, Deshmukh says she had zero expectations from the Kolkata tournament. "I was in Kolkata for a training camp, when my mother [Dr Namrata Deshmukh] told me that I had received an invitation to participate," she says over a phone call. "I was happy. But frankly, I did not expect it [the win], especially since it happened in such a dramatic fashion. It was a very emotional moment." The first thing she did after returning from the venue was call her mom, sister Arya, and grandmom, who is also a doctor.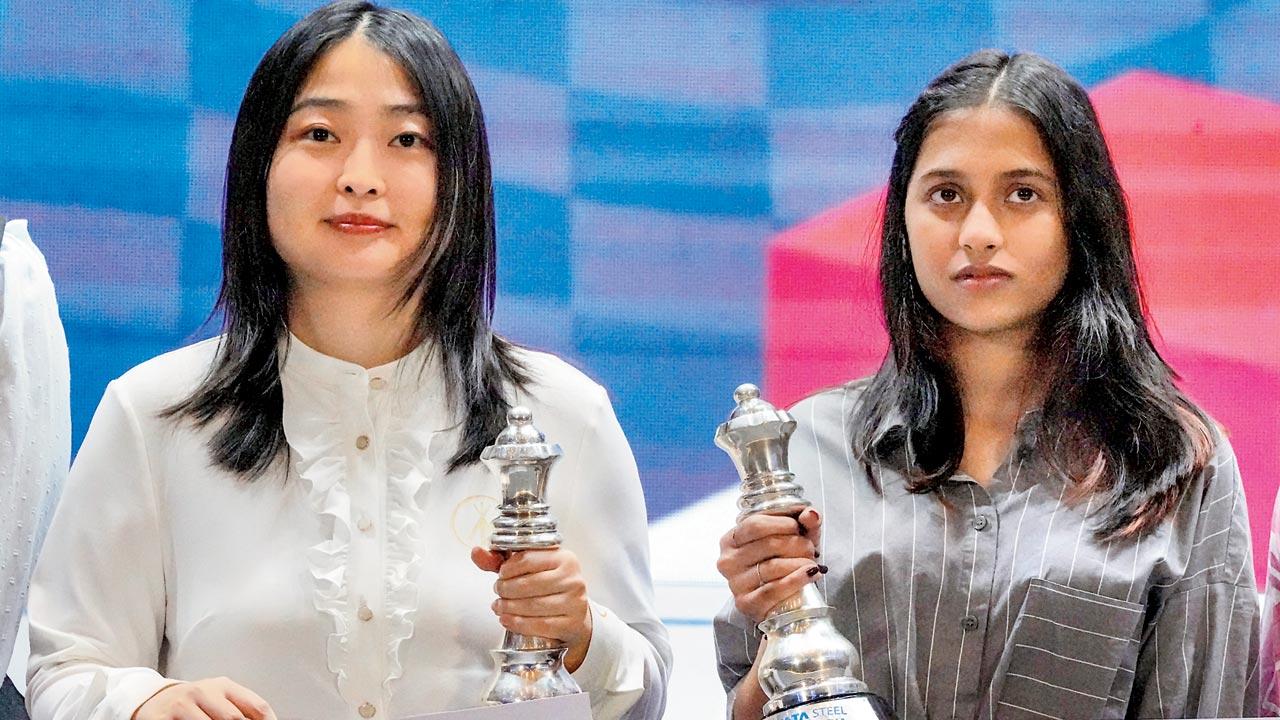 Tata Steel Chess India Rapid women's champion Deshmukh (right) and Blitz champion Wenjun Ju of China pose with their trophies. Pic/PTI
But the teen chess queen has had absolutely no time to celebrate her victory. Few hours after the tournament, she was already on a flight to Poland, where she is representing India at the Women's World Team championship. "It [the win] is yet to sink in… I have had no time to think about it, as my schedule has been so hectic," says Deshmukh, who will next be seen in the Polish League, Qatar Masters and the Grand Swiss Women's Championship.
Deshmukh got introduced to chess when she was five. "I started playing chess, because my parents [both gynaecologists] wanted me to play some sport. My sister Arya was already playing badminton. But I was too young and didn't have the height. In the same building, there was a chess class, so I enrolled," says Deshmukh, who is a multiple-time India national champion. The rest, as they say, is history.
There's an entire army rallying behind her. Her father Dr Jitendra Deshmukh credits her late coach Rahul Joshi, who he says, saw a future chess star in his daughter. He passed away in 2020. "Rahul sir developed her into what she is. He was the one who felt she had the potential," he says. The turning point in her sporting career came in the year 2012, when she was declared national champion in the U-7 age group. "If she wants to take up chess as a career, we are happy to let her. But sports only becomes a career, when it starts paying you well," he says.
Her mother, Namrata, gave up her medical practice to be with Deshmukh. "I was required to travel with her for the tournaments, and that was a full-time job," she says, adding, "I don't know if you can call it sacrifice… it's something I wanted to do." 
When Deshmukh is not playing, which is very rare, she enjoys doing all the "teen stuff". "I like being at home. Sometimes I just binge watch shows, go out with friends, and chill." She loves the peace and pace of her home city Nagpur. "Here, you can take your own time to do things; there is no hurry to get somewhere. You don't get stuck in traffic for hours, and the air quality is much better."
Her long-term goal is to reach 2,600+ GM points and become the world champion. Her short-term goal is to reach the 2,450 rating, and complete her studies. "Education is quite important in anyone's life, not just an athlete. I have always wanted to learn, and that will never stop." 
"Exciting news! Mid-day is now on WhatsApp Channels

Subscribe today by clicking the link and stay updated with the latest news!"
Click here!