Chefs are ditching the convention of sweet endings, giving desserts a savoury spin or using chocolate and cream to jazz up mains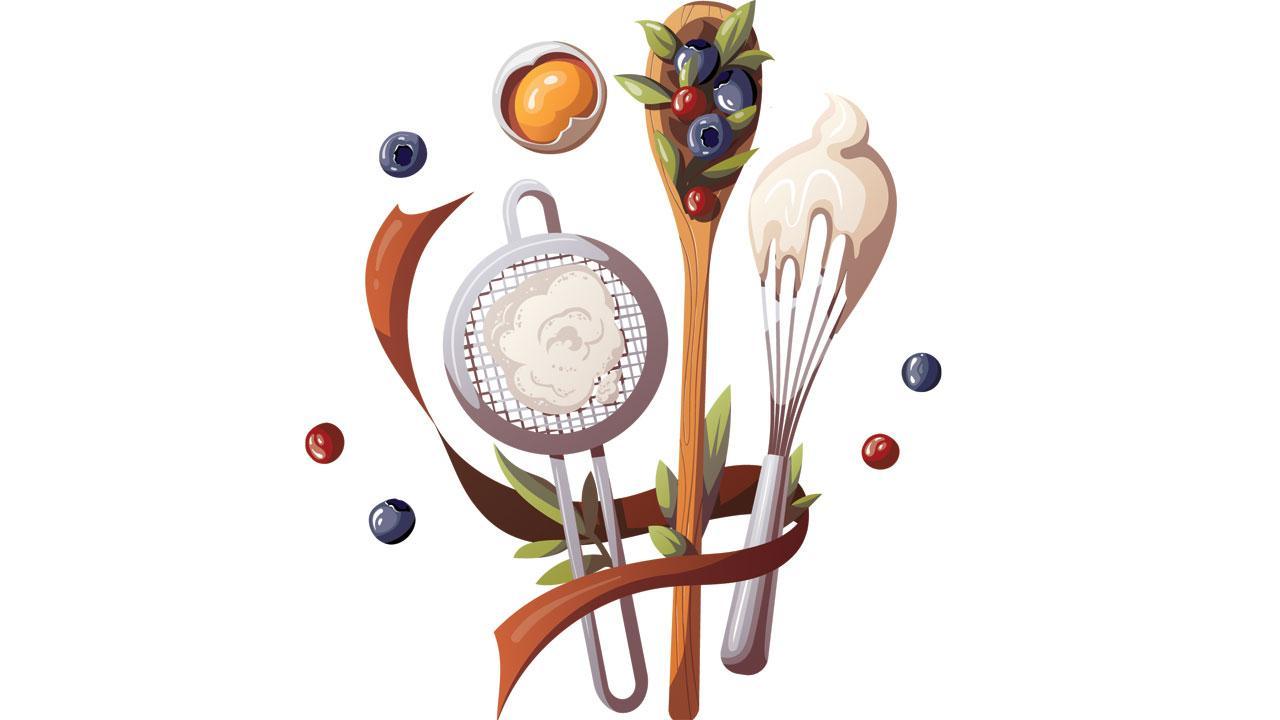 Representative Image
It's 22:00 hours on Valentine's Day. Love (for chocolate) fills the air as we take our seats at KMC, a community space at Fort, surrendering to the whims of Chef Sanjana Patel of La Folie and KMC head chef Dhriti Mankame. On the chocolate degustation menu, it is interesting to watch cacao nibs, butter, white and dark chocolate hold their stance with vegetables, meats and sauces.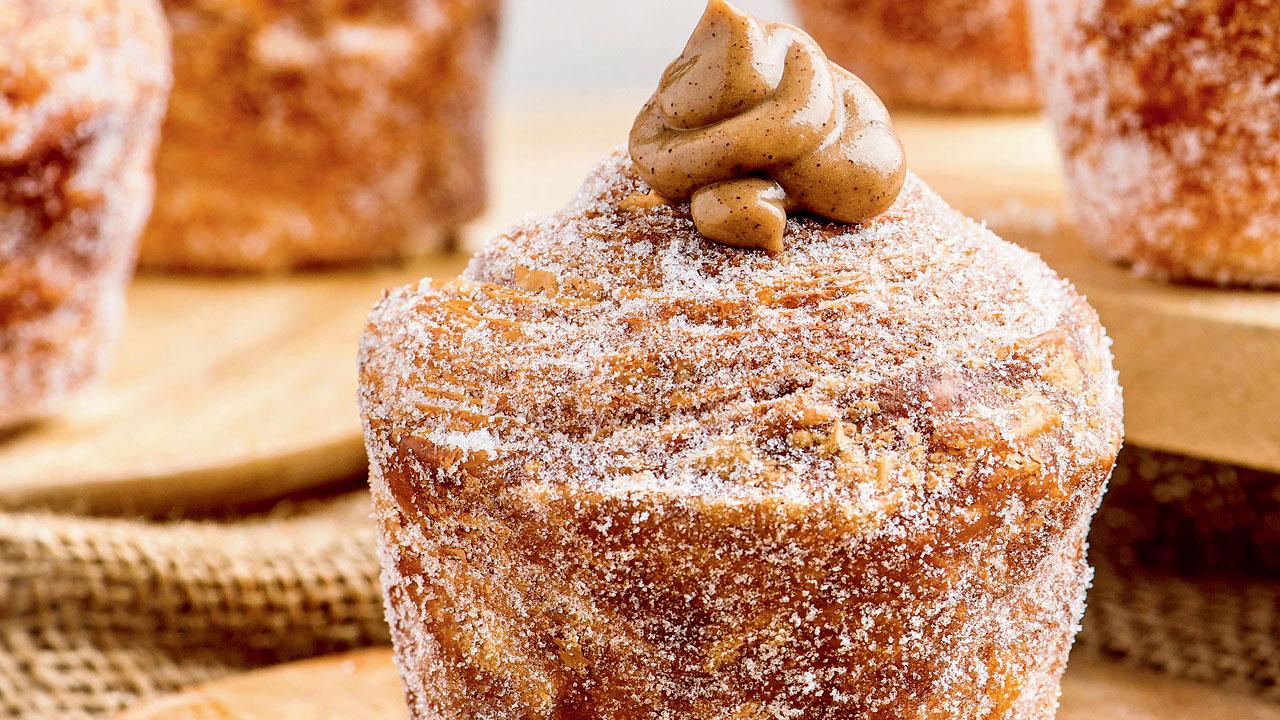 Coffee Cream Cruffin
ADVERTISEMENT
Interestingly, when the origin of a dessert doesn't arise from the goal that it has to be sweet, it delves into the complexity of flavours on the palate. The menu begins with an amuse bouche made of cauliflower and white chocolate mash, with toasted hazelnuts in brown butter and a cacao nib foam. It has all the signs of cauliflower, with the sweet presence of white chocolate. The brown butter offers the salty reign. On the main course is a roast dish of chicken or mushrooms, served with an aged chocolate mole sauce that chef Mankame has created.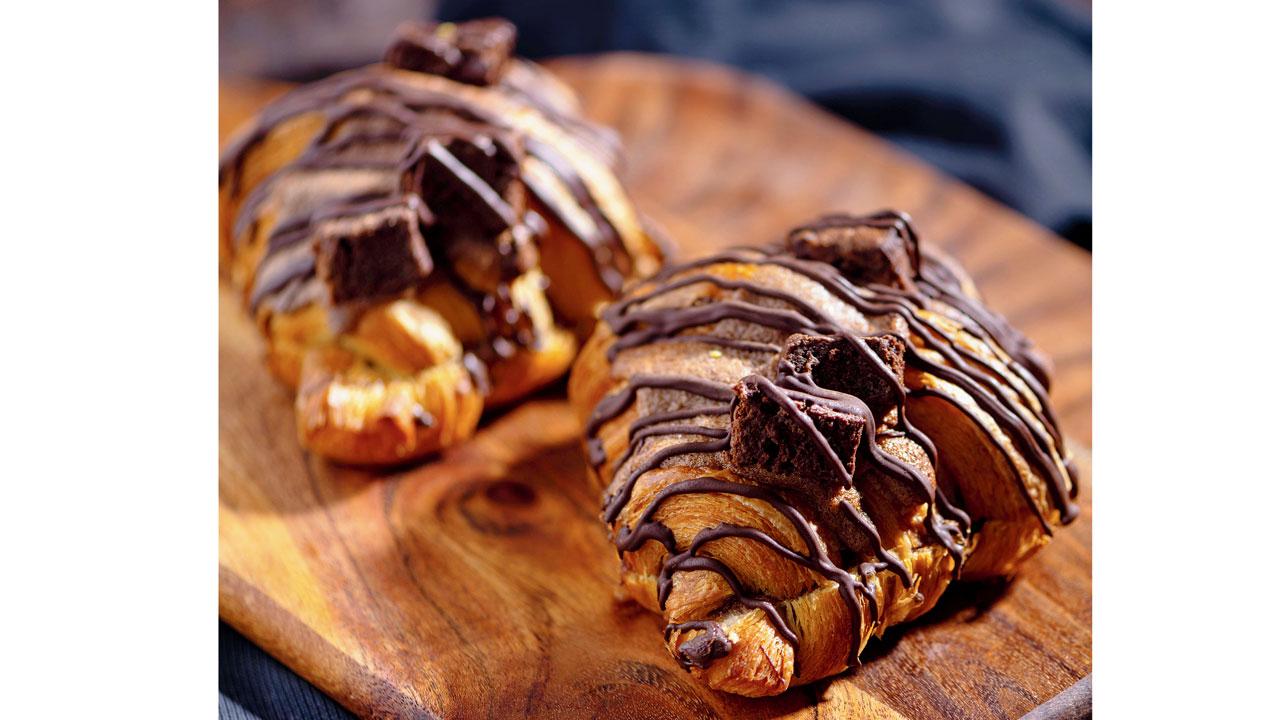 Walnut praline croissant
The Mexican sauce, originally made of chillies, tomatoes and nuts has the company of chocolate in this version, hitting the height of umami. With a beetroot kvass jus, and a side of leeks, the cacao nib rye bread holds the narrative in place, making us rethink our definition of sweet, savoury and spice. Patel, who has a background in food technology and experience at Michelin-star restaurants and hotels, feels that as a chef, "now is a great time to use our creative juices, study what is happening internationally and find an audience who will appreciate the effort here".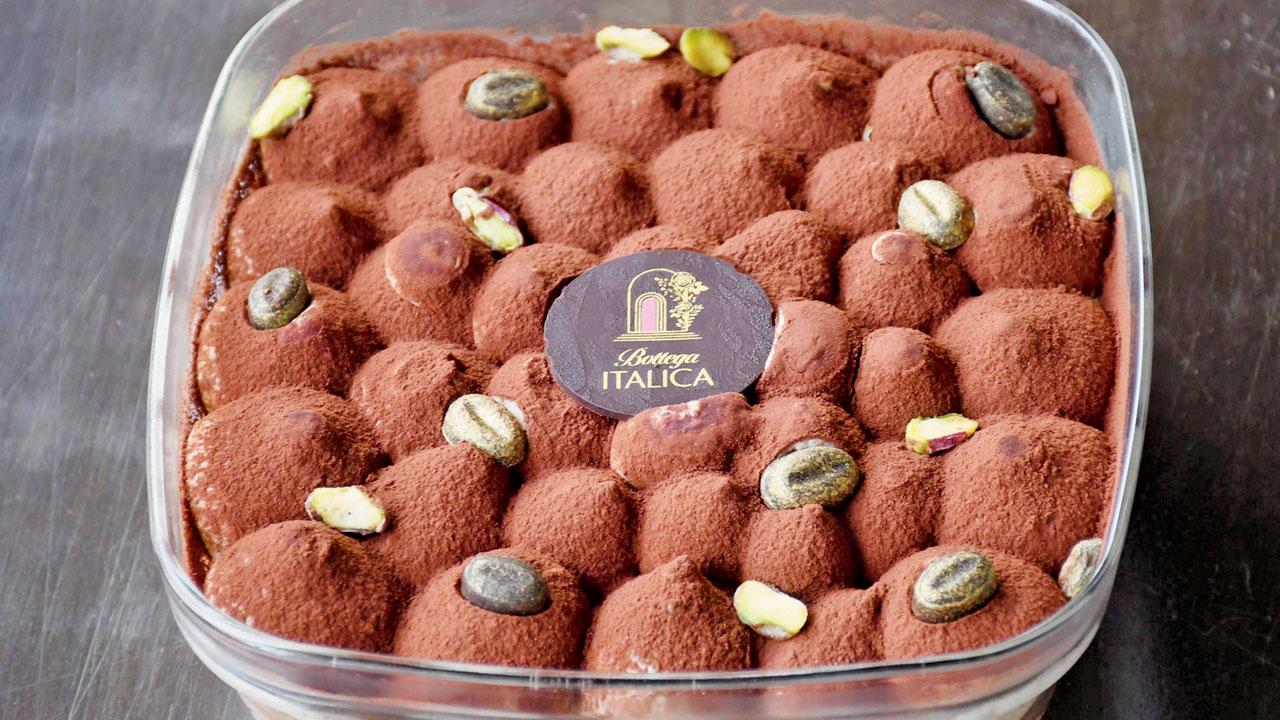 Pistachio and white chocolate tiramisu made by Mirella Fiore Somani
Sisters and cofounders of Vanilla Miel, Mansi Shetty Bafna and Isha Shetty, have pushed the envelope of turning dessert products into art since they launched in 2018. During the lockdown, they started painted cakes; almost too pretty to eat. On their current menu is ivory, Vanilla Miel's signature tart shell with brie cheese, apricot gélee and almond crumble, created to represent a cheeseboard. "Some people love to end their meal with a cheeseboard. So, we took a spin on the course and packed it into a dessert," says Mansi, adding, "We took our signature shell and created an infusion with brie cheese, which has nutty notes. It is topped with an apricot jelly, which is consciously not sweet, but adds a balanced tartness. The addition of an almond crumble creates three nexuses—cheese, dried fruit and nut."

Mirella Fiore Somani
A new entrant in South Mumbai, TAATSU has been on everyone's order cart. Raoul Singh, who also runs Gourmaison, a set-up that offers gourmet cheese platters says, "Across Asia, you see brands that offer high-quality products even at malls or food courts. It breaks the perception that only specialised bakeries or restaurants can serve a well-executed dish. Inspired by the Japanese version of a tart, the flavours of baked cheese tarts—Nutella cheese tart, salted caramel, Belgian chocolate, vanilla and blueberry cheese tart—are familiar yet distinctive."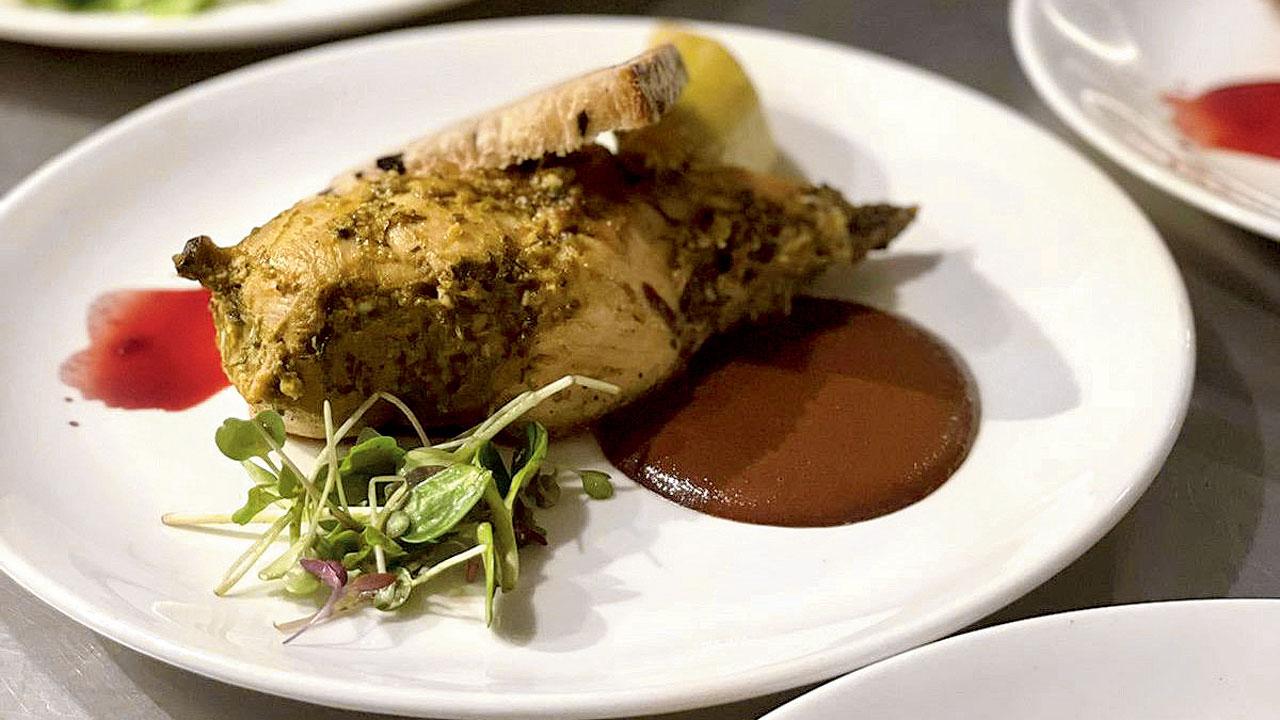 On KMC's chocolate degustation menu in February Roast chicken with aged chocolate mole sauce
When we bite into their original vanilla and blueberry flavours, it is crumbly, and we get our dose of sweetness, mingled with salt, and enough textures that amplify each bite experience. While not many would mess with a classic tiramisu, Mirella Fiore of Bottega Italica offers an ode to the Mediterranean Sea with a white chocolate and pistachio combination. The bakery which started last year is Mumbai's best-kept Italian secret. Fiore—originally from Padua, the Italian city known for its aperol spritz—came to India to study enamelling in 2016.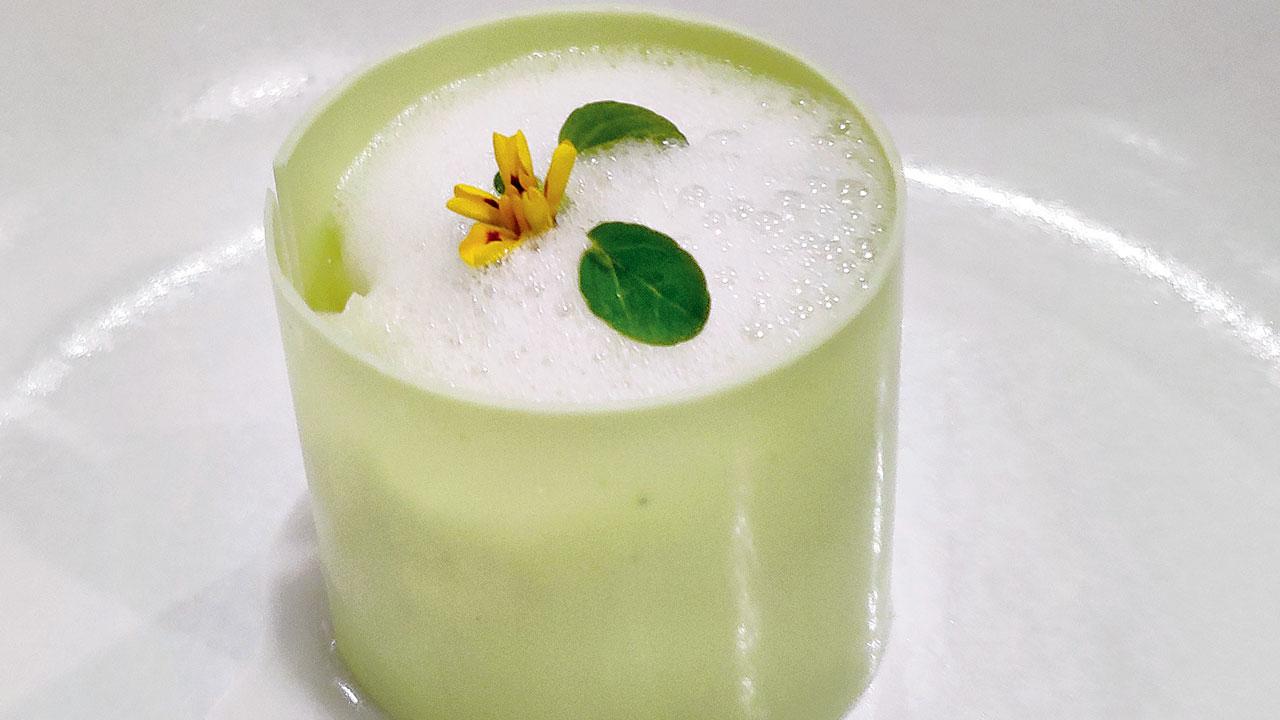 Cauliflower white chocolate mash
In 2022, she launched a menu that made the city drool over with family recipes of classic tiramisu, kisses of devil and kisses of angels (baci di dama), horseshoe tea biscuits (frollini), biscottis, jam cookies (diamantini). For the white chocolate version, she uses ground pistachios instead of paste. Expect a kick of savoury from the salted nuts, but the classic taste of coffee and mascarpone is intact. The white chocolate makes it creamier and sweet. "I have roots in Sicily which is known for its pistachios. A small town called Bronte supplies it to the rest of the country. From here, you get a beautiful view of the sea. It is the place of my art, and I wanted to create a taste memory of the sea," says Mirella.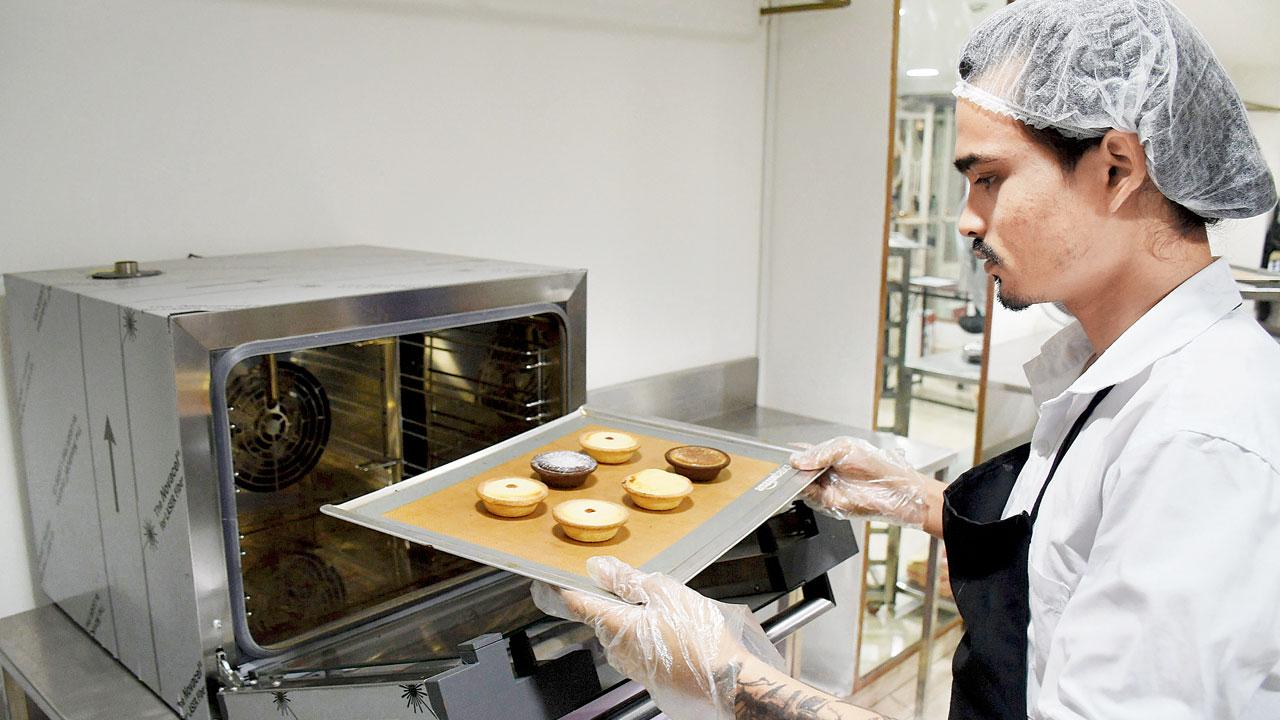 Japanese baked tarts in Belgian chocolate, blueberry and Nutella flavours. Pic/Ashish Raje 
What makes dessert now an all-day possibility is its inclusion in bakes. Suchali's Artisan Bakehouse in Bandra takes four days to bake their handcrafted croissants. The recipe uses a pre-ferment dough to increase digestibility, and enough resting and proofing time ensures the croissant has the right textures.  And, she doesn't stop at butter croissants. Their hot sellers are the walnut praline brownie croissant, berry mascarpone cheese croissant and a coffee cream cruffin, which is a croissant in a muffin avatar. Founder Suchali Jain says, "Our walnut praline croissant has an in-house chocolate walnut praline, along with brownie fillings and toppings. A person having this will not miss a dessert. Another variation is the cruffin, which is a croissant in the shape of a muffin, filled with coffee cream."
Another hit among the GenZ is Masa Bakery by Anushka Malkani and Nariman Abdygapparov in 2022 inspired by flavours and seasons. "Before opening, we baked our first bread, cut a slice and created a mould out of the bread that  we use to create our signature chocolate bar—which looks like a slice of bread, but is homemade dulce chocolate with croissant-trimming gianduja made by mixing crispy croissant bits and dark chocolate sourced from Andhra Pradesh," says Malkani.
Consumers are increasingly looking for unique flavour experiences, according to Dr Avin Thaliath, Director of Lavonne Academy of Baking Science and Pastry Arts, Bengaluru. "As Asian cuisine has gained popularity, chefs and food manufacturers have been inspired to incorporate umami flavours into their own creations," says Thaliath.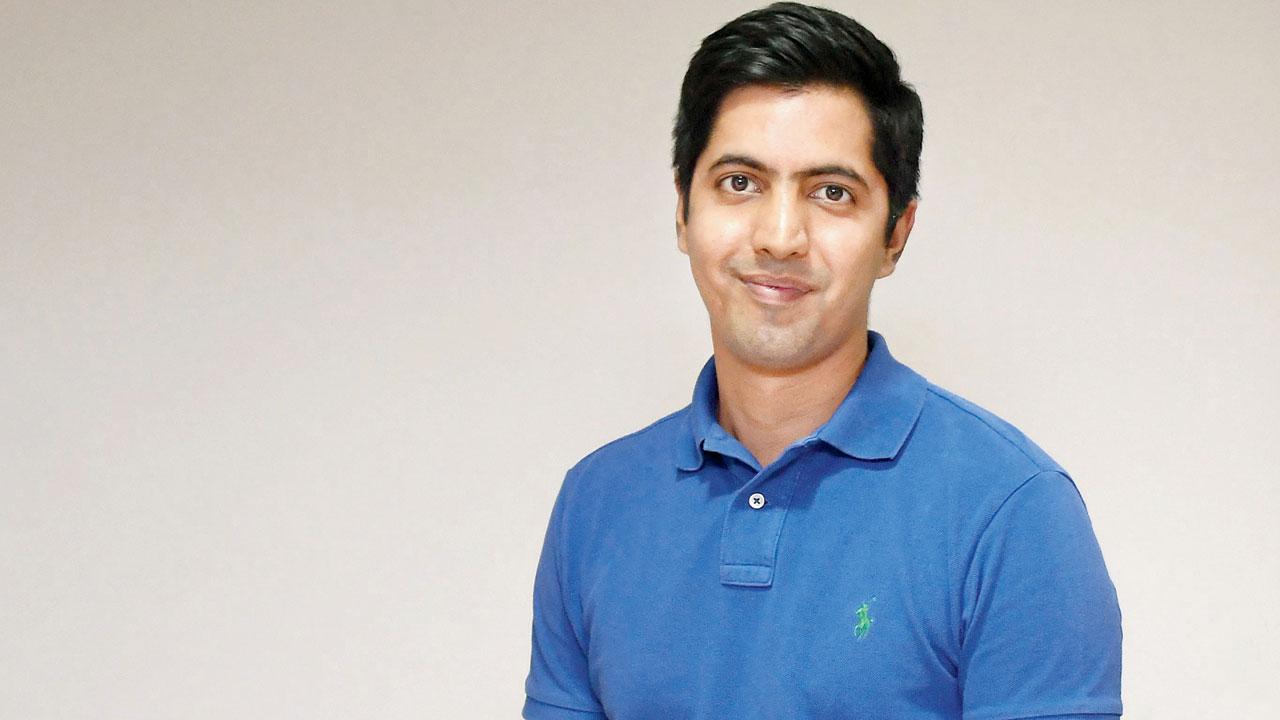 Raoul Singh
 On the presentation front, minimalist design, interactive elements and texture contrasts are current favourite trends. This includes using clean lines, negative space, and monochromatic colour schemes. "Interactive desserts that engage the diner  are becoming increasingly popular. For example, a dessert might be served with a sauce or topping that the diner can add themselves, or with edible decorations that they can arrange on the plate. Chefs are also using a variety of techniques to create contrasting textures and colours within a single dish like including a crunchy element like a tuille or brittle alongside a smooth, creamy mousse or ice cream or incorporating edible flowers, brightly coloured sauces, or whimsical shapes and designs," says Thaliath.
Patel shares a recent experience in Dubai where Chef Carmen Rueda, Pastry Chef at Brix Desserts, served a dessert inspired by Winter. "When I think of winter, I see spices and warming ingredients. We were served a decaf coffee mulled to taste like a port wine. With this, he paired a contrasting flavour of nitrogen cucumber foam, celery juice and a fennel cake with meringue. I would never think these flavours would work for winter, but they did," says Patel.
At the KMC degustation menu, her palate cleanser is a fruit granite with cucumber white chocolate foam and an avocado emulsion. The chocolate ring that held the dish was made of dehydrated cucumber powder, chocolate butter and matcha. "The idea was to desensitise the palate, so we made sure it was not overly sweet," explains Patel, adding, "And to prep for the actual dessert course," she quips.
Hot picks in the city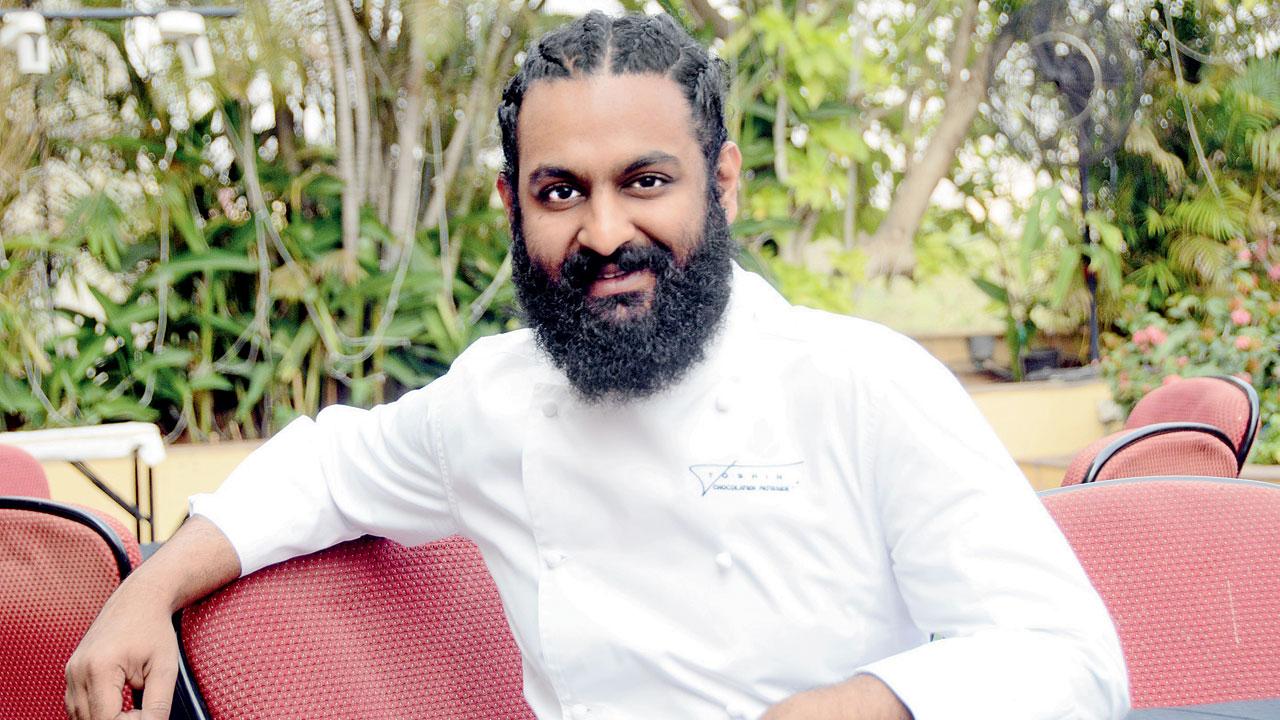 Strawberry verrine and truffle ice cream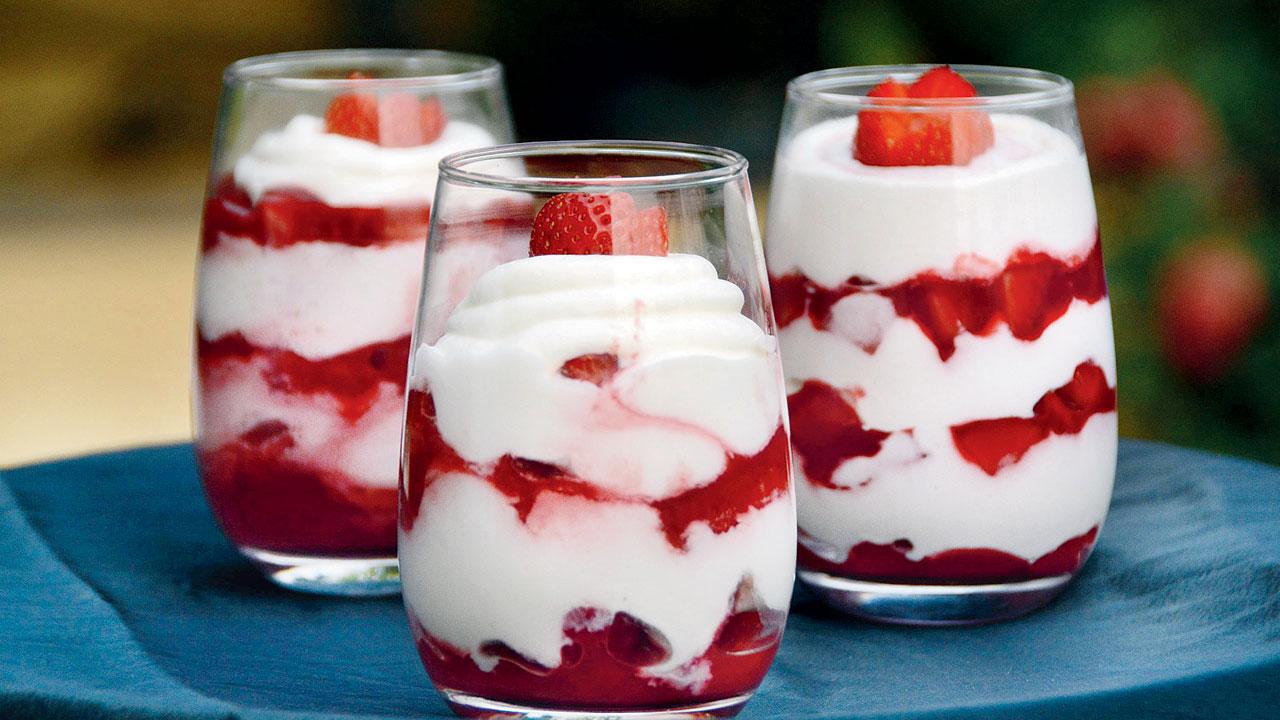 Toshin's strawberry and cream is a classic take on Marine Drive's Bachelor's iconic fruit cream; the truffle ice cream adds an umami twist.
WHERE: Toshin's 
COST: Rs 450 onwards 
CALL: 67982298
Caramelised white chocolate and cheese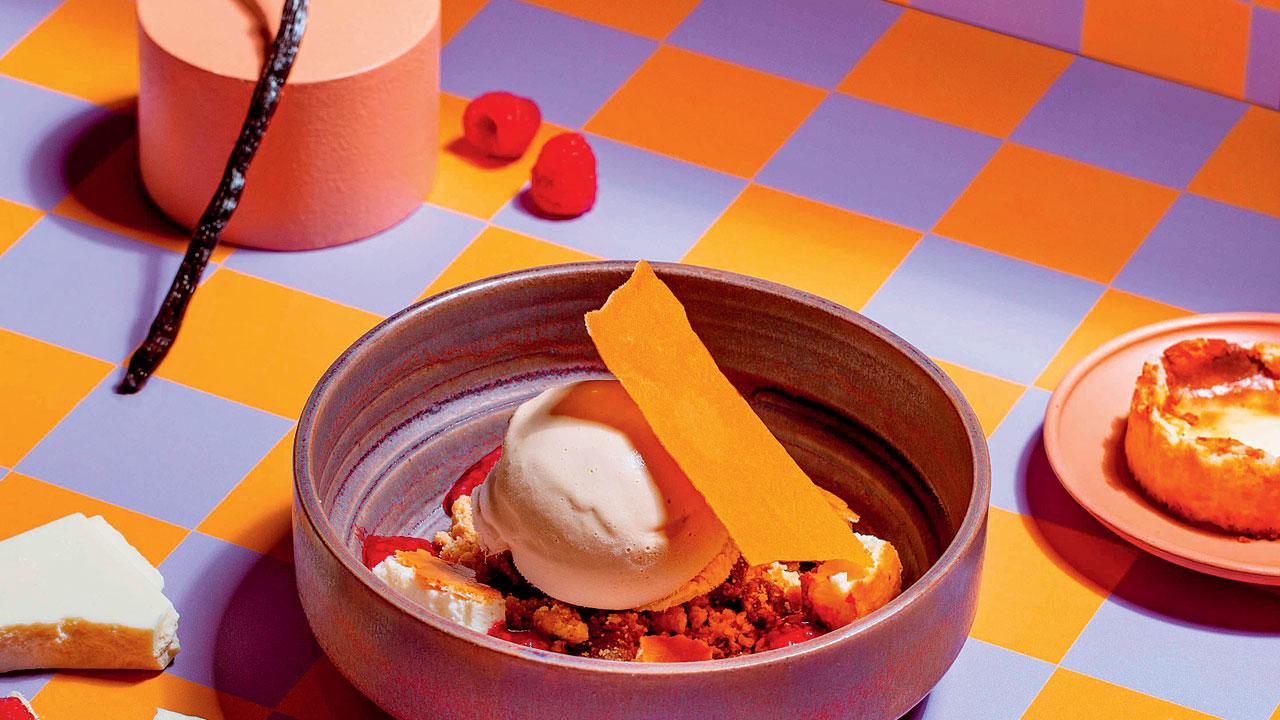 The basque cheesecake in an ice cream tub at Burma Burma, comprises caramelised white chocolate with cheese and folds of raspberry compote. 
WHERE: Burma Burma 
COST: Rs 550 for 500 ml 
CALL: 240036601
Sicilian orange slice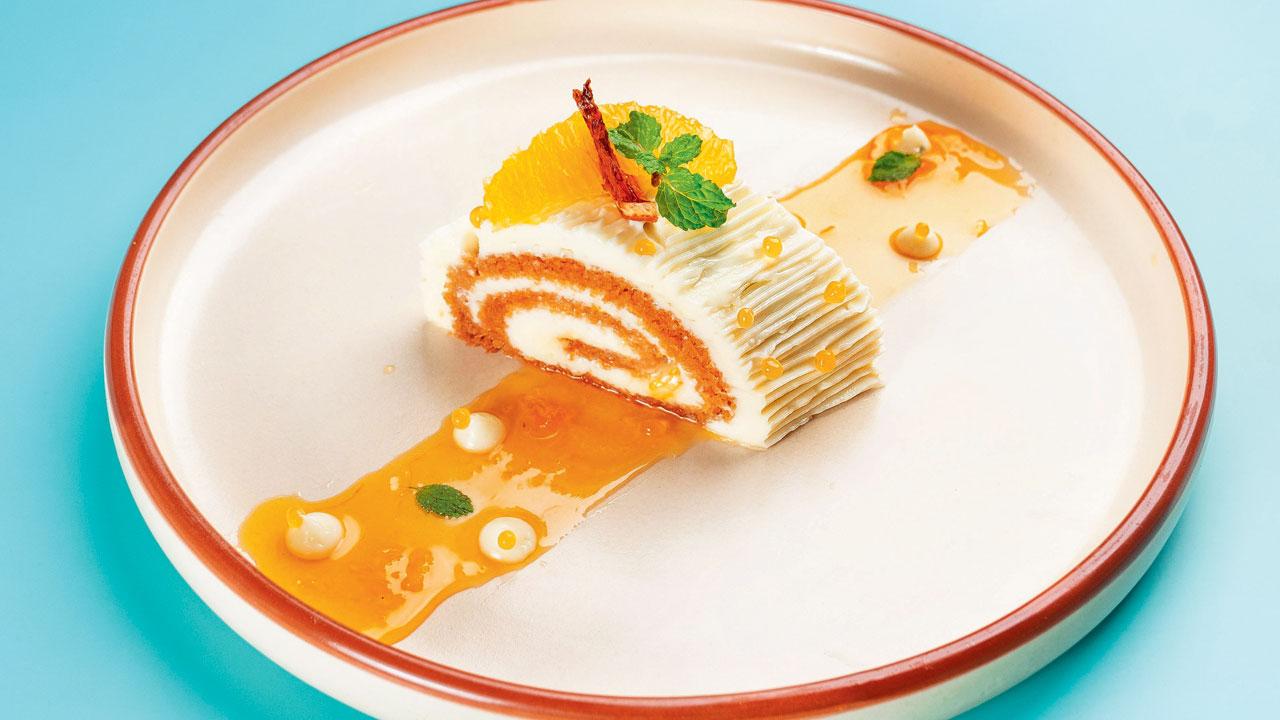 A fluffy orange sponge cake infused with homemade orange marmalade and topped with a velvety cream cheese frosting.
WHERE: La Poz Place, Kala Ghoda
PRICE: Rs 550
CALL: 7009000246