A new generation is writing the next chapter of success at Parsi Dairy Farm. Sunday mid-day bags an exclusive look into their freshly-renovated Princess Street HQ and meets the family for stories about its legacy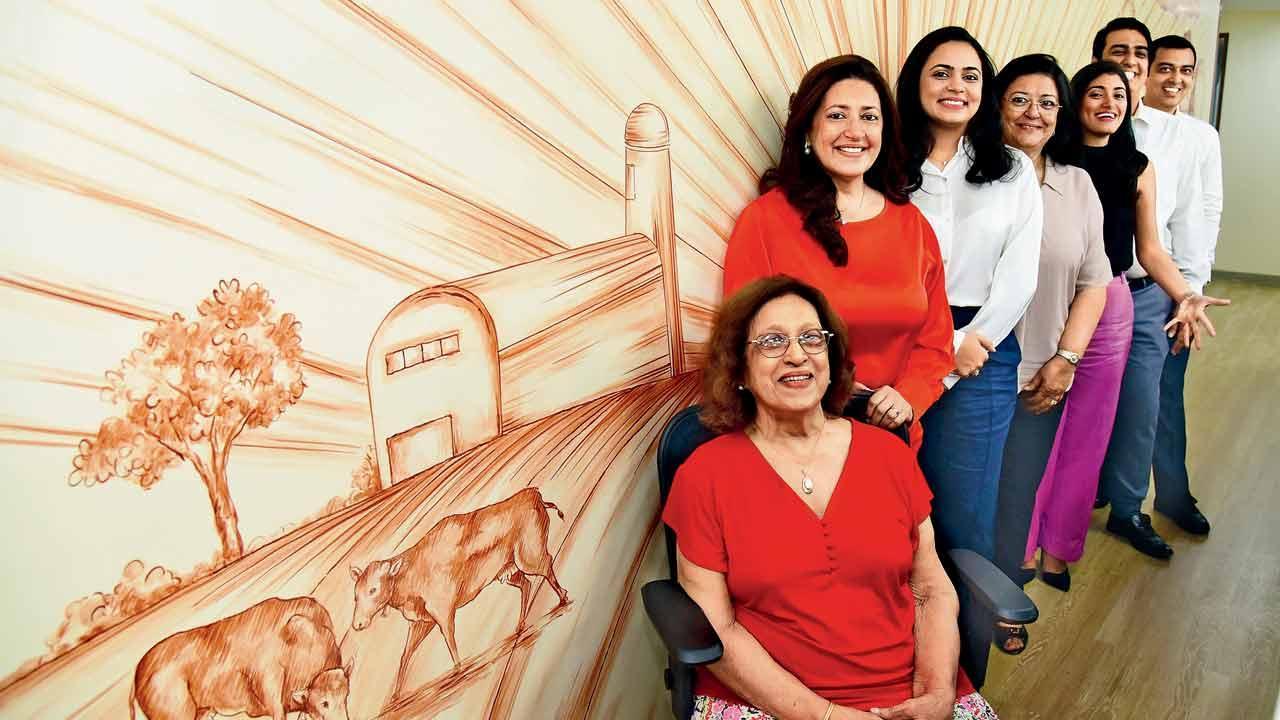 From (front to back) Jeroo Nariman (seated), Meheru K Patel, Parvana S Mistry, Shernaz K Irani, Zeenia K Patel, Sarfaraz K Irani, and Bakhtyar K Irani at the brand's Nariman Point office. Pics/Nimesh Dave
As Jeroo Nariman enters the corporate office of Parsi Dairy Farm (PDF) at Nariman Point in a wheelchair, she stops briefly in the lobby to look at the black-and-white portrait of her parents Nariman and Meherbai Ardeshir. Her father started the now iconic business on the busy Princess Street in erstwhile Bombay in 1916 with one can of milk. He took it upon himself to make the brand the gold standard in dairy. On the opposite wall is a photograph of a younger Jeroo with her brothers.
She is 86 now and just as radiant as in the photograph taken 20 years ago. Her nieces, Shernaz K Irani (64) and Meheru K Patel (60) join her to tell us about their favourite products from their legendary laden shelves. "Mine is the crisp and juicy jalebi," says Shernaz referring to the giant pipe jalebi—a mouthful of sweet bliss sitting within the pinwheel casing. As a child, Shernaz would make trips to the dairy's busy karkhana; staffers in cobalt blue shirts and shorts would fry the jalebis and present them to her dusted with pistachio and almond flakes. "The aroma is still fresh in my head," she smiles, "One bite and the memories come flooding back."
ADVERTISEMENT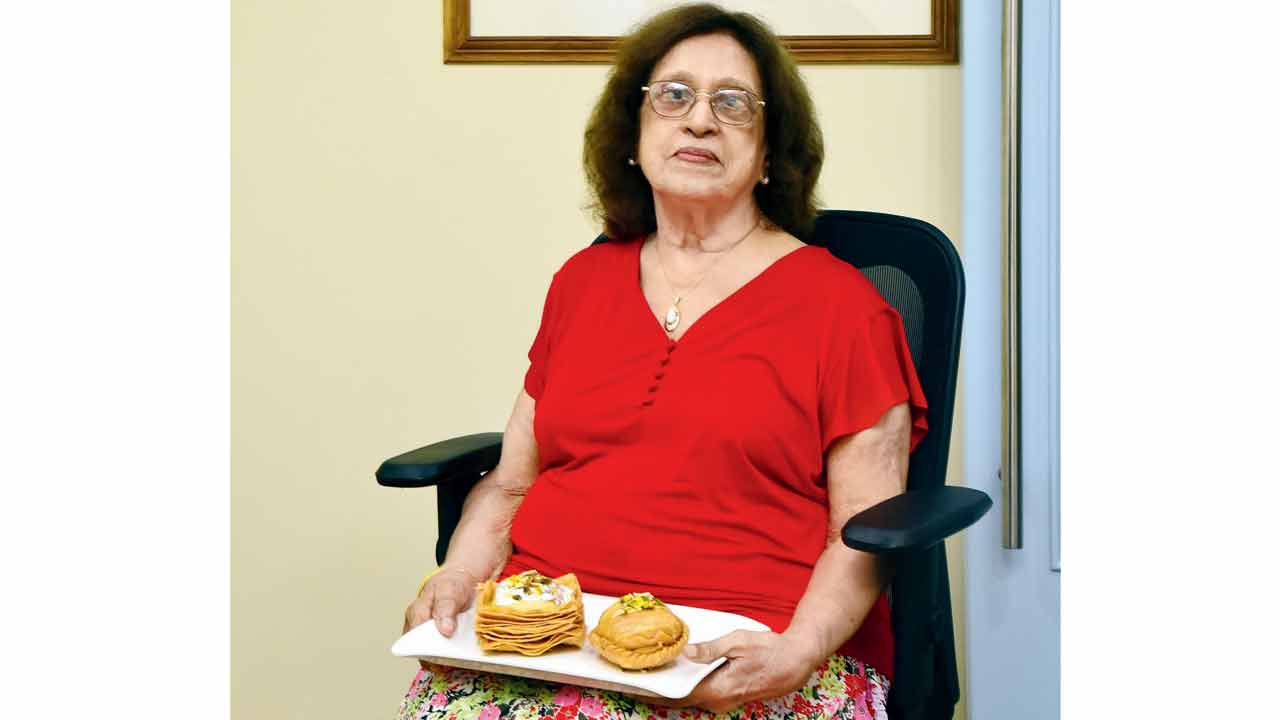 Matriarch Jeroo Nariman with her favourite mawa khaja sits near an archival portrait with her brothers Dinshaw, Mehrwan, Naval and Rusi taken at Parsi Dairy Farm at Princess Street 20 years ago
For Jeroo, it is the mawa khaja. "Flaky on the outside, deliciously creamy on the inside—this combination of the sweet-salty buttery layers of flaky pastry is undeniably the best," says Nariman. Meheru talks fondly of PDF's cottage cheese. "It's so rich and creamy, I use it to make dips when I host parties."
A lawyer by education, Shernaz's son, Bakhtyar K Irani (41) is Managing Director with the company. How a can of milk sold on the streets over a hundred years ago by his great-grandfather, transformed into an empire, with stables for the cows and buffaloes bought at Mazgaon, which later shifted to Andheri and Jogeshwari as the business flourished, is a story you've got to hear from him. 
"About 50 years ago," he says, "we shifted to Talassary on the Mumbai-Ahmedabad highway, where we have a parcel of 300 acres of land for a huge supply of livestock. This allows us to work with four varieties of milk—full-fat buffalo, low-fat buffalo, no-fat buffalo and cow milk."
Bakhtyar was nicknamed the Toffee Boy of St. Mary's school because on his birthday, he distributed PDF's decadent milk drops toffees among classmates. In the latest round of rebranding, this candy will be rechristened the Great Indian Toffee, and the plastic wrapper will be thrown away. It will be available through a dispenser. Think a jukebox for toffees, pull the lever and collect your stash in a carousel-shaped cardboard box, and pay by the gram.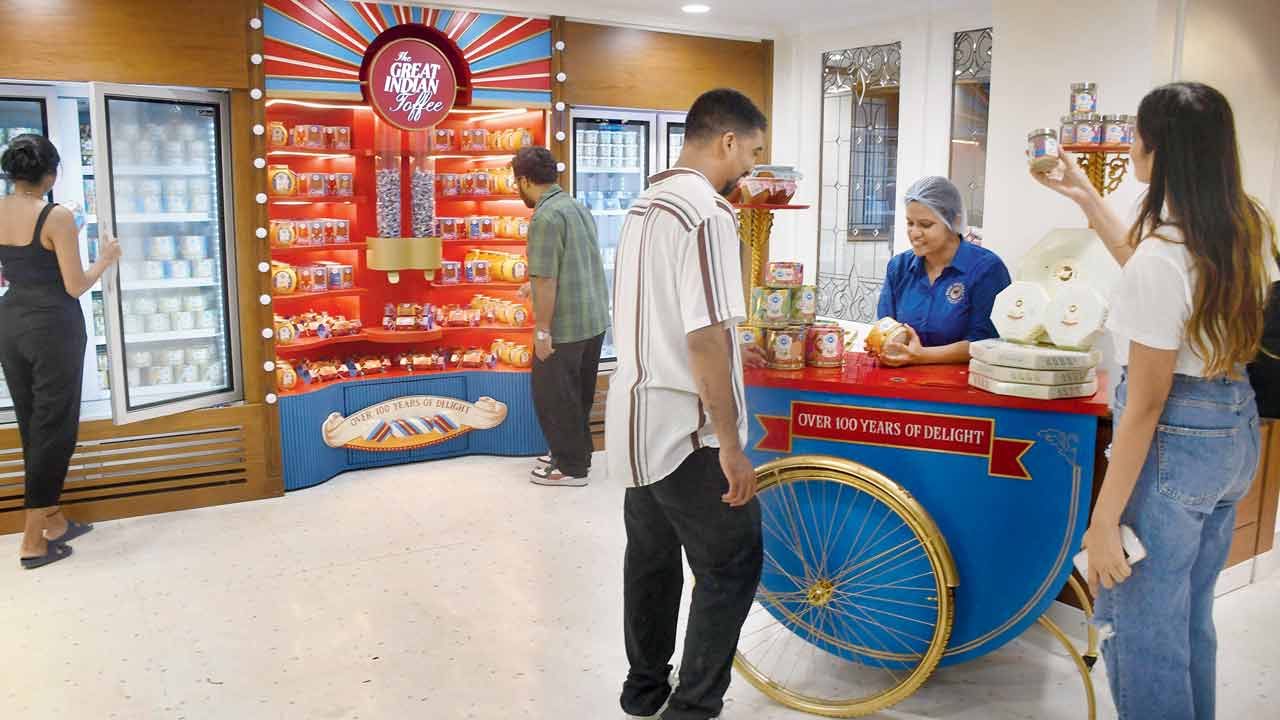 The store's new look has vibrant colours, a toffee vending machine and a special kulfi cart. Pic/Ashish Raje
Meheru's daughter, Parvana S Mistry, is a Le Cordon Bleu alumni and the company's Operations Director. She tells us that original recipes have been retained and systems have been standardised around them to make the processes modern and systematic. "We are proud of the recipes handed down through three generations," adds Mistry whose favourite memory is observing the making of the iconic suterfeni. "I am still fascinated by the process—from dough to fine strands that melt in your mouth."
The refurbished Princess Street outlet opens doors tomorrow. Two other outlets—at Borivli and Ghatkopar—are set to open a month later. Parvana's husband, Shahen Mistry of Shahen Mistry Architects, was brought on board to helm the store design and interiors.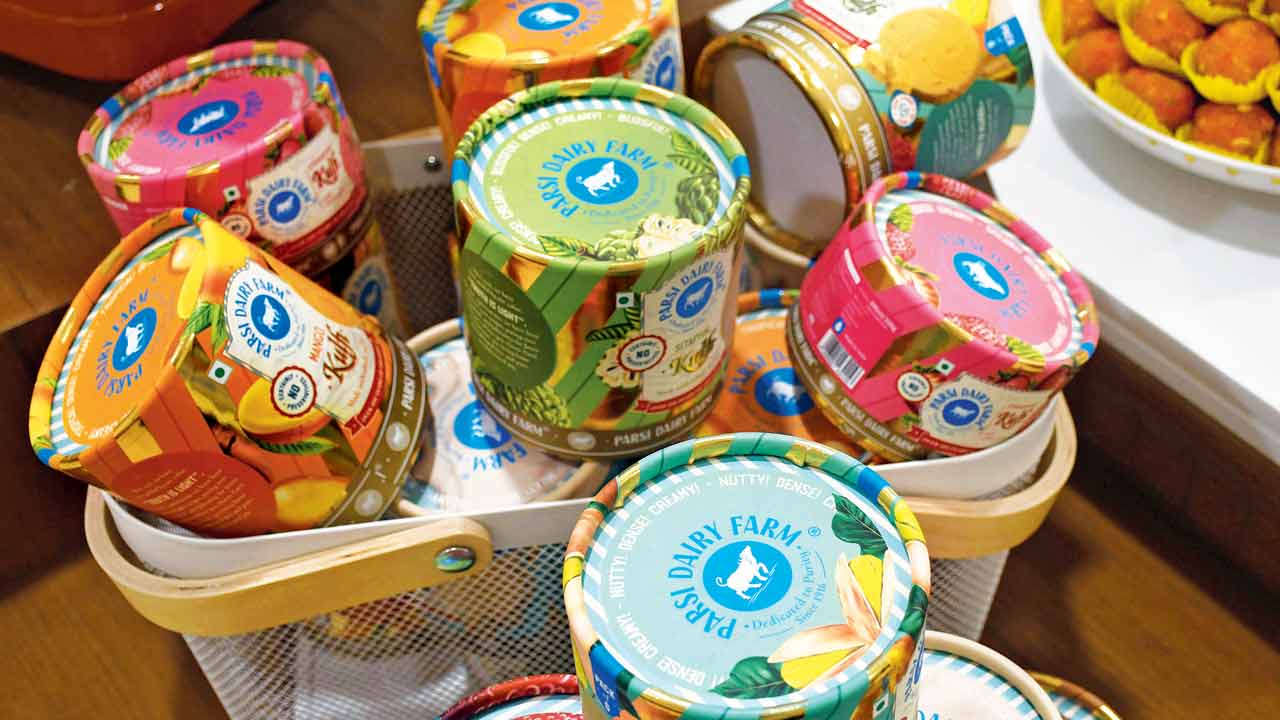 "The concept was to infuse a sense of modernity while keeping its traditional values intact," he explains. "The house blue colour is retained, while a big red door takes centre stage," he explains. "We have retained the signature stripes and colour palette. The Great Indian Toffee Counter makes a bold statement within the classy and subdued shop interiors. Sandwiched between classical wooden panels which house the display fridges, this toffee counter is an interactive attraction for both, old and young. We added coloured light and sound displays to bring fun and energy to the shop."  
As for the new product line, there will be a focus on cheese some time later, but for now, new additions include Milk Masala and Chai Masala Powders. But more importantly, the idea is to scale the reach pan India. Shernaz's younger son, Sarfaraz K Irani (38) is Sales Director, and studied interior design. "We want to take our tradition and these products to every corner of the country. We will leverage our online platforms to reach there and bring in a stronger digital presence," he says. 
Sarfaraz's favourite and proudest moments came when they'd travel on the Deccan Queen during vacations and vendors would come to sell the family their own PDF kulfi. "We'd proudly buy it even though we had access to it every day back home," he says, adding, "At the revamped store, our windows will have life-size installations of kulfi, and everyday products such as ghee."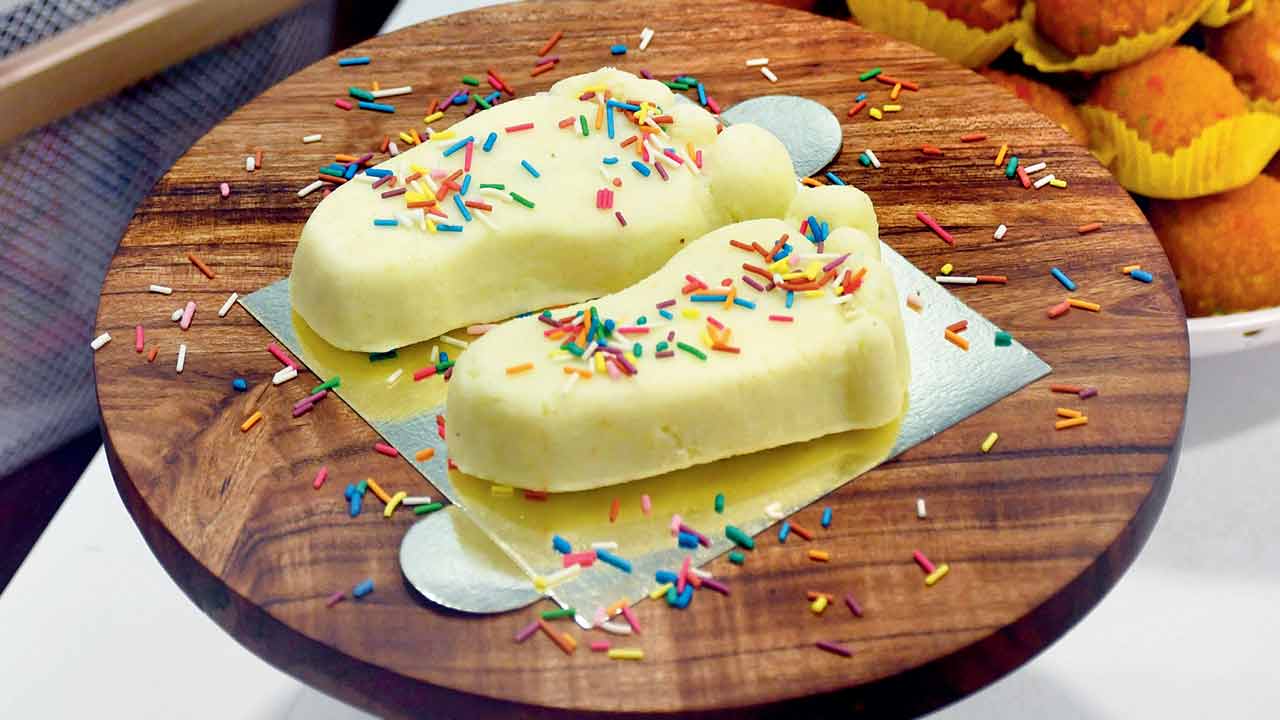 Pag Laddoo
We remember the collective display of grief and dismay, not too long ago, when news of the business folding up spread. Understanding that a company cannot run on nostalgia alone, the family worked to turn the game around. The camaraderie they share and respect for the brand's legacy is clearly behind this reinvention 
During the interview, it is amply clear that Jeroo is the beloved witty grandaunt; the two sisters had so much to catch up on, even though they just met two days ago. The cousins respect each other. "We feel confident about the four taking over," says Shernaz, "Each of them is strong in their respective roles; together they are a force." Meheru adds in unison, "We are sure they will take our legacy to greater heights."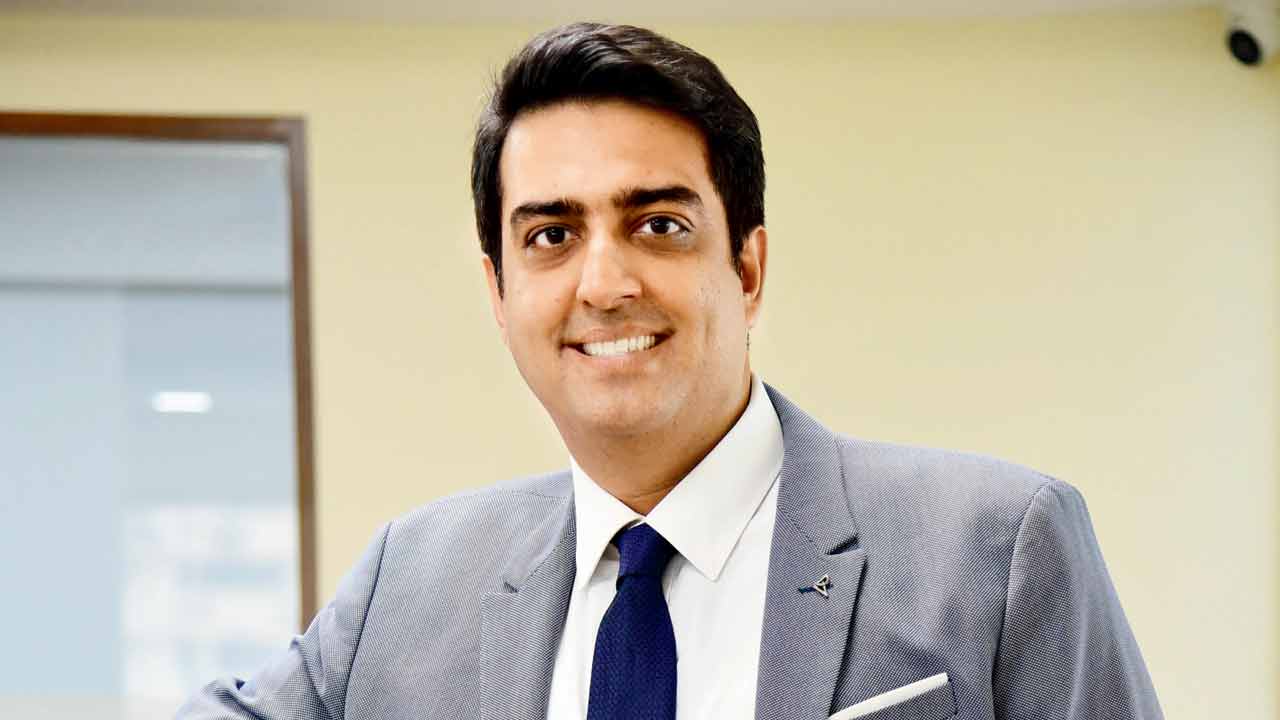 Sarfaraz Irani
What is it, we wonder, that protects the integrity and appeal of a century-old brand? "We grew up with the same family values and culture, watching this business and playing around it," says Bakhtyar, "It is what drives us because it is extremely close to our hearts. Another aspect is that we've seen how even as the business scaled over the years, our family held on to traditional recipes and practices, preserving the authentic taste and following stringent standards that gave us the competitive edge. As we embrace modernity, our commitment to tradition and purity continues to bring people back to us. People believe that if it is a Parsi Dairy Farm product, quality is sacrosanct."
"Exciting news! Mid-day is now on WhatsApp Channels

Subscribe today by clicking the link and stay updated with the latest news!"
Click here!