Meet the 24-year-olds managing the 'creator economy'. Born into social media, they know what's trending before the meme even goes viral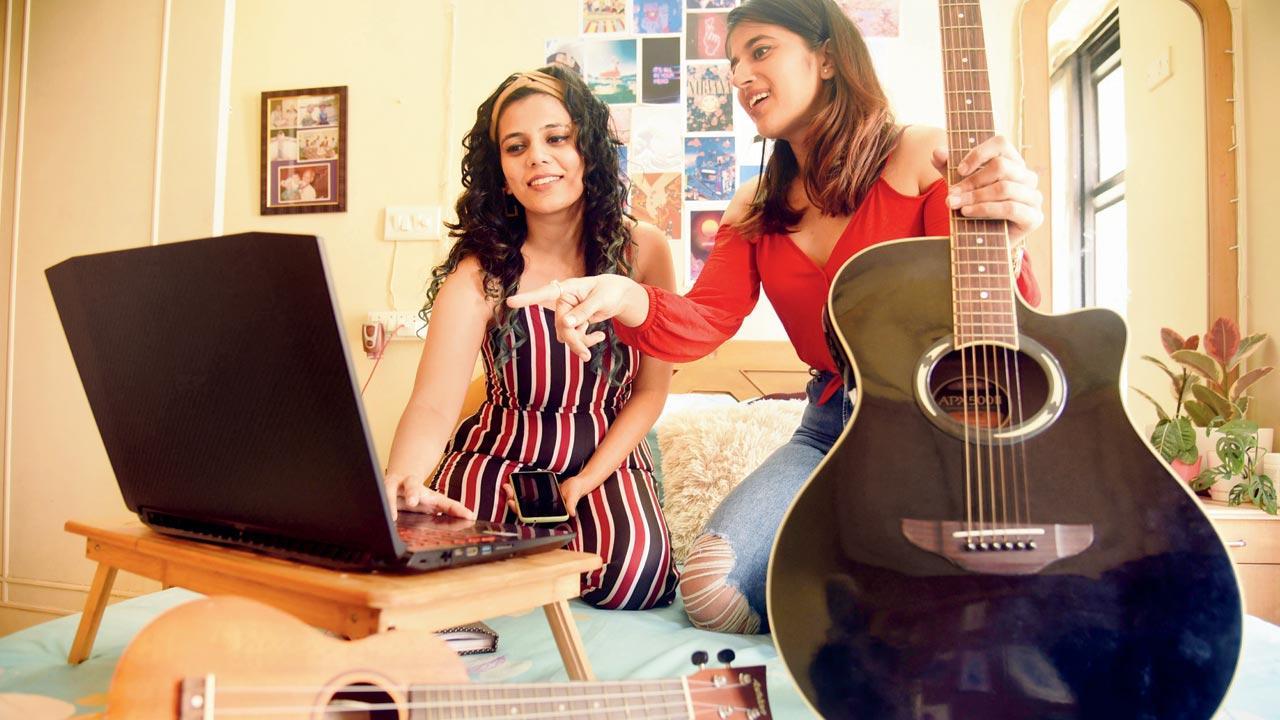 Pranjali Nigudkar guides singer and performer Abhiruchi Singh to better her social media. Pic/Sameer Markande
"I know what the trends are, but I truly don't know how to use that to build engagement, or what content works when, or even how to make photos look professional," says singer and performer Abhiruchi Singh, adding, "but, that's where Pranjali comes in. She helps me package my social media. She has often stopped me from putting up a post saying, 'If you do it now, nobody will see!'" She is speaking of her social media manager, Pranjali Nigudkar, who is also a photographer, takes care of Singh's Instagram and content creation.
Nigudkar's role in the world of influencers and social media stars is best described by Hitesh Rajwani, CEO, Social Samosa, which propels the industry with analysis of social media. "Social media managers are part of the 'creator economy' that is taking over now. These guys are like the celebrity managers of older times, but they also have insight into what makes platforms that matter, work. They don't just know what is trending, but go beyond that. They know, for instance, who would be interested in carrying news about a creator. How else would you explain the fact that creators who don't even live in India, but are Indian, such as Niharika NM, are getting so much traction in India? These people [the managers] are experts at content creation, marketing, PR, brand collaborations—they do it all." 
Hitesh Rajwani from Social Samosa
A March 2021 study on the "creator economy" in India by digital marketing agency AdLift, says that the market is estimated at $75-150 million a year compared to the global market size of $1.75 billion. In a column in February 2021, by Sanjay Tripathy, co-founder of Agilo Labs, which incubates startups, says that, "More than 50 million people around the world consider themselves creators today. The 'creator economy', also called the passion economy, isn't primarily about the future of work, it's about the future of scalable entrepreneurship. It is a group of businesses centred around independent content creators, curators and community builders including influencers, bloggers and videographers, along with the tools needed to help them grow and monetise."
 
For Nigudkar, 26, who started working in 2016, her expertise, like most social media managers, is self-taught. With a degree in mass communication from Manipal University, she feels her education really started when she worked for a PR agency for six months where she dealt with celebrities. She now works in tandem with a talent management company and handles social media for many of its clients, such as Singh, who has 13.4k followers on Instagram. "I also handle a musician duo called Archit and Smit, who are just at 600 followers, but I make their videos, and am posting for them all day. They want to build a campaign around their new song, and I am helping them do that." Her expertise now comes from scrolling through social media around eight hours a day, and attending Facebook webinars, which talk of branding, marketing and promoting content, and watching YouTube for the same as well. "Most people don't want to be bothered with learning all the logistics, so I do it for them," she adds.
Friends Natasha Kothari and Mallika Soni run personal social media marketing companies, and also have one for clients that they both bag together. Pic/Sameer Markande
Most social media managers, and young star makers, fall in the 24-26 age group, making sure we all know that the tag "born on Instagram" is very much true for them. Take, for instance, friends and co-workers Mallika Soni and Natasha Kothari. They are both 24 years old, and run their respective companies—Soni has EvolveNow Media, and Kothari runs Studio UnGap. Together, they also run UGEN Media, where they handle clients that both bag together. Soni, who worked at a beauty aggregator, says she learnt on the job as she was made to do everything—"I did social media, content for websites, and even made sales pitches". When she started her career as a social media manager two years ago, she would work for free to build credibility first. Today, her client list includes dancer Svetana Kanwar, who has 114k followers on Instagram, and Soni has managed to get her collaborations with brands such as Hyundai and Bacardi. "She is earning both moolah and goodwill. I think it's because as a social media manager you need to know everything—how to make a good reel, video, post. What's the new trend? Meme?" says Soni, who says her information comes from YouTube videos that talk of "how to build audiences", "how to make a pitch to a brand", and something as basic as "how does a social media page need to look". "For example, these days pastel colours are trending," she adds. 
Nikita Rakshe is a reel expert and used to manage ex-Miss India and actress Ruhi Singh
Kothari, who worked with Humans of Bombay as content head, says that people just need a little validation, and then they realise that they need to invest in social media managers. "I had a 60-year-old client who was a nutritionist. I told her 'simply make a video and hand it to me'. I would take care of the rest. Then, when she started getting followers, she wanted to 'make more reels'. People above a certain age also don't want to make an effort to learn, so they'd rather get it done." Soni's and Kothari's clients make anywhere from R10,000 to lakhs for a reel from brand collaborations. As Kothari's client, Anchal Morwani @hot.hair
.balloon says, "I believe that content today starts with an idea which translates into a thought and that manifests into a script, which ultimately gets executed into a video which is then consumed by an audience. It's an exciting journey from start to end and it definitely requires a team when you want to put something good and informative out there. Thank God for Natasha."

Priyanka Gandhi runs Social Bowl, which handles brands like Pizza Hut
For 25-year-old Nikita Rakshe, who helps unaware creators make trading reels, being a star maker is not a task to be taken lightly. "From explaining the need to be on social media to starting it all from scratch for some, it involves a lot of work. I make accounts for them, and plan weekly and month content. I visit the clients, click pictures and, with the new feature, Reels, we have to be constantly on our toes to generate videos that are pleasing to the audience and reach new targets. I follow the rule of 3Cs—capture, create and curate. I also believe it has become very important to make clients realise that just having a huge number of followers doesn't mean you have strong social media presence. Someone with less followers with better engagement and great traction can be useful in various ways. It's our job to make the clients feel confident of trying new content techniques, as many are sceptical and camera conscious, initially," says the social media manager who used to work with a newspaper, and has worked with influencers such as actress Ruhi Singh, an-ex Miss India with 1.7 million followers on Instagram. She also believes that there is no sure-shot formula to social media. All you do is trial and error. "I keep reading about social media updates, topical trends, algorithms changes and also follow various accounts, which keeps me updated about everything about what other brands are doing, to meme marketing and trends." 
The aim, says Priyanka Gandhi, is to eventually become the trend maker—"you are the one that causes a 1,000 memes to be created". Gandhi, 24, a student of finance now runs Social Bowl. The firm handles brands like Pizza Hut, who Gandhi gets to collaborate with influencers. She adds, "Social media is ever-changing, and you need to keep yourself constantly updated. The goal is to eventually make your client become viral and for that one needs to go on and on each day."