What do a gelato parlour, a rooftop European café and a 60-year-old hotel have in common? Mid-day spends an afternoon with the Advanis to find out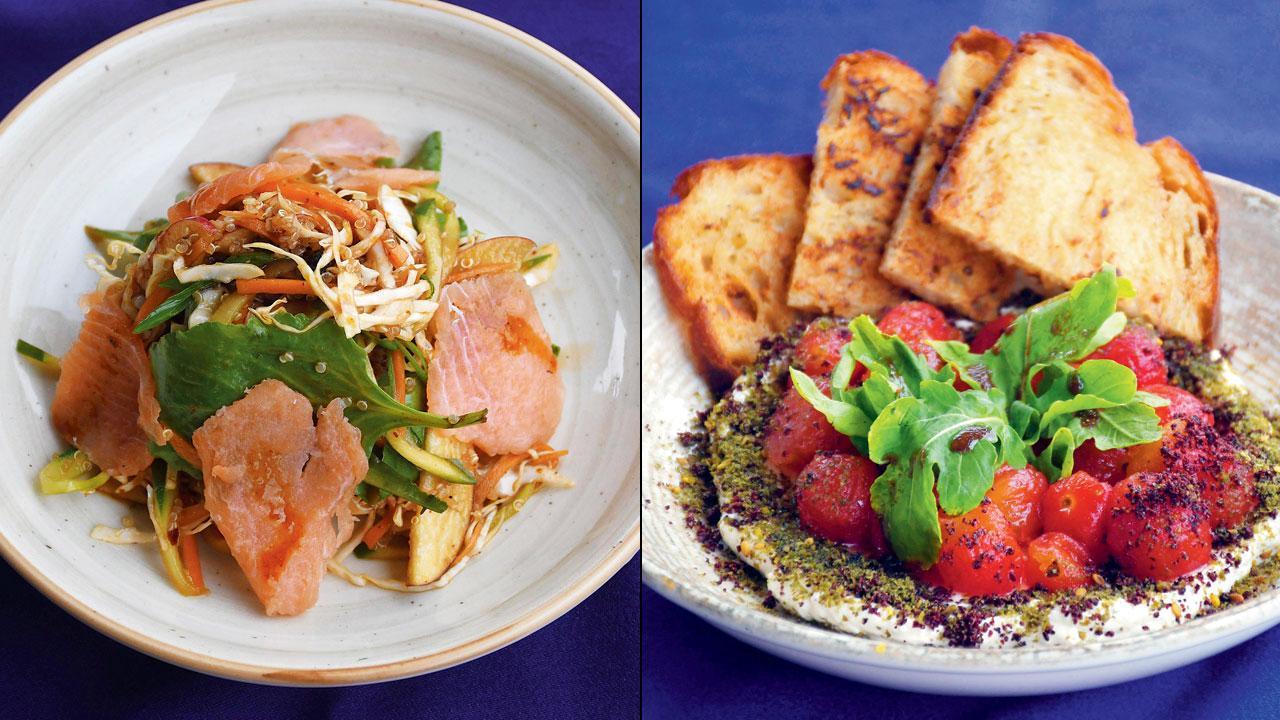 Poke salmon salad and Whipped feta with cherry tomatoes & sourdough
It's a clear day with no clouds threatening to drench the city. On the ninth floor of Shalimar Hotel at Kemps Corner, the brand new Cafe Calma is ready to welcome patrons starting next week. The al fresco has a lush hydroponic set-up, and bright yellow and marine blue-tiled seating that looks up to the open Mumbai sky. A rare offering in maximum city. Waiting for us is third-generation hotelier Yash Advani, formally dressed in a blue blazer. His twin, Simran, walks in flaunting golden-rimmed vintage glasses that complement her white and beige ensemble.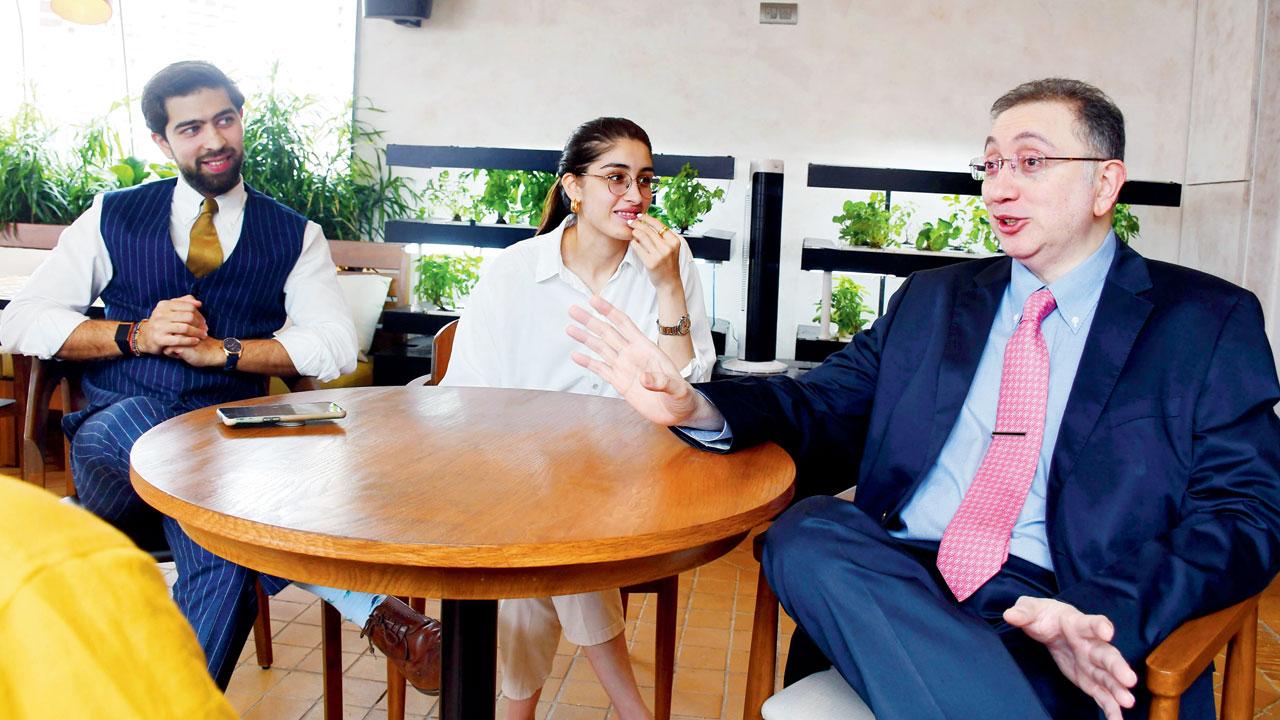 Dinesh Advani, 57, with his twins Yash and Simran who run Cafe Calma and Artisan Gelato respectively at Shalimar Hotel. Pic/Ashish Raje
Their father, Dinesh Advani, chairman of the Hotel and Restaurant Association of Western India, joins in last. We are quick to note the enviable collection of books in Dinesh's office library. From books on Rai Bahadur Mohan Singh Oberoi, the doyen of hospitality in India, to the legendary Conrad Hilton and Charles Kemmons Wilson, who started Holiday Inn, he has read them all. "When I got married, I told my wife I was already wed. Shalimar will always be my first wife," the 57-year-old says, about his hotel, which turns 60 this year. Dinesh, a second-generation hotelier, took over the running of Shalimar from his father, Sajan in 1986.
"When I came on board, Bombay was still really Bombay. People waited for 40 minutes to an hour to get a table at Gulmarg, our Indian and continental restaurant. Our chicken makhanwalla is a classic. The population of south Bombay was younger, and activity had not yet shifted to the suburbs," recalls Dinesh, who introduced the hotel bakery in the 1990s and led many transformations at the bar, now known as District Lounge.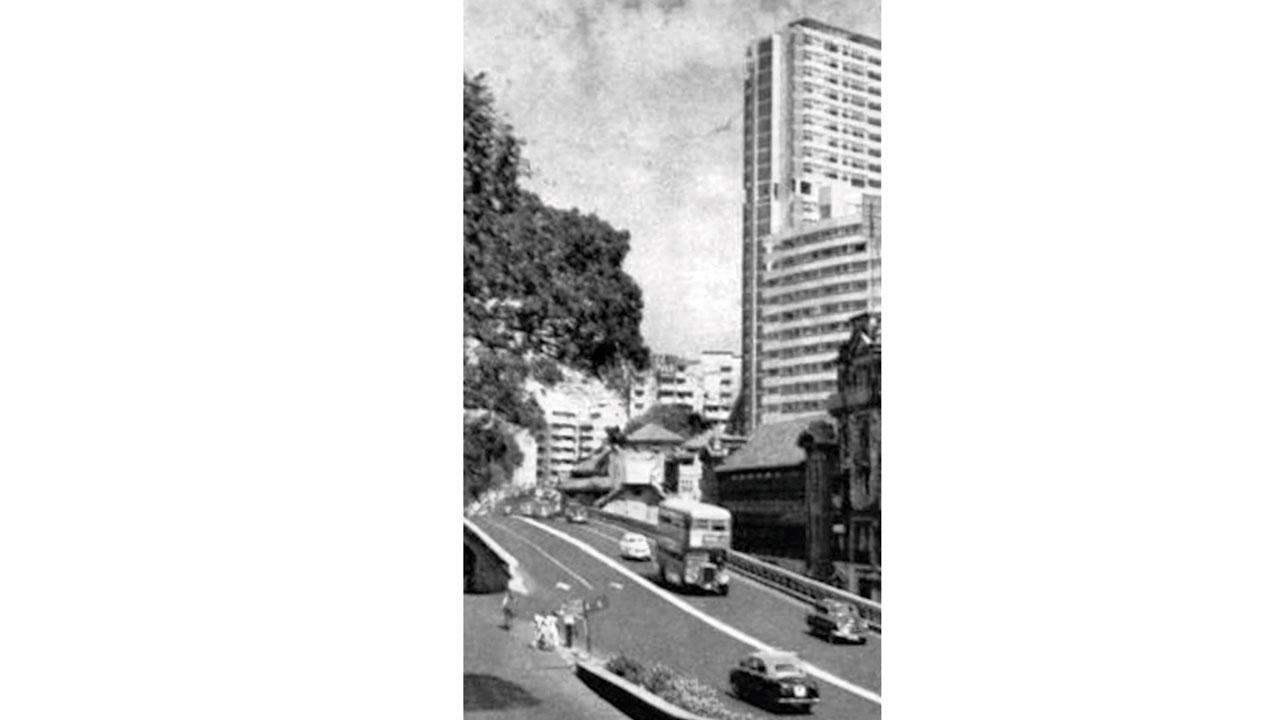 Shalimar Hotel at Kemps Corner in the 70s
The senior Advani is full of stories: The Oberoi Hotel in Delhi was the first to employ female housekeeping staff; Conrad Hilton kept a picture of the Grand Dame hotels, The  Waldorf Astoria, below the glass on his desk with a phrase—the greatest of them all. "He was out to buy a bank, but bought the hotel instead," says Dinesh. "All of them are inspirations to me, but the Taj Mahal Palace (old wing) holds a special place in my heart" 
In 2018, his 26-year-old twins joined him. While initially Simran had no plans to join her father, the passion for hospitality rubbed off on Yash quite early on. "On a school trip to Egypt when I was in Class IV, I picked up souvenirs for our Egypt-themed room at the hotel. Even my essay submissions were usually on hotels," he laughs. After studying hospitality for three-and-a-half years at La Roche in Switzerland, he joined Shalimar.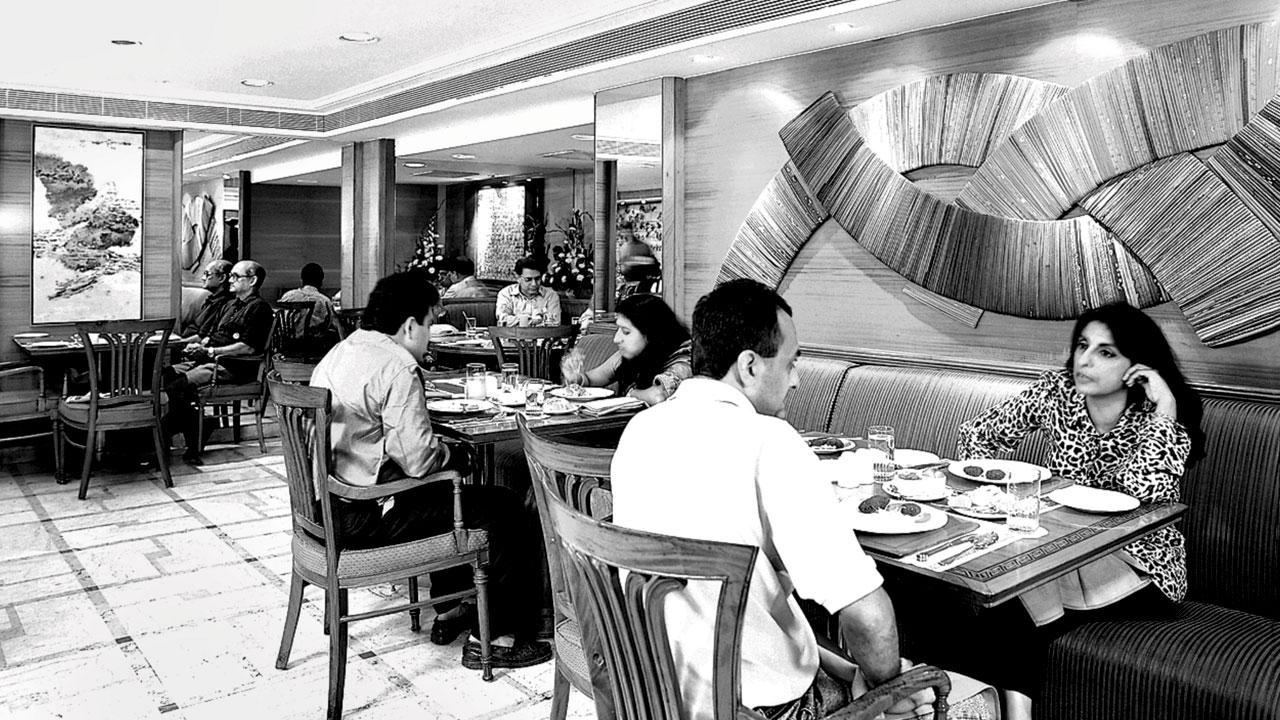 Back in the day, their restaurant, Gulmarg, had long waiting queues
The bug did not leech off enthusiasm during the lockdown; he launched home delis Jintan (Asian Kitchen) and NRI (naans and rolls). When they considered opening a third eatery at the hotel, Yash started work on Cafe Calma ( a name inspired by his Spotify playlist of soothing songs). "Our family loves travelling, trying new cuisines and discussing them down to the last bite. Cafe Calma is European with Asian influences," he says. 
His passion project at the cafe is the hydroponic garden from where customers can pick the ingredients for their dishes. The cafe has a concise European tapas menu that will be updated regularly. Barbequed teriyaki eggplant gets a parmesan emulsion drizzle with parmesan crumble, while whipped feta gets a hummus-like blend and is served with cherry tomatoes and sourdough toasted in garlic butter. Small plates such as roast chicken tacos tortilla come with a slathering of Mexican salsa roja sauce and green salsa.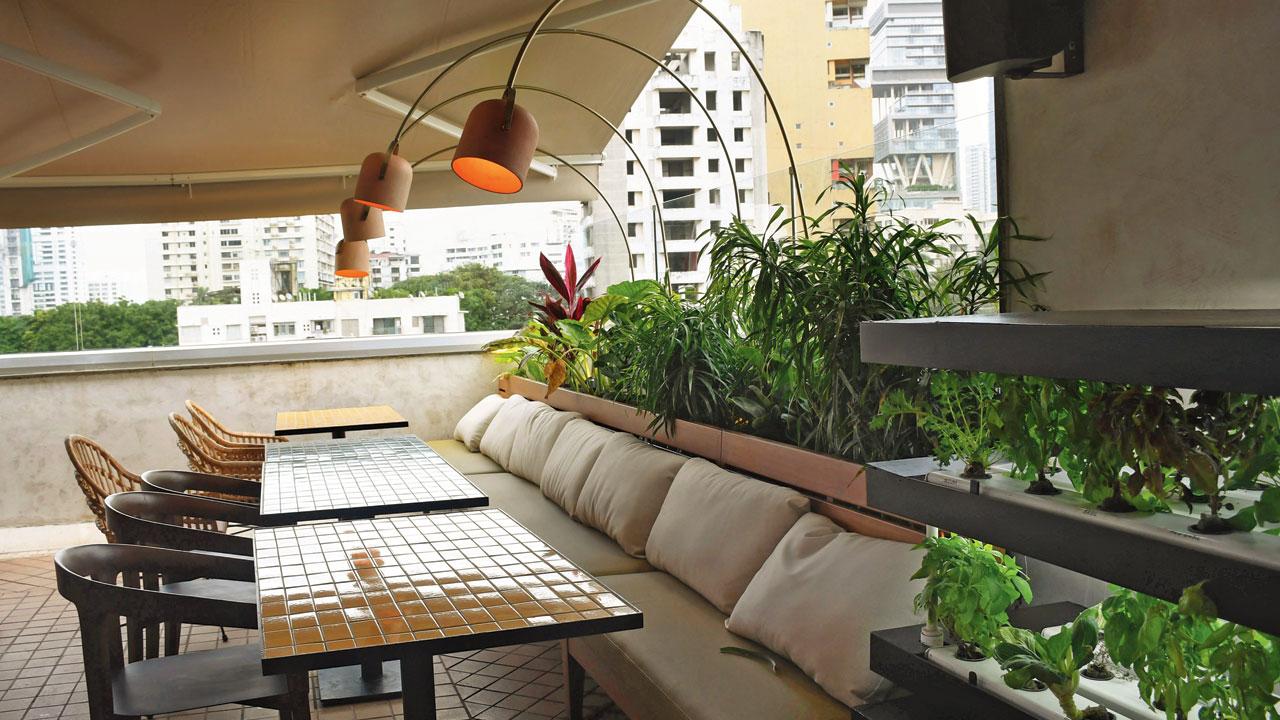 At Cafe Calma, customers can choose ingredients, fresh off the hydroponic garden
Simran's journey into the business was accidental. While studying business and design in Los Angeles, a part of the course took her to Milan. On a whim, she enrolled for a two-week basic and intermediate course in gelato-making at the Carpigiani Gelato University. "After the course, I bought a small gelato maker and once I came back home, I started trying out new flavours for friends and family, who found these small-batch artisanal gelatos to be interesting," she says. Her father gently suggested that she take up gelato-making professionally  using the space in the hotel left vacant by a salon.
She started Nova Artisan Gelato in February 2020. "It started with one chef, a manager and me. Then the lockdown hit, and we relied on home deliveries and online orders to keep afloat. Apart from retail at the store, we've collaborated with other restaurants and are available at Greenr cafe in Bandra too. There's one cloud kitchen in Bandra and the gelatos, have now, of course, made their way to Cafe Calma's dessert menu." From a chocolate tart to a Snicker offering that has freeze-dried gelato neatly packed inside a chocolate shell and drizzled with peanut butter, her small batch, all-natural gelatos promise to satiate even the pickiest of sweet tooth.
Shalimar, like other hospitality businesses, is still in the process of recuperating from COVID. "This will take a little more time," says Dinesh, who is happy to pass the baton to his children. "I have taken a backseat, letting them handle it, [not interfering] unless I have a certain point of view. Food festivals don't work anymore, and youngsters are happy with small pop-ups and collaborations. The customer has become smarter, and looks for personalised experiences and is curious about cooking processes. Social media is quick to judge, but this is the new world..." 
Chicken makhanwalla
Ingredients
 250 gm boneless chicken
 20 gm yoghurt
 4 gm red chilli paste
 3 gm garam masala
 4 gm elaichi powder
 5 gm turmeric
 20 ml mustard oil
 70 gm tomatoes
 20 gm cashew paste
 25 gm cream
 15 gm mawa
 5 gm kasuri methi
 3 gm dry ginger
 5 gm chopped coriander
 Salt to taste 
Method 
Marinate chicken in yoghurt, salt, red chilli, garam masala, elaichi powder, turmeric, and mustard oil. Roast or grill in a tandoor or oven. Shred and keep aside. Boil tomatoes and drain water, remove the skin, and puree. In a wok, add oil, tomato paste and cashew paste. Saute till oil leaves the sides. Add cream, mawa and kasuri methi. Add the shredded pieces of tandoori chicken to gravy. Garnish with chopped coriander and cream.