The most controversial man of the week, director Vivek Agnihotri says outpouring of emotions to his film is proof that this side to Kashmir's insurgency had to be bared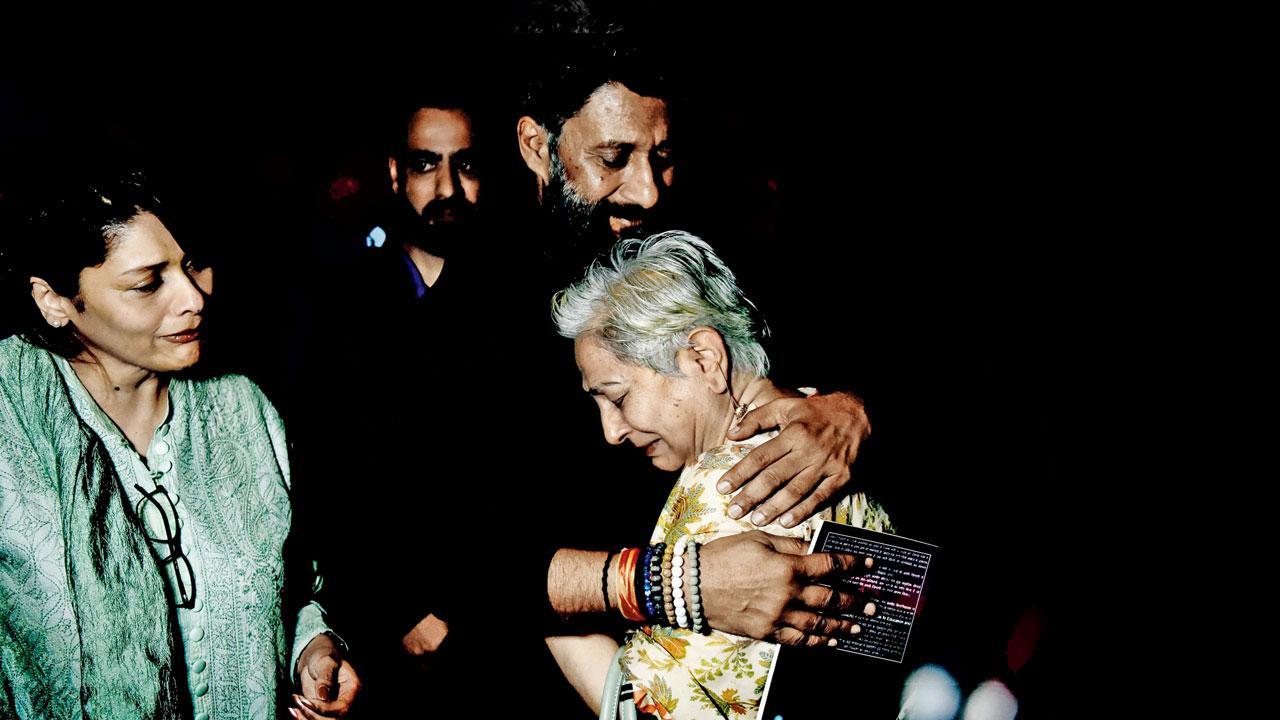 A viewer is consoled by director Vivek Agnihotri as his wife and actor Pallavi Joshi looks on. A special screening of The Kashmir Files was held for members of the Kashmiri Hindu community, on March 13 in Gurugram. Pic/Getty Images
It's post noon on a Wednesday, when we manage to connect with director Vivek Ranjan Agnihotri. By then, it has been five days since the release of his controversial film, The Kashmir Files, based on the exodus of Kashmiri Hindus from the Valley following violent processions by Kashmiri Muslims who wanted an Islamist state. On day eight, its box office collections cross R116 crore. But, Agnihotri who describes himself as a "free thinker"on Twitter, an account which he deactivated briefly last month after he claimed to have received threatening messages to stop the release of this film, is drawing mixed reactions.
The emotions are raw, like in the videos of Kashmiri Pandit viewers crying inside theatres, as they sink in the torment that Anupam Kher's Pushkar Nath experiences in the film. In a rare moment for the leader of a country, Prime Minister Narendra Modi applauded The Kashmir Files, and chose to meet the director and his actor wife, Pallavi Joshi, who plays JNU Professor Radhika Menon in the film. "His endorsement has come as a surprise. When the highest office has put faith in your work, it makes you even more responsible," Joshi later told this writer.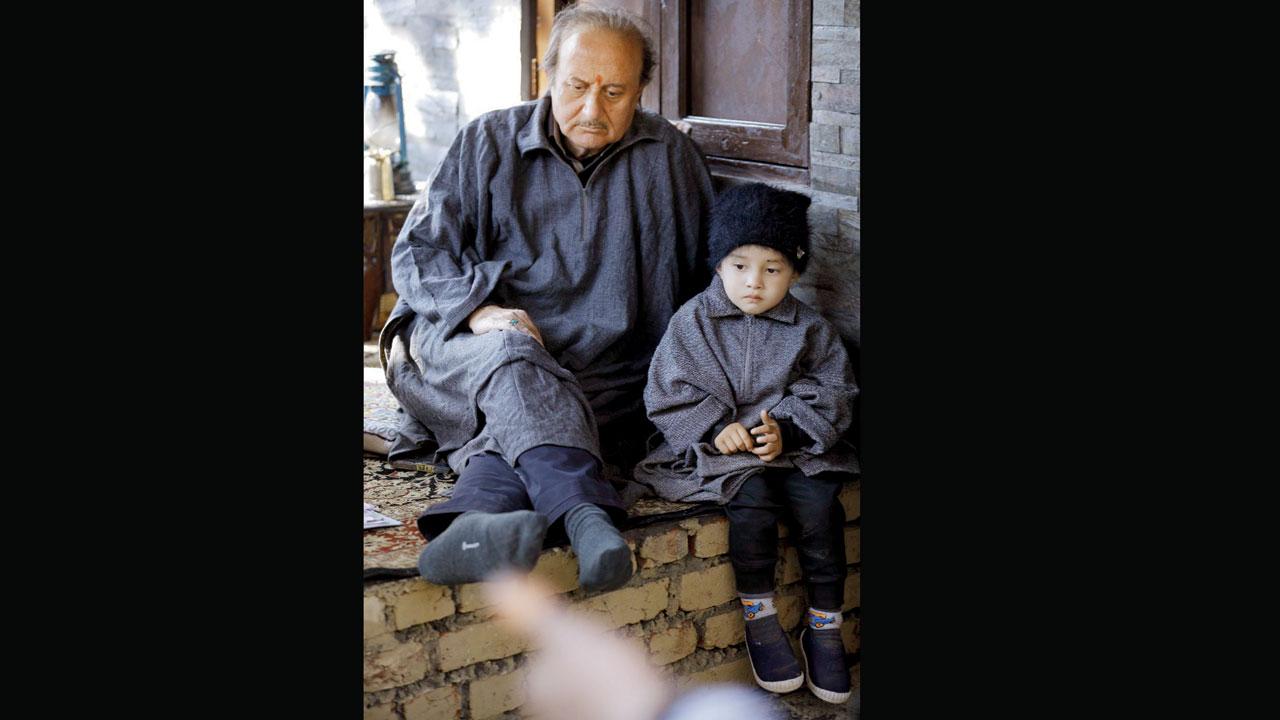 In The Kashmir Files, actor Anupam Kher plays Pushkar Nath Pandit, a teacher and Kashmiri Pandit, who fears for the safety of his son Karan, who has been accused by the militants of being an Indian spy
But certain quarters have called out the film for being "exploitative", "displaying half-truths" and being "anti-Muslim". Agnihotri is unruffled by the hate. "I see only one opinion. There is no other view. Everybody seeing the film is crying... it was the biggest tragedy. These are the only reactions I have seen. There is no Left or Right wing, there is only the 'India wing', the humanity wing... terrorism has no side. People who see other sides are either naive, vicious or political," Agnihotri says emphatically over a telephonic call. He is speaking to us from the New Delhi airport, where our interview is interrupted once too many by approaching travellers, who we overhear thanking him for making the film. Two days after this interview, this in-person expression of fandom would have been restrained with the director being granted Y category security by the Ministry of Home Affairs (MHA).
For most part, Bollywood has been silent, with only a handful showing their support if any. Agnihotri doesn't consider himself part of this tribe, he clarifies.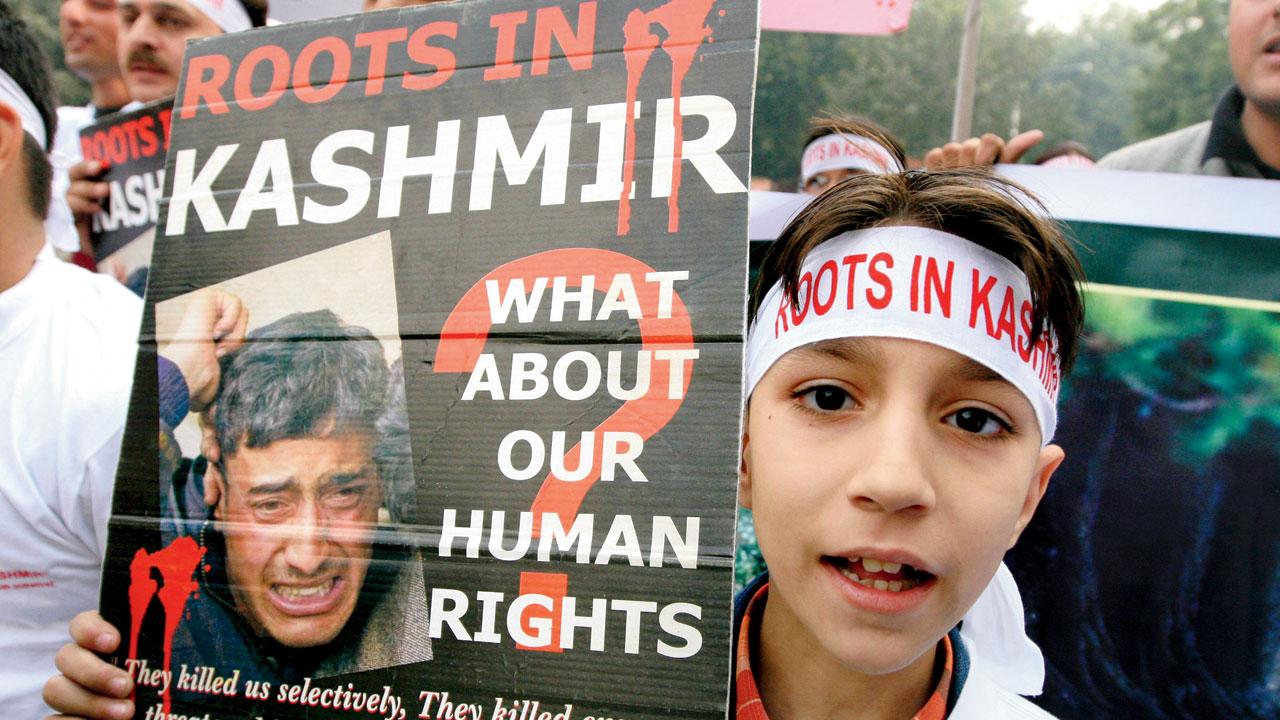 Kashmiri Pandit children held a protest rally on the eve of International Human Rights Day to condemn the National Human Rights Commission (NHRC) failure to address the grievances of the Pandit community in New Delhi in 2007. Pic/Getty Images
"When we [Pallavi and I] decided to quit Bollywood, and become independent filmmakers, we didn't care about reactions [from people]. We want to make movies and tell stories that everyone else is scared to tell." Agnihotri says the film is important and had to be made.  "What we know of Kashmir is through the media and the political lens. Everybody has spoken about the Kashmiri Pandits and their genocide, but nobody has spoken to them," he says. With very little material available to fall back on for research due to what Agnihotri claims is insufficient documentation, he decided he'd start by tracing the first-generation survivors. "Just like the Holocaust, where the testimonials of the victims were recorded, we decided to interview the survivors, who were directly impacted [by the events]—whose parents and children were killed, and houses burnt. We hunted them down all over the world—went to their homes, ate with them, spent time with them, and once they were comfortable, we recorded long-format video testimonials. We found the most common stories between them, and corroborated facts using available books, clippings, [conversations with] historians and documents, which are very few," he adds. What, he says,  he arrived at are facts "that can't be disputed". "Even the terrorists will admit this happened... we based the movie on that."
The director feels that the first step to justice is to acknowledge what happened. "The thing about genocide is that you have to admit there has been a genocide. For 32 years, nobody has done that. Now that we have spoken to them [survivors], the process of healing has begun. People have told me that they didn't speak about it [the event] out of fear, and now it's out there. We are healing broken hearts."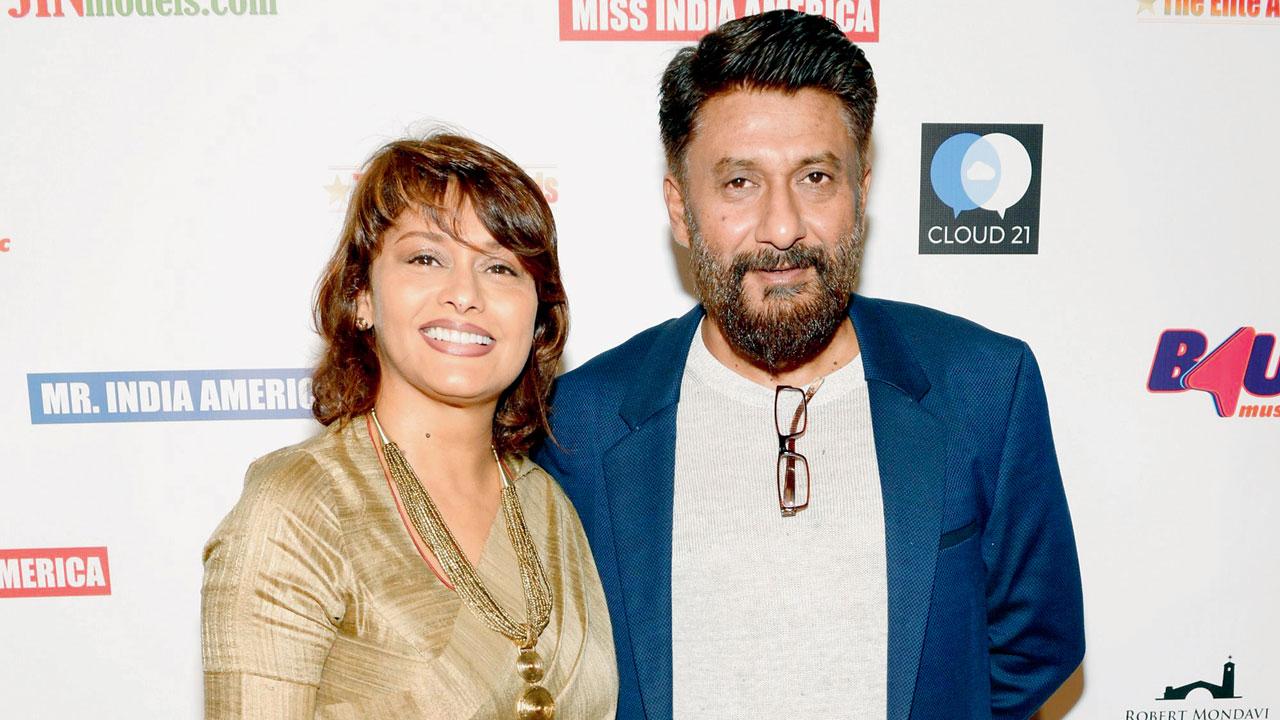 Vivek says he and wife Joshi 'quit' Bollywood to tell stories others were scared to tell, and they don't care about 'reactions'
Even as several states, especially those ruled by the BJP, have made the film tax free, a political slugfest has erupted. Some have panned the BJP for looking at the Kashmir problem as a Hindu-Muslim one, rather than an issue of territory. But Agnihotri doesn't hesitate to pin the blame. "Indira Gandhi was a Kashmiri Pandit. I can share a letter where it is clear what she thought. Everyone knows the truth. The slogan at the time was,  'Ralive, tsaliv ya galive', which means 'either convert to Islam, run or die'. Is this a Hindi Muslim slogan, or one that addresses territory? Muslims are the majority. [But] Kashmir was originally a Hindu civilisation. The dispute was created by the British," Agnihotri argues.
When this writer points out how there has been criticism over the film vilifying the entire Muslim community, he interjects, "It's a wrong question. You are asking this, because your brain is wired in a certain way... Could you have written an article about the Nirbhaya [Delhi gang rape] case without vilifying the rapists? Terrorists must be vilified. In the case of Kashmir, the terrorists have been Muslim."
Does that justify videos from inside Indian theatres roaring with "anti-Muslim" chants, surfacing on social media? "I haven't seen them. But, I can't expect people who have been affected, to control their emotions. They have the right to say it out loud. People don't cry when they are politically motivated. They cry when they are emotional. After Schindler's List released, Jews came out on the streets. When you break open the lie, pent-up emotions will surface. And it's important for society to heal."
Agnihotri thinks to ask an audience to react to the film rationally, intelligently, is an elitist call.  "It's irrational. We make movies to evoke emotions, to portray the reality. People have the freedom to react how they want. I don't support this snobbery." We remind him that some quarters have expressed concern over possible violence. "You are assuming that will happen. It's the state that needs to maintain law and order. My job is to tell the truth, and if the truth is evoking a response, I am no one to control it. This question is not for me, but someone else."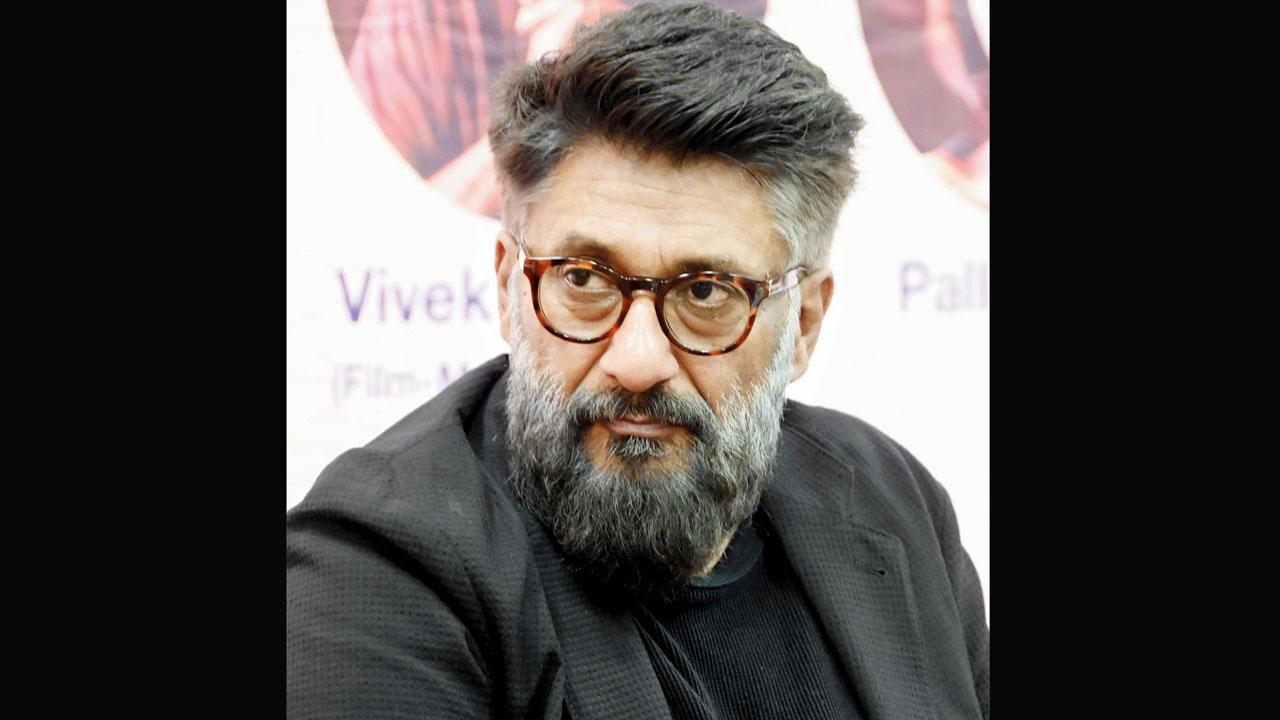 Vivek Ranjan Agnihotri. Pic/Bipin Kokate
Kapil Sharma and IMDB ratings 
Agnihotri had claimed in a tweet that his film was not promoted on the Kapil Sharma show because it didn't have big stars, its producers were allegedly told. Sharma has denied the allegation on social media. Anupam Kher later clarified that he was called, but turned down the offer because the mood of the film didn't befit a sketch comedy. "Kapil must have invited Anupam two to three months ago, and that was when the third wave was on, and they had no other celebrities available. I know what happened," Agnihotri tells mid-day. 
Online film and television database, IMDB said it had changed its rating method after noticing "unusual voting" on The Kashmir Files—the film now has an 8.3 rating. Agnihotri says, "I don't understand algorithms. I have never decided to watch a movie after checking its IMDB rating. I read that people went and rated it 1," adding, "They are vandalising it [the film]—some terrorists are with guns, some [dabble] with ratings."