While living our lives in a staple routine, following traditions and norms set by the society we feel trapped and devoid of growth.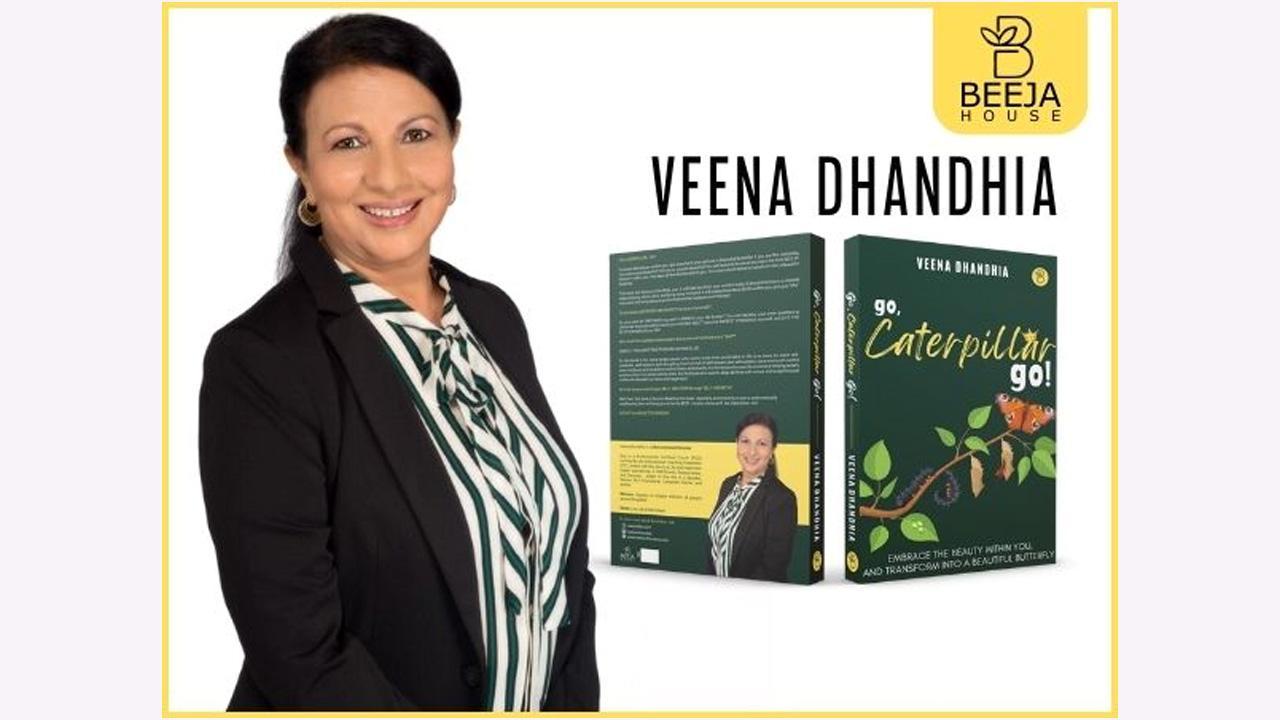 Veena Dhandhia, Author of "Go, Caterpillar Go!"
All of us feel so — dissatisfaction with life. And no one is alone in this journey. But how to overcome it? How to break the cocoon and move past through your shell to unfold the wings? With none other than Veena Dhandhia. She is a Life Enrichment Director: ICF-PCC, Life-Relationships-Happiness Coach, Speaker, Mentor, Author, NLP Practitioner, and Corporate Trainer. Her latest book, "Go, Caterpillar Go" is published by Beeja House, India's 1st and only Mentored Publishing House, pioneered by Geetika Saigal. Here is an excerpt from a candid interview with the author, Veena Dhandhia, herself.
Q. Your first book was a bestselling book and now the second book was also the bestseller in the first week itself? You are on a roll! So, what is a literary success for you?
ADVERTISEMENT
A. I must say that God has been kind to me. I am elated and honestly, it feels too good to be true. But it is and I thank my stars! To me, literary success is "being able to express my thoughts and ideas to the world with simple clarity and profound wisdom and to make that impact and transform people's lives. People relating well to my literature are a literary success for me."
Q. How did your life change after the first book was published?
A. It changed drastically and for good I must say. I saw people recognizing me and it felt good to be acknowledged for my work. In my professional realm as well, my credibility and integrity rose a few notches higher as a "published and acclaimed author". This has indeed elevated my happiness quotient.
Q. What was that one thought that pushed you to write this book?
A. As a coach, I witnessed a holistic transformation and innermost shifts in my clients. Their lives changed and they became a better version of themselves. So, I thought if this can happen with my clients, why not with the whole world? So, I wrote my thoughts for the world to read it.
Q. What did you learn with this whole process of writing a book?
A. How to let creativity flow naturally! The procrastination before writing the book was too overwhelming. But now, when it is done, I have realized it was all in my mind. It is all about taking those little steps to make it big.
Q. How did Geetika Saigal's mentorship help you write both your books and helped them become bestsellers?
A. Well, Geetika is indeed the force that drove me to write and complete both my books. Her BESTSELLER method along with her group and 1-to-1 mentoring session gave me the perspective and guidance I was looking for. She navigated me whenever I felt lost and held my hand from the start and is still holding it in every way possible.
Q. Do you have any advice for your readers to follow?
A. Yes, "Empower yourself to enrich your life further and turn from an extraordinary person to an extra-extra ordinary person with the best version possible of yourself and your life…!"
Go, Caterpillar Go is beautifully structured wherein each chapter revolves around the word "self" as you can't find them in anyone else. This book has already marked its place in the literary world by being #1 on Amazon's Hot New Releases and is still riding the high tide.
Geetika Saigal, Founder and CEO of Beeja House, feels, "This is truly a book for you, about you. It will help dispel your wrong notions, your self-doubt, your inhibitions, your limitations ... and set out a simple yet powerful process to go from 'who you are' to 'who you need to be'."
Grab your copy on Amazon :
https://www.amazon.in/Go-Caterpillar-Veena-Dhandhia/dp/939526652X/ref=sr_1_1?keywords=go+caterpillar+go&qid=1682924278&sprefix=go+vŵŴŴ&sr=8-1