Homegrown Brands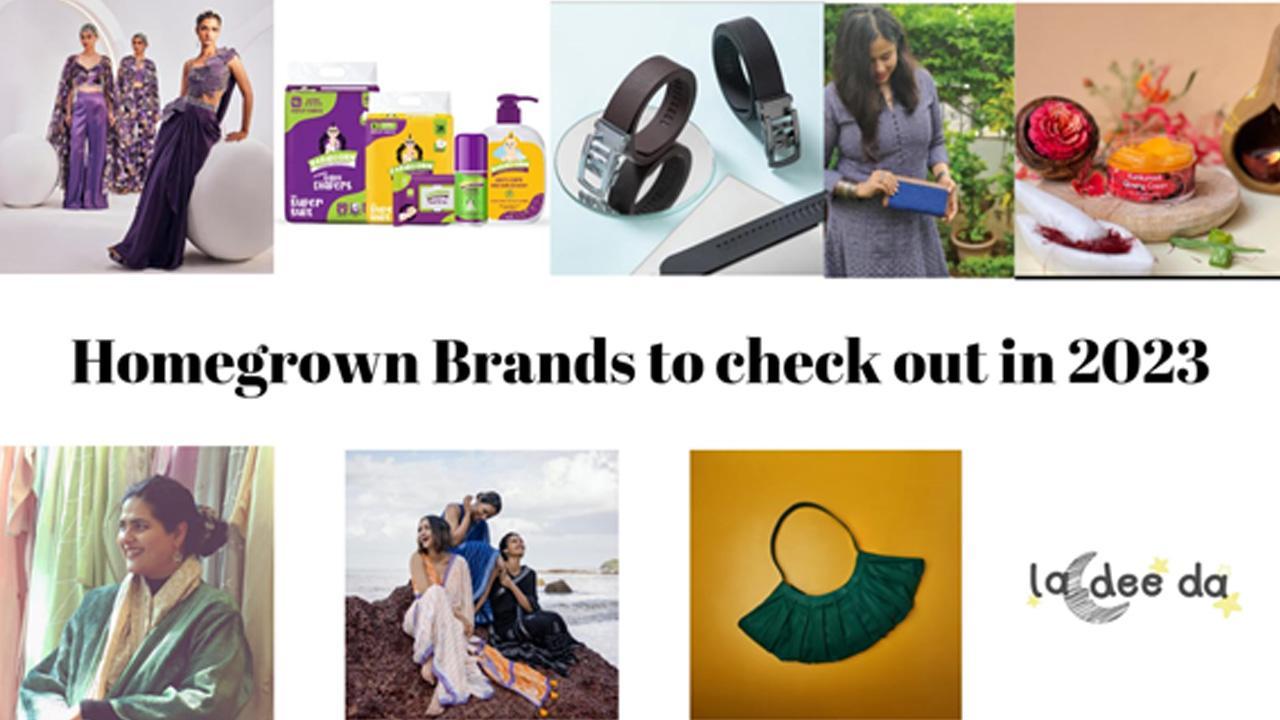 ADVERTISEMENT
1. Divya Aggarwal
Divya Aggarwal is an eponymous luxury fusion label that injects a sense of craftsmanship with peculiar prints, heart-stealing hues, and visionary designs. The luxury couture focuses on bringing calmness and tranquility to the wearer through its voguish designs, breezy silhouettes, refreshing motifs, and exquisite embellishments. With a feminine and edgy allure, the handcrafted assemblage encapsulates the debonair essence of women who are decked by Indian aesthetics as well as modern sensibilities. The capsule collections infuse a blissful synergy of eccentric drape skirts, lustrous lehenga sets, signatory sharara sets, magnificent sarees, and the upcoming newer nuances. Inspired by the jewels of the sea, Divya Aggarwal has introduced her spellbinding ocean-themed summer collection 'CORDELIA'.
2. Babiecorn
Babiecorn's entry into the baby care segment has been with a clear aim ~ Creating a premium range of toxin free products for the little ones and putting a smile on their faces along with the parents, as the brand offers freebies for parents on every purchase for the babies! Providing a wholesome repertoire of diapering essentials along with 100% ayurvedic personal care products, the 'Made in India' brand is from the House of Coloressence and has been founded by Shweta Nanda, Saurabh Nanda and Pooja Sodhi. Babiecorn believes that all kids today are 'Born Unicorns' and that they deserve nothing but the best! Selling the products over D2C mediums, the brand also has a retail presence in multi-brand stores in Delhi & North India.
3. Halden 
A high-end, indigenous brand called Haldèn is recognised for its extraordinary selection of belts, wallets, and cardholders. Haldèn offers a range that emanates sophistication and elevates everyday needs with a dedication to excellence and craftsmanship. The brand is known for its cutting-edge micro modifiable no hole belts, which include a special mechanism that allows for precise adjustments, assuring an immaculate fit each and every time. Customers can design their belts using 400+ options to fit their unique tastes and preferences. Haldèn has a steadily expanding customer base of more than 30,000 pleased clients and has earned a reputation for elegance, innovation, and unsurpassed quality. Each product is painstakingly made from high-quality materials, representing their unwavering dedication to providing the best accessories.
4. Wabasta
Wabasta blends the hand weaving technique of crochet with faux leather to create contemporary designs for handbags and accessories. The story of Wabasta began with the realisation that despite its popularity and ubiquity it is considered an old fashioned hobby that engages women across households in the country. As Indians, almost all of us know of someone within our social circle, who is skilled at the art of crochet and dabbles in this hand weaving technique on and off. But that's it. The traditional craft, though versatile, never makes it to the mainstream fashion trends. At best one can spot some crocheted beanies in the hill stations of the north while some plainly designed cushion covers make themselves visible in the southern regions of India.
5. Magical jar
Magical Jar is a dream to make more people aware of the organic and herbal values of our Indian herbs. It is a completely natural skincare brand that is homemade and handmade which helps people to live a sustainable lifestyle and not harm their skin with chemicals. Magical Jar was started in 2018 with just two products which were hair oil and kumkumadi glowing cream. Our clients loved the products and wanted us to come up with more organic products so they can completely move to an organic daily routine. Magical Jar is a simple substitute for all the chemical soaps, shampoos, body powders, cleansers, body moisturisers and foot creams. Most of the products contain kitchen ingredients which have medicinal values that can treat dandruff, and pimples, give a natural glow, remove tan and many more properties.
6. Tokree
Tokree's design language is centred on the craft practices of Jaipur. The brand draws its inspiration from this historical, vibrant city that is today the design capital of the country. Jaipur's colourful architecture and artistic traditions, float through the aesthetic consciousness of Tokree, the basket of handmade goodness from Rajasthan. Each piece of garment from Tokree is designed to tell a story. Tales of the city and the individuals choosing to wear it, tales of the handmade crafts passed down from generation to generation. Tokree's journey of cloth-making has been filled with insightful vignettes of craftspeople bending down for work using their characteristic tools.
7. Mogasu
Mogasu is a cute spin to the Konkani phrase - मोग-आसुं  - which translates to let there be love. After having worked for major fashion retailers in Mumbai, the NIFT graduate Tejashree gave up the hustle and bustle of the metros and settled down in Goa's serenity. Living here brought her closer to nature and gave her a special appreciation for the unique lifestyle of Goa. Mogasu's goal is to weave a fresh, contemporary twist into traditional Indian crafts, to create a wide range of clothing. Their fabrics are chosen to make you feel comfortable on all occasions, while you stand out of the crowd with quirky, yet graceful designs. The prints are inspired by Goa, it's beautiful people, food, and culture. Each garment is handcrafted by artisans from all around the country, a testament to their attention to detail, craftsmanship and their rich cultural heritage.
8. Carry
Carry, a women-led brand, redefines custom and bespoke leather goods in India. Founded in 2019, their commitment to authenticity and sustainability sets them apart. Utilising industrial surplus leather, cork, plant-based leather, and cotton lining, Carry creates products with a conscience. Their personalised bags cater to individual preferences, ensuring a perfect fit. Supporting fair labour practices, Carry empowers artisans. In just a few years, they have become synonymous with quality, style, and conscious consumerism. Explore their collection and make a statement with a bag that reflects your unique personality. Join Carry in shaping a sustainable and personalised future at their website.
9. La dee da
La Dee Da is a brand from Kolkata, India and is a premium brand for kids clothing that redefines fashion for your little one's with their colourful and vibrant clothing in comfortable styles. They use premium fabrics which are breathable, lightweight and easy for kids to play in, understanding the needs of a child while looking good too! Ranging from casual wear to formals, indian to western, birthdays to wedding's - La Dee Da complements every occasion with an edge and prettiness.