Subhajit Chatterjee, a young and dynamic entrepreneur, has achieved a significant milestone in his career at 23.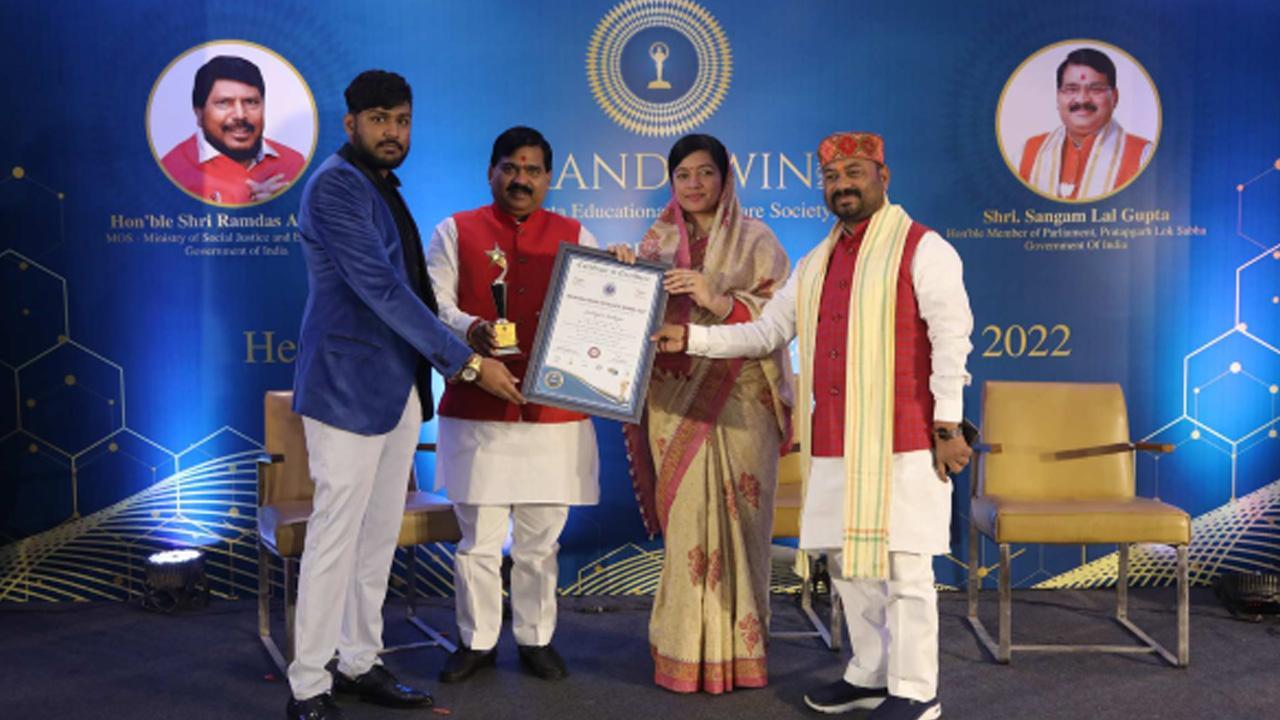 ClinicManager, a venture by Subhajit Chatterjee, recently bagged the prestigious Indian Healthcare Excellence Awards 2022
His venture, ClinicManager™, was recently awarded by the prestigious Indian Healthcare Excellence Awards 2022 by chief guest Hon'ble Shri Ramdas Athawale and  Shri Sangam Lal Gupta,  for being India's leading healthcare marketing company. ClinicManager deals in medical and healthcare digital marketing, with a team of over 8+ professionals who work with 150+ doctors, hospitals, clinics, and healthcare brands.
Subhajit Chatterjee was born and brought up in New Delhi has always been passionate about entrepreneurship. He started his journey at a young age and has been working hard to make a name for himself in the industry. Subhajit's dedication and hard work have paid off with the recent recognition of his firm at The Park(CP,New Delhi ) at an awards event by the Indian
ADVERTISEMENT
excellence healthcare awards ClinicManager has established itself as a leader in healthcare marketing by providing innovative digital marketing solutions to medical professionals and healthcare brands. With a focus on helping healthcare providers reach out to more patients, ClinicManager has successfully built a loyal customer base. The firm's team of 8+ professionals has been instrumental in creating a solid network of doctors, hospitals, and clinics that have benefited from their services.
ClinicManager offers a wide range of products and services for the healthcare sector.
1. Medical Website Design and Development: ClinicManager can help healthcare providers and clinics create a user-friendly, engaging, and optimized professional website for search engines.
2. Healthcare Social Media Marketing: The firm's team of experts can help healthcare professionals establish a strong presence on social media platforms like Facebook, Twitter, and Instagram and engage with their followers.
3. Medical Search Engine Optimization: ClinicManager's SEO services can help healthcare providers rank higher on search engine results pages, driving more website traffic and increasing visibility.
4. Online Reputation Management: ClinicManager can help healthcare providers monitor and manage their online reputation by responding to patient reviews and feedback on different online platforms.
5. Content Production &: The firm's content marketing services can help healthcare providers create informative and engaging content that can attract and retain patients.
6. Patient Lead Generation(PPC): ClinicManager can help healthcare providers create and manage Google Ads campaigns, ensuring that their ads reach the right audience at the right time.
These services provided by ClinicManager are designed to help healthcare providers grow their practices and build a strong online presence. By partnering with ClinicManager, medical professionals and healthcare brands can benefit from the firm's expertise and experience in the healthcare marketing industry.
Let us Dig Deep Into Subhajit's Past Timeline-
While Completing His Master's In Computer Application in 2019 started freelancing in the web and software development domain. He cracked good placements offer from companies Like Amazon And Directi. Still, He joined a US Based Energy Technology Company as a Dev Ops Engineer side by side. He was getting more clients for digital services, then he quit his job, started his full-scale agency, and got our  Google Partner Badge in just three months, which means $1 Million in Ads Spent.
I worked With Many Brands And Even Worked For A Delhi Govt Based Entrepreneurship program for school students named business blasters as a business mentor.
Subhajit Chatterjee Has Multiple Ventures That Are Backing Each Other
They started with 1st venture OnlineSyndrome: A Marketing & Technology Firm. Then under This, They Launched a Separate Healthcare Marketing Firm Named ClinicManager ™ recently Subhjit Chatterjee: Strategic Marketing Consultant also launched its own digital product library with different types of ebooks, courses, and mentorship for freelancers and digital marketing agency owners. So as the parent company, Onlinesyndrome has all the expertise in digital marketing and is backing all the other ventures.
Onlinesyndrome Team Operates From Their Office Based In Dwarka, New Delhi, with a young team of experts in content development, SEO, Media Management, Video Ads Production, PR Management, Influencers Management, Software & Web Development, and Performance Marketing.  
Subhajit Chatterjee's Education Qualifications And His Journey Before Startup
He started his 1st job, as most Delhi boys do as their 1st job, that is, in an international BPO just after he completed his 12th. Then afterward, he did a bachelor Of Computer Application followed by a Masters's In Computer Application from a lovely professional university in Punjab. Then got many placement offers but later joined as a Software Engineer in a US Based MNC which deals in powers and energy then, he got promoted to Dev Ops Engineer after working for two years He Left and Stated his journey with OnlineSyndrome A Mark Tech Company