Breast cancer is treatable through surgery, radiation treatment, chemotherapy, hormone therapy, targeted treatment, and a combination of these procedures with radiation or chemotherapy.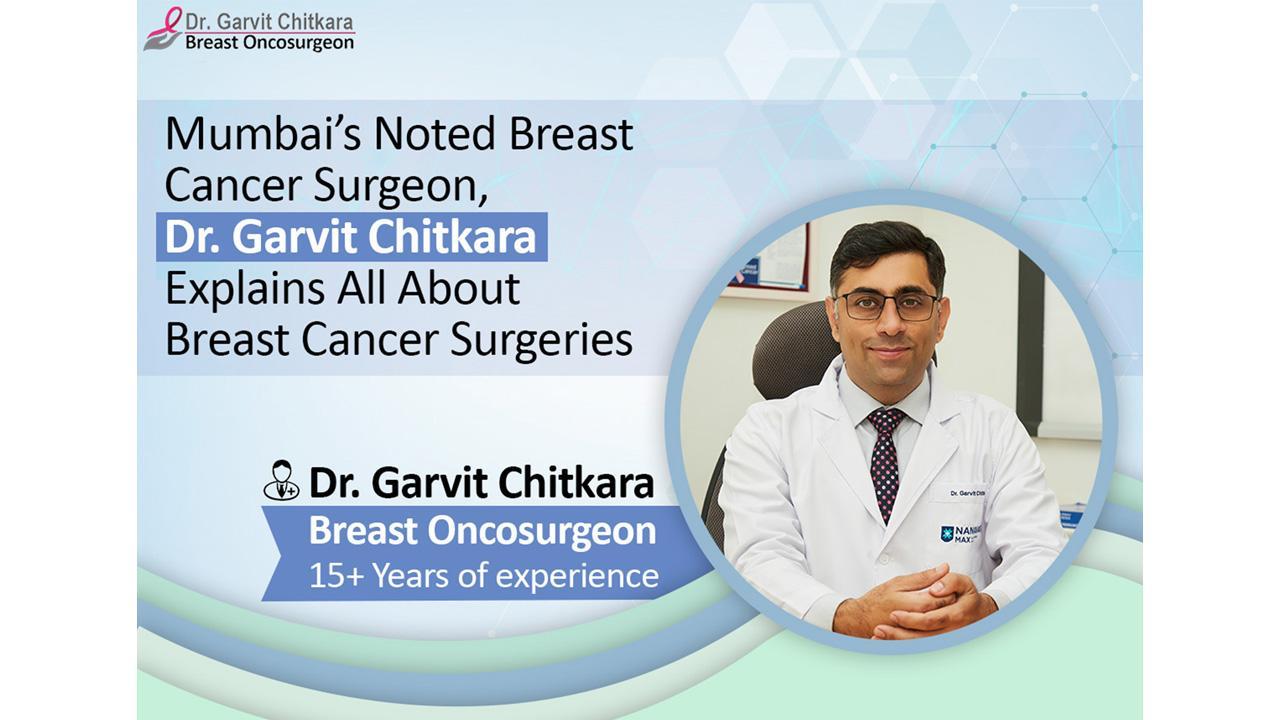 Surgery is the first-line of treatment for most breast cancer patients. Dr Garvit Chitkara, a renowned Mumbai breast surgical oncologist, may recommend a breast cancer operation to remove breast tumours and/or lymph nodes in the axilla.
Breast cancer surgeries include Breast conservation surgery(BCS) , Modified radical mastectomy (MRM), Oncoplastic breast surgeries. One of the most commonly conducted surgeries for breast cancer is Breast Conservation surgery. The breast surgical oncologist focuses on removing the tumor covered with a margin of normal tissue and leaves the healthy breast intact.
ADVERTISEMENT
In this article, noted breast surgical oncologist Dr Garvit Chitkara shares an informative guide on breast cancer surgery. The various types of breast cancer surgery are
Breast Conservation Surgery (BCS)
BCS is an operation that is done to remove a tumour from the breast while conserving or preserving the normal breast. The tumour is removed with a cover of normal tissue over it. Another essential component of BCS or any breast cancer surgery is axillary surgery.
The level of axillary surgery depends upon the clinical findings of the doctor. If there is no suspicious lump the surgeon offers to conserve the axilla with a small biopsy called the sentinel Lymph node biopsy or axillary sampling.
Modified Radical Mastectomy (MRM)
MRM is a very commonly performed operation on the breast. It entails removing the skin, nipple, areola and all the breast tissue. Along with the breast the axillary surgery is also performed in the similar fashion as mentioned above depending on the clinical findings of the breast cancer surgeon.
This surgery may be necessary if the patient has multiple tumours in one breast, advanced cancer, received radiation therapy to the chest wall in the past, or if the patient is not willing to conserve their breast.
Mastectomy or breast removal in healthy patients who carry deleterious gene mutations e.g. BRCA 1 or 2 which increase their risk of having breast cancer during their life time. This type of mastectomy is called as risk reducing mastectomy. Both skin and nipple can pe preserved in these mastectomies and an immediate reconstruction done with the help of patients own tissue or implants.
Breast cancer surgeries ensure complete removal of all cancer tissue from the breast and axilla and helps in controlling local recurrences. Surgery is not indicated in breast cancer patients only if there is diffuse spread of cancer to various organs in the body. In such cases also surgery is recommended by Dr Garvit Chitkara in certain special circumstances alone.
Breast Reconstruction Surgery
Breast Reconstruction Surgery refers to surgical procedures to recreate breasts after mastectomy or lumpectomy. Immediate breast reconstruction is done along with the breast cancer surgery, whereas delayed reconstruction involves a time gap.
Whole breast reconstruction is possible after mastectomy (whole breast removal), while partial breast reconstruction is done after BCS . Whole breast reconstruction can be done with patients own tissue or can be done with synthetic implants. Which of these is an ideal procedure depends on the breast size, patient's body type and the surgeon's comfort in doing a procedure.
Partial breast reconstruction or oncoplastic breast surgery is performed to reform or reshape one or both breasts. Partial breast reconstruction is always done at the same time of the primary surgery. It is done by using various oncoplastic techniques which employ displacing or replacing the tissue.
The fat tissue is takes from the side of the chest or from the upper part of the abdomen or sometimes even from the back.  Dr Garvit Chitkara is a specialist in oncoplasty with nearly 15 years of experience.
Whole breast reconstruction is entirely the patient's decision but partial breast reconstruction at times can become necessary to get a cosmetically acceptable outcome.
About Dr Garvit Chitkara
Dr Garvit Chitkara is a Senior Consultant in Breast surgical oncology and oncoplasty at Nanavati Max Institute of Cancer care in Nanavati Max Super Speciality Hospital, Mumbai, with 15 years of experience. In addition, he has practised as a Consultant Breast surgeon at Tata Memorial Hospitals and trained many students.