Munim allows the CAs, Entrepreneurs, and other finance officers to generate invoices, create delivery challan, effortlessly generate GST reports.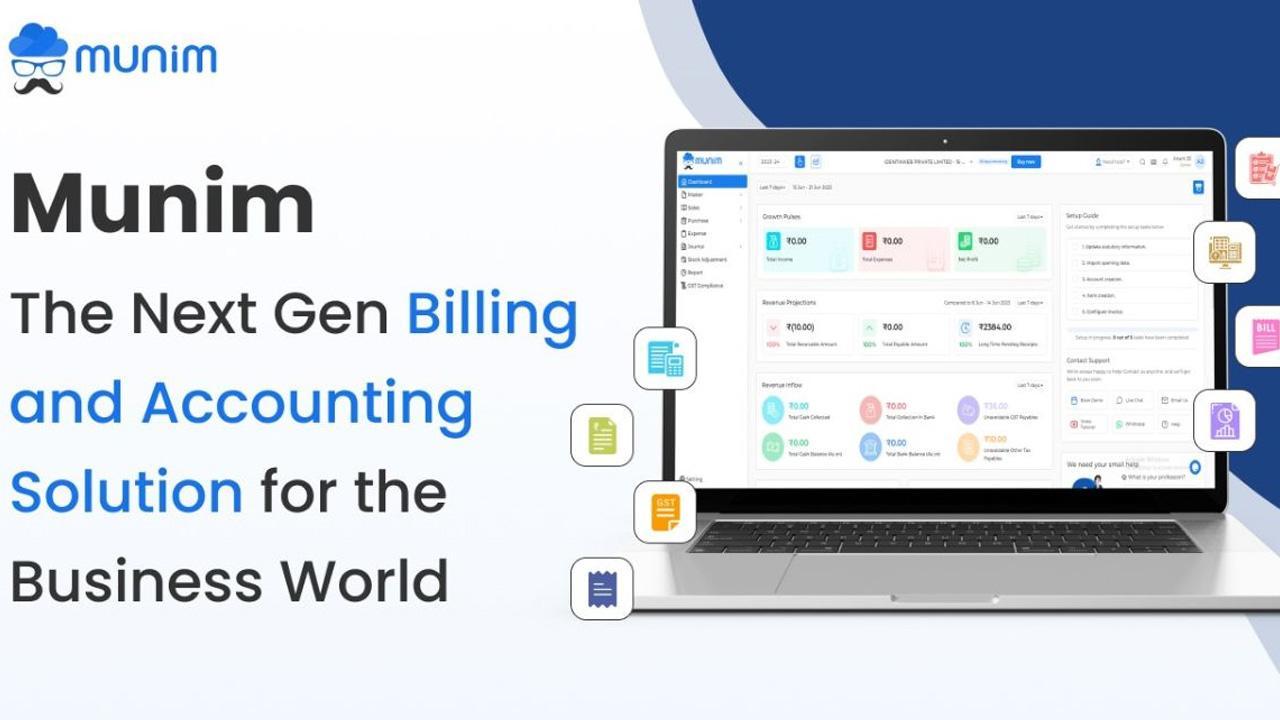 Munim marks a revolution in the finance industry through its next-gen billing and accounting solution. It combines advanced technology, intuitive features, and powerful automation capabilities to streamline accounting processes, enhance efficiency, and empower organizations to make informed financial decisions.
As the business world becomes increasingly dynamic and complex, traditional accounting methods are struggling to keep pace with evolving requirements. With dynamic advancements in the Indian economy, Munim has emerged as a one-stop solution for all accounting and billing concerns. This groundbreaking solution is a hub for all small and mid-sized businesses that want to streamline their financial processes.
ADVERTISEMENT
Munim allows the CAs, Entrepreneurs, and other finance officers to generate invoices, create delivery challan, effortlessly generate GST reports, stay compliant with GST regulations, calculate tax liability automatically, generate e-way bills, securely record all the financial data, create e-invoices, manage inventory, add staff with roles and much more. This cloud-based bookkeeping software allows you to import and export data hassle-freely without the need to make manual entries.
"We had developed Munim to resolve the accounting and billing concerns of the organizations and help them 4X their profitability. We feel extremely delighted to announce that the graph of users registering to our next-gen billing and accounting software is taking a sharp rise. Today, we see 2500+ businesses across verticals using Munim to streamline their financial operations. This accounting solution allows CAs and Entrepreneurs to keep track of their financial health and make smarter financial decisions," says Priyank Savani, CEO.
Munim's report management feature generates multiple reports like profit & loss reports, balance sheet reports, stock summary reports, purchase summary reports, sales summary reports, vendor outstanding reports, stock valuation reports, and customer outstanding reports. Its advanced dashboard allows access to real-time financial insights that help finance professionals monitor cash flow, track expenses, and analyze profitability. With Munim, all your accounting tasks can be completed with just a single click. It offers a 360o view of your financial ecosystem and leads your organization to a paperless workplace.
Munim can seamlessly work with importing from other business applications. This compatibility enables smooth data flow, eliminates data silos, and facilitates a holistic view of financial operations across the organization. Prioritizing the security and confidentiality of financial information, Munim billing and accounting software utilize robust encryption protocols, regular data backups, and stringent user access controls to protect sensitive information. 
Priyank Savani further added, "Munim makes conquering numbers much easier. Now, get rid of the accounting and billing headaches as Munim is here for your rescue. It is an easy-to-use software that doesn't need any technical knowledge. Those who wish to stay compliant with GST regulations, streamline finances, and automate their financial ecosystem should opt for our 14-day free trial. Also, Munim is a cost-effective solution to your accounting concerns available at just ₹999/ year, excluding tax. "
About Munim 
Munim is a billing and accounting software that resolves all financial concerns with a single click. It allows tax managers, CAs, and other financial professionals to effortlessly streamline their financial ecosystem. If you want to hassle-freely keep track of your expenses and manage your financial health, register your organization to this accounting software now at just ₹999/ year, excluding tax.
For support: support@themunim.com, +91 9898665536,
Munim ERP Pvt. Ltd.