An important event in Maharashtra's cultural and social calendar was highlighted by Parag Sanghvi's attendance at the Chief Minister's house.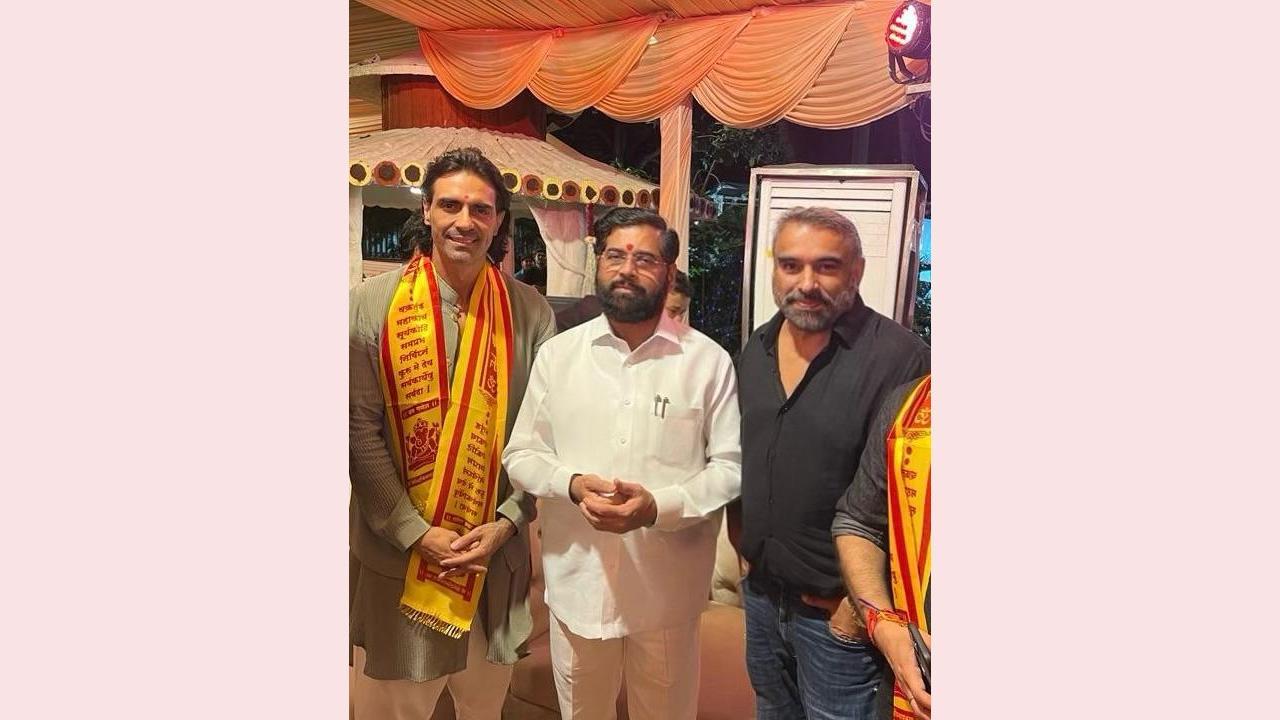 Parag-Sanghvi-at-CM-residence
On the auspicious day of Ganesh Chaturthi, Parag Sanghvi, a known stalwart of the Indian film fraternity, brought the opulence and grandeur of Bollywood to the Chief Minister's house in a heartwarming display of togetherness and tradition. The occasion saw a star-studded assembly of celebrities, including Shah Rukh Khan, Salman Khan, Jackie Shroff, Asha Bhosle, and many others who all attended to take part in the celebrations. The Chief Minister of Maharashtra, Eknath Shinde, served as the gracious host.
ADVERTISEMENT
An important event in Maharashtra's cultural and social calendar was highlighted by Parag Sanghvi's attendance at the Chief Minister's house. Sanghvi, a producer, distributor, and 15-year veteran of the film business is well known for his work in these capacities. His participation in the occasion emphasised the value of tradition and community in Bollywood while also adding to the glamour.
Ganesh Chaturthi Unites Bollywood Icons in Spiritual Harmony.
The well-known Hindu festival known as Ganesh Chaturthi, which commemorates the birth of Lord Ganesha, is a time when people of all faiths and backgrounds come together. Eknath Shinde demonstrated the strength of togetherness and cultural variety by welcoming the who's who of Bollywood into his home in this spirit.
Celebrities like Shah Rukh Khan, Salman Khan, Jackie Shroff, Pankaj Tripathi, Suniel Shetty, Asha Bhosle, and many others came together for this auspicious occasion in honours of Lord Ganesha, the elephant-headed deity of wisdom and prosperity. It brought individuals from many backgrounds together to joyfully welcome the beloved Lord. Vibrant processions and fervent prayers were all part of the festivities, fostering a sense of unity, devotion, and cultural richness.
Parag Sanghvi's Cultural Enrichment through Cinema.
The event gained further depth through the humanitarian efforts of Parag Sanghvi. Sanghvi's presence made everyone aware that the film business is not simply about gloss and celebrity, despite the fact that it is frequently linked with glamour and extravagance. It involves supporting local customs and giving back to the community.
Speaking about the event, Sanghvi said, "Ganesh Chaturthi is a celebration that occupies a particular place in our hearts. It unites individuals in a spirit of joy and benevolence that is independent of religion. It is an honour for me to be a part of this celebration at the Chief Minister's house and to see so many of my fellow actors and colleagues taking part in the fun. It serves as a reminder of our nation's diversity in terms of culture".
Maharashtra's Chief Minister, Eknath Shinde, conveyed his gratitude to Parag Sanghvi and the attending celebrities by presenting them with a Lord Ganesha statue as a symbol of goodwill during their darshan at the event. This gesture underscored the spirit of Mumbai in all its glory, as the film industry came together to celebrate Ganesh Chaturthi.
Parag Sanghvi's Next Chapter in Bollywood
Upcoming Ventures by Parag Sanghvi In the pipeline of Parag Sanghvi's prolific career, the horizon gleams with exciting prospects. His collaboration with the legendary Bollywood icon, Sanjay Dutt, for the highly anticipated film "Khalifey," where he shoulders production and distribution roles, promises to be a cinematic milestone. This ambitious project boasts a star-studded cast of Bollywood's finest. Looking ahead to the upcoming year, Sanghvi has unveiled a compelling lineup of projects, featuring collaborations with esteemed directors such as Ram Gopal Varma and Prakash Jha. Notably, he's also set to breathe new life into Bollywood classics with the remakes of "Omkara" and "Desi Boyz." As Parag Sanghvi continues to chart his course in the film industry, his future endeavours hold the promise of cinematic brilliance and innovation.
Also Read: Parag Sanghvi joins forces for "Crakk" with Vidyut, Arjun, & Jacqueline Fernandez
"Exciting news! Mid-day is now on WhatsApp Channels

Subscribe today by clicking the link and stay updated with the latest news!"
Click here!