Shahid has clearly worked himself for this macho-man part, over years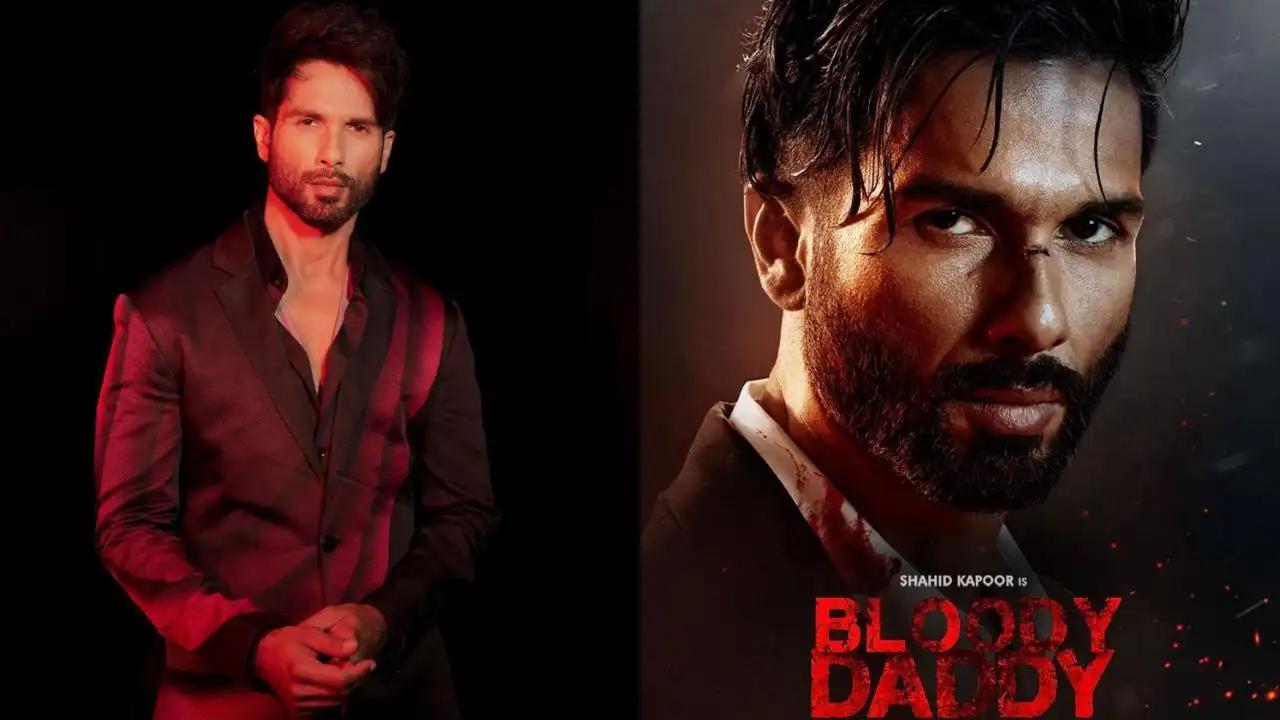 Bloody Daddy
Film: Bloody Daddy
Cast: Shahid Kapoor, Ronit Roy
Director: Ali Abbas Zafar
Rating: 3/5
To be honest, this is the kinda film—with a bunch of random guns and men, perennially posing a tough exterior—that could so quickly make you go, "Bloody Tatti!"
ADVERTISEMENT
In fact, I went through one of these, recently—Taish (2020), both a series and film—set among a pseudo Punjabi-mafia in the UK, that made me feel just that.
Bloody Daddy is different? No. But it doesn't feel the same. Why? I guess the men in the movie, of various vintage—old (Ronit Roy, Sanjay Kapoor), young (Ankur Bhatia, Vivan Bhatena), somewhere in between (Shahid Kapoor, Rajeev Khandelwal)—has something to do with it. You wish to watch these solid blokes with onscreen presence/personality, to start with.
The other apprehension I had has to do with the fairly inconsistent director, Ali Abbas Zafar, who can go from an unusually ambitious, Salman Khan-starrer, Bharat (2019), to a terrible Tandav (2021), with Saif—pretty much back-to-back.
Bloody Daddy is the sort of low-brow, high-octane actioner that, at least in world cinema, I'd instantly associate with French filmmaker, Luc Besson (La Femme Nikita, Taken). Unsurprisingly, it's a remake from another French director, Frédéric Jardin's Nuit Blanche (Sleepless Night, 2011).
The film opens with marvelous drone shots followed by a crackerjack car-chase and shootout sequence in New Delhi's majestic Connaught Place. The action thereafter—between strikingly choreographed mortal-combat scenes (fight masters on the credits seem firangis), and bullets flying all over—shifts wholly to a grand hotel, identified as Emerald Atlantis, in Gurugram.
Its owner (Roy), in high-roller, casino-wear, calls it a "seven-star hotel". Which, by the way, is not an industry term—just something, I notice, desis use to denote a venue more fabulous than 'five-star'!
The backdrop is a stunningly lit, vertical sky-line. I'm guessing this is Abu Dhabi. The fact that you can pass off such a first-world space believably as Gurugram tells you all you need to know about how NCR (National Capital Region), in terms of look and feel, has squarely surpassed the rest of metropolitan India—I'm writing this from a tragic Mumbai!
The other thing that flows from the setting is that the film is a pandemic production—most probably shot during COVID-19. That, unlike, say, the similarly single-setting, resort-drama, White Lotus S02, smartly draws Corona into the main plot.
Here's what's happened, due the world having shut down, to fight a virus, by staying at home, for months on end: People got poorer, and according to this film, crimes went up.
May have to fact-check this. But the other fallout is that cocaine, according to these filmmakers, became the new gold—its price having doubled from R25 crore a consignment to R50 crore.
Hmmm. Actually, that begets a larger question (perhaps only) in my head: Why is the recreational, chemical substance, cocaine, unlike the equally illegal junk drugs, so frightfully expensive? It's not like the coca plant/leaf it's derived from is a limitedly mineable metal, no?
Here's the other thing about crap cocaine, like the boot-polish for hash—it looks like other things you can sell in place of; from dandruff, to talcum powder!
My favourite scene in Bloody Daddy is when the hero packs atta (flour) into bags of coke! Sanjay Kapoor, as the buyer, sniffs it. It's hilarious. As is, of course, the actor, who showed off the same, Delhi-Punjabi side in Dibakar Banerjee's segment in Lust Stories (2018) so well—it single-handedly revived his non-existent work life altogether.
This coke consignment we're referring to was picked up by a 'Narc' (Narcotics Control Bureau) from the OG Nigerian drug runners. But the cop must return the seized bag, in return for his son, who's been kidnapped by the suited mafia, who also own the said hotel.
That's the super sorted Shahid Kapoor then, in the middle of this hostage drama, which plays out in over-stretched real-time that so many movies tend to—with the hero trying to bring his kid back, and kill more than a few baddies indoors, alongside, while you can't always tell who's who, and what's where.
Shahid has clearly worked himself for this macho-man part, over years. Especially since Kaminey (2009), that took his career into a more masculine-lead phase. It's not like he was born with that look/physique, or started out as Sunil Shetty, no?
Throughout the film, you watch him totally on the ball, firing on all cylinders, and mercilessly taking the hit, on occasion. This is Shahid's return to the screen, right after the strong series, Farzi (2023). That I felt should have been a film. Bloody Daddy, in turn—given the fine ensemble cast of characters—could be a tight mini-series too.
I watched it first on the big screen at a preview show. I watched the opening portions I'd missed, on my cellphone, where it's premièred (on an OTT platform). It's on JioCinema, which is obviously not a cinema, where this gangster-noir, pure action, genre pic rightfully belongs.
The original, Nuit Blanche, has already been remade in Tamil, as Thoongaa Vanam (Sleepless Forest, 2015), with Kamal Hassan as hero, and Prakash Raj in Roy's antagonist part. Trailers for both, online, are total 'timepass'. Maybe should catch those films too? Or, well, Bloody Daddy is good enough—job's done, should get a life now.