It appears that Kat was amused by Sallu's antics, but the superstar is keen to follow guidelines and set an example for fans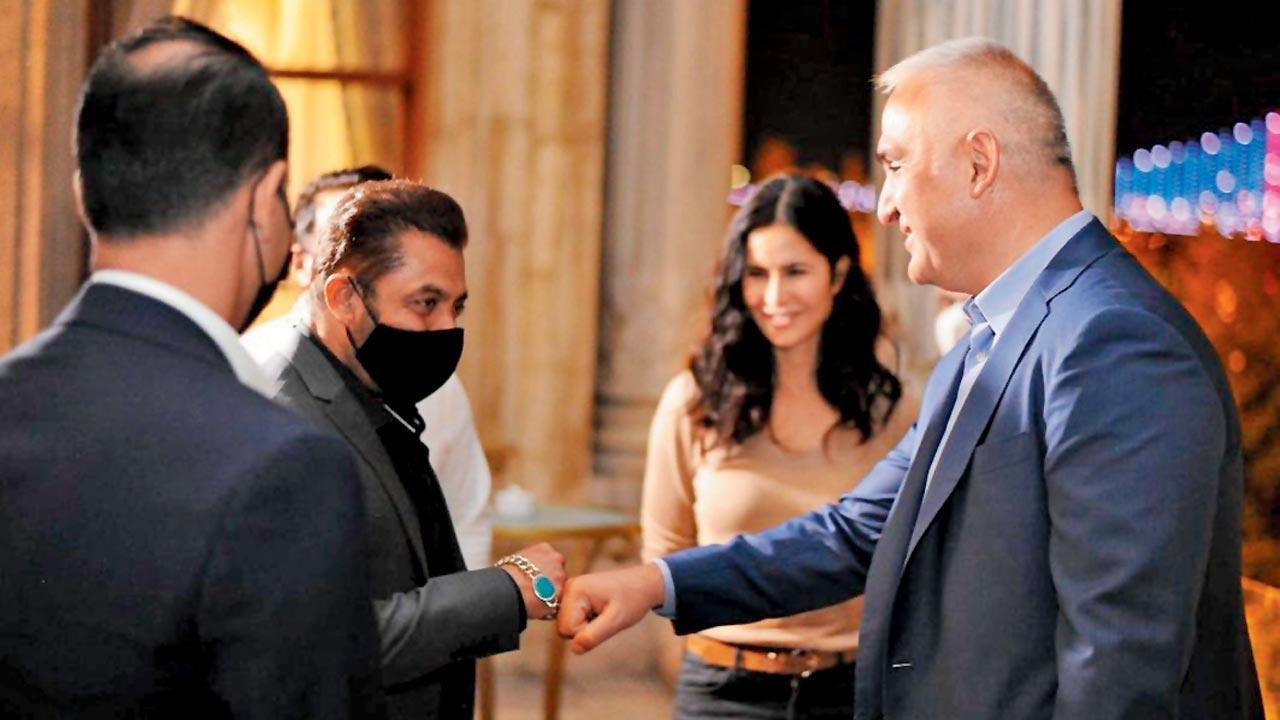 Salman Khan, Katrina Kaif and Mehmet Nuri Ersoy
Salman prefers fist bumps
Salman Khan and Katrina Kaif met Turkey's minister of culture and tourism, Mehmet Nuri Ersoy in Istanbul. The actors, who are shooting for Tiger 3, were extended a special invitation by Ersoy. "Turkey will continue to host many international cinema projects," wrote the minister while sharing pictures of his meeting with the stars. Khan insisted on following the pandemic era protocols. He wore a mask and preferred to do a fist bump instead of shaking hands with Ersoy. It appears that Kat was amused by Sallu's antics, but the superstar is keen to follow guidelines and set an example for fans. He is proving to be a big draw in Turkey. Fans have been waiting for hours on the streets to get a glimpse of him at the shooting locales.
Roadblock ahead
Kangana Ranaut is disappointed that some multiplex chains will not screen her film, Thalaivii, which releases in theatres on September 10. She shared the news on social media and wrote, "This is heartbreaking. There are very few and brave producers, who are compromising on huge profits and letting go of exclusive streaming options only for the love of cinema. In these times we must support each other and not bully and arm-twist."
Also Read: Have you heard? Shah Rukh is in Pune to shoot for south director Atlee's film
Turkish delight
Where Salman Khan goes, rumoured ladylove Iulia Vantur follows. The Romanian actor-singer has winged her way to Istanbul where the superstar is shooting for Tiger 3. She is making netizens aware of her location by flooding her Instagram account with travel posts. When Sallu is busy with the shoot, Vantur is going sightseeing and savouring local delicacies. After visiting the Topkapi Palace Museum, she wrote, "My heart is so full. It was one of the most beautiful experiences I had in Istanbul. There is something magical about this place." Needless to add, there is no glimpse of Sallu in any of her posts.
Rishi's final B-Town outing
On Saturday, to mark Rishi Kapoor's 69th birth anniversary, the makers of Sharmaji Namkeen unveiled the first look of his swansong. Wife Neetu shared the motion poster on her Instagram Story. Directed by debutant Hitesh Bhatia, the comedy also features Juhi Chawla. After Kapoor's death, Paresh Rawal was roped in to wrap up his portions in the film, backed by Farhan Akhtar and Ritesh Sidhwani. Neetu reminisced, "Hope and being strong is what he taught me... value each day. I can picture how excited he would have been for his birthday. I'm sure he is celebrating with his family up there."
Also Read: Have you heard? Emraan Hashmi's Turkish drama
Cena's tribute to Sidharth
Hollywood star and former WWE champion John Cena paid homage to Sidharth Shukla by sharing a picture of the late actor on Instagram. The post left several of Shukla's fans emotional. They thanked the wrestler for paying his tribute. "I am surprised Cena knows him," said one of Shukla's fans.
Brother act
Maniesh Paul opened The Great Indian Film Festival (TGIFF) in hometown Delhi, which is organised by brother Vevek Paul. YouTuber Ssumeir Pasricha and Arya actor Sohila Kapoor were also present. Maniesh's film, Hichki, was part of the line-up at the short film festival.
Catching up over gupshup, fish and rice
Pankaj Tripathi had two special guests—Manoj Bajpayee and Vineet Kumar—for dinner at his Madh Island home. He admires, respects and looks up to them for inspiration. The trio was catching up after long over what they love to eat—fish and rice. Bajpayee shared a click and wrote, "An evening with my old-time senior and friend Vineet Kumar and our dear Pankaj." The Family Man actor is already looking forward to their next get-together over some mutton and rice. An overjoyed Tripathi added, "He can't wait for their next meeting".
Also Read: Have you heard? Farah Khan reveals that she tested positive for COVID-19