Actor Jaideep Ahlawat plays this part. Bollywood star Kareena Kapoor Khan is opposite him. This pairing itself is the best proof of how this is the golden age for actors—hence directors, who have such a wide choice to cast from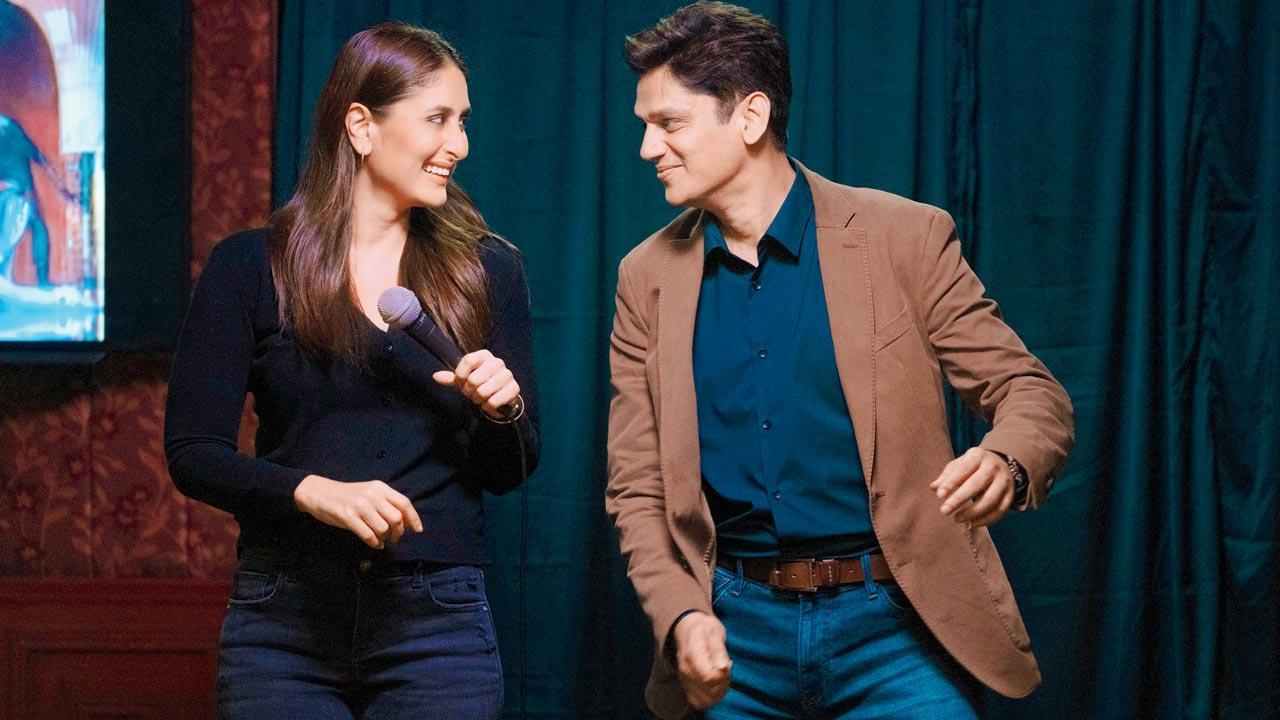 A still from the series
Listen to this article
Jaane Jaan Movie Review: Jaideep x Kareena = X factor
x
Jaane Jaan
On: Netflix
Dir: Sujoy Ghosh
Cast: Jaideep Ahlawat, Kareena Kapoor Khan
Rating: 3/5
Jaane Jaan is an official adaptation of Japanese Keigo Higashino's book, The Devotion of Suspect X. Which is? Essentially, the daddy of Jeethu Joseph's Malayalam Drishyam (2013), thereafter remade in Hindi, the rights of which have been further sold for a Korean version, completing a circle of sorts. 
ADVERTISEMENT
The point of the suspense being? A protagonist perfectly hiding a murder committed as accident, or in sheer self-defence. Would it be easier to confess the crime to the police and face trial, since the deceased was such a suspect character himself? Oh, no, what's the fun in that. And who wants to face the vagaries of law, in any case. 
Much better to hide, and hope to move on. But that requires some intelligence, isn't it? In this film, that 'shaatir'/sharp brain belongs to an old maths teacher, with an unmatched attention to detail. Only, he's helping his female neighbour get away. Are they together, or even friends? No. This is just out of unimaginable, unconditional love. 
Hence, as an audience, you follow the male lead, first. He spouts arithmetic equations to answer life's questions. One of them being, if A = B, and B = C, then A = B = C. Which is odd, because if A = B = C, then they would not be different variables. All of them would simply be A, no? 
But let's not get too much into these things, including that childhood puzzle about five birds on a tree. If you shoot one down, how many are left? None, the others will fly away; obvio!
You're drawn to this maths teacher, mainly because of his eyes and body-language so self-effacing and half-dead, that he appears half-blind and wholly vulnerable. Yet, he displays the look of someone so sorted, you know he will somehow protect you, if you're under his care. You feel that most, when he half hugs his neighbour, the murderer. 
Actor Jaideep Ahlawat plays this part. Bollywood star Kareena Kapoor Khan is opposite him. This pairing itself is the best proof of how this is the golden age for actors—hence directors, who have such a wide choice to cast from. 
Kapoor, in particular, has been extremely choosy, throughout her career, over who she'll star with—Ayushmann Khurrana, for instance, was reportedly not good enough for her, during the casting process of Udta Punjab (2016). This makes Ahlawat a legit star of OTT, already. This is Kapoor's digital debut.
It's equally remarkable how she solidly underplays herself to suit the quieter medium. This character has an unknown past, chiefly as professional stripper/pole-dancer, although I haven't met one such in my life in India so far. Vijay Varma, another hero of sorts, in his own right, is the devoted cop investigating the murder.
And yet, don't miss that dead-body, in the sense of the performer, who gets killed. That's Saurabh Sachdeva, who we last saw, only the same week as this film, singularly killing it as the dignified don Haji in the series, Bambai Meri Jaan (Amazon Prime Video). He just so naturally gives out the druggie vibe, it'd be amazing if he's a teetotaller vegan in actual life!
Can't go wrong with actors so on the ball, can you? The script itself has been doing the rounds with several directors in Bombay for so long that, for some reason, even I had a copy of it lying around at home, once—gifted to me, to randomly read for fun. That Sujoy Ghosh was the filmmaker finally picked for this film is thanks to Kahaani (2012) and Badla (2019). Both movies equally in the mystery/thriller space, with a female protagonist. 
Ghosh does well to set Jaane Jaan in the serene hills of North Bengal, somewhat bearing the look and feel of Aranyak (Netflix), that was set in Himachal Pradesh, if I'm not mistaken, and was, similarly, the '90s star Raveena Tandon's OTT debut. 
So, between three alluring characters and a murder to hide, where do you go from here? Not too far, really. There isn't much suspense, since you know the leads will get away with murder; what's the point, otherwise. How? You stay for the punctuations, and the process.
This is the kind of high engagement, low risk, lower return genre, that you click on a streamer—knowing that, like a breezy sit-com, you will be suitably entertained. And you are. What was my unrelated takeaway from the pic, a call to action, as it were? Really wanna visit Gompu Bar & Restaurant in Kalimpong!
"Exciting news! Mid-day is now on WhatsApp Channels

Subscribe today by clicking the link and stay updated with the latest news!"
Click here!