Director Jasmeet K Reen spoke to mid-day.com about Darlings, its characters and the much discusses climax of the film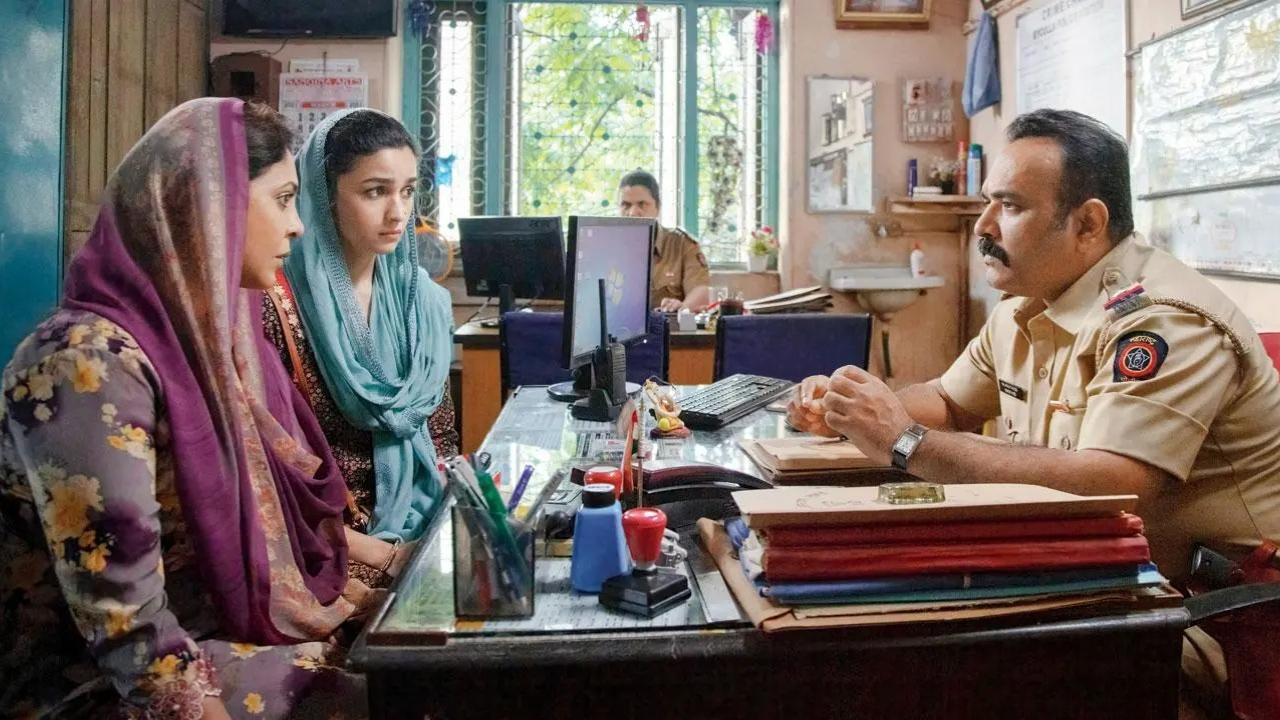 Still from Darlings
Director Jasmeet K Reen delivered a sixer with her first feature film, 'Darlings'. The dark comedy that was centered on the topic of domestic violence starred Alia Bhatt, Shefali Shah, Vijay Varma, and Roshan Matthew in the lead. The film got a worldwide release on Netflix in early August and soon became one of the most watched films on Netflix across the globe. While the film was heavily praised, ask Jasmeet the best compliment she received and she said during a conversation with Mid-day.com, "Thankfully, the film as a whole has been received well which is the best compliment. Although the other day I met a lady director, who is one of the warmest people I have met, She said that her crew is trying to set her up on a dating site, she told them that she's 50 years old already, 'ab kya dating'. And they said, 'Samshu..?'. Familiarity with characters like this, melts my heart. PS - Can't name this lovely lady, as I don't know if she would want to be. You know who you are (smiles)".
Domestic violence is by nature a sensitive topic. Ask her what made her want to give it a dark comedy twist, she said, "The story lent itself to the genre. The one-line idea that I had was that of a mother-daughter duo to fix the daughter's marriage and they come up with crazy ideas to do so. We wanted to be sensitive and responsible towards the issue, but at the same time one didn't want to preach. The dark comedy allows you to be uncomfortably real, even say things you may think but not voice, like the mother in the film. Characters don't crack jokes, they are stuck in a mess. The situation is funny and extraordinary but all they are doing is trying to wriggle out of situations time and again."
Also Read: Check out what Karan Johar has to say about Alia Bhatt's 'Darlings'
'Darlings' relies heavily on the nature of its characters. From Alia's Badrunissa Shaikh to Vijay's Hamza to Shefali's Shamshunissa, every character had peculiar characterization and were very different from each other and easily stood out. When asked if there was any character that was particularly difficult to shape , Jasmeet shared, "Each character helps shape the other, they are all connected. Together they are the soul of the film. The mother-daughter duo's pain comes from Hamza's violence, the daughter's dilemma comes from his magnetic charm. Zulfi brings the cops into this world but gets stuck himself. While the salon lady's character raises the question, how and when did we become so immune and complacent?"
While the film was praised for its topic and approach, it also led to in-depth discussion on social media platforms. One of the topics that were discussed was the climax of the film. Some found it to be very convenient. But is that a thought that crossed the mind of Jasmeet and co-writer Parvez? "There are these two women who dealt with violence differently. Badru is an optimistic dreamer, a believer in good, she flips when she realises that she loved the wrong man, she contemplates becoming a scorpion like him but then she lets go and truly finds herself when she realises that her respect is her's and it's not something she needs from him. The arc is heroic and cathartic. She can't change a man who doesn't want to change but she can walk away. His fate is his karma."
Finally, owing to the love and hate the characters of 'Darlings' have received, does Jasmeet consider making a stand-alone film on any of the characters? "Abhi toh maa-beti have found peace, why separate them," she said. Will reducing movie ticket price bring audience back to the theatres?