Kangana Ranaut said that she had experienced drug abuse at the hands of a man she referred to as a character actor. Later, the man also assumed the role of her "self-appointed" husband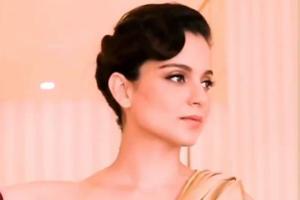 Kangana Ranaut. Image sourced from mid-day archives
Of late, Kangana Ranaut has been quite vocal and active on social media. The actress has been calling out Bollywood for nepotism and asking for a fair investigation into Sushant Singh Rajput's death. She has openly spoken about favouritism in the Hindi film industry by the "gangs" of Bollywood, which she has often tagged as "movie mafia" and "Suicide Gang" of the industry. 
A few days back, Kangana made some shocking revelations about drug use in the film industry. She also said that she had experienced it at the hands of a man she referred to as a 'character actor'. Later, the man also assumed the role of her "self-appointed" husband.
Speaking to Republic TV, Kangana recalled an incident during the early days of her career when she was staying with an 'aunty' in the city. It was during this time that this character actor befriended her and promised to help her in finding work. He soon became her 'self-appointed mentor'. Later, he fought with the aunty and asked her to leave.