Preity Zinta and Gene Goodenough welcomed their twins via surrogacy in November 2021. Ever since, the Bollywood star has been sharing adorable moments with her little ones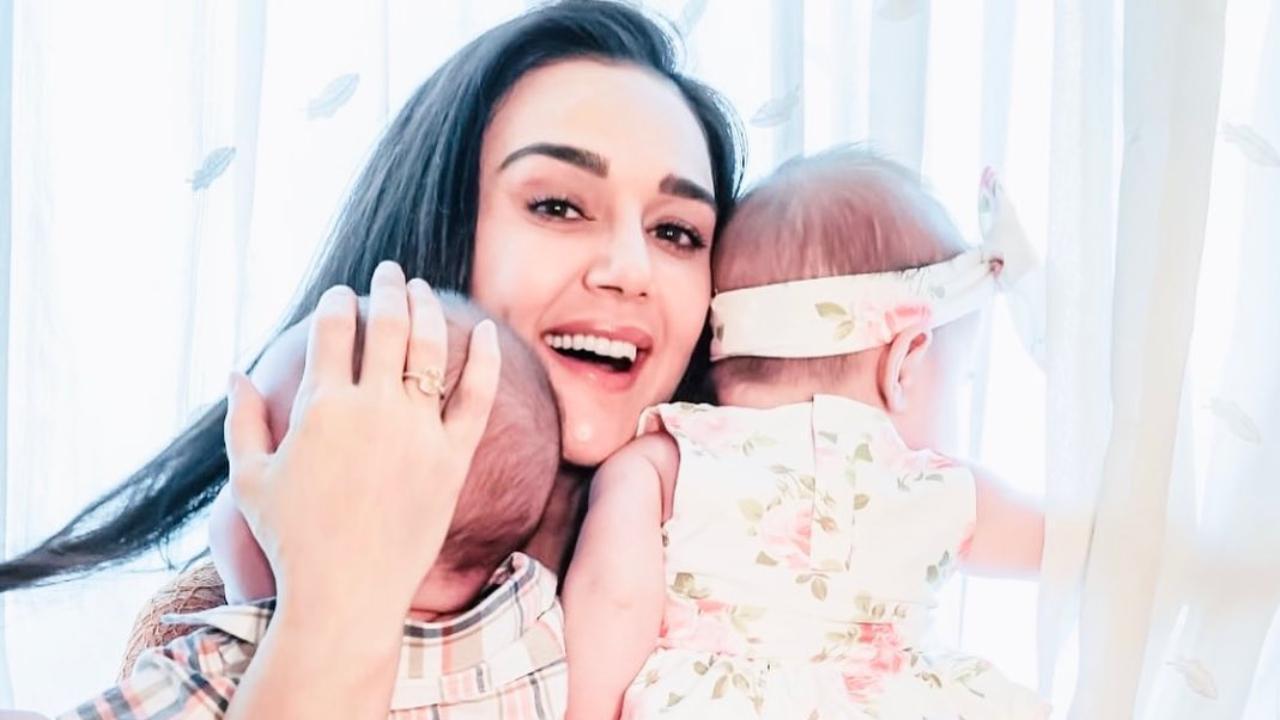 Preity Zinta
Preity Zinta along with her husband Gene Goodenough welcomed her twins in November of 2021. The couple who tied the knot in February 2016 became parents to a baby boy and baby girl via surrogacy. Preity often takes to her Instagram handle to share adorable moments featuring her kids. 
On November 18, 2021, Preity took to her Instagram handle to share the news of the birth of their twins. Sharing a picture of her and gene she wrote, "Hi everyone, I wanted to share our amazing news with all of you today. Gene & I are overjoyed & our hearts are filled with so much gratitude & with so much love as we welcome our twins Jai Zinta Goodenough & Gia Zinta Goodenough into our family. We are very excited about this new phase in our lives. A heartfelt thank you to the doctors, nurses and to our surrogate for being part of this incredible journey. Loads of love and light - Gene, Preity, Jai & Gia'
ADVERTISEMENT
The first picture Preity shared of her child was of her holding one of her twins in her arms. "Burp cloths, diapers & babies… I'm loving it all," she captioned the post. 
 

 

View this post on Instagram

 
Preity then shared a couple of pictures of her kids without revealing their face but described the moments she was sharing with them. 
Last year on Mother's day, Preity shared a picture of her and her mother holding her twins. "I never understood why my mother called me so much, worried about me constantly & wanted to know my whereabouts, as I galavanted around the world as a teenager & an adult, till I became a mother. Now I'm beginning to understand it. From thinking of myself first, to learning to put my kids first, I'm beginning to understand what motherhood is all about. It's beautiful, empowering & a bit scary. I hope my children are more sensitive & appreciative of me than I was towards my mother. Irrespective, I will learn to love my kids more & expect less like all mothers & do everything I can, so they grow up to be the best versions of themselves. Happy Mother's day to all the mothers out there - today, tomorrow & everyday," she wrote along with the post. 
Also Read: Preity Zinta says a woman forcibly kissed her daughter, wheel chair bound man harassed her
In September last year, Preity Zinta shared a video of her twins enjoying their first rain from the balcony of what looked like a resort. "First rain … first rain dance," she captioned the post.
 

 

View this post on Instagram

 
Last year on November 11, on the first birthday of the twins, Preity shared individual posts for Jai and Gia with a closer look at the twins. Penning a note for Gia, Preity wrote, "I always knew I wanted you… I prayed for you, I wished for you & now you are here & it's been a year. My heart is full & I will forever be grateful for your precious smiles, your warm hugs & your presence in my life my little Gia. Happy birthday from mama to my little doll. You are everything I ever hoped for & more. May your life always be full of love & happiness today & always. I love you to the moon & back. As each day goes by my love for you multiples".
Praising her little Jai, Preity wrote, "Of all the roles I have played in my life nothing comes close to that of being your mom. I'm sure we have know each other for many lives…. In this one, I cannot stop wondering how much love we will share with each other & how much my heart fills up looking at you my little miracle. I love you more each day. Happy Birthday meri jaan. May your life be filled with loads of happiness today & always. Here's to many more smiles, cuddles & laughs. Love you to the moon & back "
 

 

View this post on Instagram

 
While Preity is settled in Los Angeles with her family, she often visits India for work. As she is on the go quote often, it seem like her kids have picked up on the same and sit inside the suitcase when she heads to pack. Sharing a picture of her kids sitting inside a suitcase earlier this year, Preity wrote, "It's amazing how the kids have a sixth sense when I'm travelling ! Packing is always tough cuz they jump into the suitcase & disrupt everything. I guess will pack them in my bags next time "
 

 

View this post on Instagram

 

Preity had earlier shared this adorable video of Jai sweeping the floor. "Happiness is seeing your little one super interested in cleaning & giving mama a helping hand. Here is little Jai practising his Swachh Bharat moves," she wrote, 
 

 

View this post on Instagram

 

More recently, Preity took a trip to the hills of Manali along with her family. She shared a video of Jai running in a garden with her calling him from behind. But there was no stopping the little one from running wild. "My kind of heaven. The last couple of days have been amazing. Mountains, family, clean air & a digital detox. No better sound than hearing …. mama … mama for the first time from the kiddos. This really is heaven". She also took her husband and kids to Hateshwari Mata temple in Hatkoti, Shimla.
 

 

View this post on Instagram

 
Also Read: Preity Zinta shares inside pictures from Eid party with Salman Khan, Sonakshi Sinha, and others