Only a sales-pitch so staggering in its vision could have brought such top-notch cast and crew to aim for the crores with this film. Just that ideas don't make films, no? I suspect plot and characters you connect with do?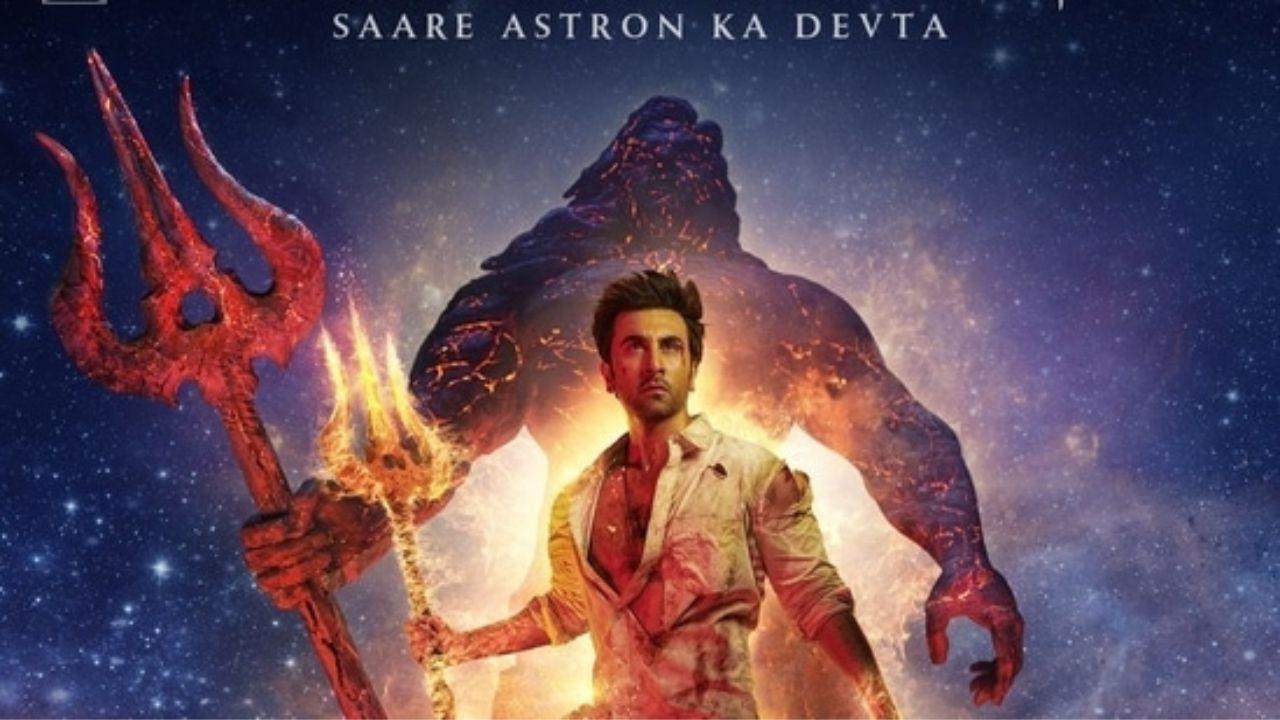 Brahmastra poster (File Pic)
Film: Brahmastra
Director: Ayan Mukerji
Actors: Ranbir Kapoor, Alia Bhatt
Rating: 2/5
Isha ka matlab kya hai (you know what my name means)," Alia Bhatt asks the hero Ranbir Kapoor's character. "Parvati," she says, in which case she might wish to explain what Parvati means. Given that she's merely giving the synonym of her name. Implying, in this case of course, wife of (Lord) Shiva, since the hero's named thus.
ADVERTISEMENT
The two meet at a rave/nightclub, as their eyes do, and the hero, a DJ, is instantly besotted to take her to his (orphanage) home, from the elevator, the same night. He slips into a delirium soon after, while she sticks around still; hardly freaked out! The 3D screen is so overloaded with CGI (computer generated images) that the hero's chawl-like place in Mumbai seems a spaceship of sorts.
Also Read: 'Brahmastra' makes record opening, beating 'Sanju' and 'Sooryavanshi'
How do you even expressively connect with these lead characters, let alone their romance? You don't, barring that they're the loveliest looking couple ever likely on screen. And it's not that this is, in essence, a romantic film anyway? What's it about then?
"Brahmansh," as Amitabh Bachchan aka 'Guruji' informs, landing up only at the intermission point of this movie—taking us through a members' only 'Rotary Club' of (mostly) senior citizens (Dimple Kapadia, being one of them), who are astronomically connected over generations—invested with certain hidden powers, or secret weapons.
The hero Shiva is obviously another member of this cosmic Country Club. So is an 'artist' (Nagarjuna). As is the 'scientist', Swades's Mohan Bhargav (Shah Rukh Khan), that this film opens with.
The sense I could make is that the antagonist (Mouni Roy), and her army—who you feel as uninterested or disinvested in, as the protagonists itself—are after the good guys, for portions of their prime 'astras' (weapons).
Which is what makes this film set in the 'astra verse', apparently. So in simple terms, think of this film as, say, Thanos wanting those six Infinity Stones, in order to destroy the planet, as it were? Maybe.
Only the filmmakers don't keep it simple in a way that Marvel, primarily aimed at children, do. Neither is it dark and clever, like DC or Christopher Nolan's pix, that you might wish a Google-search primer to enjoy it better. You could just feel quite needlessly bored after a point here, that's all.
Especially with some inanities for dialogues that follow, such as, if you must sample a gem: "Light uss roshni ka naam hai, jo andheron se badi hai (Light is the name of light, that is greater than all darkness?)." Or if I heard that right, "Raftaar ko gati hara sakti hai (Speed can defeat speed?)."
Now let me get to the good news. In terms of promised spectacle, Brahmastra is decidedly better than its trailer—that seemed scarily close to Shaktimaan for its special effect.
The scale for Bollywood's superhero/fantasies lately is anyway only somewhere between Rudraksh, Drona and RA.One. This is much superior. Meaning, there is seriously no half-assing on VFX. Every frame is polished to bedazzle you with lights and colours. Even if the filmmakers seem overwhelmed by the world-building at hand.
Also Read: 'Shah Rukh Khan's character in 'Brahmastra' an ode to 'Swades'?'
In exchange for a set-piece by the second, they may have emotionally undernourished the script—namely, patiently relatable backstories/characters. The very aspects that director Ayan Mukerji securely scored with, in his first two films, which were coming-of-age rom-coms (Wake Up Sid, Yeh Jawani Hai Deewani).
Whether or not he seems out of depth here, he's certainly operating outside his warm, intimate, comfort space. Killing it with 3D, surely. I guess a good measure for which is the depth of field? As in how far back can you see on the screen, to allow for the immersive effect of getting drawn into it?
This is stellar stuff on the tech front. Even with objects, such as great balls of fire dancing, before hitting you in the eyes, on occasion. In all of this, didn't think I'd trip mainly to the song sequences on the giant IMAX—'Kesariya' (lifted from 'Laari chhooti'), or 'Deva Deva'.
Brahmastra, I'm told, is India's most expensive film—the cheque of around R500 crore, signed off by Disney (then Star). It shows. As does the audacity of the producers, to announce its sequel in the final frame (Part Two: Deva), which is otherwise contingent on the commercial success of Part One. Hollywood has regularly pulled off such franchises, on account of its global audience.  And comic-book fans over generations.
Only a sales-pitch so staggering in its vision could have brought such top-notch cast and crew to aim for the crores with this film. Just that ideas don't make films, no? I suspect plot and characters you connect with do?
On that account, this feels like a slightly hollow, hot mess, that leaves you feeling distantly cold. And if the story slips off your attention span, the intention can go fetch oil, for all we care, right?
That said, it's not my brief to tell you what to do—let alone watch, or not watch a film. It's merely to narrate a personal experience. As it is, Brahmastra belongs to a genre that's categorically critic-proof. As should all movies made to collectively marvel at the massive screen.
Play Quiz: How well do you know Akshay Kumar? Are you looking forward to watch Kajol in the remake of `The Good Wife`?