As Afwaah struggles at the box office, trade says limited release of Nawazuddin Siddiqui-Bhumi Pednekar starrer and lukewarm promotions were among the reasons for the social thriller's undoing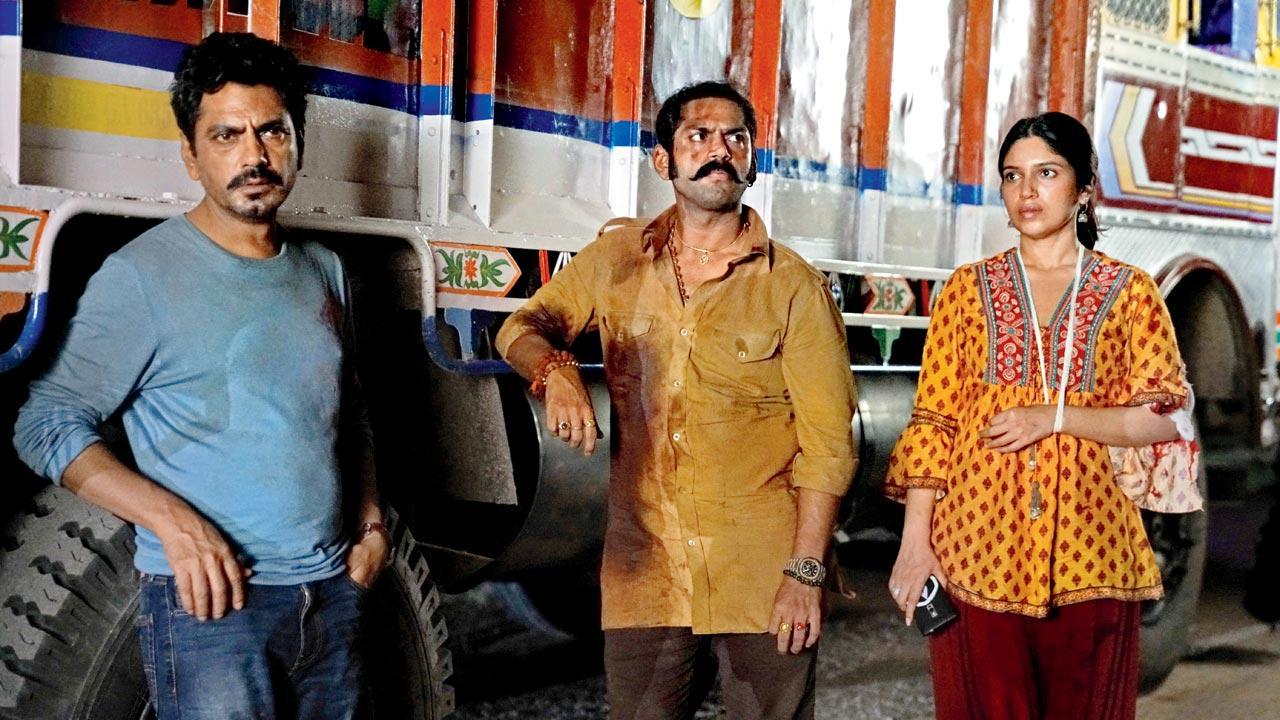 A still from the film
Scrolling through director Sudhir Mishra's Twitter timeline will throw up a recurring question asked by his followers: "Where do we watch Afwaah?" The Nawazuddin Siddiqui and Bhumi Pednekar-starrer hit the screens last week, and was widely praised by critics. But the film remains elusive to audiences. Reason being its unusually limited release. Trade analyst Taran Adarsh says the social thriller about rumour-mongering released in less than 60 screens across the country. In contrast, the other release of the week, The Kerala Story, opened in 1,276 screens on Friday. 
So, what made a movie that has powerful performers like Siddiqui and Pednekar facing the camera, and the brilliant Mishra behind it settle for less? While some sources say that the makers didn't give the film a fighting chance, Adarsh admits that Afwaah deserved a wider release. "Every film deserves a dignified showcasing because a lot of hard work and time goes into making a film. So, makers should release a film properly and market it well," he says.
ADVERTISEMENT
Adarsh adds that the lukewarm promotions were another problem, pointing out that people weren't even aware that the Anubhav Sinha-backed venture was releasing on May 5. "There was no awareness in public about Afwaah. But as far as the promotional budget and strategy go, the producer is the best person to answer this. Also, The Kerala Story has become so big that every other film has got sidelined," he adds. 
Afwaah's leading man Siddiqui too had qualms about the low-key release. In a recent interview, the actor called it "wrong", asserting that the film should reach the audience. Bihar-based exhibitor Vishek Chauhan, however, views the situation differently. He says that producer Sinha had to opt for a theatrical release because OTT platforms today refuse to buy direct-to-digital films. "The producer is just trying to minimise losses by releasing it on this number of screens. Had he gone for a higher number, he would have to put in more money. Even if the film had got 200 or 300 screens, I don't think it would have fared better because there is no interest among the public. If there was some interest, we would have known, and the producer would have increased the screens over the weekend. But that didn't happen," he argues.
Chauhan breaks it down further for what it is like to release a small, unpopular genre film in theatres today. The exhibitor says however unfortunate it might be, the reality is niche films will have to let go of theatrical run. "Post pandemic the divide is clear and even the audience is telling you that there are certain films they will watch on OTT while in theatres they need pure entertainment. So of course theatres have become a formality for such films," he says
Also Read: Watch exclusive video! Sudhir Mishra: Someone spread a rumour I was beaten up by the cops