The film is a Chile drama, the satire has actress Daniela Vega who plays the role of a transgender woman working as a waitress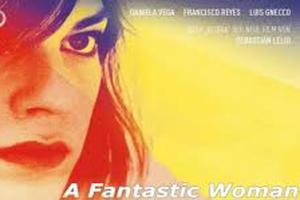 A Fantastic Woman Poster
The capital city edition of the 9th Jagran Film Festival will conclude with Sebastiana Lelio's A Fantastic Woman. The film is a Chile drama, the satire has actress Daniela Vega who plays the role of a transgender woman working as a waitress and moonlights as a nightclub singer, is bowled over by the death of her boyfriend.
This is a story about Marina Vidal, who is a young transgender woman working as a waitress and aspiring singer. She sees a turning point in her life when her lover Orlando has a sudden death. Instead of being able to mourn for her lover, she is being treated with suspicion, by the doctor and Orlando's family. Her sexual identity is also an aberration. She faces a lot of struggles for the right to be herself. The film shows the story of her battling the same forces that she has spent a lifetime fighting just to become the woman she is now-a complex, strong and fantastic woman.
ADVERTISEMENT
Festival Director Mayank Shekhar said, "We have selected A Fantastic Woman for many reasons. It won the Academy award this year for a best foreign language film. It's a film that centers around sexuality and gender identity issues and deals with powerful themes of bigotry, loss and dignity."
The cast of the film is Daniela Vega, Francisco Reyes, Luis Gnecco, Aline Küppenheim,Amparo Noguera, Nicolás Saavedra, Antonia Zegers, Trinidad González, Néstor Cantillana and Alejandro Goic
Jagran Film Festival has reached new heights from its inception in 2009. This being the 9th Edition of India's largest Travelling Film Festival the execution is in a way to transcend cultural and geographical boundaries of India and unite them for the love of cinema.
Jagran Film Festival has gained immense popularity and each year it attempts to present a treat for cinema lovers by showing unique and popular movies during the show. Some prominent sections of the Festival are World Panorama, Thematic Specials including State focus, City focus and Fan sectio, Indian Showcase, Master Talks, Country Focus and the Retrospective of films.
The 2018 edition of the Jagran Film Festival that will connect 18 cities and showcase over 200 films will commence in Delhi and tour to other Indian cities like Kanpur, Lucknow, Allahabad, Varanasi, Patna, Dehradun, Ranchi, Jamshedpur, Bhopal, Indore, Gorakhpur, Agra, Ludhiana, Hissar, Meerut and Raipur before concluding in Mumbai in September.
Also Read: 9th Jagran Film Festival Creates A Deeper Cinematic Impact On People
Catch up on all the latest entertainment news and gossip here. Also download the new mid-day Android and iOS apps to get latest updates