Looking ahead at 2023, Netflix is debuting a diverse array of Korean TV series, films and unscripted shows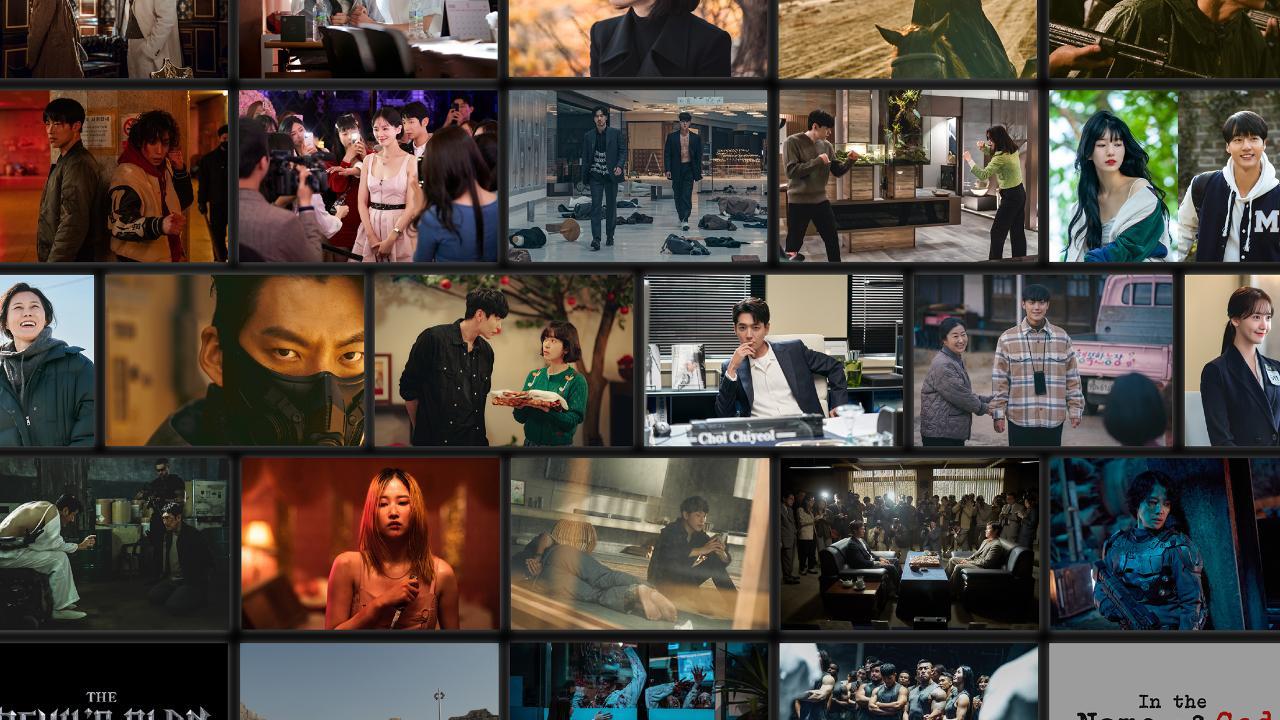 K-content slate for Netflix. Photo/Netflix
The global fandom for K-content is continuing to grow, with over 60 percent of all Netflix members watching Korean titles last year. Looking ahead at 2023, Netflix is debuting a diverse array of Korean TV series, films and unscripted shows. Today, we're showcasing 34 upcoming titles, including eye-popping original productions alongside returning fan favorites, in our biggest-ever lineup of Korean films and series.
 
New series and returning favorites:
Survival has become a recurring theme across some of the top series, whether it's battling monsters during the dark days of 1945 in Gyeongseong Creature, struggling to breathe in the dystopian future of sci-fi series Black Knight, or fighting to protect Joseon during Japanese colonial rule in action drama Song of the Bandits.
 
Fans are set to rejoice with the return of highly anticipated series 'Sweet Home', 'D.P.', and 'The Glory' this year. Part 2 of revenge drama 'The Glory' will be released in March, with Part 1 being the most-watched non-English TV show during the week of January 2 with 82.48 million viewing hours. 'Sweet Home', which set new benchmarks for the creature genre in Korea, will return with an expanded world and story while D.P., brings back the cast from the first season to continue chasing after deserters.
 
"The global popularity of K-content has continued apace over 2022, with Netflix bringing a wider variety of stories and genres to fans around the world. Over the last year, Korean series and films have regularly featured in our Global Top 10 list in more than 90 countries, and three of Netflix's most-watched shows ever are from Korea. This year, we're pushing the envelope even further with the stories we tell and how we tell them. With this lineup of Korean titles, Netflix will continue to be the ultimate destination for compelling, diverse and must-watch Korean storytelling," said Don Kang, VP of Content (Korea).
 
Other new series this year run the gamut of romance (A Time Called You, Behind Your Touch (WT), Crash Course in Romance, Destined With You, Doona!, King the Land, Love to Hate You, See You In My 19th Life), social commentary and intrigue (Bloodhounds, Celebrity, Mask Girl), drama (Daily Dose of Sunshine, Queenmaker, The Good Bad Mother), and apocalyptic (Goodbye Earth).
Also Read: Viral video! BTS's Jin graduates after completing military training
More films, more unscripted shows, more choice
The past year has seen Korean movies and unscripted shows becoming increasingly popular  with global audiences. Action thriller Carter was one of the top 10 most-watched non-English films last year, while dating reality show Singles Inferno is currently sitting in the Global Non-English Top 10.
 
This year, Netflix is expanding its film offering with six Korean movies, kicking off with sci-fi thriller JUNG-E on January 20, followed by Kill Boksoon which depicts a professional killer with conflicting maternal instincts, and Believer 2, a sequel to a crime action thriller revolving around drug gangs. Other films explore the topics of revenge (Ballerina), teacher-student rivalry (The Match), and hacking (Unlocked).
 
Meanwhile those who love living vicariously will be spoilt for choice with a dazzling lineup of reality shows, spanning endurance (Physical:100, Siren: Survive the Island), zombie survival (Zombieverse) coming of age (Nineteen to Twenty), and mind games (The Devil's Plan).
There are also two new documentaries coming out. Yellow Door: Looking for Director Bong's Unreleased Short Film (working title) traces the quest for Oscar-winning director Bong Joon-Ho's debut film while true-crime documentary In the Name of God: A Holy Betrayal explores the self-proclaimed 'messiahs' in modern Korean history.
 
"We are very excited over the variety of the titles that we're sharing with our members," said Kang. "There's truly a series, a film or an unscripted show for everyone, and we look forward to our Korean shows connecting to fans both overseas and at home."
Also Read: Viral photos: BTS's Jin posts first pics after joining the military