In the latest episode of the show, Hansika was seen consoling her mother about the virulent criticism she faced after announcing her wedding with Sohael Khaturiya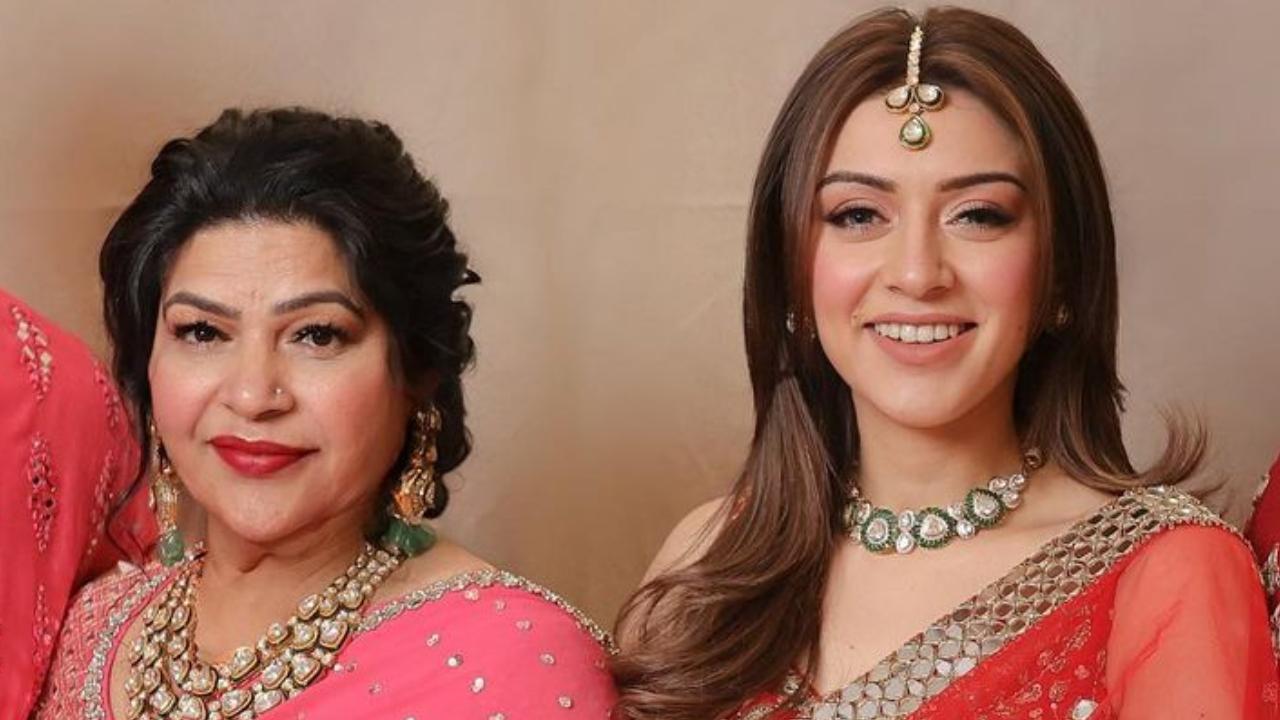 Hansika Motwani with her mother
Hansika Motwani's new Disney+Hotstar series 'Hansika's Love Shaadi Drama' has created quite the buzz. The series which drops a new episode every Friday documents Hansika's opulent and extravagant wedding with the Indian businessman, Sohael Khaturiya.
Hansika received tremendous amount of criticism when she debuted as a female lead in Himesh Reshammiya's 'Aap Kaa Surroor' in 2007. She is known for her work in the popular TV show 'Shaka Laka Boom Boom' where she played the role of Karuna and the famous Hrithik Roshan-starrer 'Koi Mil Gaya' where she played the role of one of the super six. Her instantaneous growth spurt from a child to an adult put Hansika's mother, Mona Motwani under a microscope. Rumoured that Mona had given Hansika growth hormone injections at that time, the actress has finally broken her silence on the rumours. What makes the rumours interesting is that Mona Motwani herself was a dermatologist by profession.
ADVERTISEMENT
In the latest episode of the show, Hansika was seen consoling her mother about the virulent criticism she faced after announcing her wedding with Sohael Khaturiya. She reminded her mother of the time when there were rumours flying around that she had given her hormonal injections.
"This is the expense of being a celebrity. They wrote such crap when I was 21, you know what I am talking about… If I could have taken it that time, I can take it this time. People said that my mum has given me injections, hormonal injections to grow up as a woman," said Hansika.
Also Read: Hansika Motwani: What's better than me speaking my life's truth?
To this, her mother added, "If that is true, then I must be richer than Tata, Birla, some millionaire. If that is true, then I would have said, 'Maine apni beti ko diya hai, tum bhi aao, aa kar apni haddi baddi karvao. What I am surprised about is that people who write this, unke pass dimaag naam ki cheez nahi hoti hai kya? We are Punjabi people, our daughters shoot up between the age of 12 and 16."
Hansika and Sohael tied the knot on December 4, 2022. Netizens were quick to find out that Sohael was previously married to Hansika's friend, Rinky Bajaj and Hansika had also attended their wedding. Sohael and Rinky's wedding video, titled,'The Perfect Fit' can be found out Youtube. This video contains the wedding highlights that took place in Goa and clips of Hansika attending the wedding can also be seen in this video. Netizens accused Hansika of stealing her friend's husband. In the first episode of the reality show, Hansika addressed the allegations, saying "it's the price for being a celebrity."