Learn how a celebrated play attempts to break political propaganda around Maharashtra's most controversial historical figure from a cotton grower-cum-playwright and an actor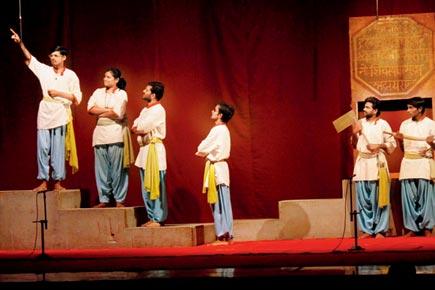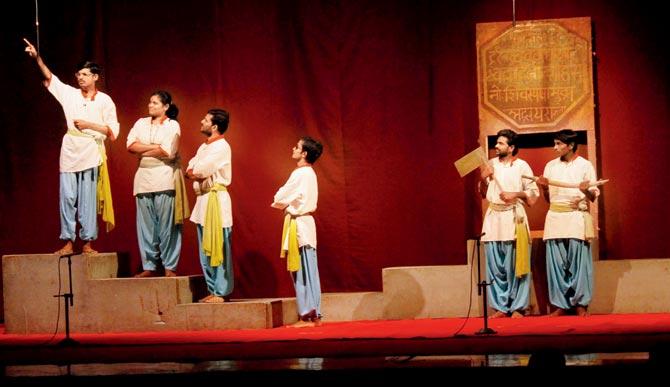 Stills from the play
Located 500km from Mumbai is Jamb Samarth, a village in Jalna district of Maharashtra that is home to 3,000 farmers. Several of them toil in fields through the day, and in the evening, gather on the front yard of the village temple to practise dialogues and share notes on acting. They are part of Rang Mala theatre troupe, which has been staging Marathi plays across the state for 22 years. Two artistes from the troupe, Rajkumar Tangde and Kailash Waghmare, will be part of The Drama School of Mumbai's third edition of a monthly conversation series. "The idea is to shed light on people from different backgrounds who are contributing to theatre," says Yugandhar Deshpande, series co-curator.
ADVERTISEMENT
The conversation will revolve around the celebrated Marathi play Shivaji Underground In Bhimnagar Mohalla. While Tangde is the playwright, Waghmare has acted in it. Directed by Nandu Madhav, the play premiered in Mumbai in 2012, and has witnessed over 500 shows across India. The production features a 13-member cast from Rang Mala troupe in Jamb Samarth.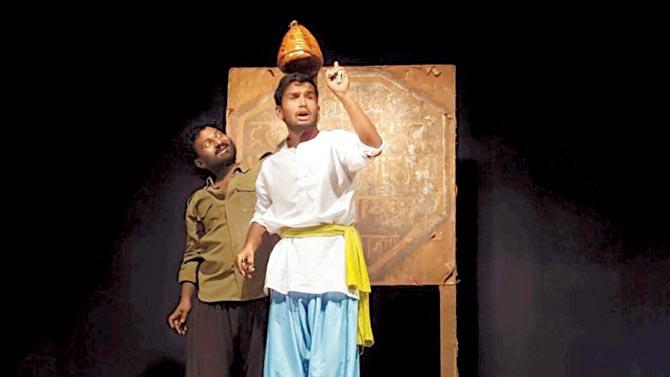 At the session, Waghmare, who has also featured in Sunil Shanbag's Loretta, besides films like Half-Ticket and Tukaram, will interview Tangde about the play and discuss its relevance even today. The play offers an alternative and humane side to Shivaji, with the aim of exposing the myths around the historical figure propagated by political parties. "There's a misconception that he was anti-Muslim. Some of his most trusted aides were Muslims. Many also believe that Shivaji won conquests because the Bhavani Talwar (sword) said to have been gifted to him by the goddess. But he was human like any of us, and won the battles because of his war strategies. The play tells you how anyone can be like Shivaji," shares Tangde, who used Govind Pansare's book, Shivaji Kon Hota, for research. He clarifies, "It's not a historical play or biopic."
The satire follows Yamraj, who visits Earth with Shivaji's turban, trying to fit it on a head to ascertain it's the same person. He has little luck until he reaches Bhimnagar Mohalla, where residents are debating on Shivaji's character. The play relies heavily on folk renditions by Shahir Sambhaji Bhagat.
The duo will also chat about Rang Mala's journey. Their plays tackle issues like dowry and farmer suicides. In 2005, the troupe arrived in Mumbai for the first time to stage Aakda. It was presented in the light of a hurricane lantern. "We wanted to convey to the authorities that till we don't get electricity, we will perform using the light that we carry to the fields," he adds. "When they staged Shivaji… in Pune, they faced some protests. The duo will share more at the session," sums up Deshpande.
ON: June 17, 5 pm to 6 pm
AT: Marathi Sahitya Sangh, Dr Bhalerao Marg, Girgaum, Charni Road.
RSVP: 9619336336