Mumbai's art galleries and museums are slowly but surely setting their sights, albeit slowly, on younger viewers, using different, innovative ideas to woo this impressionable age group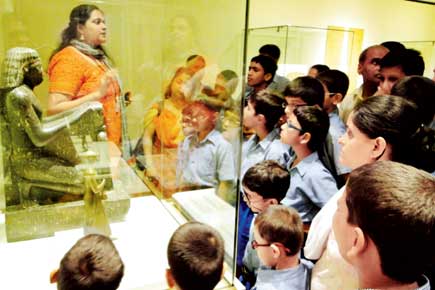 A museum tour Chhatrapati Shivaji Vastu Sangrahalaya for children from a hearing-impaired school
Art, a three-letter word that conjures so many things for people at the same time. Is art great works of Claesz, Raphael, Rubens or Hopper? Or does one find it in the transparency of a jewel, the texture of the brush or the mysterious lines of an illustration? The enigma that is art is precisely that, an enigma.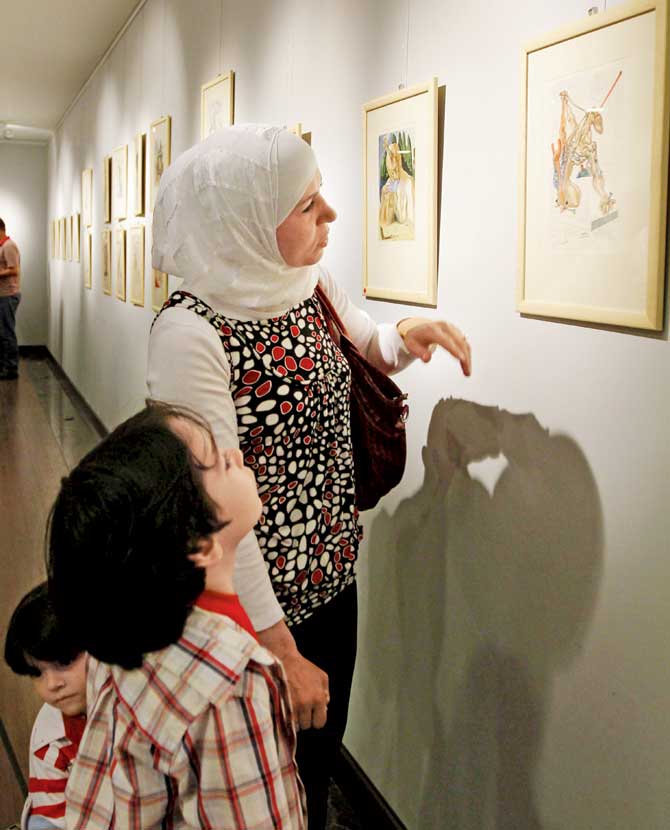 A Syrian mother and her children look at printed artwork of artist Salvador Dali at a gallery in Damascus on May 12, 2010. Pic/AFP 
Perhaps this is the reason why to most of us art is seems distant — seen in museums and in art galleries; and that probably meant only for the privileged other. One thing is for sure: Art and children have hardly gone together. Drawing yes, art no. Art was equivalent to something for the privileged, and looked at as snob quotient. It was perceived as a niche, only for those who 'understood' art. But things seem to be looking up.
Baby steps
At the Jehangir Art Gallery there is a visible smattering of children walking along while looking at paintings and installations and talking to adults. Douglas John, artist and professor at the JJ School of Art believes one of the reasons for this change is the fact that art is now being perceived as a credible occupation.
John says, "People are slowly aware of art these days. In the 1970s and '80s, when we were growing up, parents felt that their children should take up professions like medicine or engineering. Post the 1980s, they opted for management and later, the IT industry. Those who opted for these professions had a stable financial status. Today's generation is not only financially stable but they are also aware of an important part of their lives that has space: aesthetics. They are able to earn but life is still incomplete."
He reasons that when this generation leans towards art, they have not limited it to themselves. "I have seen people propelling their children towards art; taking them for exhibitions and workshops. Art has created a major awareness throughout the world," he suggests.
Making a start
Is there a movement that is working towards creating art awareness among children? "Movement would be too big a word," laughs Bilwa Kulkarni, education officer, Chhatrapati Shivaji Maharaj Vastu Sangrahalaya (CSMVS), where one Sunday every month is dedicated towards an art and heritage enrichment workshops for kids. However, she feels that there is a conscious effort to make art and heritage accessible to the young.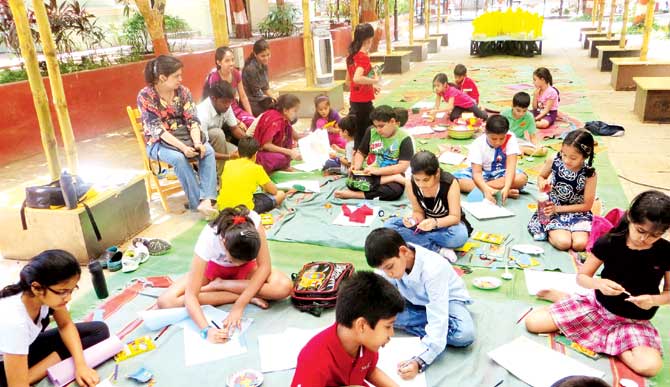 An art workshop underway at Dr Bhau Daji Lad Museum 
CSMVS, which is the first museum in the country to have started a group specifically for kids called the Museum Kids' Club, with the belief to expose kids to art and culture and pave the way for art to have value in the future.
If the museum is curating a show, an effort is made that workshops are conducted for kids about that genre of work and about the artist in particular, assures Kulkarni. CSMVS has an important archaeological collection and a natural history section, which are major attractions for children. The museum constantly makes efforts to do hands-on workshops for children as well as free-for-all storytelling sessions.
Art connoisseur Harsha Bhatkal acknowledges that there is growing interest for art. "The awareness of art today is thanks to media coverage. Hindi films like Taare Zameen Par brought art for children into greater focus. Young entrepreneurs and professionals are getting into collecting art now. Artists are getting younger too, and art is becoming a necessary part of aesthetics today. But enough hasn't happened. The study of art should become a part of our school curriculum," feels Bhatkal.
But what is happening is significant. At the Dr Bhau Daji Lad Mumbai City Museum, noteworthy work is being done to engage a young audience. Alisha Sadikot Gupta, curator, education and outreach, says, "It has become essential to conceptualise, curate and organise walk-throughs, workshops and self-led interpretive tools, at the least, to encourage audiences to engage with, learn from and be inspired by the artworks on display."
Tools for tots
At Gallerie Angel Arts (GAA) (Andheri), significant work is being done to make art accessible, and child-friendly, too. Reshma Jani, co-founder, GAA, started the gallery with the vision that art should be young, contemporary and an out-of- the-box platform. She says, "Art is everyone's privilege. Why should it be accessible to a few?" Thus, when they curate shows that bring not only new, promising talent into fore, the format in which the art is presented makes collection easy to assimilate. "We want to interest young people," Jani adds.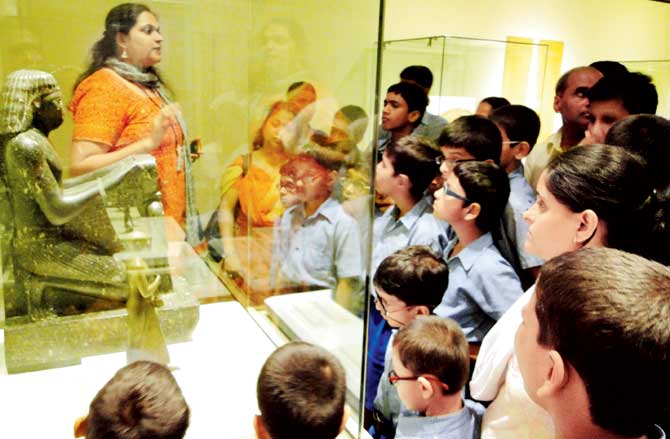 A museum tour Chhatrapati Shivaji Vastu Sangrahalaya for children from a hearing-impaired school 
What Jani along with her partner Shwetambari Soni did was to set off a revolution in the way art was presented and thus perceived. They extracted art shows from staid art galleries to a newer, contemporary setting using music to break the ice on the opening of a show; thus rendering each show an enjoyable, luxurious and aesthetic experience. "Art is not only for the affluent. We offer art that is interesting and affordable too. As we say, today's young artists are tomorrow's masters," says Soni. Actor Sonam Kapoor, a regular at GAA shows, says, "Art to me is an integral part of my life. I love the history and the story that goes into making the work and
the artist."
Art for all
Recent trends indicate the emergence of a new class of buyers: upper-middle-class families, upwardly mobile professionals and entrepreneurs from diverse fields, who constitute the growing number of High Net-worth Individuals (HNIs). This has triggered a change in the investment behaviour. Young people are seeking new investment products and avenues with low correlation to financial assets. Earlier art was restricted to different art schools but now every individual artist as well his work is being labelled as a brand. Many art galleries have started promoting budding young artists.
Jani knows that art is a serious business when it comes to investing. She says, "We want art to be approachable. For that, we need to work with children and young people." At the Kalaghoda Festival 2015, Raza's Bindu was launched, and it set a group of children to look at his work, understand it, work on their own bindus and talk about what their bindu meant to them. This is not a single brushstroke. This is impressionism of another kind.