As Mumbaikars get ready to welcome Ganpati into their homes, design experts Pallavi Goel and Seme Nadvi share five simple decor hacks that will add charm to your pandal at home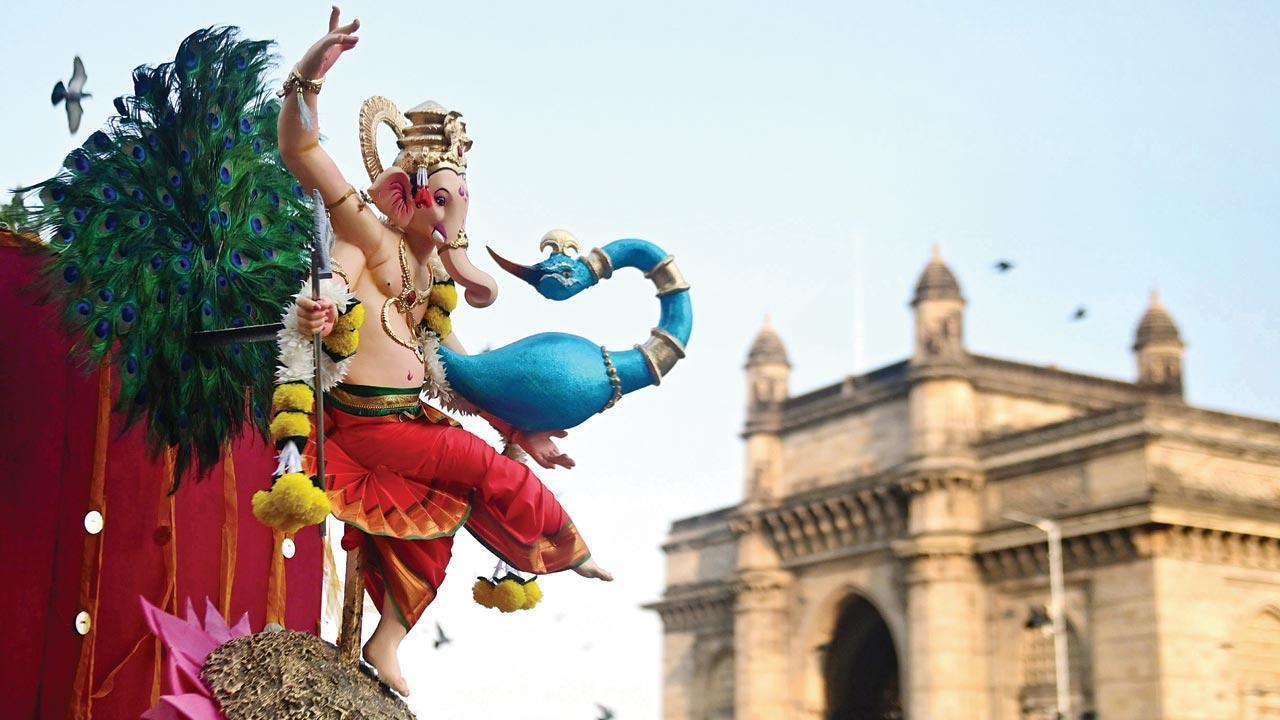 Biodegradable statues, potted plants and jute drapes are among the experts' suggestions for eco-friendly home decor ahead of Ganesh Chaturthi. Photo: File pic/Bipin Kokate
Celebrated with much fervour by Mumbaikars, Ganesh Chaturthi is around the corner. While celebrations will be muted this year owing to restrictions, it is up to us to not let our festive spirit dampen. If you are welcoming Lord Ganesh but find yourself running out of eco-friendly decor ideas to spruce up your home, we have the perfect solution for you.
Mid-Day.com spoke to design experts, Pallavi Goel, studio director at Livspace and Seme Nadvi, franchise holder at Livspace to help you ace sustainable pandal decor at home in no time. "A few aspects to keep in mind are to use biodegradable statues, candles, and other eco-friendly materials. Illuminate your home with candles and diyas, which can be kept in small stands or candle holders to add an additional layer of sparkle to the decor," says Pallavi Goel, studio director at Livspace. 
Below, they list five sustainable decor hacks to help you adorn your pandal at home just in time for Ganesh Chaturthi:
Use real flowers and potted plants instead of artificial ones for a floral theme:
While choosing a floral theme, use real flowers instead of artificial ones. It is best to invest in real plants—these will not only last through the duration of the festival—but can also be used to decorate your home after as well. 
Use bamboo, coconut leaves, river grass, or hay to create the pandal for a rustic look:
Another very sustainable idea is to make a hut out of bamboo or river grass mats or using woven coconut leaves. This small structure can house the Ganesh idol. To give it a more authentic feel, one can add a tulsi plant in front to complete the theme. 
Use drapes of colourful cloth to add a dramatic effect:
Ganesh Chaturthi is a very vibrant festival and colours always make the place look festive and bright. Different colours of cotton, jute, silk, or linen cloth can be hung from the top of the pandal or from the ceiling behind Lord Ganesha's statue. Remember to make sure that these drapes are away from diyas and candles to avoid fire hazard.
Get crafty with eco-friendly paper: 
The simplest of things can add spunk to your decor. Use colourful paper to make origami decorations and create a vibrant theme. This can be a fun activity that brings the whole family together. Chart paper and crepe are very easy to use to create unique designs to decorate the walls of the pandal or the background. 
Use fruits and grains to be creative and generous: 
Food grains and fruits can be used to decorate the pandals. The unique and rewarding bit about this idea is that the fruits and grains can be distributed to the underprivileged communities after the festival.

Also Read: What Covid-19 reaching an endemic stage in India would really mean