The International Day of Older Persons is celebrated every year on October 1. With the theme for 2021 being 'Digital equity for all ages', three older adults from Mumbai share their experiences of engaging with and striding across technological advancements during the pandemic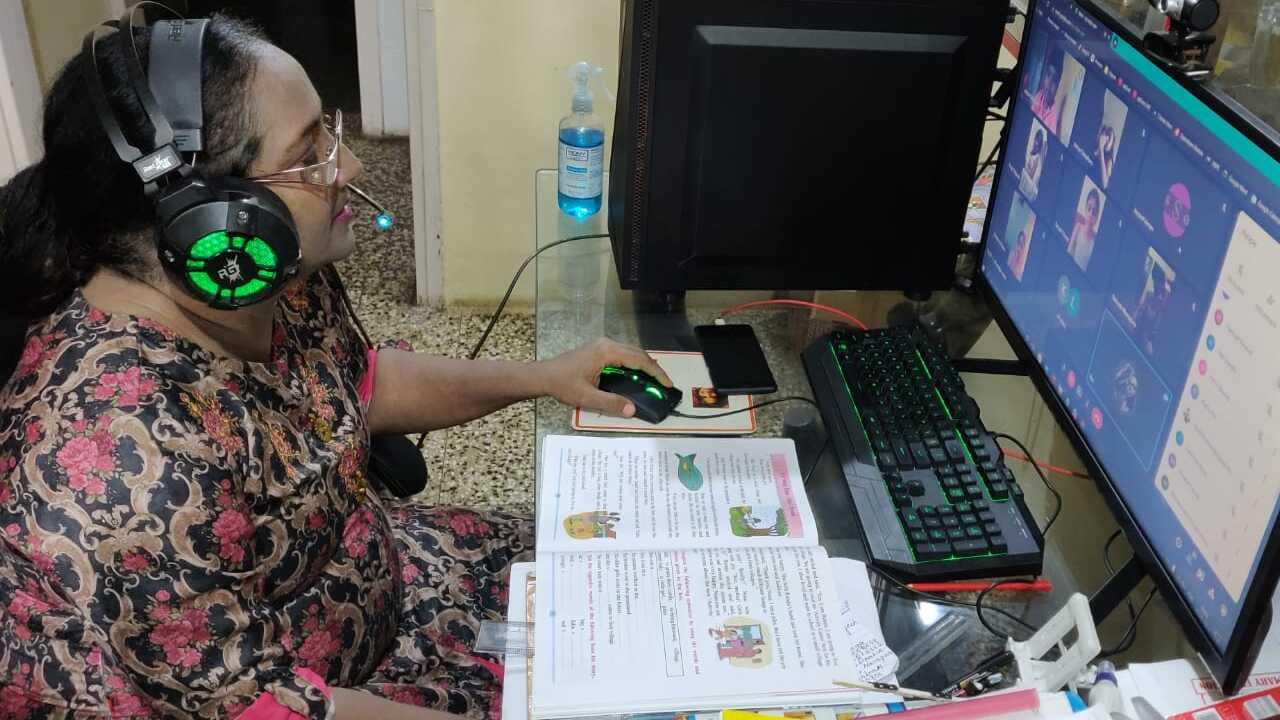 Roshni Chandran has been using an Android phone since seven years and is eager to learn more about new digital tools. Photo Courtesy: Roshni Chandran
"Yes! I know how to send a picture through WhatsApp. Now I even video call my family members through it," 67-year-old Ram Bhau Vaarna says, listing out his newly-cultivated technological skills with a sense of confidence. Like many other older adults, Vaarna, a member of the pro-tribal outfit Shramjeevi Sanghatana based in Palghar district, was pushed into learning how smartphones and the internet worked after the pandemic moved most offline work to the online space. 
Even as activities such as bookings and payments are swiftly and increasingly going virtual in India, digital illiteracy — especially among older adults — remains a concern.
According to a survey conducted by the Mobile Ecosystem Forum from November to December 2019, only 10 percent of Indians aged 45 and above used smartphones as compared to younger adults. An April 2020 analysis by Pew Research Centre on internet usage around the world while the world grappled with Covid-19 suggests that in India, 57 percent of adults between the age group of 18 to 29 years used the internet as against only 18 percent of adults aged 50 and more. 
How it all started
For someone who had never used an Android phone before the March 2020 lockdown, the urgency to use a smartphone was initially overwhelming for Ram Bhau. But with a little help from the young people at home and in his organisation, he fared well enough to create a space for himself in the virtual world. "Our union head prompted us to use Zoom application for meetings. Then we switched to Telegram to accommodate more number of people. Today I can use both the applications to address people's concerns," Vaarna says.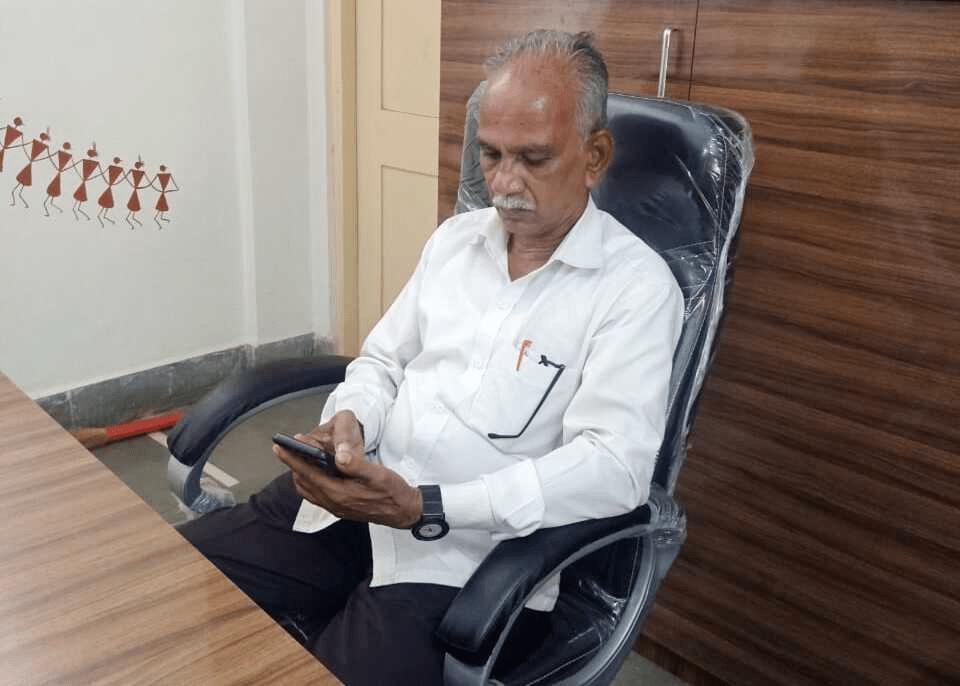 Ram Bhau Vaarna's favourite activity on his smartphone is to Google things he wants to know about. Photo Courtesy: Ram Bhau Vaarna
For 52-year-old Rafik Chaudhary, communications officer at Shramjeevi Sanghatana's Wada branch, getting started with Zoom meetings was quite a struggle. "My friend had gifted me an Android phone in March 2020 but I still could not download the Zoom app on it. It wasn't as good as physical meetings but later on we got a hang of it," he says, adding that he had to constantly use his wife's phone for meetings.
While it all started with Zoom meetings for the majority of working adults, for teachers particularly, getting well-versed with Google Meet was the first step towards entering a digital teaching and learning space. Roshni Chandran, a 56-year-old primary school teacher from Mumbai's suburban area of Santacruz, adapted to the ecosystem of a virtual classroom in a week. For Chandran the overall experience has been exciting, but there are challenges which she tries to overcome in her own interesting way.
"For a teacher, disciplining the children online has been a challenge. To avoid commotion, I have taught my students specific signs and symbols to use when they have to say something. For example: one thumb up for 'ready', 'okay' and 'completed work' and a thumb down for 'not ready', 'incomplete work' and  'don't know the answer'," she cracks up, while getting into the details of the time and energy invested in seeking the attention of the kids on the screen's little boxes. 
How it is going
Following a period of being nervous about clicking on the wrong button or making mistakes, many quinquagenarians and sexagenarians are now overcoming hesitation and growing comfortable with using applications for various purposes. While internet banking and digital payments are still something they are wary of, online communication services are popular among them for staying in touch with friends, family and co-workers.
Now equipped with the know-how of the internet, Ram Bhau does not miss a chance to Google things he wants to know about. "I use Google more often and I like that I can access information easily. I want to learn more about Facebook too soon," he says.
After basic tech adaptation, they are also showing interest in getting familiar with social media applications and expressing more through the means of technology. "I can use some of the common applications like WhatsApp and Facebook and I surely wish to learn more. But, there are time constraints," Chandran says.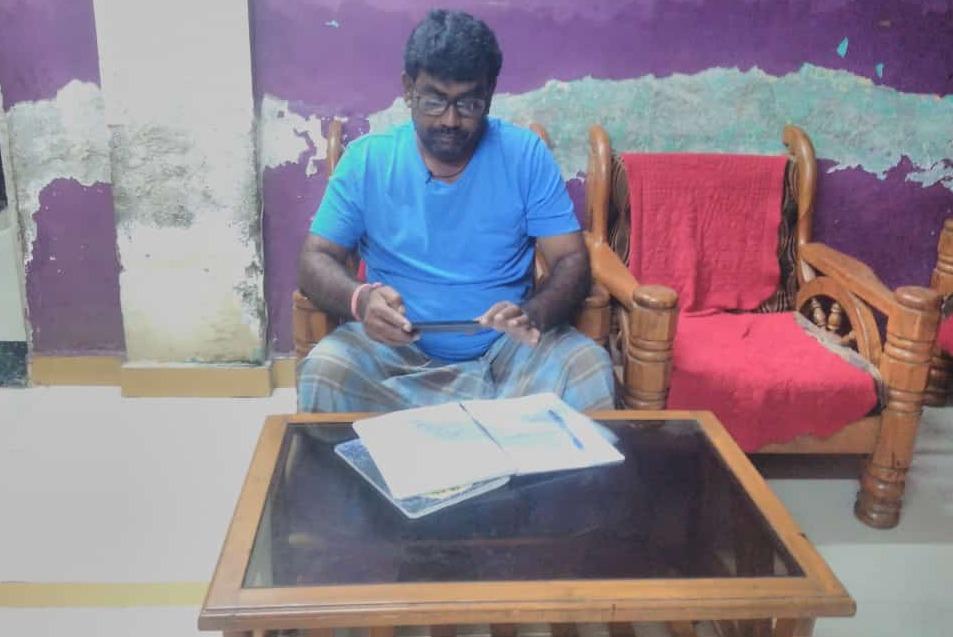 Rafik Chaudhary feels there should be a digital training programme for adults just like the one for kids. Photo Courtesy: Rafik Chaudhary
There's also a common feeling among the three that a government-run digital literacy and training programme for adults is the need of the hour. "Even we have digital aspirations and want to share our experiences and learnings through technology. The government must do something for digital inclusion of all. Mere life security or pension schemes for us are not enough. We need digital literacy as well for our security and advancement," Chaudhary responds passionately when asked about the need for digital inclusion of people across age groups.
The Mobile Ecosystem Forum in July this year flagged the issue of an emerging digital divide, with only 18.6 percent of adults aged 45 years and more using smartphones worldwide. The theme for the International Day of Older Persons this year, 'Digital equity for all ages', stresses on the need to cater to the deepening disparities and to make tech and digital literacy accessible to older persons across countries. 
One of the key objectives of United Nations DOP 2021 is to raise awareness about the digital inclusion of elders while addressing prejudice, stereotypes and discrimination associated with digitisation across age groups. The UN also highlights the role of policies and infrastructure development in improving access to technological innovations, while ensuring privacy and security of the older adults. 
Indian start-ups and organisations taking on digital illiteracy
In India, a number of organisations and start-ups, some of which sprang up during the pandemic, have taken up the cause of addressing the gaps in virtual connectivity and are encouraging older people to sign up for their resources and training programmes.
New Delhi based 'Agewell Foundation', a not-for-profit organisation which focuses on the welfare of older people, has a digital literacy programme for the elderly. 'Khyaal' is a start-up launched during the pandemic, which also provides a range of services including digital literacy for older persons. It was founded by Hemanshu Jain, Pritish Nelleri and Alok Soni.  
'Tech Easy Hai' is another such platform, which provides digital literacy through online classes to adults more than 40 years of age. It started in May 2020 with Shreya and her sister Shruti Bajaj sharing a mini newsletter with their friends to gauge the need to launch formal classes for adults who were willing to become independent of the young when it comes to overcoming tech problems.
Acceptance for learning is the highest among adults and that they are gradually becoming inquisitive about how they can use tech in their everyday life, according to Shreya Bajaj, co-founder of 'Tech Easy Hai'. "We have both homemakers and working persons as our audience and the kind of aspirations and ideas that older adults have is interesting," she observes. "Tech is in a way an enabler for them to achieve their goals." 
Also Read: How content creators are gaining from the growing hunger for translated art