On International Coffee Day, Mumbai chefs share four tempting coffee-based desserts you can whip up at home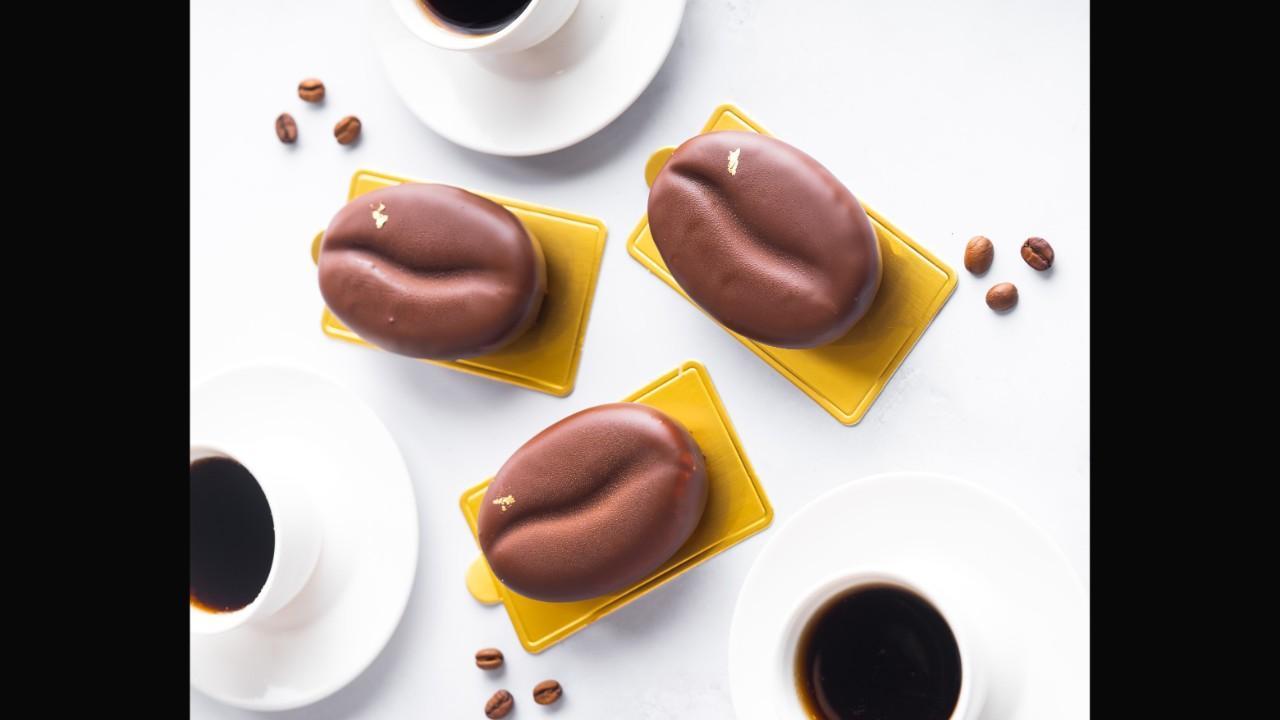 Tiramisu by Moner Bistro and Dessert Bar
International Coffee Day is observed on October 1 every year. Established by the International Coffee Organisation (ICO), the day is a celebration of the industry and the love people have for coffee. If you are someone who is fond of coffee in all its myriad forms, we have rounded up recipes of some of the most tempting coffee-based desserts around Mumbai for you. Try making these mouth-watering desserts at home and make the most of your love of coffee today. 
Tiramisu

"All of the desserts that we have at Moner are revolutionary in a way – a modern take on classics. So while planning the menu, when I decided to do a tiramisu, it had to be something unique & mind blowing. Shaped like a coffee bean, our Tiramisu has an array of textures and flavors yet tastes as good or (probably) better than the original," says Freny Fernandes, founder and chef, Monèr Bistro and Dessert Bar.


Coffee Mousse
Mascarpone – 200 gm, heavy cream – 400 gm, egg whites – 115 gm, sugar – 128 gm, espresso – 30 ml, gelatin – 5 gms 
Method
Whip cream to soft peaks and set aside.
Make an Italian meringue with the whites and sugar.
While the meringue is still hot, stream in melted gelatin.
Fold the espresso and heavy cream in meringue. 
Chocolate ganache 
Heavy cream – 100 gm, couverture dark chocolate – 100 gm 
Method

Heat the cream.
Pour the cream over the chocolate and mix.
Let it set for a few hours. 
Ladyfingers 
Egg yolks - 10 ea, sugar - 255 gm, vanilla extract           - 1 tbsp, egg whites - 369 gm, sugar- 113 gm, cake flour sifted - 340 gm
Method 
Whip egg yolks, the vanilla extract and the sugar for eight to ten minutes on high speed until stiff and thick.
Whip egg whites and sugar to a medium peak meringue.
Gradually fold meringue into the egg yolk mixture.
Gradually fold the cake flour into the mixture.
Bake at 400°F for 15 minutes or until golden brown.
Assembly 
Soak ladyfingers in espresso.
Pour the mousse in the moulds 3/4th of the way.
Pipe the ganache on top.
Place the ladyfingers on top.
Let it set in the freezer for at least 4 hours.  
Vegan Espresso Walnut Cake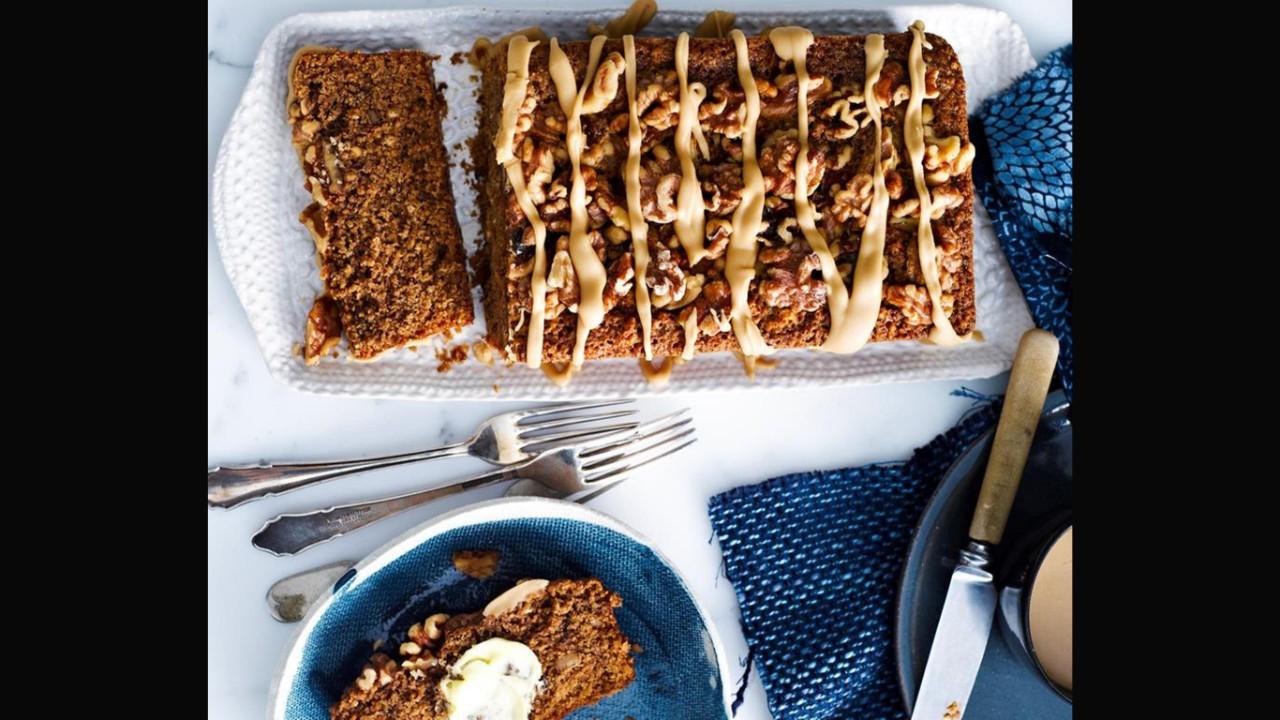 "This soft and moist coffee and walnut cake is the perfect sweet treat to enjoy with a freshly brewed cup of tea or coffee! It's perfect for sharing with friends and family. I like to make this cake because there is no assembly and very easy and quick to put together, simply bake the loaf, leave to cool and top with the coffee buttercream if you want or just have it as it is! It's easy to follow and super delicious," says Rachi Gupta, chef and founder, The Bread Bar, Chembur.
Ingredients

Walnuts- 60 gm, plain flour- 250 gm, baking powder 2 tsp, ground cinnamon 1.5 tsp, caster sugar 165gm, olive oil (or other neutral flavoured oil)- 150ml, unsweetened almond milk (or regular milk)- 300ml, vanilla bean paste/essence-2 tsp, instant coffee (or espresso shot)- 3 tbsp
Method
Preheat the oven to 170C/320F. Grease and line a 9x5 loaf tin.
Place the walnuts for the cake and frosting on a baking tray and pop in the oven for 5-7 minutes until fragrant and toasted. Make sure they don't burn. Leave to cool and chop into small pieces.
Weigh and sift the flour and baking powder into a large bowl. Add the sugar and cinnamon and mix with a wooden spoon until combined.
Measure out the olive oil and almond milk and place into a jug with the vanilla. Mix instant coffee with 3-4 tbsp boiling water until all dissolved/ or use a double shot of espresso.
Add all the wet ingredients to the dry. Mix until just combined, careful not to over mix. Add in half of the chopped walnuts and gently fold until evenly distributed. Use the other half to decorate the top.
Pour into the loaf tin and gently tap the tin on the work surface to release any air bubbles. Place in the oven for 50-55 minutes. To check it, place a skewer in the middle of the sponge, it should come out clean. If it doesn't, leave for a few more minutes until it does.
Whilst it's in the oven, make your frosting. Mix the instant coffee with 1 tbsp boiling water until dissolved. Add to a bowl with the butter, icing sugar and vanilla. Beat until light brown and fluffy.
Pop in the fridge until the sponge is done. Let the sponge cool in the tin for 5 minutes before transferring to a cooling rack.
When completely cool, slice and serve.
Turkish Coffee Affogato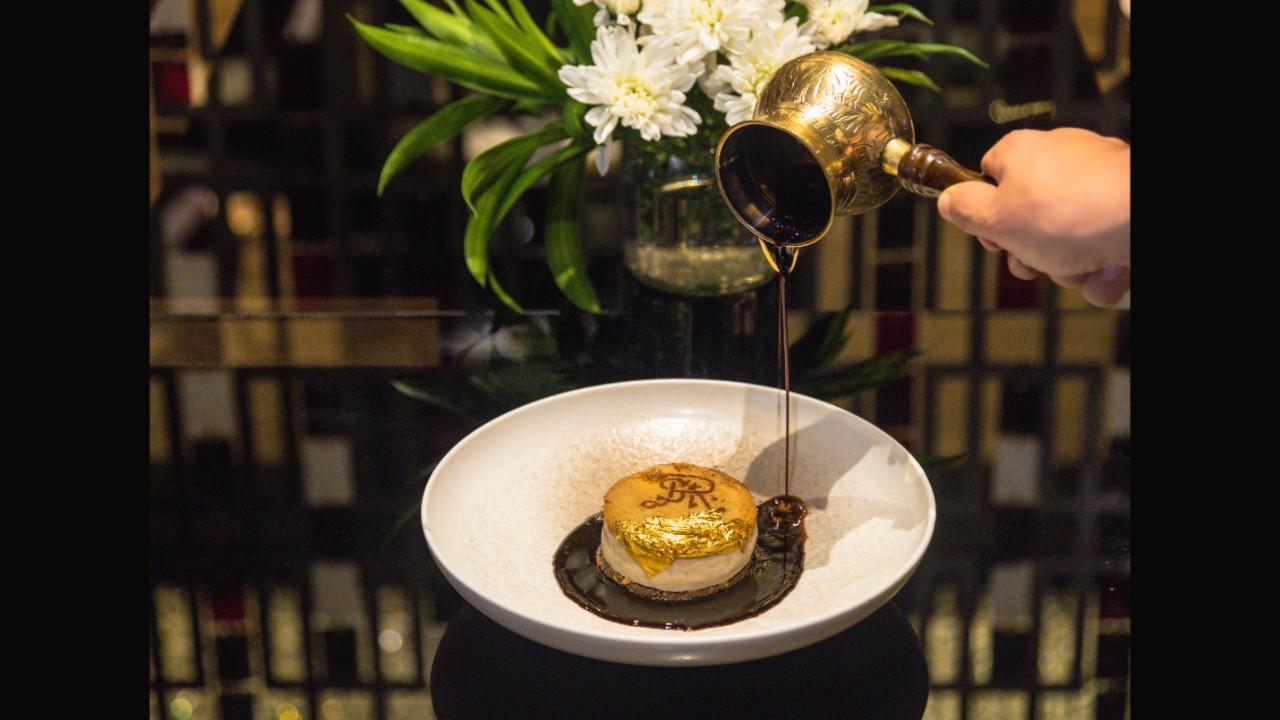 "This dish is the perfect Middle Eastern fix bringing Turkey closer to you," says Chef Reuben Bhate, Sette Mara The St. Regis Mumbai.
Savoiardi Cookies

Ingredients
Egg white – 500 gm, castor sugar – 225 gm, egg yolk - 250 gm, castor sugar – 125 gm, flour – 450 gm, Corn starch – 25 gm
Method
Combine whites and sugar to make a meringue.
Whip yolks and sugar to make a sabayon.
Fold in flour and corn starch in batches into the sabayon.
Lastly fold in the meringue into the yolk and flour mixture.
Spread the mixture in moulds or on a sheet tray on parchment paper to form circles.
Bake till golden brown and crisp.
Cool in a dry area and store in an airtight container.
Vanilla Ice Cream

Ingredients
Milk – 2 litres, cream – 300 ml, skimmed milk powder – 50 gm, dextrose – 60 gm, sugar - 380 gm
vanilla pods – 2, vanilla essence
Method
Combine milk, cream, sugar, and vanilla, and bring to a boil.
Combine dextrose and skimmed milk powder into this mixture and blend well.
Churn this mixture in an ice cream machine till creamy and thick enough to scoop.
Spread this mixture in moulds to form thick circles and set in freezer, covered.
Store in a freezer covered for best results.
Coffee Syrup

Ingredients
Turkish coffee – 400 Gm, Water – 2 litre, Honey – 1 litre, Glucose – 400 gm
Method 
Combine all ingredients together and bring to a boil till homogenous.
To serve 
Place frozen ice cream circle in between two cookie circles, and place in the centre of the dessert plate. Pour the hot coffee decoction tableside around the ice cream and cookie. 
Opera Cake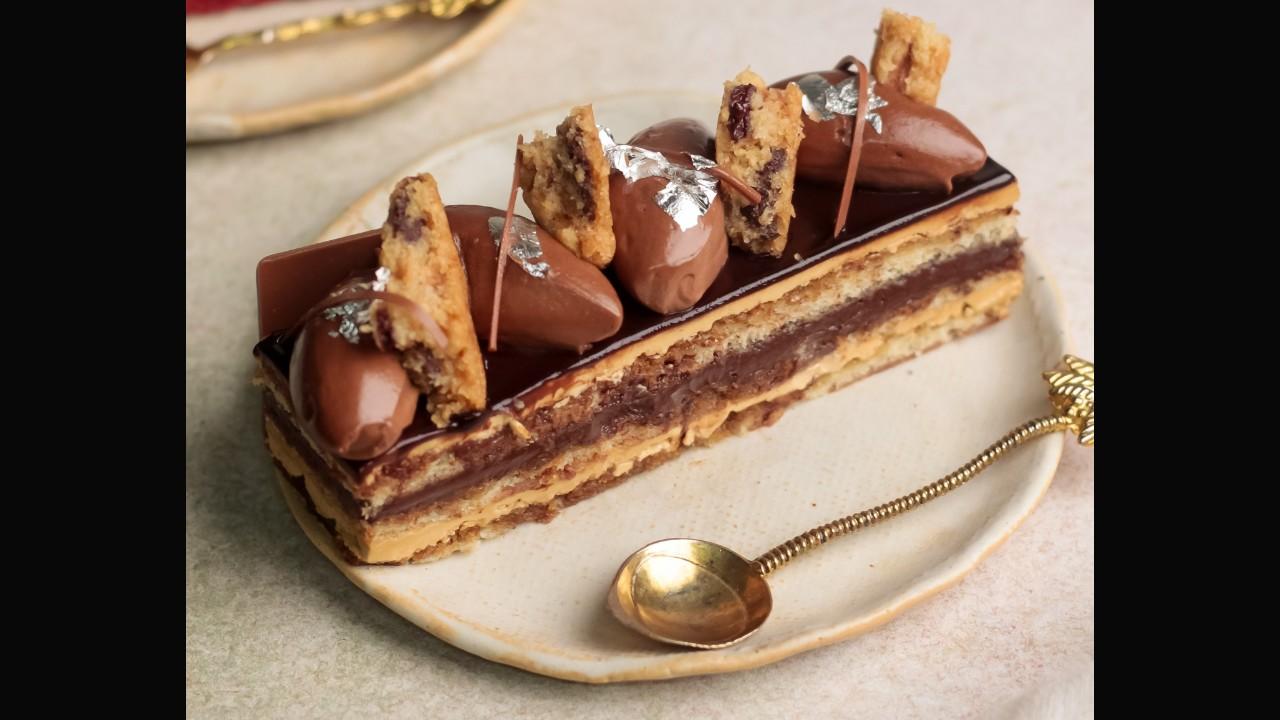 "An opera cake is a deliciously balanced dessert, with no flavour overpowering the other. Packed with the flavour of nuts, chocolate, and coffee, it is actually one of the most famous and sought after flavour combinations in the world; which is hard to not like by anyone out there," shares Chef Santosh Rawat, executive pastry chef at JW Marriott-Mumbai Sahar.
For Biscuit Jaconde
Ingredients
Icing Sugar - 125 gm, almond powder - 125 gm, flour - 38 gm, whole egg – 162 gm, melted butter - 28 gm, egg white- 100 gm, caster sugar - 30 gm                        
Method
Mix together icing sugar, almond powder, and flour.
Whisk whole egg until light and airy add the dry mixture in it.
Add in the melted butter.
Whisk together egg white and caster sugar to make a firm meringue
Fold the meringue in the batter.
Pour in a lined tray, bake at 200°C for 12 to15 minutes.

For Chocolate Glaze

Ingredients
Dark Chocolate- 200 gm, oil- 30ml  

Method
Melt and temper the chocolate.
Add oil and mix until emulsified.

For Coffee buttercream
Ingredients
Caster Sugar - 100gm, water - 30 ml, yolks – 60 gm, soft butter - 225 gm, water – 10 ml, sugar – 5 gm, coffee powder - 10 gm          
Method

Boil water and caster sugar up to 121°C.
Whisk yolks.
Pour the hot sugar syrup in the yolk while whisking. Let it cool.
Add in soft butter to it. Whisk further.
Make coffee syrup by heating together coffee powder, sugar and water.
Add that to the buttercream.
For Syrup
Ingredients
Espresso - 150 ml, sugar syrup- 150 ml, cognac - 25 ml                                    

Method
Mix all the ingredients to make syrup.
For Dark Chocolate Ganache
Ingredients
Dark Chocolate - 250 gm, cream - 300 gm, butter – 25 gm,                                     
Method
Heat the cream.
Pour over the chocolate and mix until melted. 
Add in the butter once the ganache reaches 30*C 

Assembling
Apply a very thin layer of tempered chocolate on the almond sponge and let it set.
Invert the sponge and apply coffee syrup evenly.
Put 120 grams of coffee butter cream and spread evenly.
Put the second layer of almond sponge over the butter cream layer and soak evenly with coffee syrup.
Put 120 grams of chocolate ganache over the sponge and spread evenly.
Put the third layer of sponge and soak with the coffee syrup.
Again put 120 grams of coffee butter cream and spread evenly.
Put the layered opera in the chiller.
Give the final coating of the chocolate glaze and let it set.
Cut the cake into neat square of 18 cm x 18 cm.
With a tempered chocolate piping write opera on top of the cake.