The Maharashtrian festival is incomplete without some aamras and puran poli. While a puran poli is traditional, Mumbai chefs say a lot more can be done with aamras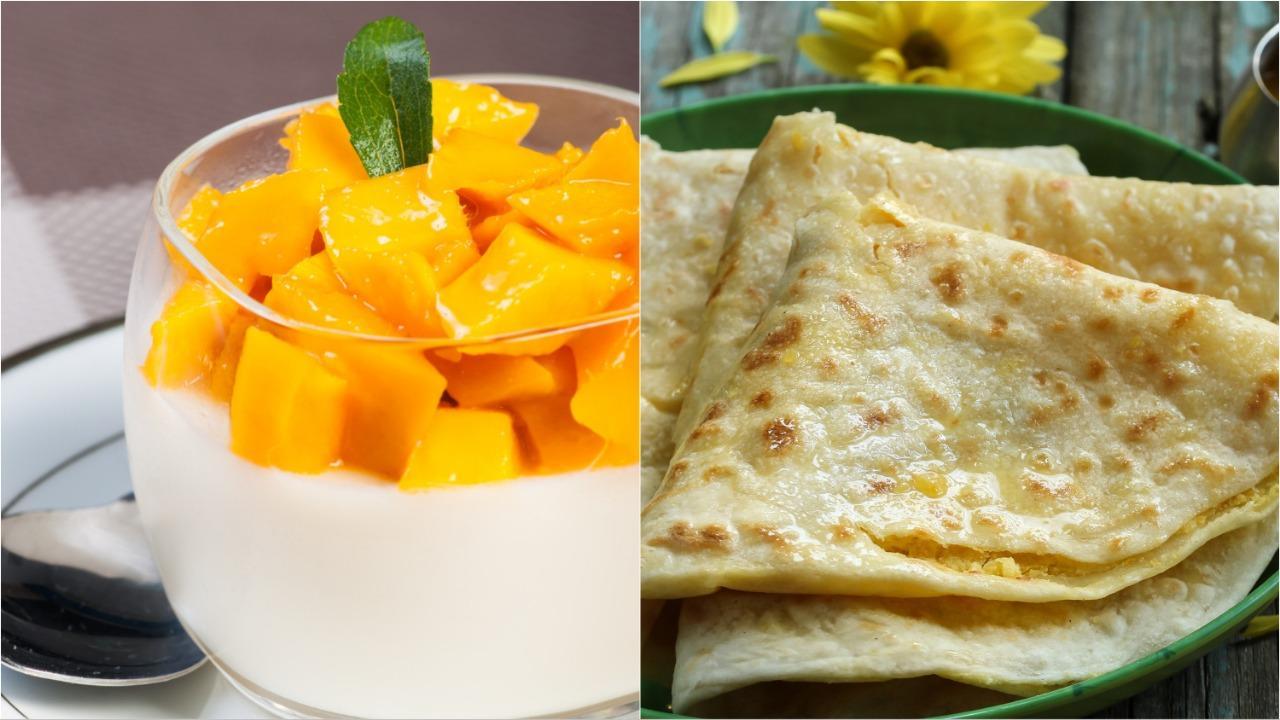 Mumbai chefs say enjoying a traditional puran poli for Gudi Padwa is a must but if you feel like experimenting, then try an aamras panna cotta. Photo Courtesy: Courtyard by Marriott Mumbai International Airport/Istock
Mumbai has come alive today with processions, rituals and festivities as many Maharashtrians are celebrating Gudi Padwa around the world today. While many have put up the 'gudi', a distinctive feature of the festival, many Mumbaikars have also performed the puja and visited their temples. Now, that the rituals are over, we all know that no Indian festival is complete without food.  

While some of you may have the luxury of gorging on delicious dishes made by your family members, there are others who may be missing out on home-cooked food, especially if they are living alone or away from home. Especially with the likes of traditional dishes such as puran poli, shrikhand-puri and modaks too. While celebrations may have already started, it is never too late to enjoy some good, sweet and savoury dishes not only today but any time of the year.  

Mid-day Online spoke to city chefs to share recipes for traditional as well as innovative dishes that people can make to celebrate the festival. They not only tell you how to make a delicious traditional puran poli but also an aamras panna cotta.  

Aamras Panna Cotta by Chef Rajiv Das, executive sous chef at Courtyard by Marriott Mumbai International Airport, Andheri East
Gudi Padwa celebrations are incomplete without enjoying a good big bowl of aamras. If you can't make it today, the summer season has only just started and you have lot of time to enjoy it later too. However, if you want to experiment with the traditional aamras, then chef Rajiv Das, executive sous chef at Courtyard by Marriott Mumbai International Airport, says you can combine Indian and Italian flavours to make an Aamras Panna Cotta. He explains, "One unique factor about Aamras Panna Cotta is that its combination of creamy and fruity flavors. The silky-smooth texture of Panna Cotta is a perfect complement to the sweet and fruity flavor of aamras. The combination of these two flavors creates a unique dessert that is both refreshing and indulgent." It can not only be eaten at home but also served at parties.

Ingredients:
Mango puree 1 cup
Gelatin 1 tsp
Full fat milk 1 cup
Heavy cream 2 tbsp
Vanilla essence 2 drops
Granulated sugar 1/2 cups  

Method:
1. Take 1 teaspoon of gelatin in a small bowl.
2. Mix it well until it dissolves completely and let it sit for 10 minutes.
3. Heat the milk and cream together in a pan, until it is boiled properly.
4. Meanwhile, add sugar and mix it well.
5. Now add the gelatin and 2 drops of vanilla essence in the pan with milk and cream and mix it well altogether.
6. At the same time blend the ripe mango and mix it with milk and cream, once it has comes in room temperature.
7. Now, slowly pour the mixture in the glasses, let them cool, and then put it into the refrigerator for 4 hours.
8. After 4 hours, you can see the glass full of mango pannacotta is set and ready to serve.

Puran Poli by Chef Vedant Thengodkar, ITC Grand Central, Parel
ADVERTISEMENT
If you live in Mumbai, you have definitely eaten puran poli at some point in time and one can admit that it is nothing but deliciously sweet. As a staple for Gudi Padwa, it also happens to be a personal favourite of chef Vedant Thengodkar at ITC Grand Central. At the five-star property, he says, there is a lot of demand for the dish on the day of the festival and today is going to be like no other when they serve it at Hornby's Pavilion.  

For dough
Wheat flour 2 cups
Maida 1 cup
Water 1 1/4 cup
Salt to taste  
Oil 3 tsp  

For Puran (filling)
Channa Dal 1 cup
Jaggery 1 cup
Nutmeg powder 1/2 tsp

Method:  

For puran
1. Soak and cook the channa dal.  
2. Drain the water and keep it aside.
3. Mash the dal really soft and make sure no lumps are present.
4. Add grated jaggery to the dal and mix well while cooking on a low flame.
5. Add nutmeg powder and mix well. The puran is now ready.  

For dough
1. In a bowl mix the wheat flour with a little salt.
2. Add water and make a soft dough.
3. Add little oil and knead again to form a soft and stretchy dough.
4. Keep this dough aside and rest for a hour.  

To make puran poli
1. Take a ball of dough and flatten it, now take enough amount of puran and keep it on the dough sheet.
2. Now wrap the dough tightly around the puran filling similar to making a paratha.
3. Dip the puran-filled dough ball in a little flour and flatten it with the help of a rolling pin.
4. Cook the puran poli on a medium hot tawa and apply generous amounts of ghee.
5. The puran poli is now ready to be served.
6. Serve it along with Katachi Amti, shrikhand and basundi or just some more ghee.
Also Read: Unmissable traditional recipes to welcome the New Year