After three years of the Covid-19 pandemic, Mumbaikars share how they are bringing in festivities by putting up the 'gudi' and eating puran poli with family and friends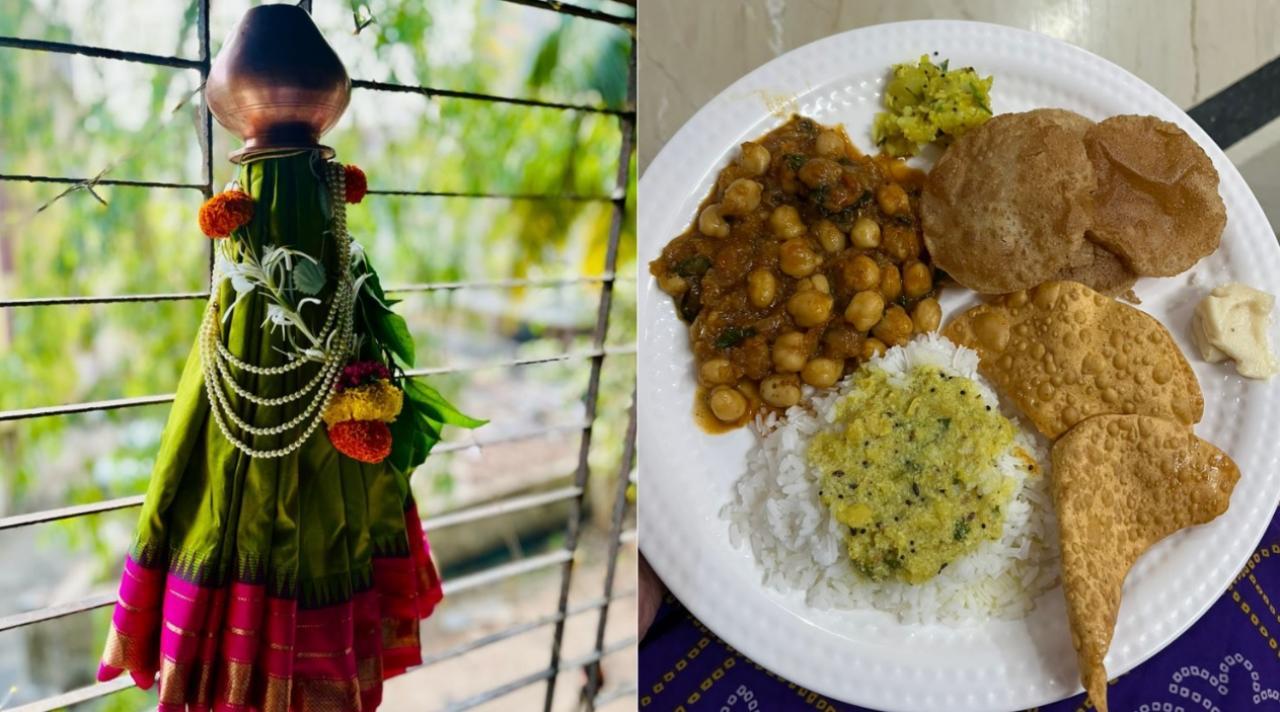 Namita Haibat has put up the 'Gudi' in her house (left); Amogh Golatkar is busy with lunch at his home in Dadar. Photo Courtesy: Namita Haibat/ Amogh Golatkar
After almost three years since the Covid-19 pandemic took over the world, Mumbaikar Namita Haibat is excited to bring in Gudi Padwa with her family for more than one reason. "This year is special since my son will be celebrating it with the entire family for the first time. We plan an 'Abhyanga Snan' for him, followed by puja rituals, hoisting the 'Gudi' in his favorite color cloth, and a family lunch," she shares.
Every year, the city comes alive to celebrate Gudi Padwa, the traditional New Year celebrated by Maharashtrians not only in India but around the world. This year, it is being celebrated on March 22. While Mumbaikars usually celebrate it with their family and friends, it has been difficult to have extravagant celebrations due to the pandemic-induced lockdown.
ADVERTISEMENT
However, now that everything is mostly back to normal and people can visit each other, they are leaving no stone unturned in making the most of the day and Haibat is one of them. "Covid or no Covid, festivals have always been a significant part of all our lives. However, having the extended family and friends come together on festive occasion adds more colour, which was greatly missed during Covid," says 37-year-old Haibat, who echoes the sentiment of many Mumbaikars in the city.
When one talks about celebrations in India, they are incomplete without food, so once traditions are done, everybody is excited to enjoy the different delicacies, and it's no different in Haibat's home. "Gudi Padwa for us has always been the special homemade shrikhand- puri and kothimbir vadi as a tradition. Not to forget the bitter neem prasad and sweet gathi (garland of sugar) with a reminder from grandma about the good and bad in life," shares the Andheri resident ahead of the celebration.
Play Quiz: How much do you know about Maharashtrian festival Gudi Padwa
Elsewhere in the city, it is no different for Vaishnavi Merchant, who will enjoy the festival by eating puran poli and modaks, after starting her celebration by visiting the temple like she does every year. Residing in South Mumbai's Girgaum, she woke up eagerly waiting to see various traditions unfold in her neighbourhood. "I am excited to attend the Gudi Padwa Shobha yatra at Girgaum."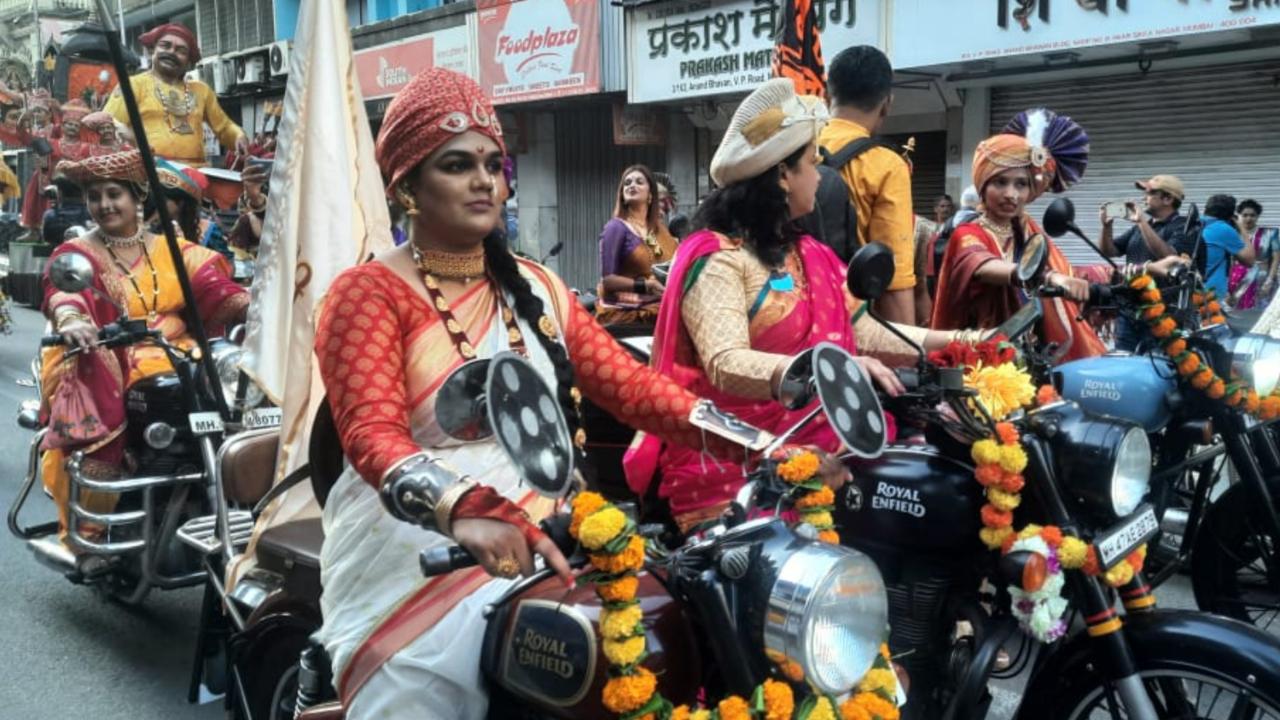 Gudi Padwa rally at Girgaum this morning. Photo Courtesy: Pradeep Dhivar
This is before she goes to meet her friends and relatives throughout the day. "During the Covid-19 lockdown, I couldn't meet friends and relatives, so video calling was the only way out. This year, I am going to meet all of them," shares an excited Merchant.
While the Girgaum resident is looking forward to celebrating the festival with family and friends, Amogh Golatkar has different reasons. The Goan who is currently in Mumbai pursuing his higher studies is excited to witness how the city celebrates Gudi Padwa. In fact, he is already at his relative's home in Dadar. "Dadar's flower market was brimming with a crowd when I visited this morning to buy some flowers for offerings to God."
Hailing from the southern state, they celebrate Gudi Padwa at home and it is going to be quite similar at his relative's home in Mumbai.
He shares, "When it comes to food, my family has a simple and traditional Maharashtrian thali, that includes, varan bhaat (dal-rice), batatyachi bhaaji (potato sabji), and my favourite modak along with some papad ofcourse."
Like Haibat, Sumit Dandekar is another Andheri resident who missed stepping out for festivals during the pandemic. The day started by waking up early to perform puja and then visiting the temple. Decorating the house with garlands and raising the 'gudi' outside the window is a yearly ritual for the Dandekar family. Just like many other Indians, ahead of his meal, he shares, "Gudi Padwa for my family is incomplete without the soul-satisfying shrikhand puri."
It is a feeling that was missed to a great extent in the last three years but is now back to the old days. "Now it feels like a festival season. During the lockdown, every day felt the same even on festival days. This year things are different," says Dandekar, setting the tone for Gudi Padwa this year.
Also Read: Gudi Padwa 2023: Nutritionist shares tips on eating healthy