Facebook co-founder and CEO Mark Zuckerberg, who was recently the victim of hackers, who targeted his Twitter and Pintrest accounts, has come up with a novel solution to keep his data safe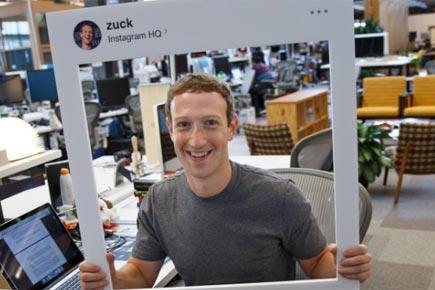 Mark Zuckerberg
Facebook co-founder and CEO Mark Zuckerberg, who was recently the victim of hackers, who targeted his Twitter and Pintrest accounts, has come up with a novel solution to keep his data safe.
3 things about this photo of Zuck:

Camera covered with tape
Mic jack covered with tape
Email client is Thunderbird pic.twitter.com/vdQlF7RjQt

— Chris Olson (@topherolson) June 21, 2016
The 32-year-old Internet entrepreneur, and philanthropist tapes webcam and microphone on his MacBook. The object is to keep hackers with sophisticated infiltration skills away. This is because they can gain crucial information through the audio and camera hardware.
A picture of Mark Zuckerberg that recently went viral on social media, holding a Instagram frame placard on the occasion of the photo-sharing website hitting 500 million users has offered a glimpse into his internet security practices.
In his tweet, Twitter user Chris Olson notes Zuckerberg's camera and microphone covered with tape and that his email client is Thunderbird.
Mark Zuckerberg recently participated in an hour-long live Q&A session on Facebook Live at the social media website's official headquarters. He answered numerous queries on VR, artificial intelligence upcoming Facebook features and even humours ones, which included confirming to a user when asked that he was 'not a lizard' as part of a bizarre consipracy theory. He also had a fun-filled discussion with comedian Jerry Seinfeld.
Mark Zuckerberg recently assumed complete control of Facebook. A creation of 5.7 billion new shares of Class C Stock has been approved that will keep the CEO in control as long as he is associated with the social networking giant.
The decision, taken at its annual shareholders' meeting on Monday, will help Zuckerberg keep voting control and allow him and his wife Dr Priscilla Chan to boost philanthropic activities without diluting the voting control, according to reports. (Read more)
Earlier this month, Mark Zuckerberg's Twitter and Pinterest accounts were compromised by a hacker group called 'OurMine Team', who claimed it was possible due to the LinkedIn password dump that happened recently. (Read more)
Following that, a hacker claimed to have obtained access of over 379 million accounts on social media website Twitter.
The leak was reported by a security firm called LeakedSource on their official Twitter page. Since Twitter's official active user base figure of 310 million it is thought that disabled and inactive accounts have also been included. (Read more)