A 33-year-old Rajasthan man who lost both his hands in an electric accident 12 years ago, became the first from Asia to successfully undergo a bilateral total arm transplant in Mumbai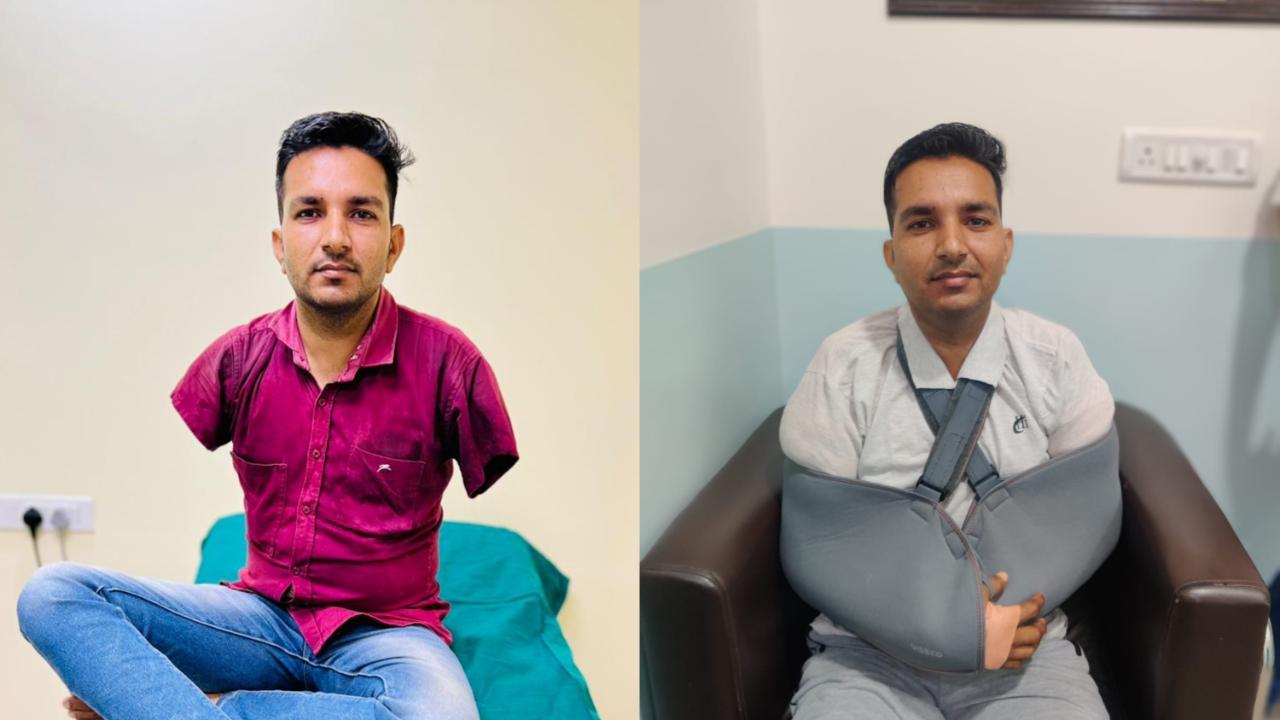 In exclusive conversation with Mid-day, Ram expresses his desire to help 4-5 more such people from Rajasthan who lost both their arms to accidents. He understands their apathy and wishes to improve their condition through his efforts. Photo Courtesy: Nikita Kamdar
A team led by Dr Nilesh G Satbhai, Head of Department - Plastic, Hand & Reconstructive Microsurgery and Transplant Surgery, Global Hospitals, Mumbai, performed a 16-hour grueling and complex surgery to help the patient rekindle his hopes of leading an independent life.
12 years ago, Mr Prema Ram, a resident of Ajmer, Rajasthan accidentally came in contact with a live electric pole while working in the field. His hands sustained multiple electric burns. He was rushed to a nearby hospital in Ajmer, where doctors advised for amputation of both his hands to save his life. The family took him to Jaipur, but was advised the same.
The patient's family tried to get artificial limbs and prostheses, but that could not give him functional hands. Prema Ram's hands were amputated almost at the shoulder level. This made him extremely disabled and dependent, as compared to other amputees, who lose their hands at below elbow level. His brothers and other family members helped him to do his daily activities.
Performing a hand transplant at shoulder level was considered almost impossible at that time in India. Prema Ram's father also enquired about hand transplant surgery in Europe, but it was too costly and beyond their capacity.
Though Prema Ram lost his hands, he did not lose hope. He continued his education and was hoping to get hands someday. He came to know of the successful hand transplants performed at Global Hospitals, Mumbai and he got registered here in October 2022.
Dr Nilesh G Satbhai, Head of Department - Plastic, Hand & Reconstructive Microsurgery and Transplant Surgery, Global Hospitals, Mumbai said, "This patient was looking for new hands for over a decade. The donor limb matched the patient's hand colour and size. Previously, a bilateral total arm transplant was done in Europe, and this is the first bilateral total arm transplant in Asia.
Doing a hand transplant at such a proximal level is very challenging. It is a race against time. During the procedure, timing and coordination are important so that limbs are attached to the body as early as possible so that blood circulation begins immediately due to a large number of muscles being transferred. Doing the similar surgery on both sides adds up to technical and logistical challenges"
If the transplant is below the elbow, the muscle mass being transplanted is less so the size and weight of the limbs are less. The entire sequence and process of coordination of getting hands, preparing them, attaching them, connecting the blood vessels, and restoring the blood supply has to be perfect so that the hands survive and start functioning. The surgery was performed on the 9th February.
It was uneventful and lasted for 16 hours. The patient was monitored in the hospital for 4 weeks and was discharged on 9th March. His shoulder physiotherapy has already started. The physiotherapy will continue for the next 18-24 months. The patient is expected to achieve reasonable hand function in 18 months.
In exclusive conversation with Mid-day, Ram expresses his desire to help 4-5 more such people from Rajasthan who lost both their arms to accidents. He understands their apathy and wishes to improve their condition through his efforts.
"I was devastated after I lost my both hands. Dealing with amputation was depressing. In the beginning, it was extremely challenging, I struggled every day and every minute. I had to take the help of my brothers and family members for performing my daily chores. In spite of my disability, I didn't give up. I always believed to get some solution for this problem. I wanted do everything just like any normal person. I worked innovatively to get things done without help. I would practice holding things with my legs and establish a grip over everything. I loved life and wanted to make the most of it. I completed my education and B.Ed exams recently. I thank my family members, doctors and the entire team at Global Hospital Mumbai for giving me new hands. I believe, nothing is impossible in this world. I am very happy and looking forward to healing and doing everything on my own," said the patient Mr Prema Ram.
"Artificial hands provide a very limited function to the amputees. A hand transplant is the only option for them to regain useful hand function to live a normal life. Global Hospitals, Parel, a leading transplant center in Mumbai and Western India is well-equipped with cutting-edge technology and performs innovative new procedures for patients. We are proud of this achievement and aim to do more life-saving transplants and fulfill the dreams of the recipients. We strive to create an impact towards hand donations by encouraging people to participate in the organ donation movement," concluded Dr Vivek Talaulikar, COO IHH Healthcare India & CEO Gleneagles Global Hospital, Mumbai.
Mr Anurag Yadav, CEO IHH Healthcare India lauded the entire team for taking up challenging and complex cases. "Mumbai has seen eight Hand transplants till date of which seven have been done at our hospital. Hand transplants are often termed as medical miracles and can be transformative for amputees who have lost functional use of their limbs such as this patient. We strive to raise awareness of the importance of hand donation as that will encourage more individuals and families to consider this option when making decisions about organ donation. This can help to save and improve the lives of many people in need, and bring hope to those waiting for a chance to regain their mobility and independence."
Also Read: This girl gets a 'new hand' after 13-hour surgery in Mumbai hospital