The theme for this year's World No Tobacco Day is "We need food, not tobacco". Taking notes from the theme, Snehal, a slum resident of Charkop, created musical notes to campaign against tobacco in Charkop, Kandivli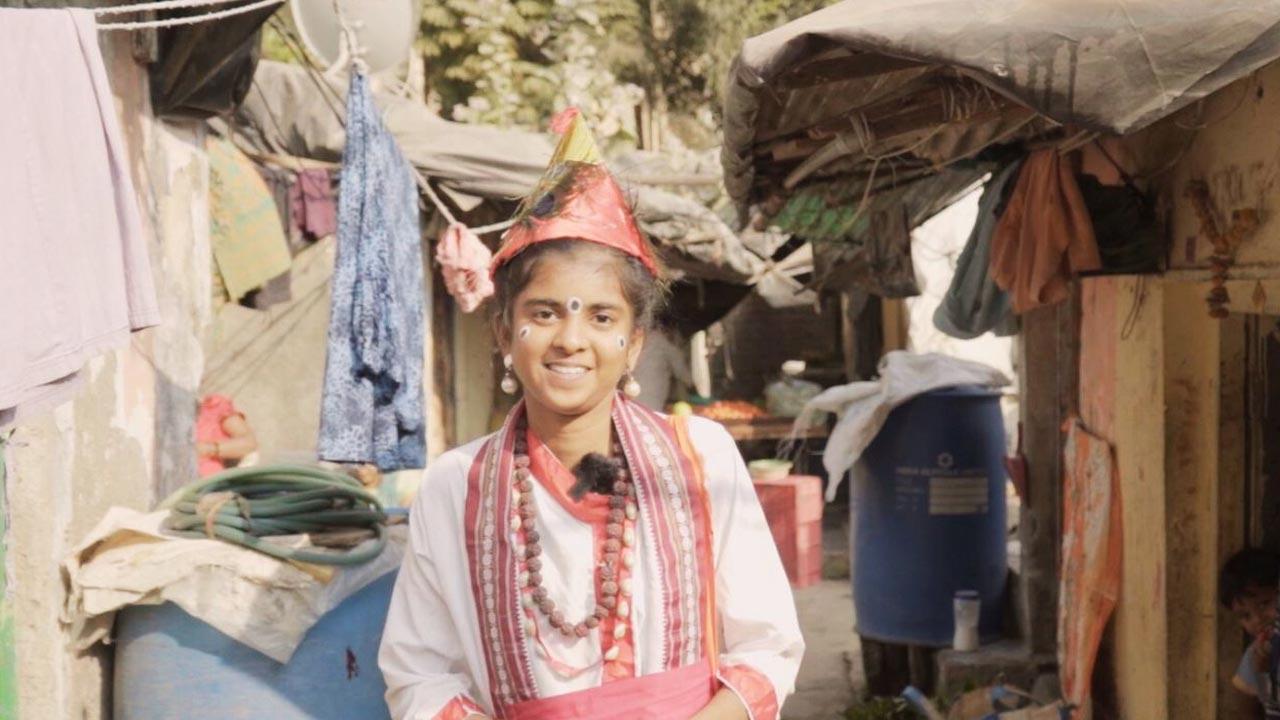 Snehal picked Vasudev as her avatar and experimented with musical notes to create an anti-tobacco anthem. Photo Courtesy: Snehal Kshirsagar
You reach Snehal Kshirsagar's house after a short trek through Charkop's clustered slum pocket. Known as Babrekar Nagar, the slum is home to numerous chawls endowed with blue tarpaulins and dish TV antennas. At the heart of Prabhat Chawl within Charkop, is Snehal's 10x10 shanty, where she is gearing up for her next big gig. The 14-year-old is set to raise awareness about the ill effects of chewing tobacco through her self-composed anthem. 
As we enter the shanty, the mirror reflects her disguised avatar of Vasudev, the agent of social change in Maharashtra. To catch the attention of her community, she has decided to take on the avatar of Vasudev which is a revered community of Krishna worshippers, found mainly in Maharashtra. Vasudev essentially wanders through villages and towns to spread the message of healthy living and refraining from social evils like intoxication.
ADVERTISEMENT
On World No Tobacco Day, Midday Online spoke to Snehal Kshirsagar, who is innovating with the power of music to campaign against the chewing of masheri, a locally sourced tobacco.
Genesis of her performance avatar
Harking back to bygone days, Snehal reminisces about travelling to her native town, Pandharpur with her mother. The town is a famous pilgrimage destination, on the banks of Candrabhaga River, near Solapur city. She recalls a memory from Pandharpur that is deeply etched in her mind. "Vasudev used to visit my village and sing meaningful hymns about social conduct. Through their lyrics, I developed a sense of purpose and direction in my life."
It was Vasudev's riveting persona that inspired Snehal's performance avatar. She believed that Vasudev has a connection with her community and it can serve as a medium for her message. "When I began composing the anti-tobacco campaign, I knew I had to keep his perspective in mind. His figure is the one that people look up to and his words are those they repeat."
To continue with her disguised look, she applies black paint on her forehead and cheekbones. She circles off the black with a white ring to make the look more prominent. Next, she crowns herself with a peacock feather hat that compliments her white frock. The look is now complete. Snehal finally resembles the local God, Vasudev, who survives on the alms donated by villagers.
Charkop's favourite tobacco Masheri
Known as masheri, this raw form of tobacco is a hot favourite amongst the slum dwellers of Charkop. "In my locality, women are majorly addicted to chewing masheri. Come mornings, they head to the local shops and procure a day's quota of masheri. Next, they heat it on the pan along with harmful elements like sawdust for hours. This turns it more carcinogenic and toxic which women like to chew all day long. Unfortunately, they believe that chewing masheri makes their day's labour bearable", revealed Snehal.
There are various myths circulating around masheri in the slums. Some of the popular ones are that it helps in curbing hunger and improves oral health. Hence, women place it inside their mouths and leave it there for hours. This is one of the leading causes of cancer among Mumbai's slum population.
Chanda Aunty is one of her neighbours who cannot go by a single day without chewing masheri. Joining Chanda are more local women who sit outside their shanties and consume tobacco while working on their daily tasks. Not only elderly women from Prabhat Chawl but several teenage boys from Snehal's school rampantly consume this tobacco.
Snehal attends 10th standard at the Charkop Marathi Sector 1 Secondary School. "As soon as the school gets over, boys from my class gang up and score packets of masheri. They are in the age group of 14-16 and are brazen to do what they like. Their addiction goes unchecked due to a lack of awareness among our teachers and parents", shares Snehal.
Sensitisation towards anti-tobacco campaign
The 3-foot-wide alleys of Prabhat Chawl are home to the newest arrivals of Mumbai. Here, Snehal resides with her grandmother, mother and two brothers (one younger and one older) in a one-room shanty. They have one Android phone which is shared by the entire family and is also the one her mother takes to work. Though her family refrains from tobacco, her neighbourhood is filled with the foul smell of masheri cooking on the pans.
To sensitise adolescents against tobacco abuse, a city-based NGO, Salaam Bombay Foundation launched the Preventive Health Education Programme in Mumbai's slums. The theme for this year's World No Tobacco Day is "We need food, not tobacco". To build on this theme, the students of Salaam Bombay Foundation were educated on different aspects of health at a pivotal time in their lives (between grades 7 and 9).
This program involved workshops on resistance to tobacco use, awareness about nutrition, and looking out for their mental well-being. Empowered with this knowledge, Snehal began to spearhead the change within her community. She became one of the Health Monitors of the Salaam Bombay Foundation which spreads awareness against tobacco consumption and switching to nutritious meals.
The power of music to campaign against tobacco
"I despised the sight of women chewing masheri. However, I always wondered if I could discourage them from doing so", informed Snehal who was keen to bring a change in her community. Filling in this gap, Salaam Bombay Foundation equipped Snehal with the rightful knowledge. At the workshop, Snehal learnt about the ill- effects of tobacco and began working on a lyrical composition with a divine touch.
Snehal picked Vasudev as her avatar and merged her musical notes to create her anti-tobacco anthem. The lyrics of her composition represent the toxicity of chewing masheri. In Marathi language, she sings: "Vasudev is here, to awaken your social conscience. This life is precious, the value of your life is one in a million. Hey, you quit tobacco now, don't be late, time is too short. Vasudev said that addiction is not good. Gutkha, tobacco is deadly. Hear the voice of Vasudev, hear the higher being in you."
At the young age of fourteen, Snehal is fully aware of what tobacco does to the body. "Smoking and chewing tobacco attacks our lungs and infuses hazardous chemicals in our body. It causes coughing, wheezing and leads to oral cancer." Today, Snehal disguised as Vasudev, goes about her locality every fortnight to reinforce the message against tobacco. Often, she is accompanied by her friend while performing at the rickshaw stand outside her chawl, Malwani area and at her school.
It is her conviction in the power of music, that has yielded results for Snehal. She proudly shares how her efforts have brought a change of heart among two South Indian women in her locality. "Every once in a while, I cross paths with them and they thank me for freeing them from the evils of tobacco. It motivates me to keep going."
Also Read: World No Tobacco Day: Cancer surgeon warns against smoking, here's how to detect oral cancer early Do you encourage your friends and family to quit smoking?