Dr. Vinay Bajrangi is an Indian and world-famous Vedic astrologer for direct and online astrology consultation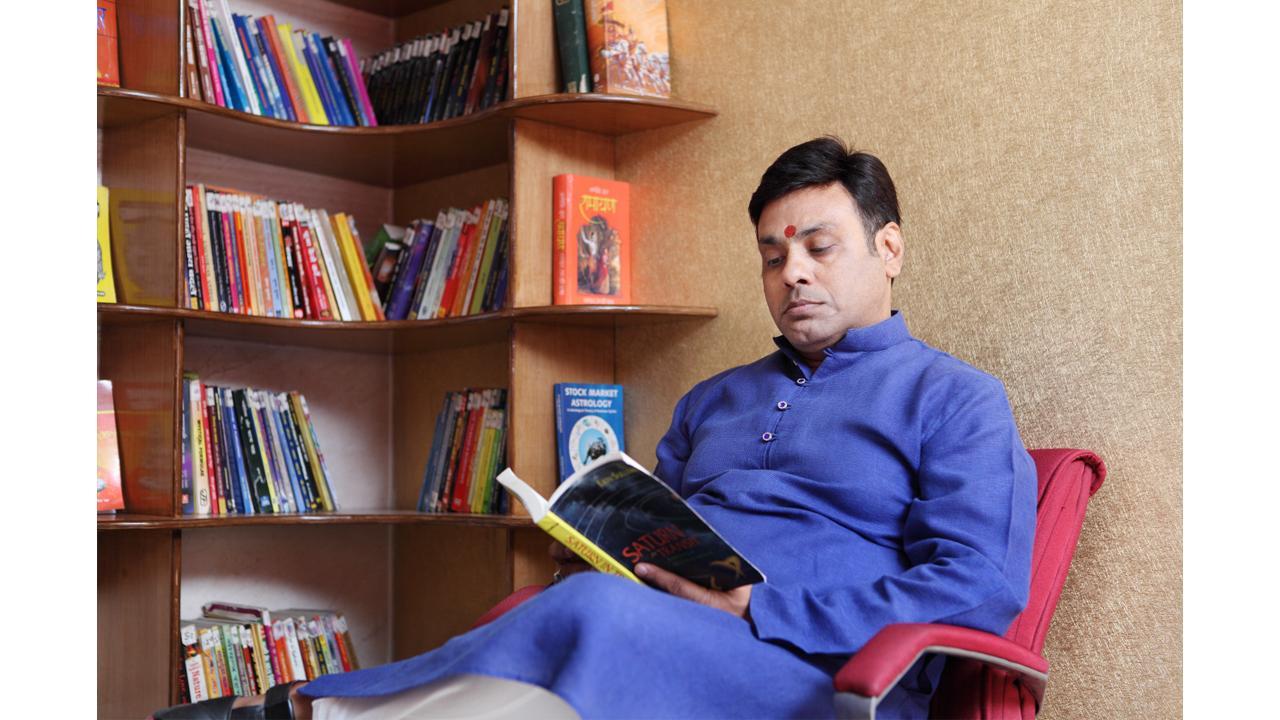 Dr Vinay Bajrangi
Did you know that there is a strong connection between a person's married life and career? Whenever two individuals get together in a happy union called marriage, their horoscopes or birth charts impact each other beyond imagination. 
This is perhaps one of the primary reasons why families go for horoscope matching for marriage. These days, it is common to seek help from a marriage compatibility calculator or kundli matching calculator before taking the final decision.
ADVERTISEMENT
Before you reject the viability of kundli matching for marriage, you must ask a question – what is the reason behind a divorce when everything seems hunky-dory between the couple at the time of getting married? You should know that such nasty occurrences are completely avoidable if marriage matching happens in consultation with an experienced astrologer, says Dr. Vinay Bajrangi: one of the best astrologers in India, who says why it isn't advisable to get married without matching the charts first. He answered some relevant questions about kundli matching for marriage and how to match Kundli and derive the utmost benefit from astrology to make your marriage sustainable. 
What is the significance of Kundli in marriage decisions
Dr. Vinay Bajrangi – Kundali or Kundalini, as per astrology, matters the most while making a marriage decision. Though it has different names but its significance remains unchanged. A kundli governs all aspects of your life, including marriage. Kundali matching by name is often the foremost step in a traditional Indian wedding. Your horoscope or kundali can tell you everything about your marriage, be it your ideal partner, marriage compatibility, children, family life, etc. All these are aspects, which you should get your astrologer to study diligently and work out any kinks that might be there in your future married life. 
How to decide between love and arranged marriage from kundli 
Dr. Vinay Bajrangi – Marriage is a union of not just two persons but two families. Therefore, it begins with marriage making through two horoscopes. Whether it is a love marriage or arranged one, its success is guaranteed only if the horoscopes are compatible. If two horoscopes are universally compatible, it doesn't matter whether you are going for love or arranged union. If there is an imbalance between horoscopes, it would reflect in the form of negative effects on the future lives of the involved individuals. In case of 99% of arranged marriages, the chances are that due diligence is taken before the marriage happens, but the same cannot be said about love marriages. Personally, I am not against love marriages. However, love isn't enough to bless you with a stable marriage. You need a divine force to help you navigate the zig-zag path to marital bliss, which is available in the form of horoscope matching for marriage. Love may be the beginning of a relationship, but marriage compatibility will help you to build a strong foundation for the future. In this regard, you also need to understand that an individual's nature, career ambitions, financial position and compassion also determine your success as a married person. To prevent any differences in married life in the future, you must take kundli matching for marriage seriously.
Can kundli predict about future life partner 
Dr. Vinay Bajrangi: Absolutely, Kundli can predict everything about your life partner. An experienced astrologer can analyse the peculiar aspects of your horoscope through the analysis of the ascendant, decedent, the planets Venus and Jupiter of both the D-1 and D-9 charts together. After a detailed study, it becomes possible to make predictions about your future spouse's career, family background, personality, and how far one will live from you. Astrology can also predict the timing of your marriage. 
What if both partners have the same Nadi
DVB: Nadi, one of the crucial pillars of marriage matching, represents compatibility between two individuals at the maximum. It has been ascribed the maximum, 8, points in determining marital compatibility between two individuals. Nadi compatibility indicates progeny, one of the most crucial aspects of married life. If both the partners have the same Nadi, it results in a Nadi Dosha. Going by the defined rules under astrology, people of the same Nadi can face severe issues in their marital life such as delayed or difficult childbirth, sexual dissatisfaction, and even a threat of death. However, there are specific means through which this Nadi Dosha can be cancelled so that none of its malefic effects is a threat anymore. For that, you need to consult a good astrologer, who will study the Nadi Dosha, if any, and suggest you suitable remedial measures to counter its ill effects.
Can one marry even if the horoscopes do not match
DVB: It is perfectly alright to marry even if your horoscopes do not match with each other. I know several such couples enjoying a great married life despite having a number of obstructive arrangements in their birth chart and had a very low compatibility figure. However, a horoscope is analysed to check how the two persons would respond to each other in certain circumstances. Thankfully, with the changing times, the process of horoscope matching for marriage has evolved. It now also includes counselling sessions before marriage to iron out any kinks in the relationship. Such a session is better under the guidance of an experienced astrologer who can guide the couple on how to work in different areas of a post-marriage life and address the differences to achieve reconciliation. I did specialisation in marriage astrology while studying for my doctorate in astrology. During that time, I visited family courts to get a chance to review horoscopes of couples facing issues in their marriages. There I came to know of quite a few couples who ended up filing for divorce despite their horoscopes were matched before the marriage. Those examples helped me realise that often it isn't non-matching of kundalis, which is a culprit or cause behind a marriage gone sour. But it was the faulty matching of horoscopes, which sets wrong notions in the minds of interested parties and ends up messing with their expectations from each other. That helped me conclude that depending upon just Gun-Milan for a marriage is a flawed strategy. An astrologer must also consider the influence of other planets and entities in the horoscope like Karakas of marriage (Jupiter, Venus and Mars), Lord of the Seventh house and its strength, etc. You can read more on my website on the right way to match kundli.
What is the astrological opinion on Second Marriage
DVB: In the case of a second marriage, it is a foregone conclusion that the planets and houses in a person's birth chart are not favourable from the beginning. If a person is looking for a second marriage, it means the malefic planets in the Marriage house have already had their effect. As per astrology, the negative planets create a continuous unfavourable impact on the 7th house, the house of life partner. Such an impact can be countered only when there are counter-balancing planets in your partner's kundali to offset the negativity. Unfortunately, the chances of such negativity in both the horoscopes become higher when two similarly aggrieved persons get together for a second marriage. Therefore, I highly recommend that you must go for kundli matching for marriage in a second marriage. If people ensure that horoscopes are matched flawlessly and realistically, after considering all the pros and cons, there is no reason why a second marriage will not be lucky for the concerned persons. Never go for a marriage, whether first or second time, in a hurry.
Does a wife's horoscope affect her husband's horoscope?
DVB: It happens both ways. A spouse's horoscope affects that of the other spouse and vice-versa. One interesting fact about kundli is that there is a complete Kendra-house, also known as 'Bhaav', which tells you details about the impact your horoscope will have on your spouse and vice-versa. In fact, the Kendra-houses generate the power that makes things happen in your horoscope. To explain it in simpler words, this power button is switched on after marriage, and fate gets a boost. It is a fact that every man or woman experiences a change in luck, for better or worse, after their marriage. Therefore, it would be wise to make a judicious use of the positive energy generated after such a transformation. Ultimately, the relevant placement of planets in your kundali determines the amount of transformation your or your spouse's fate vis-a-vis the marriage.
What does Astrology suggest about separation and divorce
DVB: I cannot justify the separation between two individuals, especially when you can easily use astrology to create a harmonious marriage. Nevertheless, astrology also comes in handy while dealing with divorces. An experienced marriage astrologer will start with identifying the causes of divorce in respect of your kundli. We can save any marriage easily if the negative affect of planets is mild. In such cases, the astrologer can suggest means to counter the negative effect and save your marriage. However, if there is no solution to the problems you face in your marriage, astrology can also work as a counselling medium for future references. Astrology can help you to assess your present life and prepare for the post-divorce life. In this scenario, an astrologer can give you valuable advice after studying your kundali for the position of planets Mars, Rahu, Sun and Saturn.
Last but not least, an astrologer can also advise you about the best time to file for a divorce. Another way to save your marriage is to adopt the Karma correction remedy from your astrologer. A couple can begin to live in harmony if they get their horoscopes checked for karma connection despite having thought of divorce.
Is it possible for an astrologer to predict the time of marriage
DVB: Let me tell you something more interesting – as per Vedic Astrology, an individual's horoscope has six-time cycles during which they can get married. The strength of particular planets in a horoscope determines which cycle is the one during which the native would get married. Apart from that, there is the influence from the family as well as the social customs. Therefore, which cycle will be the marriage cycle for an individual depends on the factors mentioned above. This is why it is very easy for an astrologer to predict the timing of your marriage.
These were the views of Dr. Bajrangi, the top best astrologer in India. He has explained more about marriage astrology on his website. One can know more on other astrological insights also on his website vinaybajrangi.com, write mail on mail@vinaybajrangi.com or call his office on +91 9278665588 or 9278555588.