The concept behind its formation was that no person should ever lose their life due to delays in the arrival of emergency services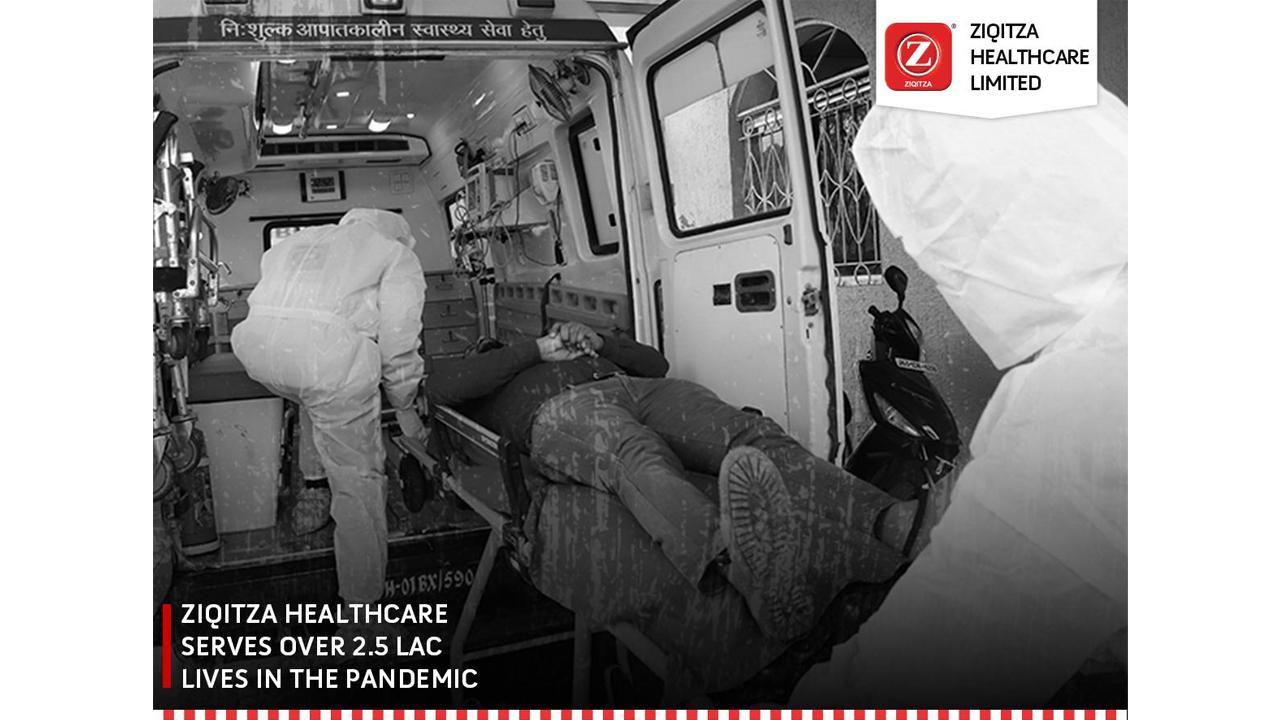 Ziqitza Healthcare
Ziqitza Health Care Limited has been a pioneer in providing emergency medical and transport services in India since 2005. The concept behind its formation was that no person should ever lose their life due to delays in the arrival of emergency services. with 3000 ambulances on ground and more than 9000 EMS healthcare workers on the frontline fighting the war against COVID 19.  The company is working in partnership with the state government and supporting relentlessly in handling this critical situation.
ADVERTISEMENT
"Each individual of our team has experienced extreme personal hardship in serving the citizens of this country since the covid crisis unfolded With their primus objective being the service of people in trying times like these, we had to up-scale our services over-night. A twofold approach was adopted to manage COVID-19 situations. Firstly, we work to provide ambulances for covid patients and their families with proper precautions and followed strict protocols for sanitization to avoid any cross infections to the patient and our staff. Secondly, weensured disrupted services of tele medical helpline (104) to give people verified information regarding the disease and keeping panic and mental stress at bay.", Mr. Amitabh Jaipuria - CEO &MD , Ziqitza Healthcare Limited tells us.
Since the onset of the pandemic, ZHL has been answering each call regarding covid with utmost care and in adherence with protocols received from state governments.
In battling with covid, we had to scale up our call centre manpower, EMTs on ground, number of paramedics and prepare to receive 10x of calls inflow in a day than usual. With the healthcare policies evolving dynamically during the pandemic, Ziqitza, being the first line of defence in the pandemic, had to scale up overnight. This experience taught us to leverage our training, protocols and relationships with vendors/employees to ensure that their services are not impacted. Ziqitza Rajasthan & Ziqitza limited Rajasthan had voiced similar thoughts during the pandemic.
Saving Lives during the Pandemic
Ziqitza Healthcare hassucceeded in saving many lives during the pandemic. Their team has earned the title of 'covid warriors' by providing prompt ambulance services for covid patients across the country. Emergency ambulance services are being operated 24*7 in their continual efforts to save lives. Every single employee is committed to saving lives at all costs and has undergone extreme personal hardship to serve the citizens of this country.
Till date they have handled 1.5 million calls and served 2.5 lac covid patients. They have also ensured that no cross infections occur in their ambulances and from March 2020 to June 2021, served around 42,39,171 people.With the primus objective to serve the state and its people in such trial times, EMS as a unit has been extremely efficient and effective in handling the pandemic alongside the other healthcare entities such as doctors, nurses, caregivers, and hospitals. 
Managing Physiological Distress among Healthcare Workers
We at Ziqitza have ensured the safety of our staff at par in the pandemic scenario. Proper arrangements are made in the workplace to ensure social distancing norms, fumigation of office at frequent intervals and arrangement for travel, food and lodgement is made available as well. Medical treatment of staff workers and their families is ensured in case of medical emergencies. A smooth and continuous engagement is guaranteed between the leadership and the frontline team to manage excessive mental stress and fatigue.
"Our efforts have been to implement all safety norms both at a call center or ambulance is being followed as staff safety is our key priority while dealing with the pandemic. Also, like to add that their contribution has proven that Nation comes first and we are all in it together. We are also thankful to the state governments who have given us this opportunity to serve people during testing times like COVID-19", further adder Mr. Amitabh – CEO & MD – Ziqitza Healthcare Ltd.
About Ziqitza Healthcare Limited
Ziqitza Health Care Limited (ZHL), has been one of the leading players in India's Emergency Medical Services industry since 2005. ZHL Rajasthan appreciates Ziqitza for its covid support initiative to serve the people. Ziqitza Limited is a "one-stop integrated healthcare solution" for corporate or government that include Integrated Emergency Services and Corporate Health Solutions. The service network includes 3,300 ambulances, state of art Helpline centres and medical mobile units that services 2 customers every second in India. We work with multiple state governments and 75 corporate clients in India and Gulf. Ziqitza (ZHL) is winner of Global Real impact Awards and Times Social Impact Award.
For further information please contact:  visakh.dayanandan@zhl.in