An entrepreneur duo, who have moved to the Himalayas to launch a mobile app for writers, on what it takes to launch a start-up in the hills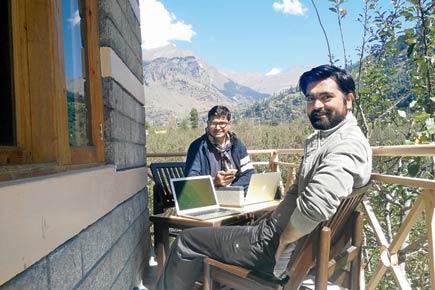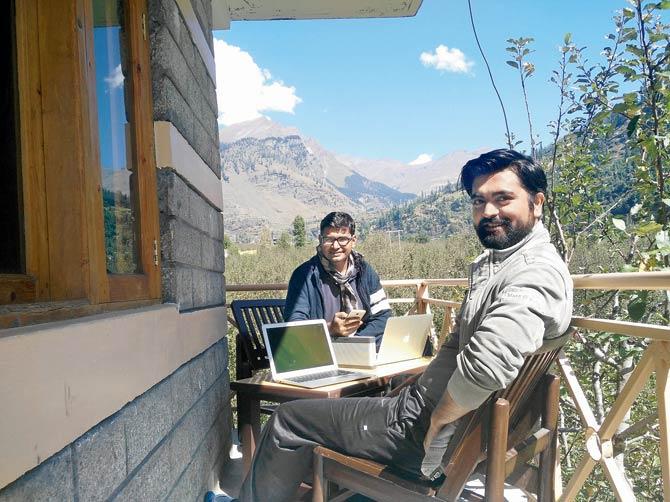 Harsh Snehanshu (left) and Ashish Singh at their balcony office in Solang Valley in Himachal Pradesh
As the snow-capped Himalayan peaks glisten in the sun, Harsh Snehanshu, a 27-year-old published author (of Kanav-Tanya trilogy fame) and entrepreneur, works on a laptop in a balcony office created in a guesthouse overlooking Solang Valley in Himachal Pradesh. After a couple of hours, he embarks on a trek with his colleague and former hostel mate at IIT-Delhi, Ashish Singh. As the sun sets, they return, read books and once again, resume work post dinner. While most city slickers visit the picturesque Solang Valley, 10 kilometres from Manali, for adventure sports, the Delhi-based duo have made it their home since a month to launch a start-up, YourQuote.
ADVERTISEMENT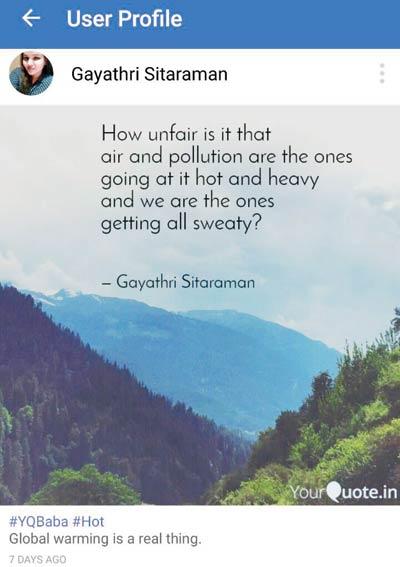 The posts are published with author credits and can be shared across social media platforms
"Eight months back, Ashish and I launched Whereabout (a messenger app), for which, we met over 150 folks in the entrepreneurial ecosystem, including venture capitalists and angel investors. The problem with the investor community is they don't say 'no' quickly and that keeps a lot of entrepreneurs in a fruitless follow-up. For YourQuote, we only needed to be in touch with our users and required an Internet connection. So, we moved away from the metropolitan distraction," informs Snehanshu, who is the CEO of the venture, while co-founder Singh takes care of the technology.
Quote unquote
Touted as an Instagram-like for writers, the mobile app allows users from across the world to log in and post original content — quotes, poems and short stories with character limit of 1,200 (roughly 240 words) — using different font and wallpaper styles available in its stock. The authors get credit for each post and can also create a portfolio of their writings. "It is a mobile-first micro-blogging platform that short-circuits the archaic 'setting up the blog' process and gives writers an avenue to broadcast their writings as beautiful images rather than plain text on-the-go," shares Snehanshu.
Till date, the app features over 8,500 posts from 1,800 writers based in Mumbai, Delhi, Kolkata, Bengaluru, Madurai, Dhanbad, Guwahati, Gwalior and Ranchi. Besides English, the users also publish content in Bengali, Gujarati and Tamil. "There are no selection criteria for writers. A user needs a code to unlock the right to post, which can either be requested from another user already on the platform, or from us by filling a short entry form with an original writing sample," informs Singh, adding that abusive or copy-pasted posts are pulled down immediately.
Currently available for free download on Android, the app will be launched on iOS platforms next week. The venture works on a B2B business model, earning revenue through brand tie-ups. "We crowdsource punchlines for start-ups and corporates. We conducted our first contest for a fitness app where the winner got three months of fitness coaching. We want to grow our product organically with little push and extensive user feedback," informs Snehanshu.
Making the moolah
Is accessibility an issue from a remote location? Snehanshu says, "Here, BSNL offers unlimited 3G for '1,100 per month. The Wi-Fi speed is not as fast as it would be in a co-working space, so we don't play videos. We have learnt how to be lean, and that's important for a start-up in a country which celebrates funding over innovation." During winter, the digital nomads, will shift to Goa for six months.
Checklist for moving from urban centres
Knowledge: Research about the place you're moving to.
Team: Have a self-reliant co-founding team.
Product: Build a product that is pure technology and consumer play, which doesn't require you to be in a city.
Users: Build a product that users love and want. It will help you attract good talent at lesser cost.
Money matters
Harsh Snehanshu co-founder, YourQuote
'We are able to save four hours a day, which we earlier spent in travel. The overall cost of operations has come down to '25,000 from '35,000 per month. Saving '10,000 matters a lot'
Log on to: www.yourquote.in
"Exciting news! Mid-day is now on WhatsApp Channels

Subscribe today by clicking the link and stay updated with the latest news!"
Click here!