If you're looking for a relaxed, authentic culinary experience away from the chaos, Villa Bistro makes for an indulgent option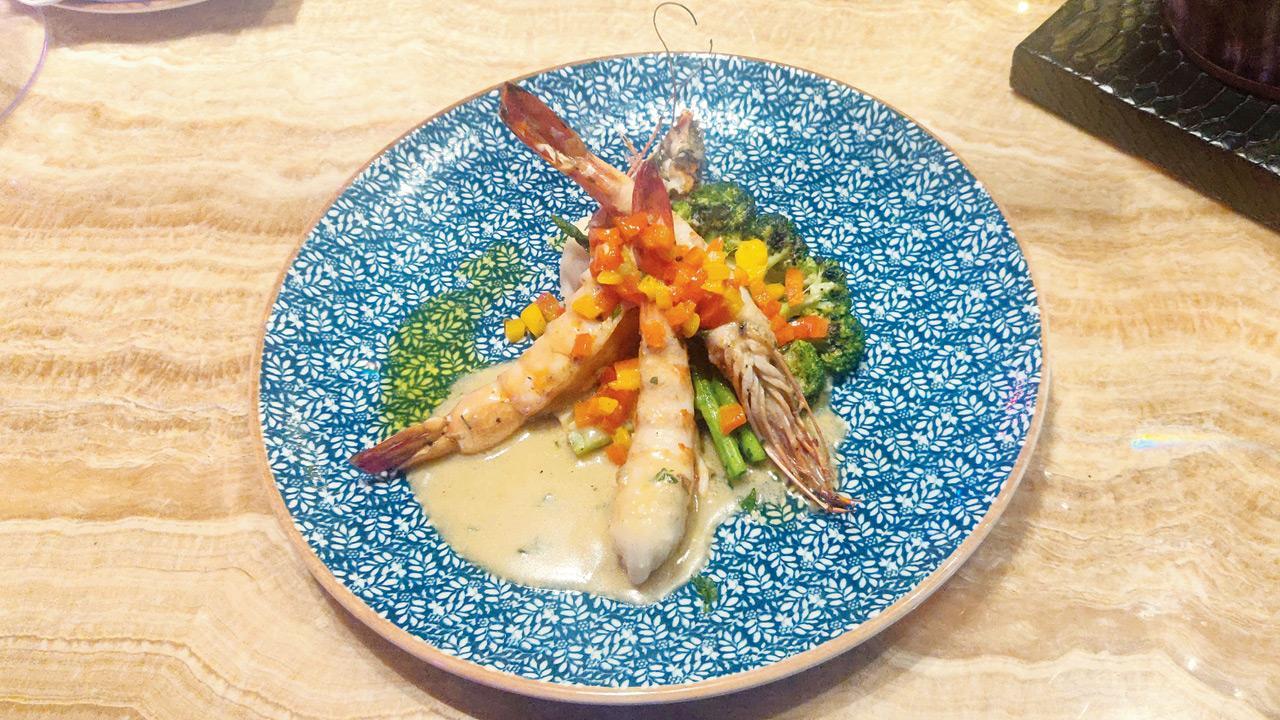 Roasted garlic tiger prawns with grilled veggies
There are some must-dos that offer a breather from strict lockdowns and mundane WFH routines. If you're a Mumbaikar, a drive to the hills of Lonavala makes for the ideal, quick getaway. Along with new homestays and villas, resorts are also upping their game. Italian restaurant Villa Bistro at Della Resorts is the latest entrant in the mix. The space is divided into two sections; the 180-seater designed by owner Jimmy Mistry exudes his flamboyant style with statement chandeliers and an onyx bar with night-blue suede chairs. We noticed the striking tableware and table showcasing ceramic prints inspired by Dior's Toile de Jouy animal patterns and Parsi gara embroidery. "Garas usually have bird and fish prints, but we took inspiration from Dior and created this design," Mistry explained.

Snake coffee: the glass is rimmed with sugar and coffee, the drink has Jameson and coffee simmered in spices like star anise and cinamon, as well as orange slices
ADVERTISEMENT
After a long time, we savoured a good Italian menu that passed the tiramisu taste test. We strongly believe that an Italian restaurant is only as good as its famous dessert. Made from Illy espresso, kahlua and mascarpone, it was generously boozy. We arrived on a misty, rainy day and began our meal with insalata di pollo (Rs 750) and asparagus gnocchi. Both passed the test of not being Indianised in taste. The greens in the salad were fresh and crunchy; we loved the honey mustard dressing so much that we ordered insalata di avocado (Rs 650) with buffalo mozzarella, romaine lettuce and balsamic vinegar that was equally hearty. Gnocchi di patata (Rs 1,200), with butter garlic mushrooms and asparagus in a grana padano cheese and herb sauce, was a warm dish to savour while a drizzle gave us company.

Asparagus gnocchi
For a party vibe at sundown, the space offers an entertainment package with live performers.  The fare, dished out by chef Sheriyar Rustom Dotivala, continues to satiate our palates. The spinachi in confezione con pinoli (Rs 1,250) phyllo pastry was stuffed with pine nuts, ricotta cheese and spinach, while the pollo avollto con pancetta (bacon wrapped chicken) came with a juicy cheese and sausage stuffing in butter sauce. Our favourite was the gamberi tigre arrostiti alla aglio (roasted garlic tiger prawns with grilled veggies; Rs 1,600). From the hand-tossed wood-fired pizza menu, our pick of the deep dish diavolo was loaded with chicken pepperoni tomato and chilli flakes (Rs 1,300). It's a classic delicious mess, decadent and ideal for sharing.