Apart from being the star ingredient in a limited-edition menu at a Bandra eatery, the mushroom is presented in quirky avatars across cocktails, coffee and even desserts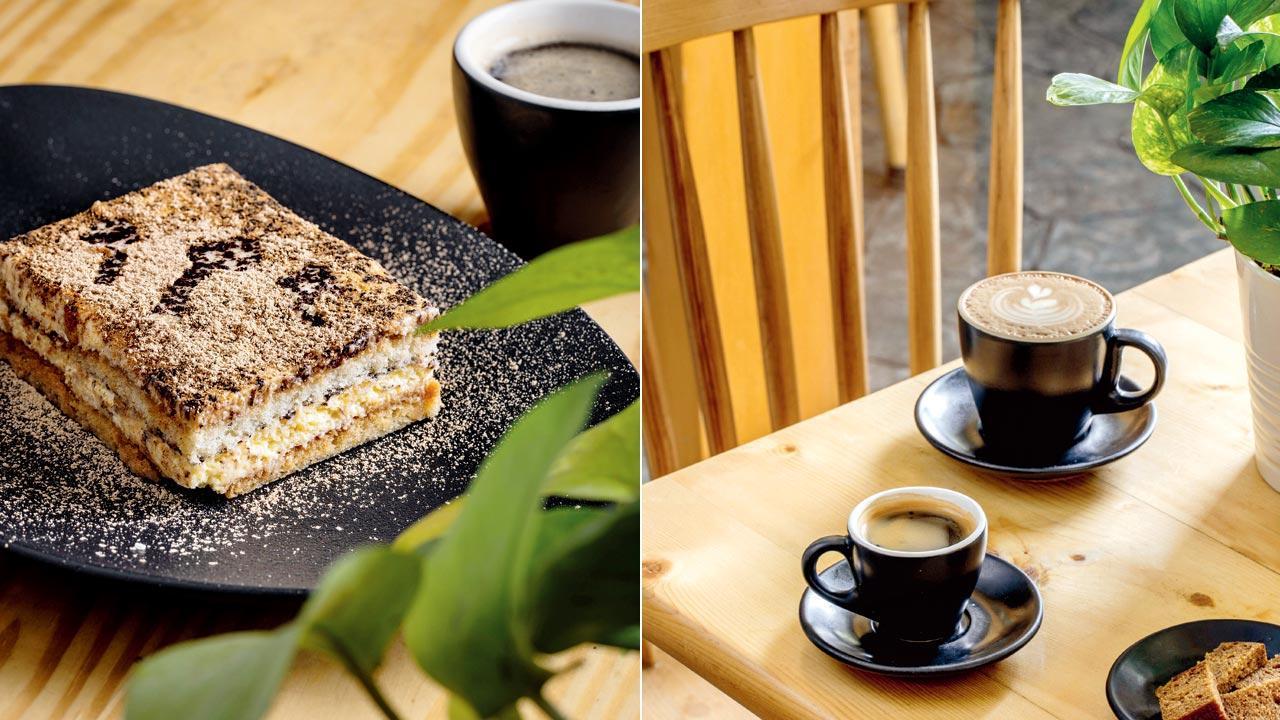 Mushroom tiramisu; (right) lingspresso and immortality mocha
Listen to this article
Make room for the mushroom at this cafe in Khar
x
A New York Times article in 2022 declared that the mushroom was the ingredient of the year; it rang a bell that we should be looking at mushrooms. Also, during this time of the year, many Indians turn vegetarian, and look for interesting options. We think mushrooms are close to meat in texture, and could possibly appeal to those who prefer non-vegetarian fare. It's how the idea was born," reveals Gautam Mansinghania, general manager at Perch Wine and Coffee Bar. He, along with executive chef Arun D'Souza, decided to make it the hero ingredient across their cocktail, coffee and dessert sections of the menu.
The menu includes nine varieties of mushrooms, such as porcini, shiitake, reishi, portobello, shimeji, enoki, king oysters, baby bellas and oysters, cultivated by The Mushroom Co near Mumbai. He believes that the mushroom-and-coffee combination could become a popular trend. "Mushrooms pair well with dark chocolate; it's why we've created a mocha. It has a well-rounded umami flavour, especially if you're using reishi mushrooms or shiitake blend. It has a long-lasting pleasant aftertaste on the palate. We ground the mushroom with coffee beans and extract the espresso. That's where the infusion happens. For the foam, we throw in some reishi mushroom powder, and fork the milk. When you sip it, the first taste will be coffee and mushroom at the same time, while the aftertaste on the palate will be of pleasant coffee." 
ADVERTISEMENT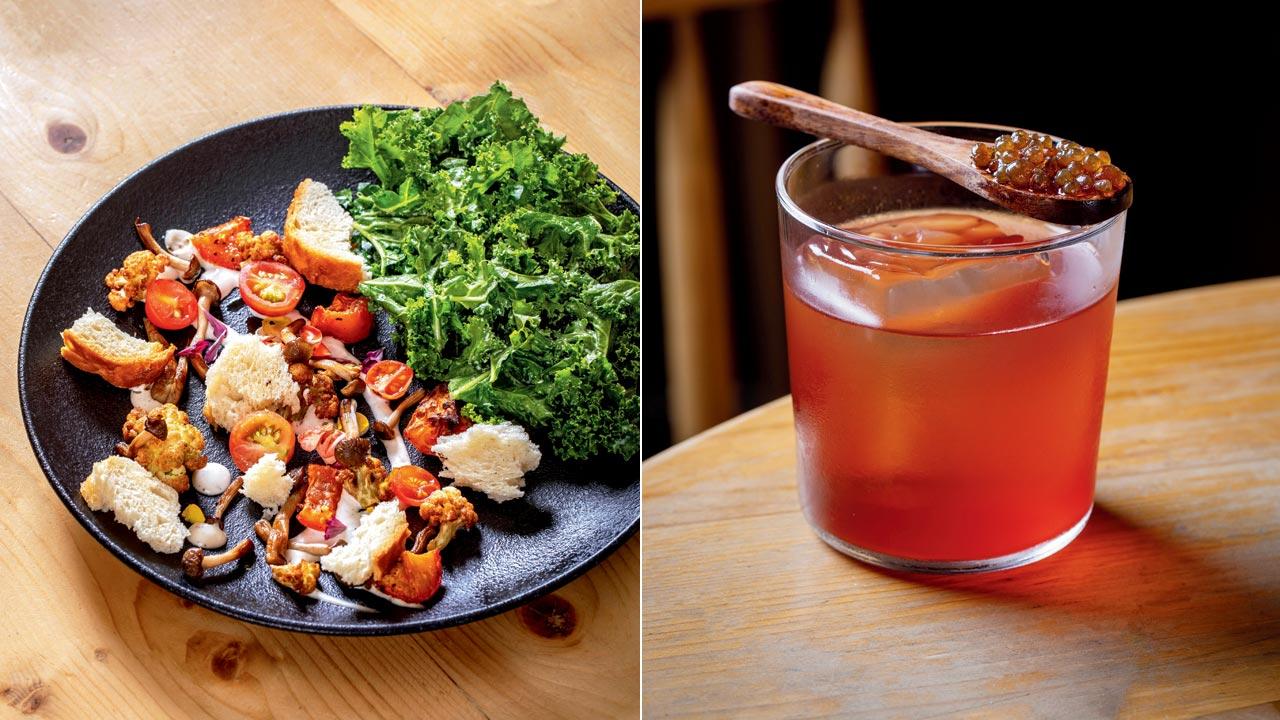 Truffle mushroom panzanella; (right) piglet negroni 
In the case of the black forest coffee shrub and tonic, single-origin coffee is pickled with shiitake mushrooms while soda is added for volume. Then there's might be a delusional shake with coconut cream. "Shroom shakes are popular in other parts of the world, whether legal or illegal. We wanted to do what they do, but recreate the same taste without the after effects. We've used shiitake mushrooms for this since they have a strong flavour. This is a great vegan option," says Mansinghania.
This special menu features versions of the whiskey sour, old fashioned and negronis with mushroom in it too. The team has crafted cocktails infused with mushrooms, including penny bun highball, with broken bat gin infused porcini, vermouth, porcini cordial and a house-made mushroom soda with umami, mildly sweet and refreshing flavours. "While making liquor, the sugar content increases. Many consumers prefer less-sweet cocktails. With a highball-style cocktail, it's a challenge. We used left-over mushroom and carbonated it, and used that as a filling agent to give it flavour, body and texture it needed," informs Mansinghania.
In the food menu however, mushrooms aren't always used as the star ingredient. "Mushrooms help accentuate the flavours of other dishes. So, in each dish, one mushroom is showcased in a way that it helps the other ingredients shine by themselves," elaborates D'Souza, who picks the panzanella as one of the most innovative dishes on his menu. "It's a classic salad. So, most people usually don't play around with it. Adding the mushroom improves it in more ways than one." Apart from appetisers and salad, the menu includes a creamy eggplant and portobello sandwich, pan seared snapper and mushrooms, bacon wrapped chicken loaf with mushroom gravy, mushroom and cashew cream pot pie and tagliatelle in truffle butter, and mushroom sauce.
Chef D'Souza's favourite desserts include the mushroom tiramisu with reishi mushrooms and truffle oil. "The mushroom is powdered and roasted to offer a delicate flavour of mushrooms that also balances out well with the rest of the ingredients. You taste truffles, mascarpone, and coffee." 
Perch Wine and Coffee Bar
Till November 5 time 8 am to 1.30 am (coffees and cocktails will be available all day; food menu available from 12 noon to closing) at 12 Union Park, Union Park, Hotel Oscar, off Carter Road, opposite Hakin Aalim, Khar West. 
Cal 9321375915
"Exciting news! Mid-day is now on WhatsApp Channels

Subscribe today by clicking the link and stay updated with the latest news!"
Click here!