Singer-songwriter Diya Maeve's debut EP, For the lovers brings to the fore her lyrical strength and acoustic pop vibe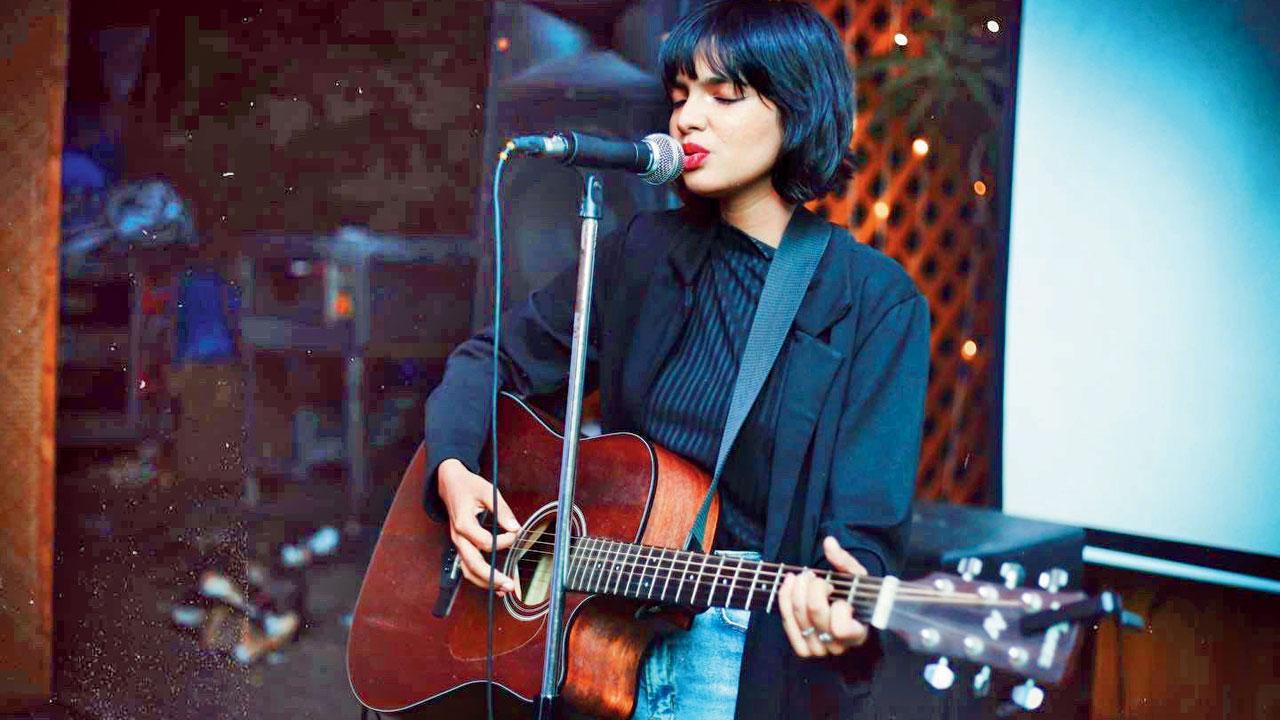 Diya Maeve at an earlier performance
Simplicity can be a beautiful thing. In the age of complex music production, intricate scaling and enhanced auditory technology, listeners can forget how a simple acoustic rhythm can also be hypnotising. In her EP, For the lovers, city-based singer Diya Maeve strips indie-pop music to its bare essentials — lyrics, melody and vocals — to create a moody pleasant debut.
"I love telling stories, and the EP was my way of telling one such story close to my heart," says the 21-year-old who began song writing at the age of 14 back in 2016. Having learnt Hindustani classical music since her childhood, Maeve was soon drawn in by the stronger influence of Bollywood music, before a global pop sensation took over her poetic imagination. "My indie pop journey began when I first started hearing Taylor Swift seriously. This led me to artistes like ColdPlay and Mitski in particular. Their song writing inspired me — the way all of them told stories and weaved words to connect to the audience," she remarks. 
ADVERTISEMENT
Her debut as a singer came with the single, Real in 2021, which reflects this sense of personal expression through lyrics. Nowhere does this come across better than in the track, Jupiter's moon. A simple melody is woven into saccharine nostalgic lyrics that fit into the acoustic pop genre. Not all songs can be uniformly classified into a single genre. In Achilles heel, there is a touch of electronic and alt-pop synth to it, while Your love is distinctly indie in its soundscape. The songs have been collated in a lyrical pattern that rises from melancholy to affirmation and redemption. 
Maeve admits, "In many ways, I am still trying to find my distinct sound and voice as a musician. My EP is an amalgamation of different genres." The songs themselves were written over the period of two years, and were distinct from each other, she reveals. "The theme for the EP comes from a universal emotion — love. It could be romantic or platonic. Moreover, I was also writing about the sadness within. If you feel broken, or are going through a storm, in the end, love becomes hope," says the Navi Mumbai-resident. With the theme in mind, she set about picking the tracks from her repertoire to collate the EP. 
With her first EP out, Maeve is now set to shift her focus back to songwriting. "I have been constantly writing songs, and want to go back to work on their melody and expand my own soundscape. Hopefully, it will help me discover my own sound," the singer signs off.
Log on to: For the lovers on Spotify; YouTube.