However, when jewellers refused to buy the chain, the accused took her mobile phone and handbag while the survivor somehow managed to escape, say Virar cops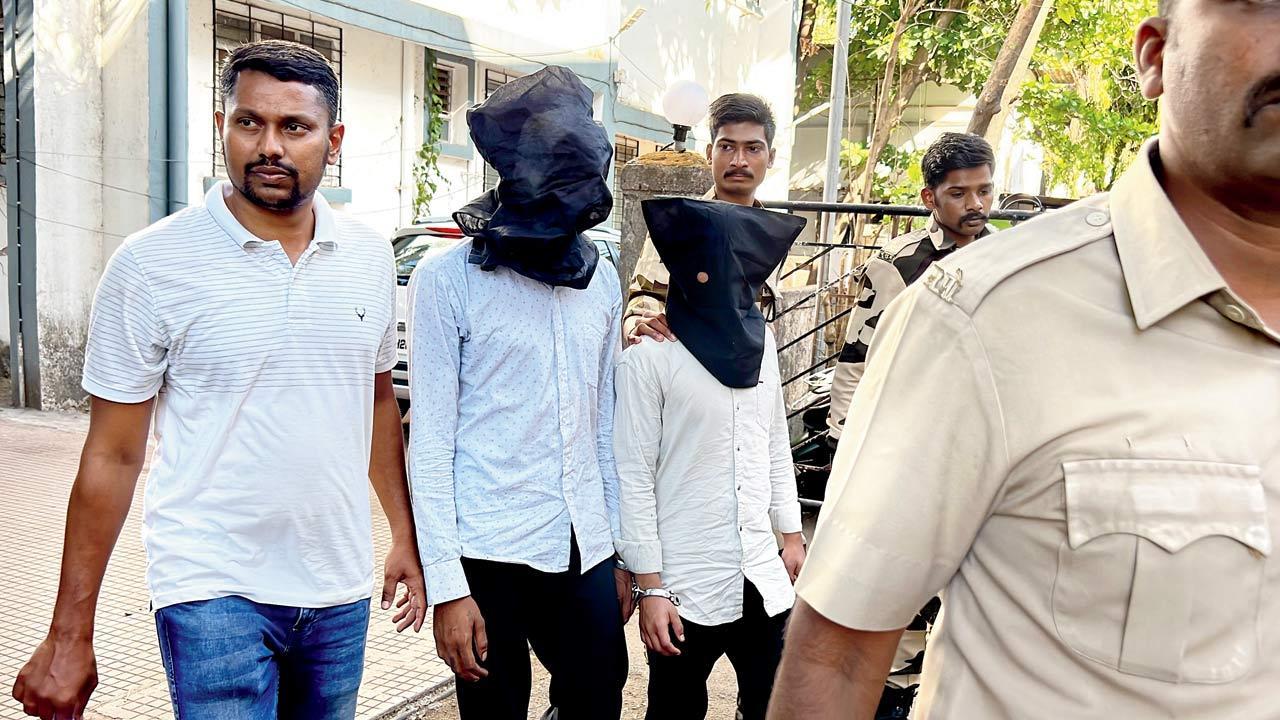 A court on Thursday remanded the alleged rapists in police custody. Pic/Hanif Patel
The 20-year-old woman was raped and sodomised for hours on the hillock near Jivdani temple before she escaped from the clutches of two drunk men, the Virar police said on Friday. Her boyfriend, thrashed brutally by the accused, was lying unconscious nearby, they added.
A cop privy to the investigation told mid-day that the couple had not told anyone about their relationship, hence they were meeting at the isolated place.
ADVERTISEMENT
"But when the drunk men saw the couple in a compromising position (around 1.30 pm), one of them accosted them and discreetly clicked photographs of them. They forced them to strip and asked them to get physical. When the couple refused, the men demanded money," the cop said.
The man got a friend to transfer Rs 500 to one of the accused, identified as Dheeraj Rajesh Soni, 25, and Yash Laxman Shinde, 22.
The couple hoped they would be allowed to leave, but the men started misbehaving with the woman. Riled, the man hit Soni on the head with a beer bottle, the cop said.
After being attacked, the duo started brutally thrashing the man, then bound his hands with a belt. "The man had lost consciousness by then. The accused then took turns to rape and sodomise the woman multiple times, over several hours," he added.
Also Read: Mumbai: Friend bound, Virar woman gang-raped
"The woman has faced serious internal and external injuries. There are multiple abrasions all over her body. Her friend, too, has multiple injuries," said the officer.
By evening, the accused planned to sell the gold chain the woman was wearing, another source in the police said. "They made the woman wear her clothes and one of them accompanied her to the market where they visited a few jewellery shops, but none of them agreed to buy the gold chain," he added.
Meanwhile, the other accused was at the crime scene where the man was lying in a semi-conscious state.
When all the jewellers turned them away, the woman requested the accused to let her go home and also asked to free her boyfriend. The accused, however, snatched her mobile phone and handbag while she managed to escape, the officer said.
Police learnt about the boyfriend around 8 pm, when he was spotted naked on the road, and they rushed there by 8.30 pm. Within the next few hours, they nabbed both the accused.
"We were able to track down and nab the first accused by 11 pm and soon, his accomplice, too," the officer added.
The couple's parents are not aware that they have been dating each other hence the cops have told the rape survivor's parents that she was molested.
The Mira Bhayandar Vasai Virar (MBVV) police have requested young couples not to sit at secluded places to avoid such horrific encounters. Do you like to interpret your dreams?