Family alleges caretaker hired through a manpower agency lacked police verification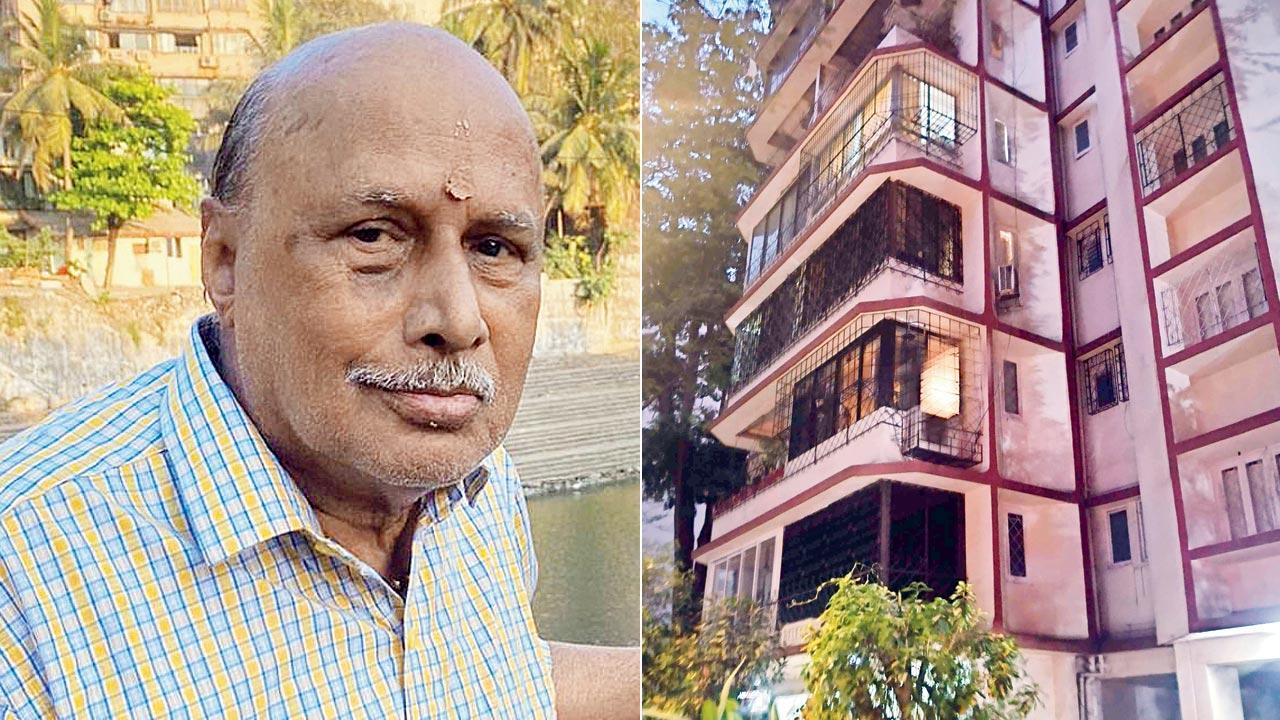 Murlidhar Purshottam Naik and (right) Helena Apts where he lived
An 85-year-old doctor living in Santacruz West was killed by his recently-employed caretaker who fled with his gold rudraksha after the murder on Monday. According to the police, the gold rudraksha weighing 20 grams is the only item missing from the house and the accused didn't touch any other valuables.  
Murlidhar Purshottam Naik was a resident of Helena Apartments on Central Avenue Road in Santacruz West, living with his wife Uma in a 2BHK apartment. His regular caretaker was on leave to attend a wedding function in his village and so the family hired Krishna Manbahadur Periyar, 25, on May 1 through the HACH manpower agency.
ADVERTISEMENT
On the day of the incident, Naik and Uma were sleeping in separate bedrooms. Periyar was sleeping on the floor of Naik's room. "The cook comes in at 8 am. When she went to my father-in-law's room to give him tea, she found him lying on the bed, with his hands and legs tied up with bed sheets. She informed my mother-in-law and we called another doctor and also informed the police," Naik's son-in-law said, adding that the doctor examined and declared him dead.
"We also found out from the police that Periyar was hired by the agency without conducting any proper police verification. We trusted the agency with the safety of a senior citizen couple but have been let down. The agency is also responsible for his death," he said.
Also Read: Mumbai Crime: Woman calls suitor to city for marriage, gets him thrashed
The police believe that Naik was killed between 3 am and 5 am on Monday. "There are no CCTV cameras in the society, but based on allegations made by the family, we registered an offence against Periyar who is absconding after the incident," a police officer said, adding that the motive behind the murder is unclear as Periyar only stole the gold rudraksha worn by Naik without touching any other valuables.
The Naik family has told mid-day that Naik would only wear the rudraksha as he was an ardent believer of Lord Shiva. He was also a member of the GSB (Gaud Saraswat Brahmins) community and had even received an award recently.
Precautions for employers
. Do not hire house-help based on references of his/her relatives working nearby
. Collect the person's details including photos, fingerprint details, cell phone number and previous employee details and submit these for police verification
. Don't allow house-help to bring relatives/friends to your house
. Never remove jewellery and valuables in front of the house-help
. Never talk about money or anything important in front of house-help
. Always closely observe your house-help to ensure he/she is not into suspicious activities
. Never let house-help know where you keep cash, gold ornaments and important keys
"Exciting news! Mid-day is now on WhatsApp Channels

Subscribe today by clicking the link and stay updated with the latest news!"
Click here! Will you take intranasal vaccine as a precautionary dose?