The police nail train hawker who extorted money from fellow hawkers and amassed wealth of over Rs 10 crore, including multiple homes; his 'empire' ran right from CSMT all the way up to Kalyan!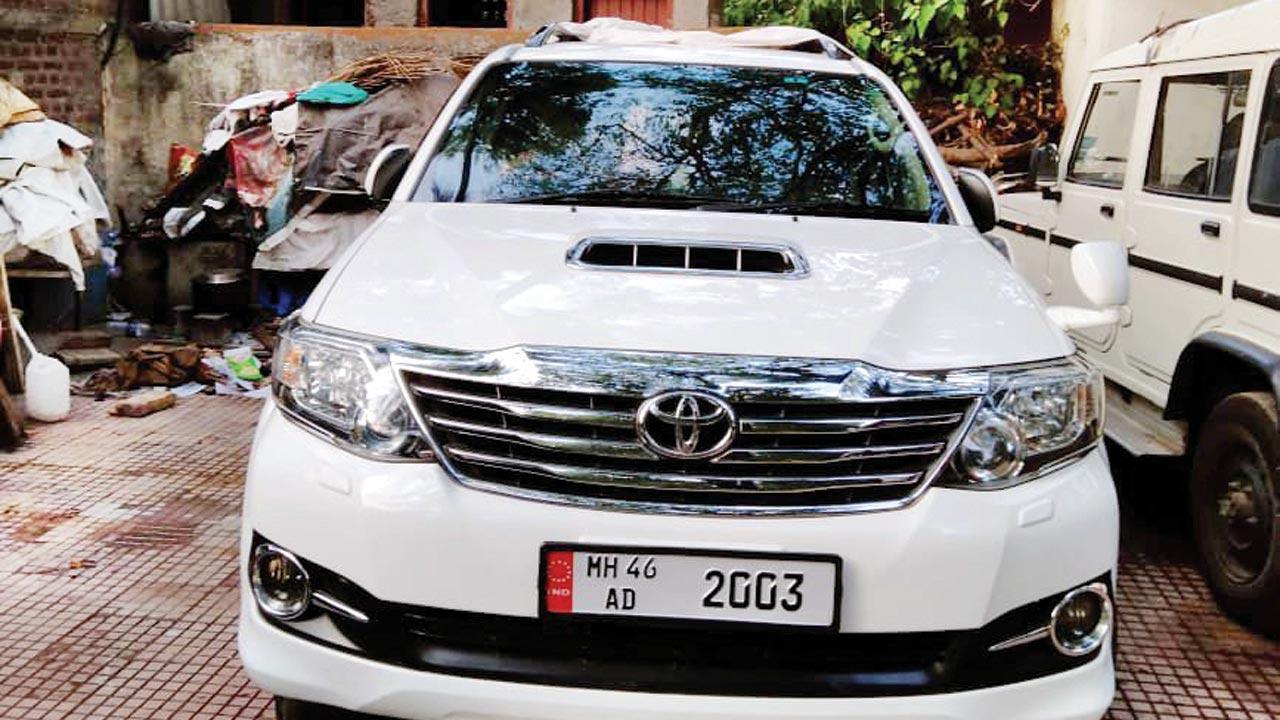 One of the two seized SUVs owned by Singh
A hawker has been found to be operating an organised crime syndicate right from CSMT to Kalyan wherein he extorted money from other hawkers at various railway stations and acquired properties worth crores in the process. The Government Railway Police (GRP) acted on a single complaint from another hawker and booked the accused hawker, Santoshkumar Singh alias Bablu Thakur, 43, under the Maharashtra Control of Organised Crime Act (MCOCA). Eight members of his group, including his wife, have also been arrested. 
According to the GRP, Singh has purchased properties worth crores in Mumbai, Navi Mumbai and at his native place Sultanpur, Uttar Pradesh, through the proceeds of the alleged extortion racket. The GRP has found 10 properties, including flats and houses in chawls, registered in Singh and his wife Rita's names in Dadar, Parel, Kalyan and Turbhe and five-acre farmland in Sultanpur. The total value of the properties is around Rs 5 crore on paper but the market value of all of them together is more than Rs 10 crore. "Most of the properties are located in chawls which are expected to go for redevelopment. It appears that he invested all the proceeds from the extortion racket mainly into chawls so as to gain a profit when they are redeveloped," said Dnyaneshwar Katkar, senior police inspector, Dadar GRP.
The GRP has also found Singh to be possessing 1.5 kg gold, two SUVs and a motorbike.
Santoshkumar Singh and his wife, Rita (right)
Modus operandi
According to the GRP, Singh came to Mumbai sometime in 2005 and used to sell shaving blades on the Dadar station bridge. He then got in touch with some criminals and learned extortion tactics. "He first started offering liquor to local criminals who have multiple body offences against them. Then he used these petty criminals to run his racket. He and other criminals used to threaten hawkers into paying daily protection money to use any space on railway bridges. The protection money ranges from Rs 500-Rs 5,000 per day," Katkar said.
Within a few years, Singh started earning in lakhs and then invested in properties. The GRP has found that with few years he started earning lakhs and then invested in properties. "He also used to pay those petty criminals working for him. Then he started running a proper syndicate at major railway stations," Katkar said.
According to the GRP, after 2010, Singh and his family stopped travelling to their hometown by train. They would only take flights.
(From left) Singh's accomplices Pankesh Bhosle, Vijay Bhulekar and Lata Pawar; Singh's accomplices Deepali Kamthe, Sameer Lalzhare and Sanjay Mohite
In 2006, Singh was arrested for a body offence and since then, he has been booked in over 25 cases including extortion, robbery, attempt to murder, etc. He was once convicted and jailed for eight months in an illegal weapons case. "In most of the cases, he used to get easy bail and would threaten witnesses who would then turn hostile. Hence, cases never stood against him. But this time, we have slapped the MCOCA against him as he was running an organised syndicate. Other body offences were also committed to terrorise hawkers and extort money," Katkar said.
Externed multiple times by the Mumbai police, Singh ran his syndicate at Dadar, CSMT, Kurla, Thane and Kalyan railway stations.
GRP's investigation has also revealed that Singh was externed by the Shivaji Park police station twice and was booked at four instances for violating the order. "He was running the syndicate even after he got externed. His employees would collect the money in his name," Katkar said.
Over 30 saving accounts
The GRP has been given Singh's one-month custody and have ascertained that his money was routed through more than 30 savings accounts. "Most of the accounts were found in a credit society and other nationalised banks. He has to deposit money in a credit society on daily basis. Then he would take loans from them to show that the properties are purchased through loans," Katkar added. Singh would collect the loan amount within a month and pay it back.
All of Singh's savings accounts in banks, with over Rs 12 lakh, have been frozen.
Other members of his group have been indentified as — Vijay Bhutekar and Pankesh Bhosle who threatened hawkers along with Singh, Lata Pawar who collected money, Singh's lover, Dipali Kamthe, allegedly helped him escape after a case was registered against him in May, Sameer Lalzhare and Sanjay Mohite belong to a political party in Maharashtra. Bhosle and Bhutekar have at least 15 body offences cases against them. Singh's wife has been booked as she has properties bought by the extortion proceeds in her name; she also helped Singh run the syndicate. "Singh changed his gang's members multiple times in the past four years to evade law-enforcing agencies," Katkar said. 
Dramatic chase 
Singh was arrested by a special team of the GRP in the last week of May this year in a dramatic chase on the Eastern Express Highway. "After the case was registered, he was tipped off and tried to flee from Govandi along with his gang members. But we chased him till Thane with the help of local police and nakabandi. With police vehicles behind him asking him to stop, he tried to escape. Somehow, the team managed to break his car's windshield and he was nabbed near the Thane toll naka," a GRP officer said.
The GRP also suspects that there is a master who controls Singh and operates from CSMT, but he is not revealing about the man. So far, there is no concrete evidence about this mastermind as he and Singh supposedly never spoke on the phone.
Rs 500
Min. money Singh and his gang extorted from hawkers daily
Rs 5000
Max. money Singh and his gang extorted from hawkers daily
Rs 10cr
Total value of all of Singh's properties
30
Minimum no. of savings accounts Singh has