Educationists hail focus on skill-building through vocational training, innovative teachers' training to meet needs of New Education Policy, technology and recovering from learning loss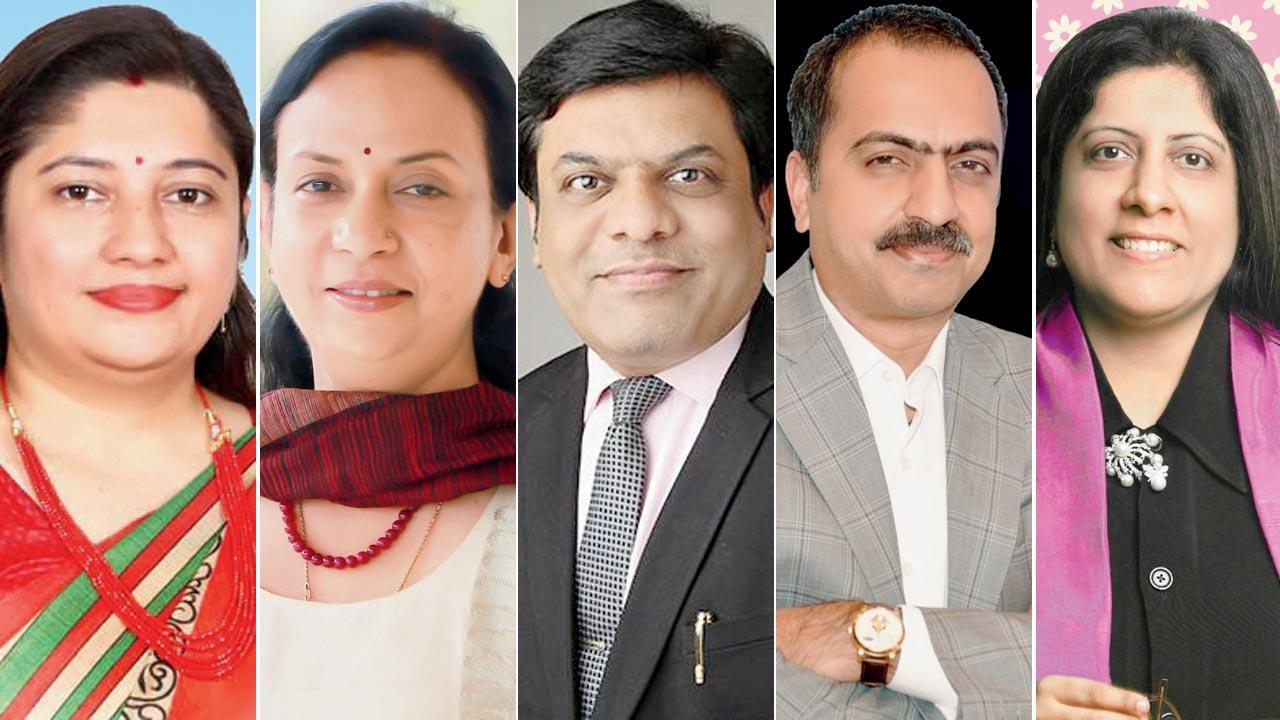 Dr Shuchi Gautam, I/C director, Thakur Global Business School; Madhushree Sekher, dean, School of Vocational Education, TISS; Prasad Pardeshi, dean, RBK Educational Institutionsl; Rajesh Bhatia, CEO, Treehouse and Swati Popat Vats
Union Finance minister Nirmala Sitharaman's Budget 2023-24 saw a significant increase for the education sector. The Budget has allocated Rs 1,12,898.97 crore to the Ministry of Education — the highest ever. mid-day spoke to educationists and sector experts about whether this 'recovery complete' budget, as it is being touted, can aid the pandemic-hit education system.
The national education budget has two parts based on two principal departments of the ministry of education— the department of school education and literacy, and the department of higher education. According to Budget documents, the school education department's outlay is Rs 68,804.85 crore, while the higher education department has been allocated Rs 44,094.62 crore. 
The education budget has been consistently increasing over the past four years. The total allocation in 2022-23 was Rs 1,04,277.72 crore, with the allocation for school education and higher education seeing a 22 per cent and 13 per cent increase over the preceding year's revised estimates. This year, the same allocations show an increase of 8 per cent and 7.9 per cent respectively, while the total allocation is an 8.26 per cent increase.
'Focus on skills, NEP, future'
Prasad Pardeshi, dean, RBK Educational Institutions, Mumbai, said, "The Budget's emphasis on addressing learning loss and providing a superior education for young people was critical and long-overdue. The finance minister has championed the utilisation of digital pedagogy to mitigate the learning disruption caused by the pandemic. The National Digital Library for children and the promotion of physical libraries at various levels is commendable."
Also Read: Budget 2023: Experts welcome health budget, but add may need more funds
Prof Madhushree Sekher, dean, School of Vocational Education, Tata Institute of Social Sciences (TISS), Mumbai, said, "We embrace the emphasis on cultivating skills in accordance with the National Education Policy (NEP) and economic initiatives for generating employment opportunities for the younger generation. The nationwide apprenticeship programme and the PM Kaushal Vikas Yojana (PMKVY) 4.0 will empower and inspire young people to sharpen their skills. This Budget also brings cheer to teachers as they will be trained using innovative teaching methods, curriculum transformation, continuous professional development, and the implementation of ICT (Information and Communications Technology). The establishment of an additional 30 Skill India International Centres, offering programmes in fields such as coding, Artificial Intelligence (AI), mechatronics, drones, and the enhancement of various soft skills, is a phenomenal initiative."
Dr Shuchi Gautam, I/C director, Thakur Global Business School, Kandivli said, "The National Digital Library will foster a culture of knowledge acquisition and reading. The emphasis on digitisation will enhance the efficacy of the Indian higher education system. Prioritising PMKVY 4.0, skill development, job creation, and industry-aligned curriculum will enable the workforce to meet the demands of future employment, thereby bridging the divide between education and employment opportunities. The budget has given impetus to the fundamental principles of the NEP. There is a need to empower private self-financed institutions with more flexible policies as they play a significant role in increasing the gross enrolment ratio nationally."
'Needed this for NEP success'
Dr Swati Popat Vats, director of Podar Jumbo Kids and President of the Early Childhood Association and Association for Primary Education and Research, said, "I think everyone in the education fraternity should celebrate as it is a great Budget. The increase in the allocation is not just a nominal one. We needed a good Budget for teacher training to ensure the NEP's success, which has become a reality. Besides, it ensures education outreach for tribal students, and new-age technology research and development. A large chunk of the education budget has been allocated to Samagra Shiksha."
Rajesh Bhatia, founder and CEO of Treehouse Education & Accessories Ltd, said, "For me, the prioritisation of the ed-tech sector was key and I am glad that the budget advocates 'Make AI in India, make AI work for India'. It re-envisions teachers' training through innovative pedagogy. I am also glad that Centres of Excellence for AI will be initiated in top educational institutions and leading industry players will conduct interdisciplinary research. I hope cutting-edge applications are also developed for the education sector. It is also heartening that the Budget promotes the culture of reading."
Other takeways
. Around 100 labs for developing apps using 5G services will be set up in engineering institutions. These labs will cover apps like Smart Classrooms, Precision Farming, Intelligent and Transports Systems
. In the next three years, 38,000 teachers and support staff are to be recruited for 740 Eklavya Model Residential Schools serving 3.5 lakh tribal students
. National Child Trust, Children's Book Trust and other sources are to be encouraged to provide and replenish non-curricular titles in regional languages and English; collaboration with NGOs working in literacy
. Facilities in select ICMR labs for research by public and private medical college faculty, and private sector research teams for encouraging collaborative research and innovation
. A total of 157 new nursing colleges will be established in core areas