BMC fails to give murtikars list of feasible options; sculptors say, 'give us space, time for clay idols'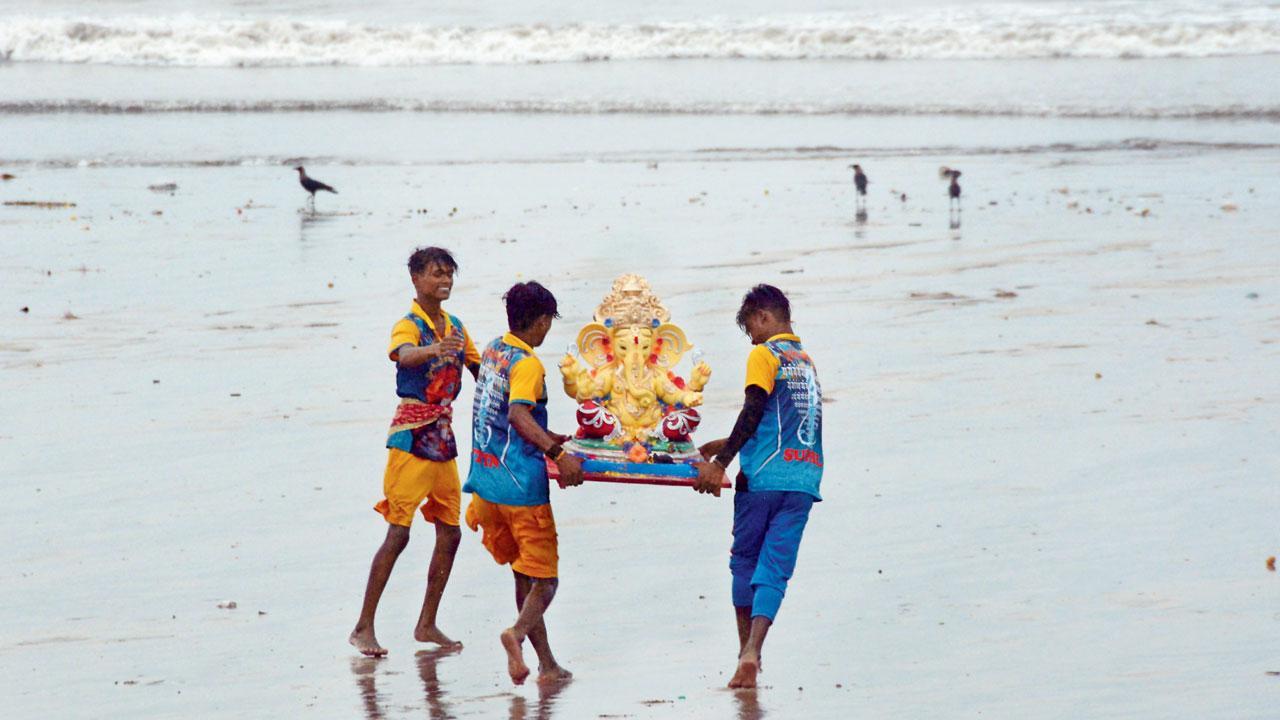 Devotees carry a Ganesh idol for immersion in the sea, in September last year. Pic/Satej Shinde
It has been almost three years since the Central Pollution Control Board's (CPCB) ban on plaster of paris (PoP) idols and the BMC is still struggling to implement the rule. The civic body has failed to come up with a viable eco-friendly alternative to shadu clay, which the central body has recommended. The civic body on Wednesday met the representatives of sculptors and coordinating committees of Sarvajanik Ganeshotsav to convince them to stop using PoP for idols. This unproductive meeting shows the city is nowhere close to adopting a non-polluting medium for festivals.
Representatives of Maharashtra Pollution Control Board and the deputy commissioner of police were also present at the meeting called by Deputy Municipal Commissioner Ramakant Biradar. The murtikars told the BMC that more time and bigger space are needed to make eco-friendly clay sculptures.
ADVERTISEMENT
"We are totally for environmentally friendly festivals. However, there are many loopholes in the state government's guidelines. More than 2 lakh idols are distributed across the city, for which we need huge quantities of shadu clay. Also, idols made from shadu clay take more time to dry and there are issues with colouring and transportation, too," said Naresh Dahibaonkar of Brihanmumbai Sarvajanik Ganeshotsav Samanvay Samiti.
Also Read: Mumbai: 25 per cent discount for women at civic swimming pools
A state-level meeting last year decided to form a committee to study and suggest alternatives to shadu clay, Dahibaonkar said. However, six months on, there is no progress and the BMC called the meeting on Wednesday without any preparation, he added.
Suresh Sarnobat of Akhil Sarvajanik Ganeshotsav Mahasangh said, "There should be a report on the number of sculptors in the city, the number of idols and the requirement for shadu clay, papier-mâché or other eco-friendly media, colour, etc. But, there is no such data. The BMC does not want to take any responsibility. They just read out the rules and ask us to implement it.
"Besides, most of the idols come from Pen and Panvel. So if the state government is serious about eco-friendly idols, it should implement the guidelines in those areas with feasible options," he added. Biradar, deputy municipal commissioner and coordinator for Ganesh festival, said, "We will communicate their concerns to the state government and try to find a solution. That's why we have started the process earlier this year." Do you agree with the management`s decision of only letting devotees offer jal abhishek at Babulnath temple?