Dharamshala comes up for cancer patients and caretakers who make footpath near Tata Hospital their home; gaps close in attempt to give holistic cancer care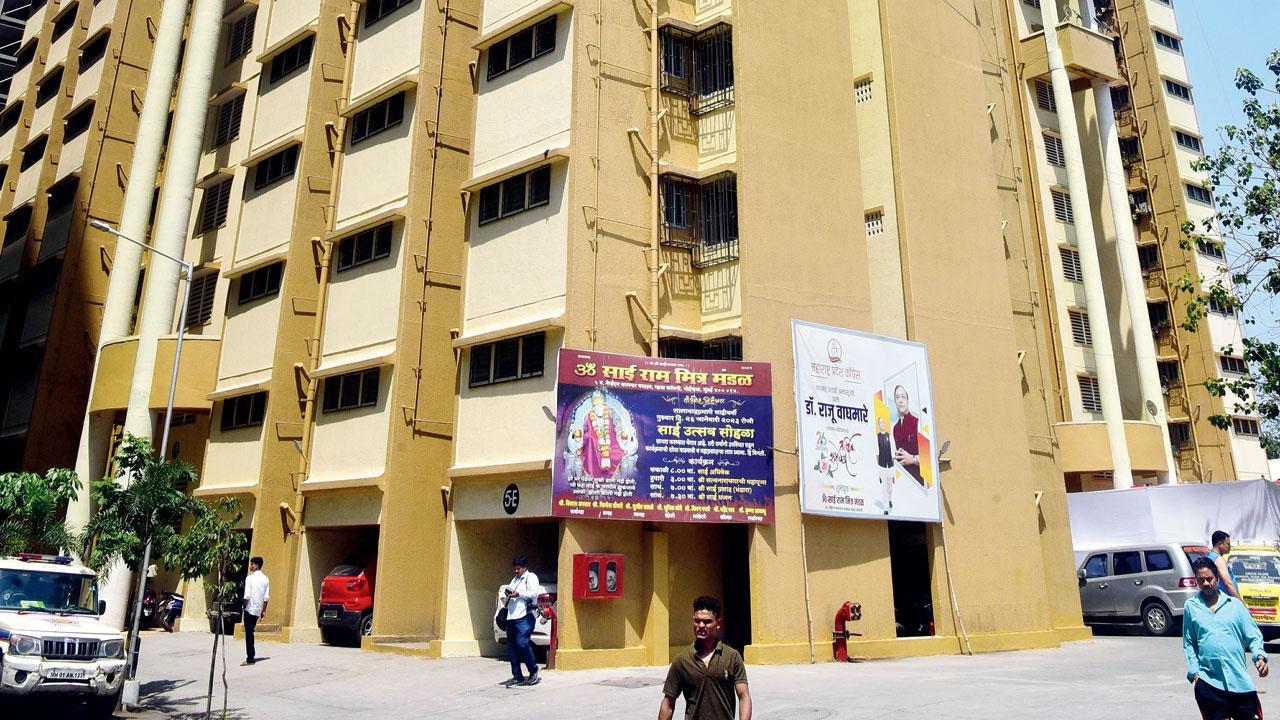 The 100 flats are spread over the 16th to the 24th floor of the building
There is a significant step towards providing accommodation to cancer patients and their caretakers from outstation, seeking treatment at Tata Memorial Hospital (TMH). A dharamshala has come up, the proverbial stone's throw away from the landmark medical facility. This dharamshala or hostel, which was inaugurated on Tuesday, is a 100-flat facility housed in a MHADA building, at the Bombay Dyeing Mills, Parel Bhoiwada. These 100 flats spread from the 16th to the 24th floor of the building are approximately 255 sq. feet each with one bedroom, hall and kitchen (BHK). This facility can accommodate 100 patients and families, those who need long stays in the city, for cancer treatment at the apex medical facility. The 24th floor of this hostel is dedicated to doctors. The flats are equipped with modern amenities. The hospital will now decide when families can be moved in and the cost per month of living at the hostel.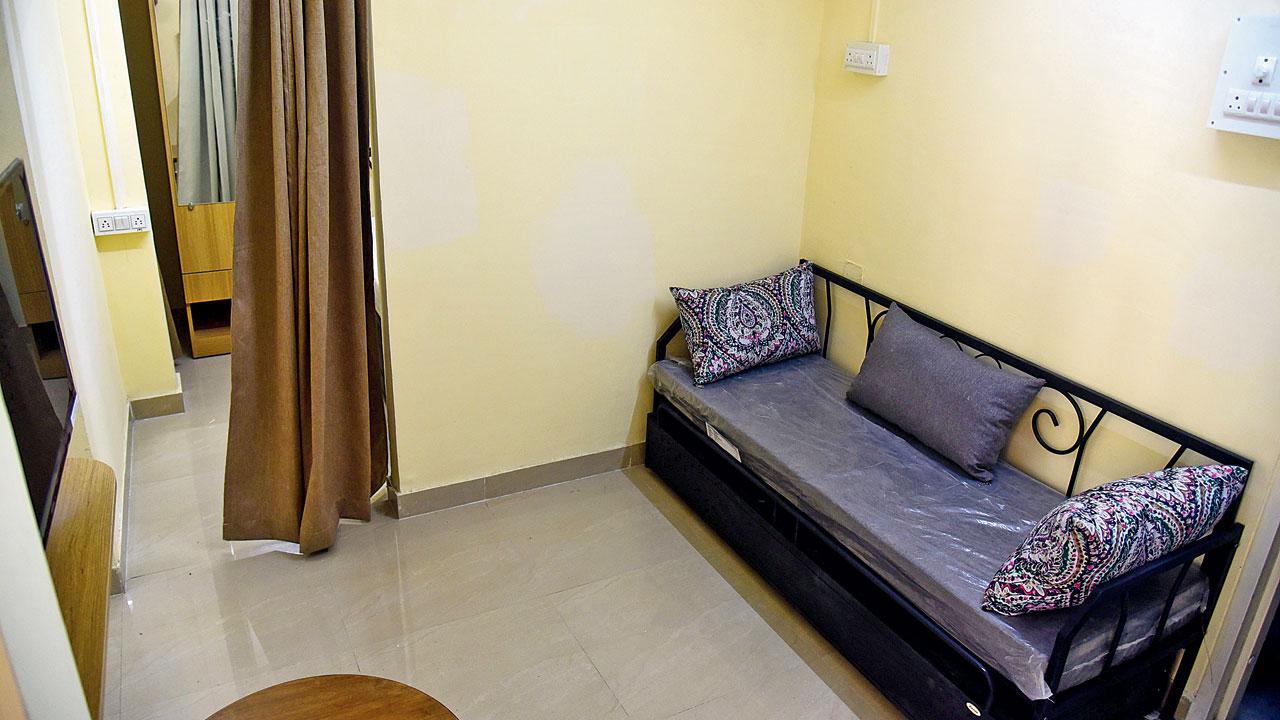 The interiors of one of the flats in the building. Pics/Shadab Khan
ADVERTISEMENT
Gold standard
MHADA has played a key role in making the building available. The furniture and fixtures are an HDFC AMC initiative and The Rotary Club of Bombay, planned and implemented the vision. Rotary club president, Vineet Bhatnagar said, "The hospital is the gold standard in cancer care. With their interest and inputs for the hostel, the doctors have gone beyond their call of duty." Dr Rajendra Badwe, Director, Tata Memorial Centre (TMC), said at the function held at the Chokshi Auditorium in the Golden Jubilee block at TMH on Tuesday morning, "This hospital tries to increase the number of beds every seven years. Currently, we have at least 1,000 beds 'outside' this hospital. Yet, we still have so many patients camping on the footpath. Last year, India added at least 82,000 cancer patients in one year.
Also Read: Mumbai: Initiative to assist chemo patients remotely takes off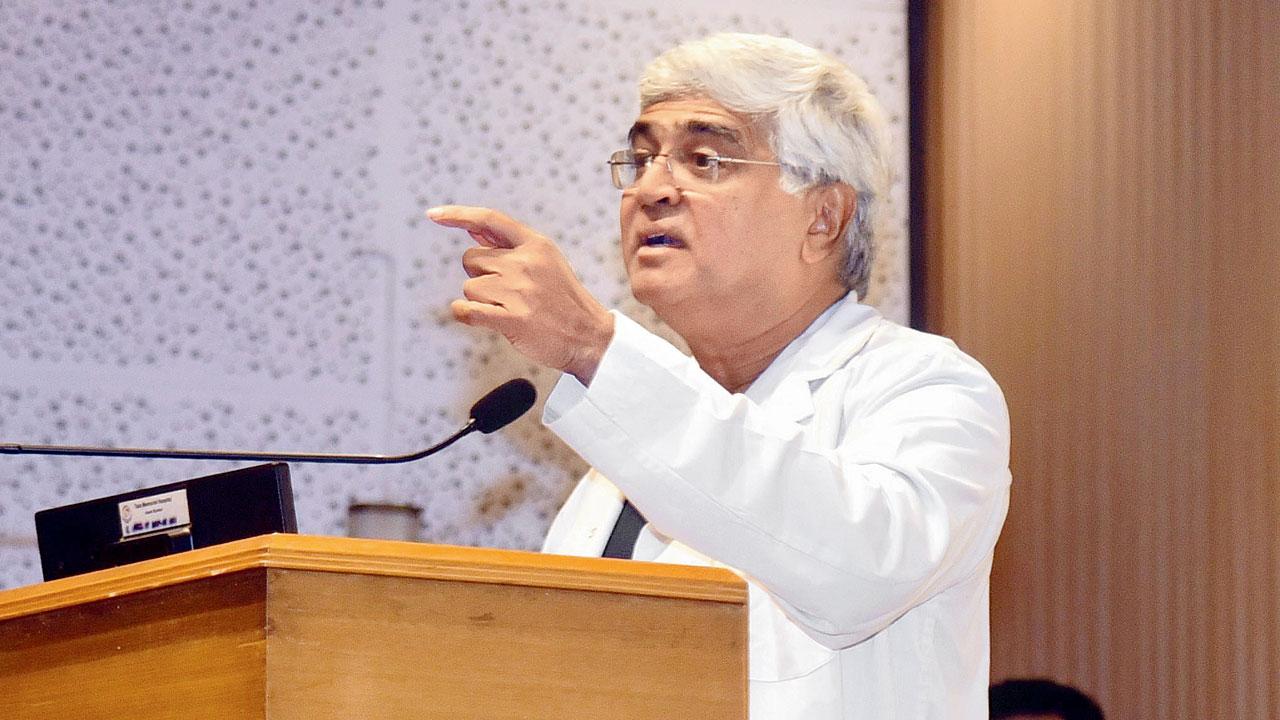 Dr Rajendra Badwe, Director of the Tata Memorial Centre
This just goes to show what we are up against and how we fall woefully short." Having said that, Badwe preferred to look at the silver lining on the cancer cloud. "This hostel is a boon. Societal involvement in the battle against cancer is the one thing that ensures sustainability of the institution," he added. Then Dr Shailesh Srikhande, surgeon, who has been with Tata for two decades stated, "it is not easy to see the human suffering, not just of patients but families in the hospital's vicinity. Today, we have a launch with much fanfare, but we must stress on upkeep and be wary of decline and decay in facilities."
Emotive issue
There are stereotypes about politicians basking in the attention and importance while inaugurating different kinds of facilities, cutting ribbons as flashbulbs pop all around them. Former Housing Minister, Maharashtra Jitendra Awhad punctured that as he said, "It does not give me pleasure to inaugurate this, as though it is a stellar initiative, I want fewer and fewer people to be here, fewer people should have to fight cancer." The minister struck an emotive note as he recalled, "I lost my mother to cancer a month after diagnosis. I lost six family members to cancer in one year. Coming to Tata Hospital gives me the shivers and I am scared of cancer," he stated.
The doctors pointed out that more hostel facilities are coming up in the vicinity, one that should be up and running mid-year. There is a concerted effort to enable the needy to live in dignity, so that they have  the will to keep fighting. That is an important ally along with treatment. Doctors need patients who are rested and living in some comfort and cleanliness, as they together, take on their adversary, 'The Emperor of All Maladies'.