Thugs lure, fleece desperate families of cancer patients by offering them 'ayurvedic cure' for various types of cancer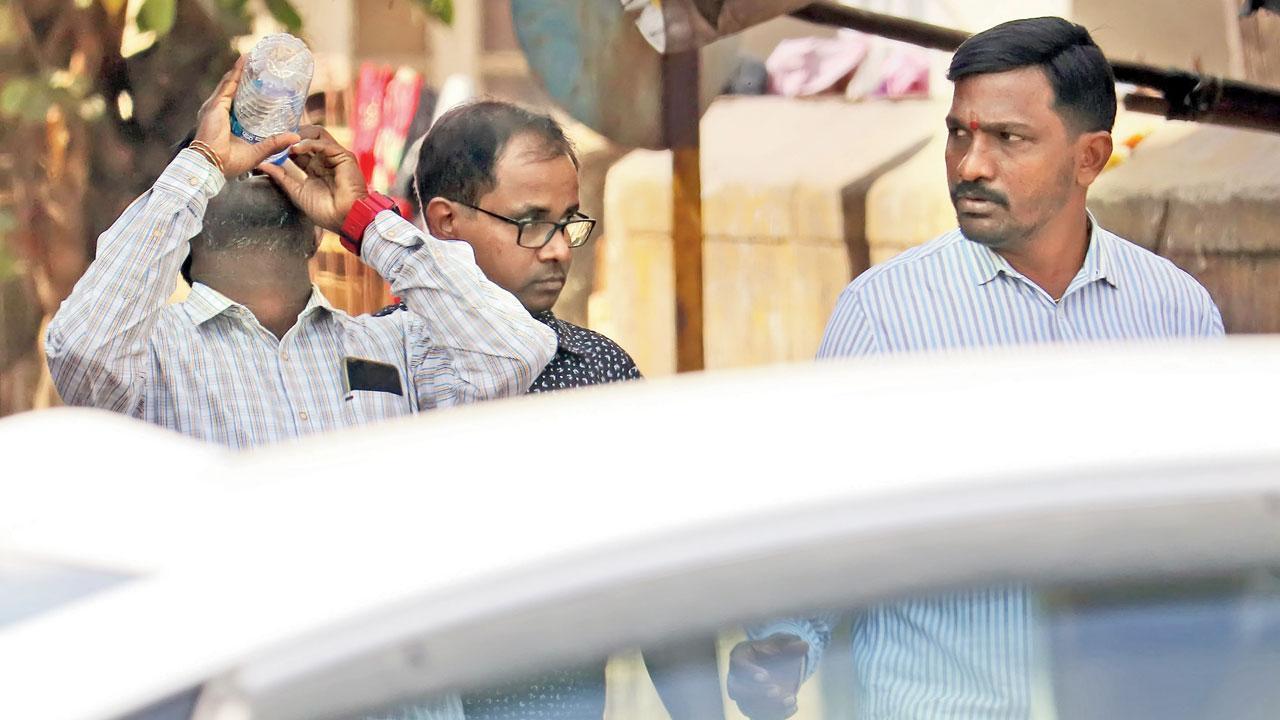 mid-day's reporters Shirish Vaktania and Diwakar Sharma with mastermind, Krishna Patil (right, in this pic) at Dadar TT. Pics/Rajesh Gupta
A gang of thugs has been brazenly running a racket out of Mumbai's top cancer hospitals, preying on the emotionally vulnerable families of the patients, luring them with a miracle cure—a "special" ayurvedic concoction. The cancer will never recur, they promise their vulnerable prey, mostly the rich, fleecing them of lakhs in the process. mid-day reporters went undercover and found out how the crooks, led by their ringleader, operate in cahoots with some ayurvedic dispensaries in the city.
The gang members sneak inside the hospitals, carrying random medical files and X-ray reports and keep an eye on patients arriving in high-end cars. They somehow retrieve the medical files of such patients and then approach their relatives, convincing them to switch over to ayurvedic treatment instead of wasting lakhs of rupees on oncologists.
ADVERTISEMENT
How they operate
Once trapping their prey, the agents give them the contact number of Krishna Patil, their ringleader, and ask them to get in touch with him for the cure. The family members of the patients do as asked and get from Krishna a list of items to be turned into a paste. In an attempt to keep their targets entrapped, Krishna insists they send photos of the raw items.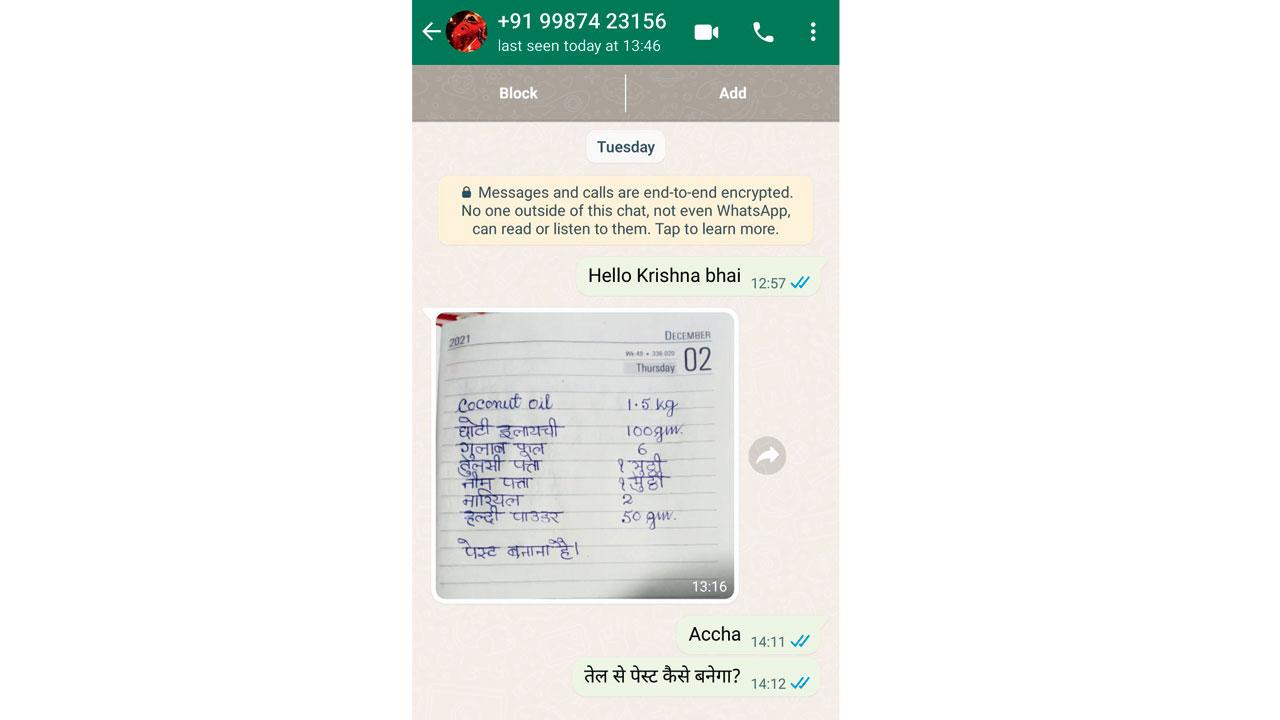 Screenshot of the chat with Krishna Patil
For the final stage of the scam, he arranges a meeting with the family members, who are also asked to bring along the "herbal paste". At the meeting, Krishna narrates a sob story of how the ayurvedic medicine that he is suggesting helped someone in his family who suffered despite spending lakhs of rupees on oncologists. His story changes as per the patient's relations with their target.
He then takes the family members to an ayurvedic shop, nearby the meeting spot, to purchase the final, "magic" ingredient—metallic and non-metallic bhasma (ash obtained through incineration), which costs nearly Rs 1 lakh. Once he manages to convince the kin, the ash is added to the paste.
Krishna tells the gullible victims that the ayurvedic medicine is to be applied 311 times on alternate nights, for 622 days. Following which, the patient will be hale and hearty and the cancer will never return, he promises them. Dadar, Bandra, Andheri, Malad and Ghatkopar are some of the places where they arrange the meeting for the purchase of the 'magic ashes'.
mid-day goes undercover
Diwakar Sharma and Shirish Vaktania—mid-day's reporters posing as relatives of a cancer patient—manage to arrange a meeting with Krishna after getting contact numbers of two of his agents, Megha M and Raju Patil. They contact them separately, and both the agents ask them to call Krishna.

The ayurvedic store owner in Dadar. Pics/Rajesh Gupta
Day 1: February 9
Reporter: Hello, I am Shirish Vaktania. You met my sister at a hospital a few days ago
Raju: Yes, but I don't remember
Reporter: OK, my cousin met you there and she gave me your number. She has stomach cancer, which has not been cured despite chemotherapy. Her health is deteriorating. You had suggested some Ayurvedic treatment
Raju: Yes, I will help you. My brother, Krishna Patil, also had stomach cancer and this Ayurvedic treatment cured him completely. I am sharing his number, please talk to him
The call with mastermind
When the reporter doesn't call Krishna for two days, Raju pesters him to contact the ringleader. The reporter finally calls Krishna, on February 12.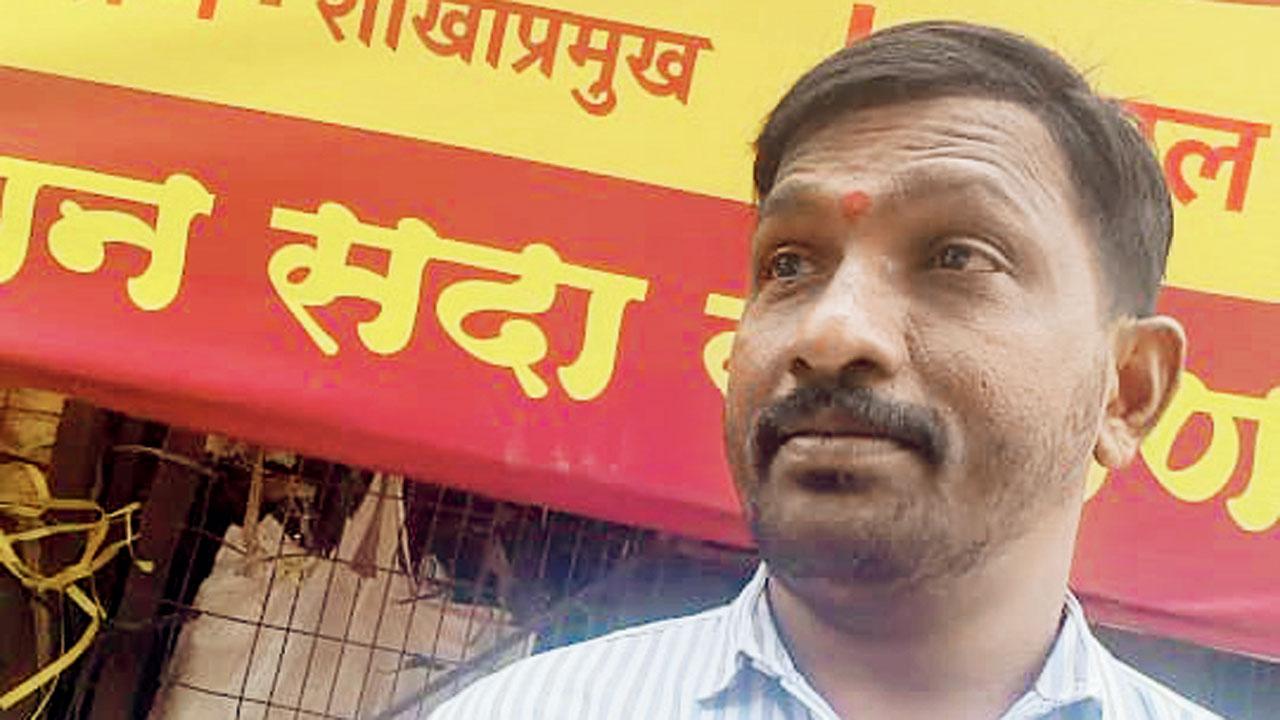 Krishna Patil, the mastermind
Day 2: February 12
Reporter: Hello sir, Raju gave me your contact number for cancer treatment for my sister
Krishna: Yes, but can I talk to your sister
Reporter: Yes, I am giving the phone to her
Krishna: Sister, what type of cancer do you have
A woman: It's third-stage stomach cancer, detected two years ago. My health is deteriorating
Krishna: Give the phone to your brother
Krishna to reporter: Bhai, I work in Mantralaya. My sister also had stomach cancer 12 years back, but she is fully recovered now. Before I share with you the treatment process, you have to promise me that you will help another cancer patient once your sister has recovered and ask that patient to do the same
Reporter: I promise
Krishna: Around 12-13 years back, I was at home with my sister and a few shepherds from Rajasthan were roaming in my area. They noticed that my sister was sick and asked about it. I told them that she has third-stage cancer. We had spent Rs 35 lakh on her treatment by [names a well-known surgeon in Mumbai]
Reporter: Yes, he is Mumbai's top oncologist
Krishna: The shepherds offered to help my sister with Ayurveda. They told me to make herbal paste using tulsi, red rose, neem, turmeric 
powder and coconut oil. They said it will completely cure cancer. I made the paste at home, after which they took me to a Dadar-based Ayurvedic dispensary where they added some secret medicines to it. 
After applying it on her body 311 times over 622 days, my sister healed and she is fully recovered now
Reporter: Is this safe? Will there be any reactions
Krishna: Boss, this is Ayurvedic treatment with no side effects. It's totally safe. You prepare the paste and call me. I am sending you the list along with the instructions to make it.
Reporter: Okay sir, thank you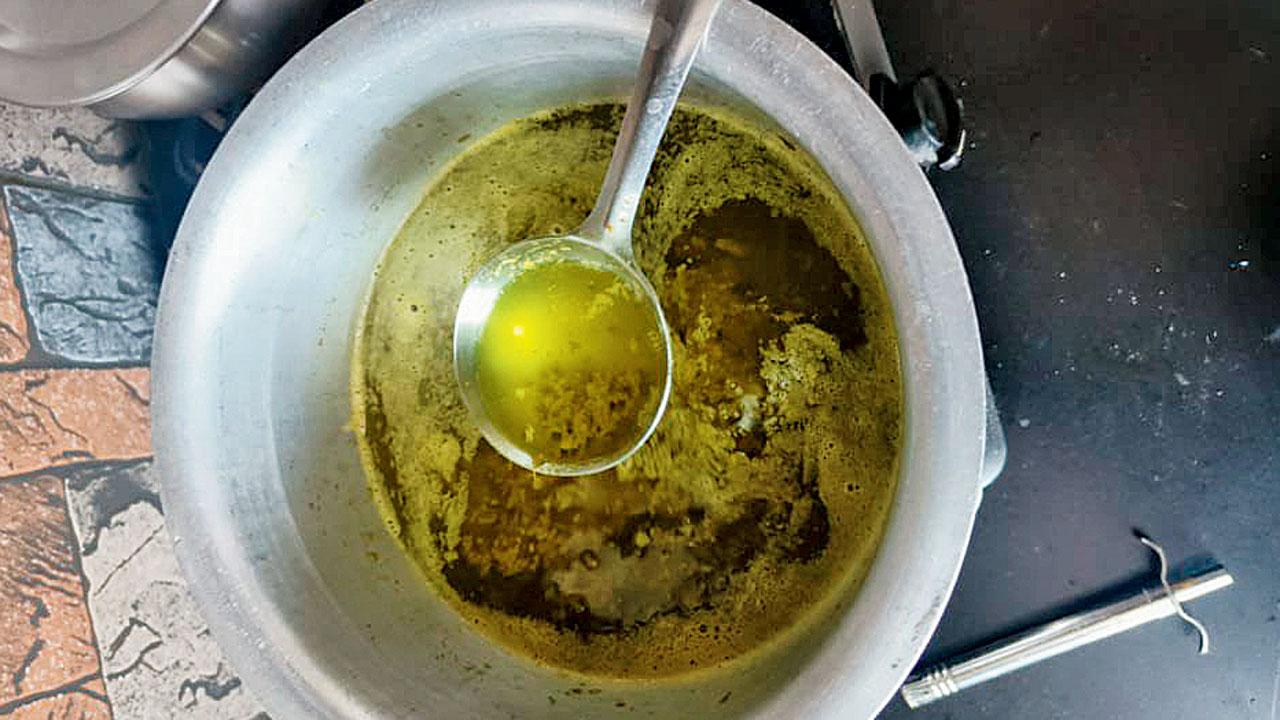 A reporter prepares the mix at his home. Pic/Shirish Vaktania
Day 3: February 16
Krishan sends a list of the items and then explains over the phone the process to make the paste.
List
>> Coconut oil - 1.5 kg
>> Cardamom - 100 gram
>> Red rose - 6 pieces
>> Holy basil leaves - 1 mutthi
>> Neem leaves- 1 mutthi
>> Coconut - 2 pieces
>> Turmeric powder - 50 grams
Krishna: First, make a paste out of neem, roses and tulsi leaves with water. Then, make a paste of coconut using its own water. Pour everything into a big bowl and put it on a gas stove on low flame. Now, add oil. Keep the oil and paste on gas for 20-25 minutes on low flame. Afterwards, filter out the oil. Call me when the past is ready.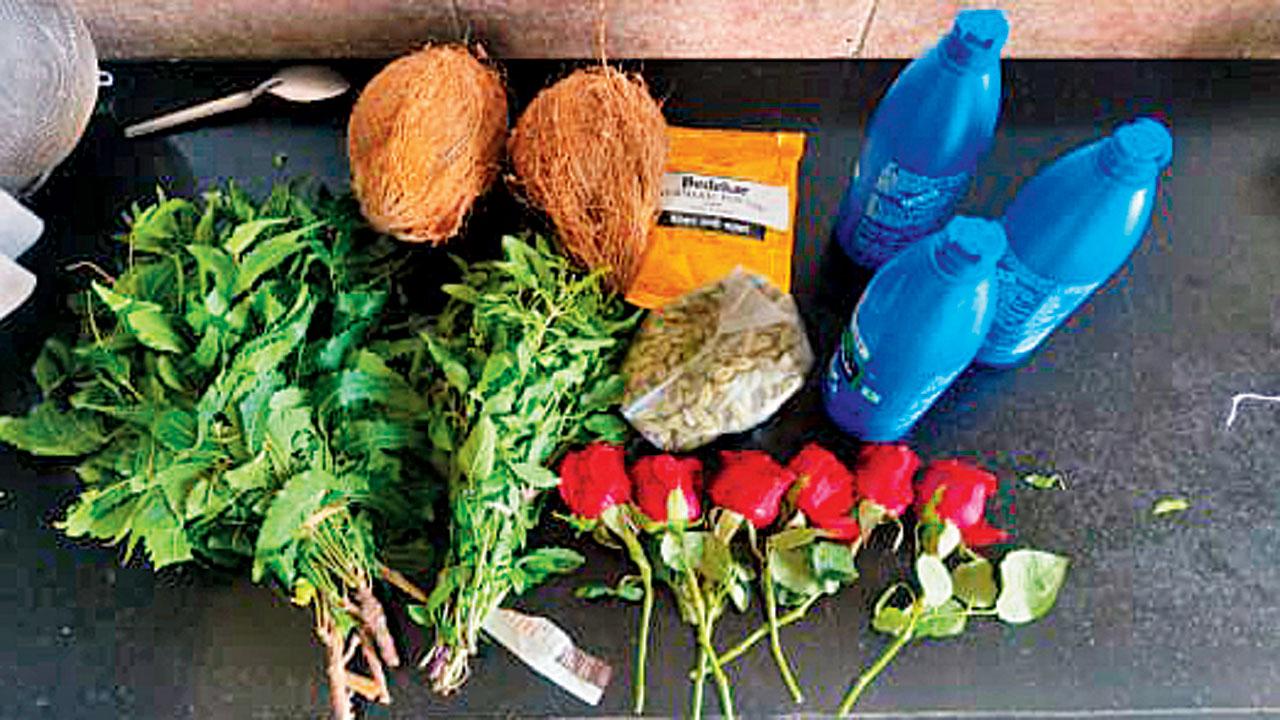 List of products prepared for making the 'herbal paste'
Meeting is fixed
Once done, the reporter calls up Krishna, who arranges a meeting outside platform number 1 of the railway station, in Dadar West, on February 17 and asks him to bring the paste along.
Day 4: February 17
Both Diwakar and Shirish meet Krishna, who comes sporting a tilak on his forehead and wearing a gold-plated chain and a bracelet. As he claims to be "close with Chief Minister Eknath Shinde", his henchmen keep a watch from afar.
Krishna: Today, I will show you how to use it. You don't have to message it on the body, but apply it gently from head to toe. The patient should put on clothes 25 minutes after applying it. The body will soak in the medicine through the night. In the morning, the patient should take a bath with lukewarm water, which must have tulsi leaves. After using it 311 times over 622 days, the chronic cancer will be cured During the treatment, the cancer patient becomes weak, but after just one month of this Ayurvedic treatment, the patient will regain strength and develop a good appetite
Reporter: We had also visited Nashik for treatment and spent R4 lakh, but there has been no positive change in her health. Will there be any side effects from the Ayurvedic treatment?
Krishna: The last stage of this disease is death. We reserve no right to bring harm to the patient who is on the deathbed. This Ayurvedic treatment treated my sister. It is up to you if you want this treatment for your sister. But, rest assured, if you go for this treatment, the result will be positive and the cancer will never recur. I am only giving my precious time to you and not asking for any money. I only want your patient to heal. So, let's go to the Ayurvedic store to check out the cost. I used this 
medicine around 12 years back and it cost me around Rs 12,000, but I am not sure of the current price.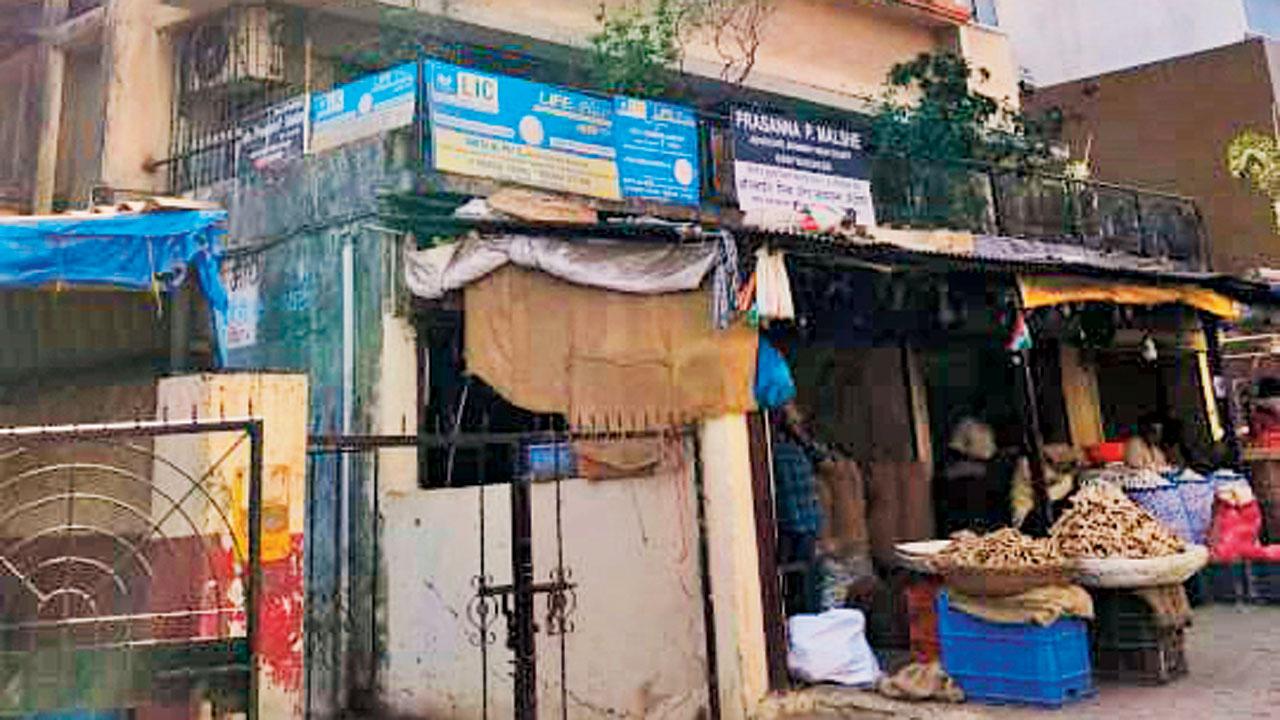 The ayurvedic store where mid-day reporters were taken is located in this building, outside Dadar railway station. Pic/Rajesh Gupta
The store is revealed
As they head to the store, which is just a few steps away from Dadar market, Krishna calls up someone to inform them about the visit. Meanwhile, the reporters notice around half-a-dozen men emerge on the street. Pretending that he was visiting the area after over a decade, Krishna asks one of them about the Ayurvedic shop. The man points towards a shady lane.
They arrive at Shivam Ayurvedic Bhandar (shop no 3, B-Wing, New Samadhan building, Senapati Bapat Marg, Next to Beta Park, Opposite Vivekanand Classes, Dadar West).
Krishna (at the entrance): Should we remove our shoes outside
Store owner: No no, Come inside
Krishna: We need medicines. I am giving you a list. I purchased it some 12-13 years back
Store owner: Yes, I will give you all medicines
Krishna to reporters: Don't worry at all. You will have to pay only once and your patient will fully recover. What's the stage of her cancer
Reporter: Doctors told us that it is Stage III cancer
Krishna: Stage IV is the last. If the patient is being administered chemo, don't apply this medicine, because the body heats up after chemo
Reporter: Okay
Reporter to store owner: How old is this shop?
Storeowner: It's around 35 years old
Way to 'magic mix'
The store owner brings out a big bowl of fish oil, and asks the reporters to pour the paste into it so that the 'secret' ayurvedic bhasma can be mixed. He then scans through his computer screen, which has names and prices of the Ayurvedic medicines. Krishna hands him over a list of medicines.
Krishna: Add abhrak (mica) bhasma
Reporter: Don't make a mix yet. We first want to know the cost to decide if we can afford it
Store owner: Don't worry. We will give you the medicine. This is pure Ayurvedic medicine and you can apply it even on a one-year-old child. There are no side-effects
Reporter: Can you give us a sample of the medicine so that we can try and check whether it causes any reactions? I just don't want to risk her life
Store owner: What has happened to her?
Reporter: Stomach cancer and she is undergoing chemotherapy
Store owner: Don't worry this is just like chemo
Krishna to store owner: Please give medicine first. Abhrak bhasma, emundra ras, navratna, suvarna bhasam. Each 16 grams
Reporter: But what if she is allergic to these Ayurvedic medicines?
Store owner: If there is a reaction, bring back all the medicines and I will give you your money back
Reporter: Money is not the problem. Try to understand, she is already suffering. I want to test it on her and if everything is alright, we will complete the treatment
Store owner: I can give you 1 gram, but it will not be effective
Krishna: Don't take it because the medicine won't help you until you complete the course. Am I mad that I have come here from far away to help you? We are not forcing you to purchase the medicine
Reporter: Okay. How much will it cost?
Store owner: Rs 88,000 only
Reporter: Ok, but we want a sample first
Krishna (looks frustrated): Bring the patient to the shop to check for side-effects
Store owner to reporter: We are neither running away with your Rs 88,000 nor shutting down the shop. We will not give you sample
Krishna to reporters: You have wasted my time. [He then storms out of there]
Such unscientific concoction will only hurt patients: Expert
T0 understand the dangers of the thugs' 'medicines', mid-day spoke to a well-known Ayurvedic medical practitioner, Dr Nitin Kochar. He has worked in clinical trials at Tata cancer hospital, department of clinical pharmacology at KEM hospital and Health Centre at Mumbai University.
"First of all, I would categorically say that there is no treatment like these thugs have been recommending. The application of a mixture of herbal extraction and expensive bhasma on the body of cancer patients can adversely affect their immune system and their health can further deteriorate," said Dr Kochar, MD, Ayurveda, who is also a consultant for all chronic diseases, including cancer.
"I deal with cancer patients daily and suggest surgery, chemotherapy and radiation, as these are required to reduce the cancerous lump. My job is only to boost the immune system to prevent relapse. On an average, around 1,500 cancer patients die in India every day, and 90 per cent of the deaths occur due to relapse. So, it is crucial to prevent further spread of the cancer.
"People must know that chronic disease like cancer is never cured by applying any paste or bhasma on the body. It is absolutely unscientific. No such treatment is mentioned in the Ayurveda books. Instead, these can further deteriorate a patient's immune system. When the immunity is compromised, the cancer spreads fast and can be detrimental. Those who are recommending such a treatment are just thugs, duping gullible people," he said. The doctor expressed his surprise at "well-educated people falling into the trap of thugs. I must underline that a cancer patient mandatorily has to undergo surgery, and chemotherapy and radiation are critical parts of the treatment."
Let us know
If you have been a victim of such a fraud, you can email your story to us at mailbag@mid-day.com Let`s play a waterless Holi this year. Is it possible?