Railway pointsman tells mid-day about Saturday evening incident, when his quick reaction saved the life of a six-year-old boy who slipped off the platform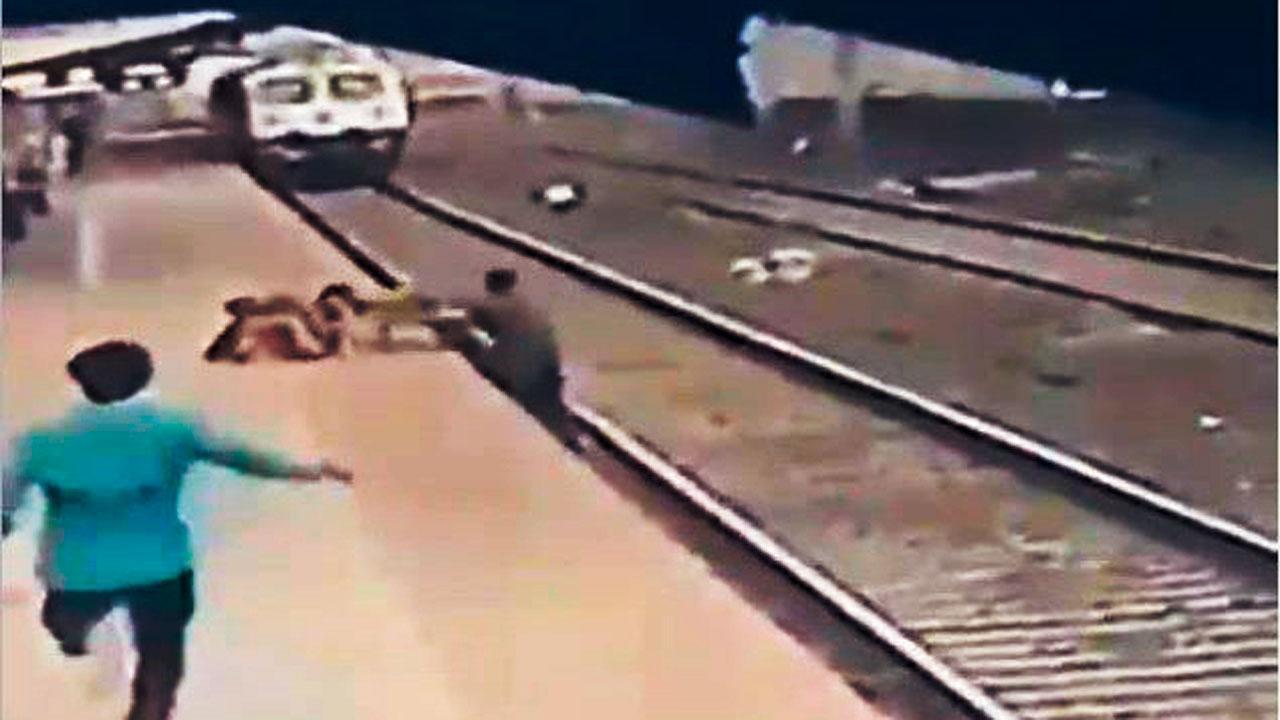 A videograb shows pointsman rescuing the kid as train approaches
The Indian Railways has given me so much, and what I did was just a part of my duty," pointsman Mayur Sakharam Shelke, 30, humbly told Railway Minister Piyush Goyal on the phone when the latter called to congratulate him for his good deed.

Visually impaired Sangeeta Arjun Shirsat with her son Sahil
"What Mayur has done is beyond any award, cash prize or certificate, though we will do our responsibility and give him the highest honour. But saving a life and making humanity proud, he has won the hearts of the entire Indian Railways' fraternity by saving the child and putting his own life at stake. No words will be enough to congratulate him," Goyal said.
On Monday afternoon, when Shelke walked into the Mumbai CSMT divisional head office to meet Divisional Railway Manager Shalbh Goel for his felicitation, he was welcomed with a standing ovation from the employees there.
Shelke showed exemplary courage when he saved the life of a six-year-old boy, Sahil Arjun Shirsat, who was at the Vangani station with his visually impaired mother Sangeeta Arjun Shirsat, 35, on Saturday. Sahil was walking on platform No. 2 with his mother around 6.25 pm when he slipped off and fell on the tracks, coming in the way of speeding Udyan Express.

Pointsman Mayur Sakharam Shelke
Shelke, who was on the platform to give a line-clear exchange flag, immediately rushed towards the approaching train, picked up Sahil, tossed him on the platform and climbed up in the nick of time. The entire episode, captured on the CCTV camera at the station manager office's, shows everything that happened within just 13 seconds. According to the footage, Shelke saved Sahil within 11 seconds of his fall and he himself climbed up within the next two seconds.
"No one will dare to do what Mayur has done. Hats off to him," said Goel.
'Can't thank him enough'
Recounting the incident, the mother said when Sahil fell on the tracks, she couldn't think what to do and "there no one seemed to be around". "I was very scared. And suddenly, out of nowhere, this man came and rescued my son. He put his own life in danger for my son. It is because of him that my son is standing next to me today. My six-year-old child is my only support and I thank him from the bottom of my heart," said Sangeeta.
Mayur Shelke QA
Shelke, who originally belongs to Talawde near Neral, joined the Railways in March 2016. He is a graduate in Bachelor of Arts and works as a pointsman. He was earlier posted at Karjat station and has been working at Vangani station for the past eight months. He got married a year ago.
What happened
I was getting ready to flag off the Bangalore-Mumbai Udyan Express when I saw the visually-impaired woman with her son. As the speeding train approached the station, the child slipped and fell on the tracks. I sprinted for 100 metres, picked him up and climbed onto the platform just before the train passed by.
First thoughts
There were no thoughts. I saw the kid falling and the train speeding towards him. There was no chance he would have lived had I not intervened.
'Bit of fear'
Frankly, there was a bit of a fear factor at first as it was an express train that runs on very high speed. But there was no time to think at all, I was determined to save him.