Held for dismembering mother's body, accused was afraid to step out as there were always people around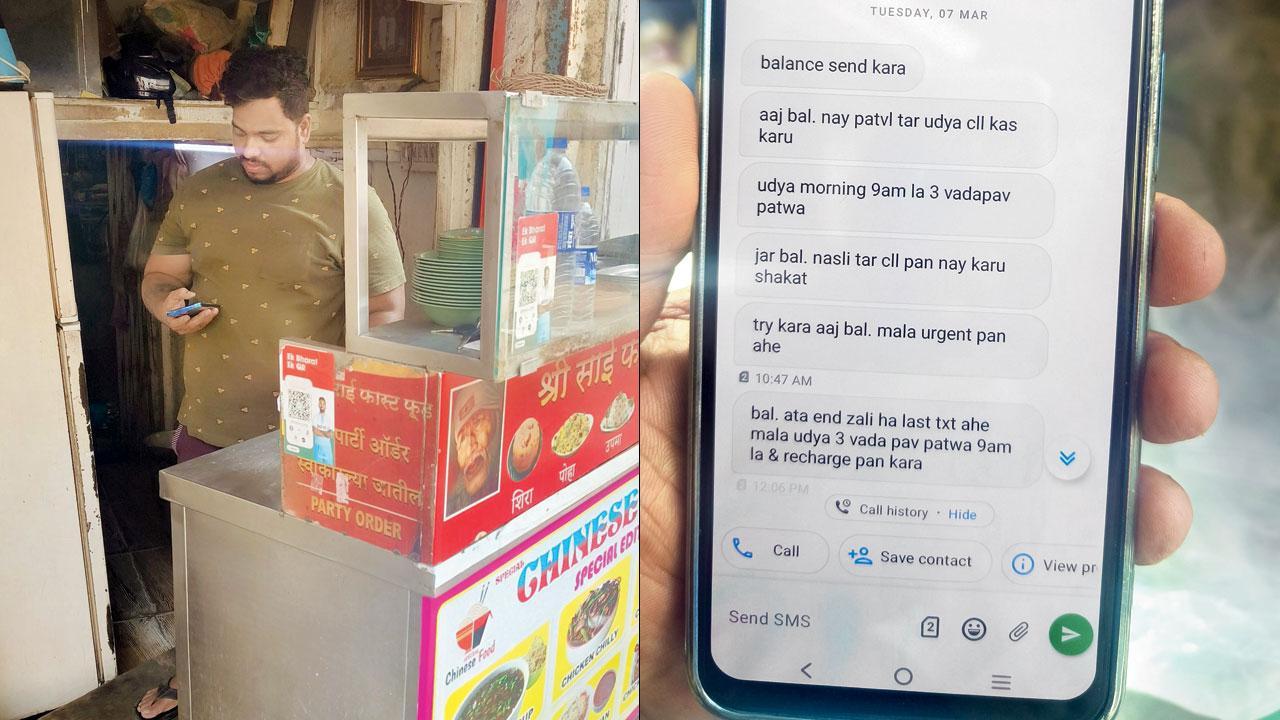 Umesh Khavare of Shri Sai Fast Food Centre told the police that accused Rimple Jain would request food from him on credit. In one of her chats, Jain asked him to deliver three vada pavs and also recharge her phone
The constant milling around of her neighbours, as well as her increasing fear of getting caught, kept matricide accused Rimple Jain confined to her house for four months, even as the stench of the rotting dismembered corpse grew stronger with each passing day, police officials said on Saturday.
Rimple, 25, and her mother Veena, 55, lived in the Ibrahim Kasim Chawl in Lalbaug and on March 14, the Kalachowkie Police arrested Rimple for allegedly murdering Veena and chopping up her body into small pieces using an electric marble cutting machine with a circular blade. Police officials said that the bustling 100-year-old chawl is home to scores of families and is also located right on the main road.
ADVERTISEMENT
"As a result, there are always people present in and around the chawl till 2 am and the tea stall outside the chawl opens up for business at 4 am. Hence, Rimple was unable to find a suitable time to dispose of the corpse, as she feared that she would be spotted and caught," said an officer with the Kalachowkie police station.
Her neighbours had already started becoming suspicious, after two staffers of a restaurant outside the chawl took Veena to her house following her fall on the morning of December 27, 2022. The staffers had offered to take Veena to a doctor, but Rimple had refused their help. Subsequently, when her neighbours started asking about Veena, she made up a story about her mother having gone to Kanpur.

Rimple Jain
"Rimple was also getting increasingly paranoid as some of her relatives stay in the same locality and could come visiting any time. In fact, this was exactly how the crime was discovered in the first place, when her cousin visited her, smelled a rat due to her behaviour and informed us," said the officer. 
Neighbours told mid-day that Veena's prolonged absence had started raising their suspicions as well. To further keep the impression of normalcy alive, Rimple started strolling up and down the common passage outside her house with her phone stuck to her ear every evening, pretending to talk to her mother on the phone.
Also Read: Mumbai: Daughter lives with mother's body for 3 months, uses 200 perfume bottles to hide rotting body
On that fateful day
According to a rough sequence of events that the police have reconstructed based on their investigation so far, Rimple allegedly killed Veena on December 27 and purchased the cutting machine the next day.
"She first separated her mother's hands from the body, after which she chopped off the lower legs and then the thighs. Subsequently, she severed her head and stuffed the torso into a gunny sack, which was placed inside the cupboard that it was recovered from. She would douse the entire house with room fresheners and perfume every day to keep the stench at bay," the officer said. 
Rimple, however, had spent all her money on the cutting machine and started getting food on credit from the Shri Sai Fast Food Centre on the ground floor of the chawl. The eatery manager, Umesh Khavare, is now a key witness in the case and the police have recovered text messages he exchanged with Rimple. 
The chats
Khavare has told the police that Rimple claimed to have spent all her money on sending Veena to Kanpur for treatment after her fall. As the days passed, Rimple even made Khavare recharge her mobile phone. From January to March 10, Rimple racked up pending dues of Rs 2,006. "Please recharge my mobile and send balance on my phone. If you will not send me balance, then how I will call you tomorrow for order. Tomorrow morning, I need three vada pav at sharp 9 am. I need urgent balance and mobile recharge," one of Rimple's messages to Khavare reads.
On March 10, Rimple somehow managed to pay Khavare all his pending dues. Khavare, meanwhile, was questioned for over 18 hours, as the constant exchange of calls between him and Rimple had earlier made him a suspect in the case. However, after extensive questioning, the police have for the moment ruled out his involvement in the crime. Rimple, meanwhile, still maintains that Veena fell by accident and that she did not kill her, the police said.