Killer, 24, ordered the bottles from nearby Kalachowkie chemist shop to disguise the smell emanating from decomposing body of 55-year-old she had murdered last December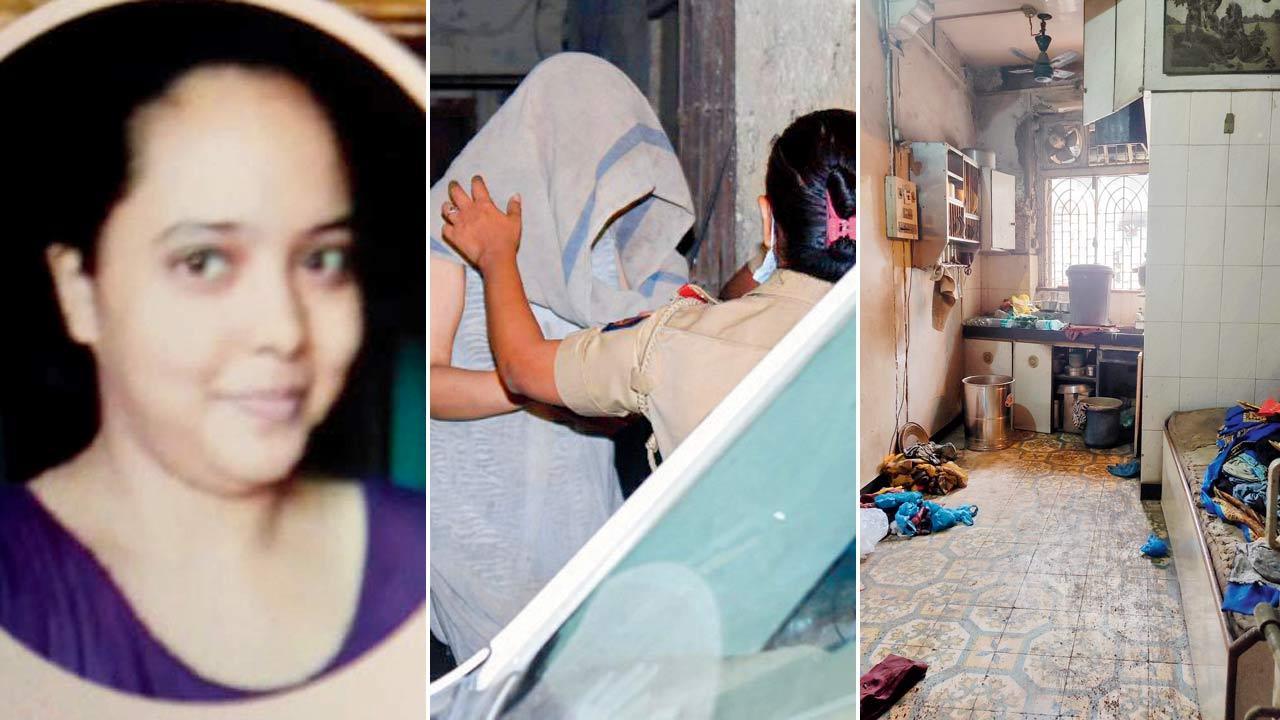 Rimple Jain; The Kalachowkie police take the accused into custody on Tuesday night. Pic/AjinkyaSawant; The Jain house
The Kalachowkie cops on Tuesday night arrested Lalbaug resident Rimple Jain, 24, for allegedly murdering her mother Veena, 55, in December. According to the police, Rimple had cut up the body into several parts, which were stored separately in her flat, and used more than 200 bottles of perfume and air fresheners to conceal the odour. The police also stated that Rimple had severed all ties with neighbours and would sit in the window watching the traffic at Lalbaug Naka for weeks. 
Whenever a neighbour would ask about her mother's whereabouts, she would repeat a fictitious story about Veena being on a trip to Kanpur.
Also Read: Mumbai: 24-year-old daughter held for killing mother, storing pieces of her body for three months at home in Lalbaug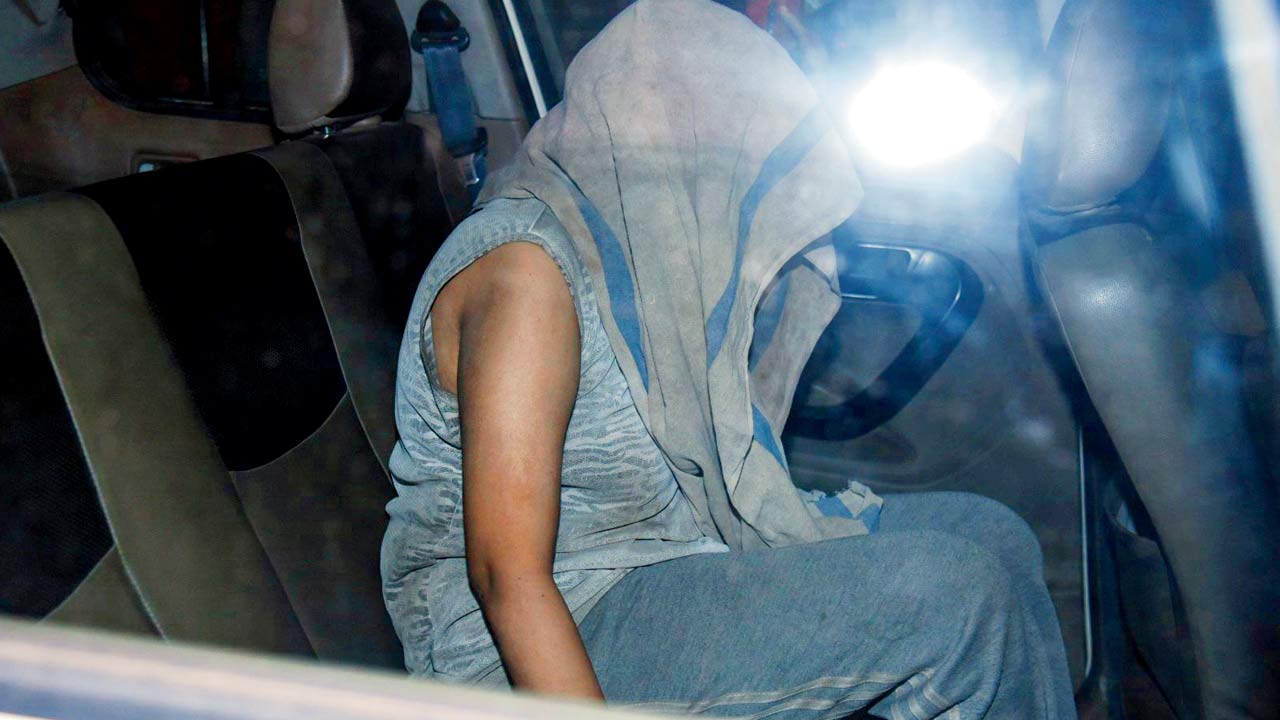 Rimple Jain is taken into police custody on Tuesday night. Pic/Ajinkya Sawant
Rimple is Veena's only child and the duo was living together for the past 16 years at Ibrahim Kasam chawl in Lalbaug Naka.
Also Read: Mumbai: Two bike-borne men gun down developer in Nerul
How case came to light
The alleged murder came to light only after Rimple's cousin came to her home to hand over money to her—as was her routine every month—on Tuesday night. 
When the cousin, who resides at the nearby Gundecha Gardens, arrived, Rimple opened the door partially and stretched out her hand to collect the money. Her cousin then asked her where Veena was, only to hear that she had gone to Kanpur. Suspecting something amiss, the cousin called her mother and another relative to the building. When both reached, Rimple refused to open the door. Rimple's aunt then called her son to the spot.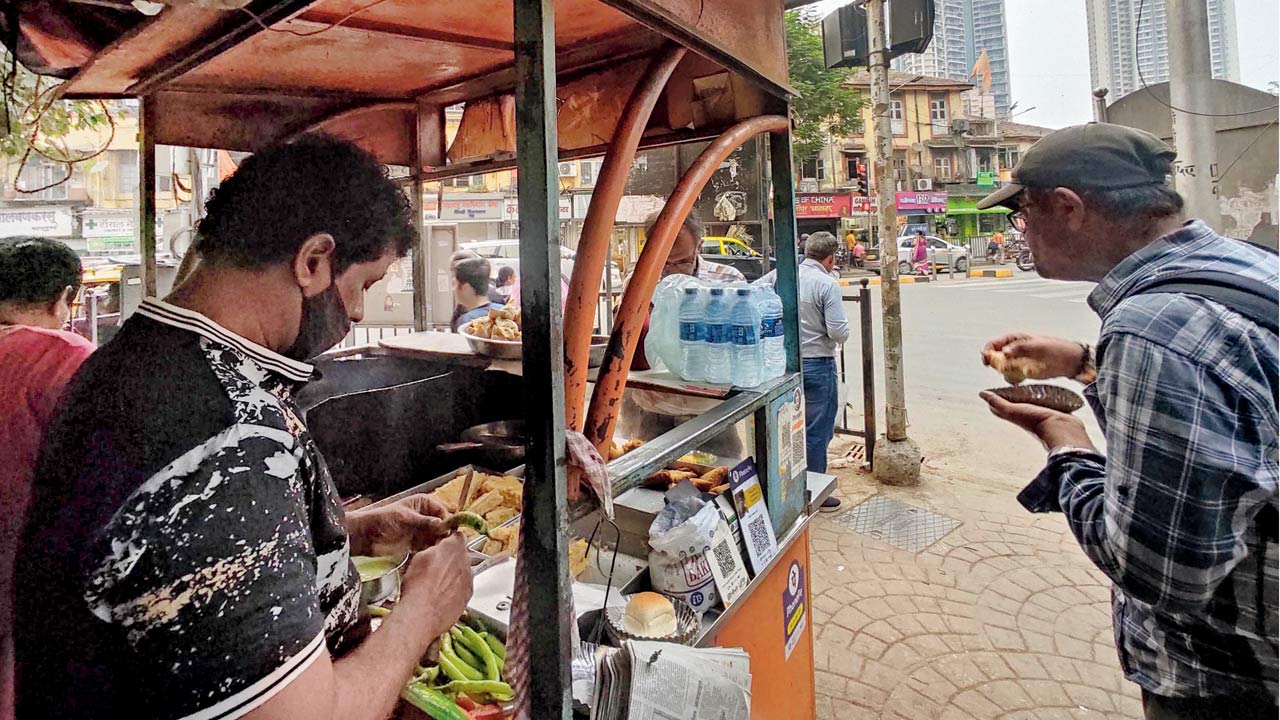 Sanjay Pawar, the vada pav vendor whose stall is opposite the Jain residence 
"When he arrived, they asked her to open the door, but she opened it slightly. Irritated, the male cousin forced open the door and entered inside. The visitors see anyone in the house but were met with a pungent smell. Rimple kept repeating that her mother had gone to Kanpur," said an officer of Kalachowkie police station. 
The relatives then decided to approach the Kalachowkie police. Taking Rimple with them, they also called Sureshkumar Porwal, 60, Veena's elder brother, to the police station.
On reaching the station, around 9 pm, they narrated the incident to the cops and the latter decided to pay a visit to the flat.
"When the team reached the home, they saw everything was a mess. We tried to find the source of the foul smell. When we opened an iron cupboard beside the door, the smell became overpowering," said a police officer.
"The cop found a plastic gunny bag at the bottom and, on opening it, found a decomposed torso," added a cop.
After continuing their search, the police found a pair of hands and legs inside a small steel tank. Senior officials were informed about the findings and Rimple was immediately taken into custody for interrogation.
"During the home search, we found an electric marble cutter, a sickle and a knife. The body was taken to KEM Hospital where relatives identified it as that of Veena Jain," said Dr Pravin Mundhe, DCP (Zone 4).
He added, "The suspect kept on changing her statement but based on circumstantial evidence, we booked her under Sections 302 (murder) and 201 (causing disappearance of evidence of offence, or giving false information to screen offender) of the Indian Penal Code."
Bottles of perfume
After the murder, Rimple poured perfume obtained from a nearby pharmacy on the torso and steel tank. Whenever she would go out to buy food, her neighbours would complain about the foul smell, leading her to spray more cans of air freshener at home. After getting irritated with the consistent questions about her mother and the smell, she decided not to venture out and limited her outings only to go to the toilet.  
Return to Lalbaug
Though the Jain family had lived in Lalbaug earlier, they shifted to Virar after Rimple's parents, Prakash and Veena, got married. In 2016, Prakash succumbed to a serious illness and Veena was diagnosed with the same ailment. Her brothers then decided to bring Rimple and her to Lalbaug again. 
Sureshkumar told mid-day, "We were eight siblings, but now only three remain. After the death of my brother-in-law, I brought Veena to Lalbaug so that she would stay nearby. Never in my wildest dreams did I think this would happen to her. Rimple never looked abnormal or disturbed. I have no words."
Sanjay Pawar, who runs the Shiva Vada Pav stall across the street from the Jain residence, said, "I have seen Rimple growing up. Till last week, she would come to buy vada pav, samosa pav or pattice."
"She would be the first customer whenever she bought snacks from me. I never thought she was capable of this," he added. 
As the duo had no source of income, Veena's brother would give them a fixed amount every month for expenses. A family member would deliver the money every month. A daily tiffin service was also arranged for by relatives. 
"She would hardly talk with anyone. Her mother would speak with everyone but always maintained her distance. Both mother and daughter never went out," said a neighbour.
"I saw Rimple last week when she was returning home in a hurry," he added.
Last seen on December 27
Sureshkumar told the police he last met his sister on November 26, 2022, while two witnesses told the police that Veena was seen on the morning of December 27 after she accidentally fell from the first floor. 
"Around 5 am on  December 27, Veena was seen on the road just below the common toilet, which is about 12 to 15 feet above ground level. She sustained an elbow and head injury. She was taken home by two employees of the Flavours of China restaurant, which is just below the building. The workers even asked Rimple if they could help her take Veena to the doctor but she declined, saying she would manage. That's the last time anyone saw Veena Jain," said a cop.
The cops are probing whether the fall was indeed accidental. After the incident, Rimple stopped venturing out.
Sara Raut, the owner of Flavours of China, said, "She would order food from my restaurant, but would behave very rudely with my workers. She would never come to the restaurant but would order meals from home."
Meanwhile, the cops have detained two Flavours of China workers who reside on the same floor as the Jains in two one-room flats. There were being questioned at the time of going to press.
16
No of years accused was living at Ibrahim Kasam chawl