The civet had found refuge on a raised edge of the well after repeated futile attempts to exit the well in order to prevent drowning. The team moved swiftly and dropped a trap cage attached to a rope down the well. The civet was safely removed once it leaped into the cage after discovering a dry area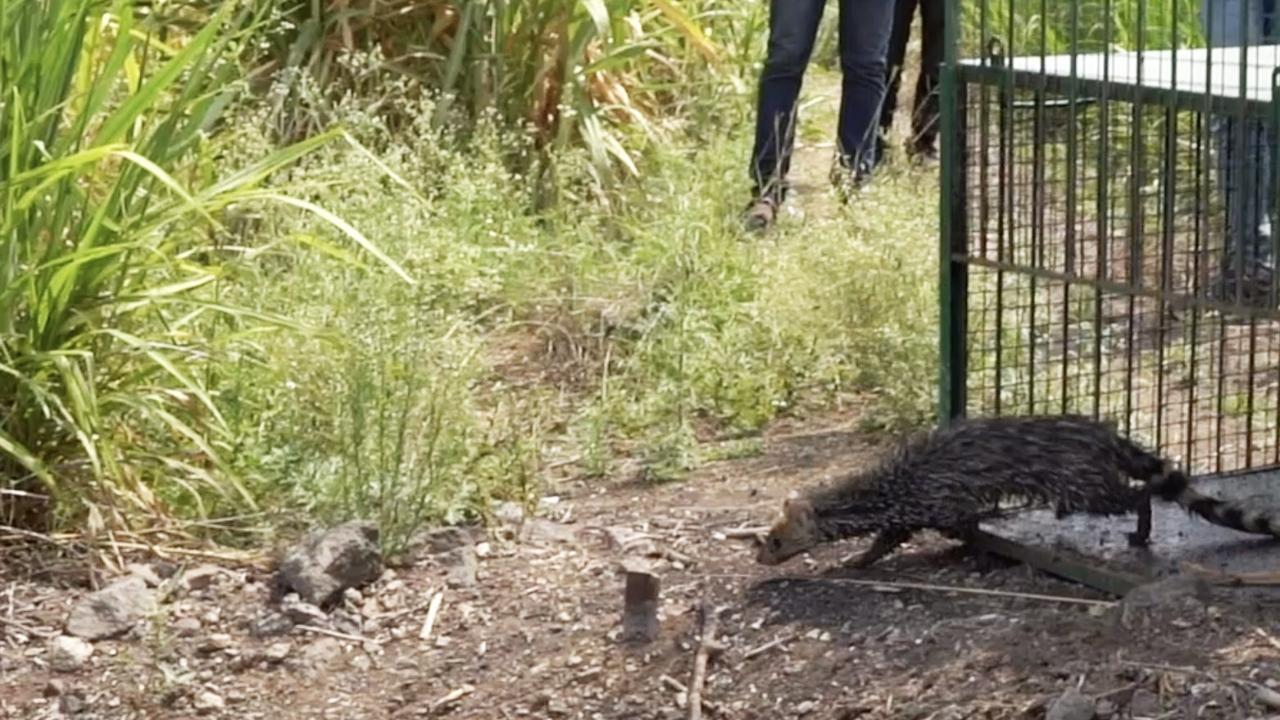 Small Indian Civet (Pic/Wildlife SOS)
The forest department along with Wildlife SOS worked together to rescue a Small Indian Civet from Netvad village in Pune. The civet was recovered quickly from a 45-foot-deep open well and subsequently released to the wild. 
On Tuesday, the farmers in Netwad hamlet noticed an odd noise emanating from an open well nearby. They discovered an odd-looking creature stranded inside the almost 45-foot-deep well upon closer inspection. They quickly alerted the Maharashtra Forest Department to the issue out of concern for the animal's welfare. To help the forest officers, a rescue team from the Wildlife SOS Manikdoh Leopard Rescue Centre was also sent.  
ADVERTISEMENT
The rescue team from the NGO arrived on the scene quickly and came up with a plan to save the animal. It quickly became clear to be a Small Indian Civet.
The civet had found refuge on a raised edge of the well after repeated futile attempts to exit the well in order to prevent drowning. The team moved swiftly and dropped a trap cage attached to a rope down the well. The civet was safely removed once it leaped into the cage after discovering a dry area.
Also Read: Covid-19: Maharashtra reports 1,100 new cases, four deaths
Dr Chandan Sawane, Veterinary Officer, Wildlife SOS said, "We did a quick on-site assessment to check up on the animal's health. After checking for injuries and lacerations, we found the civet to be healthy and released the animal back into a natural habitat."
Ajit Shinde, Range Forest Officer, Junnar said, "We received a call from the local farmers, and immediately dispatched our staff for the rescue. The Wildlife SOS team was also present, and due to their assistance, the rescue took place in a smooth manner. We are glad that the civet was unharmed and we were able to release it on the spot."  
Kartick Satyanarayan, Co-founder and CEO, of Wildlife SOS said, "Civets are often victims of superstitions and false beliefs, and people consider them as a bad omen. Contrary to this belief, civets play an extremely integral role in the ecosystem by controlling the rodent population. It's a welcome change to see people act out of compassion and empathy for these wild animals residing in modified spaces." 
The Small Indian Civet (Viverricula indica) is a small mammal native to south and southeast Asia. This species is primarily nocturnal and insectivorous in nature. Due to the adaptive nature Of the species, they can be found in human-modified settlements such as agricultural fields, towns, and cities. But due to rapid encroachment of their natural habitat, they often come face to face with humans.
"Exciting news! Mid-day is now on WhatsApp Channels

Subscribe today by clicking the link and stay updated with the latest news!"
Click here! Do you agree with the management`s decision of only letting devotees offer jal abhishek at Babulnath temple?